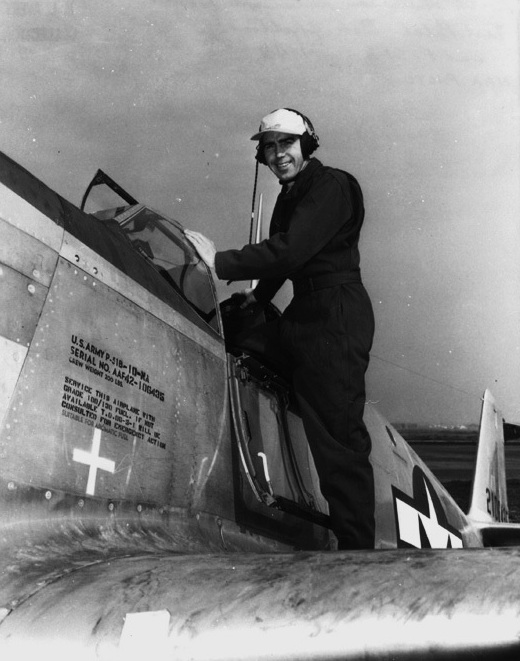 3 February 1943: North American Aviation test pilot Robert C. Chilton made the first flight of the first production P-51A Mustang, P-51A-1-NA, serial number 43-6003. A Model NA-99, the Mustang had manufacturer's serial number 99-22106. This airplane was one of 1,200 which had been ordered by the United States Army Air Corps on 23 June 1942. (With the introduction of the Merlin-powered P-51B, the number of P-51A Mustangs was reduced to 310.)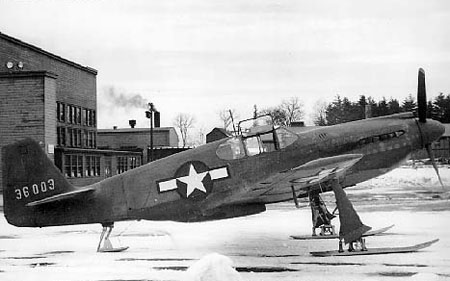 The Mustang had been designed and built by North American Aviation, Inc., as a fighter for the Royal Air Force. Two Mustang Mk.I airplanes, the fourth and the tenth from the RAF production line, had been given to the Air Corps for evaluation and designated XP-51, serial numbers 41-038 and 41-039. Prior to this, the Air Corps had ordered 150 P-51 fighters, but these were Mustang Mk.I models to be turned over to England under Lend-Lease.
43-6003 was used for testing and was equipped with skis for takeoff and landing tests in New Hampshire and Alaska.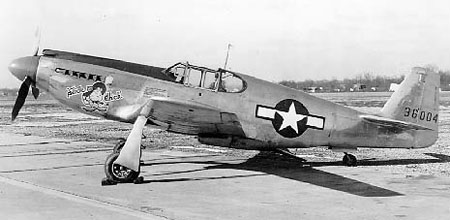 The North American Aviation P-51A Mustang was a single-seat, single-engine, long-range fighter. It is a low-wing monoplane with retractable landing gear and is of all-metal construction. It was 32 feet, 2½ inches (9.817 meters) long with a wingspan of 37 feet, ¼-inch (11.284 meters) and a height of 12 feet, 2-½ inches (3.721 meters) high. It had an empty weight of 6,451 pounds (2,926 kilograms) and gross weight of 8,000 pounds (3,629 kilograms).
The P-51A was powered by a right-hand tractor, liquid-cooled, supercharged, 1,710.60-cubic-inch-displacement (28.032 liter) Allison Engineering Company V-1710-F20R (V-1710-81) single overhead cam (SOHC) 60° V-12 engine with a compression ratio of 6.65:1. The V-1710-81 had a Maximum Continuous Power rating of 870 horsepower at 2,600 r.p.m., at Sea Level, and 1,000 horsepower at 2,600 r.p.m. at 14,400 feet (4,389 meters). It was rated at 1,200 horsepower at 3,000 r.p.m. for takeoff. The Military Power rating was 1,125 horsepower at 3,000 r.p.m., to an altitude of 14,600 feet (4,450 meters). War Emergency Power was 1,480 horsepower. The engine drove a 10 foot, 9 inch (3.277 meter) diameter, three-bladed Curtiss Electric constant-speed propeller through a 2:1 gear reduction. The engine was 7 feet, 1.87 inches (2.181 meters) long, 3 feet, 0.75 inches (0.933 meters) high and 2 feet, 5.28 inches (0.744 meters) wide. It weighed 1,352 pounds (613 kilograms).
Maximum speed of the P-51A in level flight was 415 miles per hour (668 kilometers per hour) at 10,400 feet (3,170 meters) at War Emergency Power. It could climb to 20,000 feet (6,096 meters) in 7 minutes, 3.6 seconds, and to 30,000 feet (9,144 meters) in 15 minutes, 4.8 seconds. Its service ceiling was 35,100 feet (10,699 meters) and the absolute ceiling was 36,000 feet (10,973 meters). Maximum range on internal fuel was 750 miles (1,207 kilometers).
The P-51A was armed with four Browning AN-M2 .50-caliber machine guns, with two mounted in each wing. The inner guns had 350 rounds of ammunition, each, and the outer guns had 280 rounds per gun.
Of the 1,200 P-51A Mustangs ordered by the Army Air Corps, 310 were delivered. The order was changed to the Packard V-1650 Merlin-powered P-51B Mustang.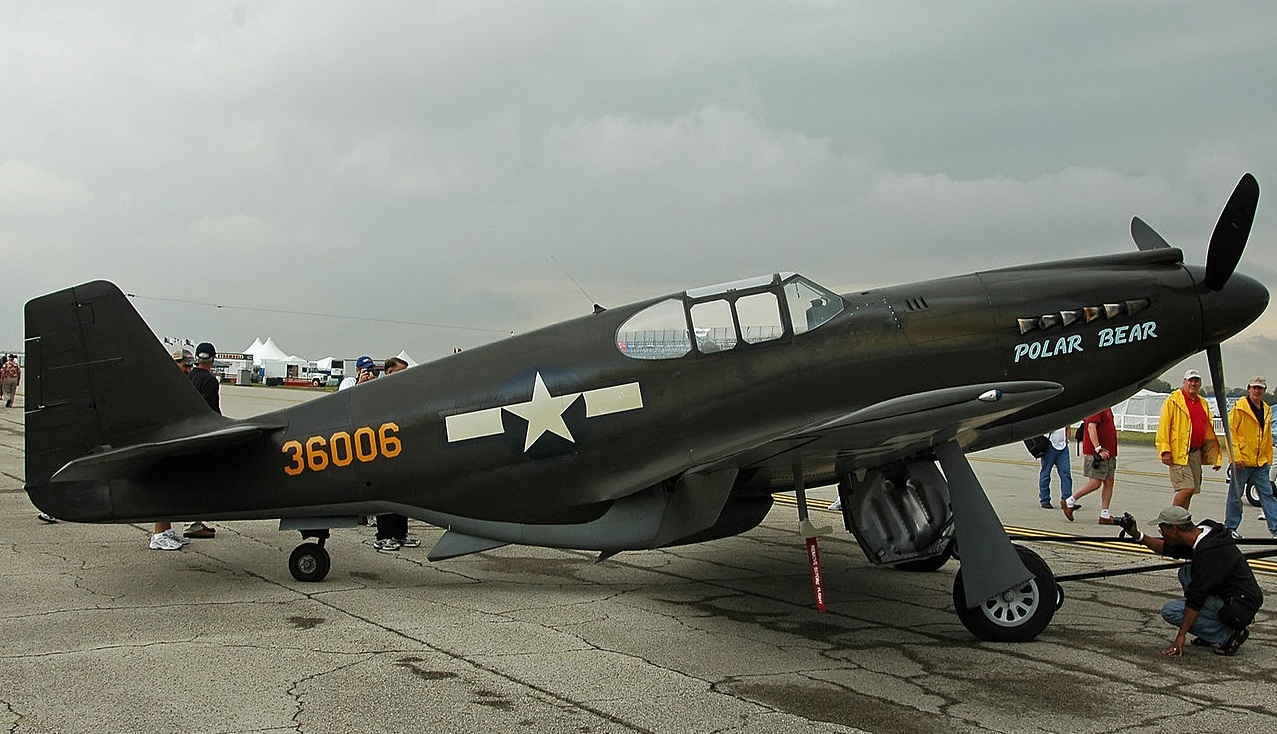 © 2018, Bryan R. Swopes
by