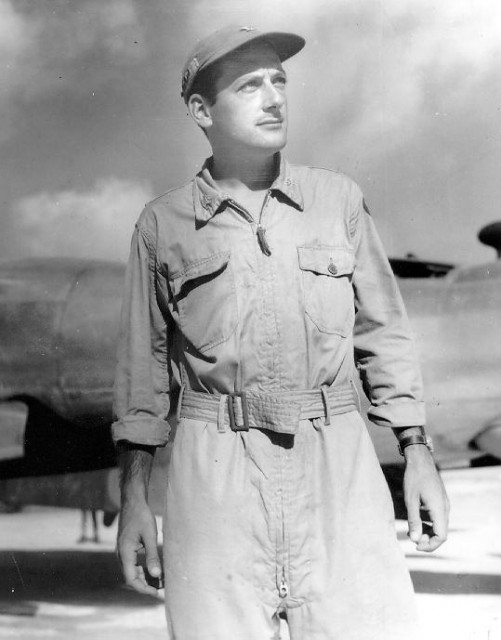 25–29 November 1945: Colonel Joseph Randall ("Randy") Holzapple, U.S. Army Air Force, commanding officer of the 319th Bombardment Group, Light, departed Savannah, Georgia, as the pilot of a Douglas A-26C Invader twin-engine light attack bomber. His co-pilot on this flight was Lieutenant Colonel Charles R. Meyers. The navigator was Lieutenant Otto H. Schumaker and Corporal Howard J. Walden was the airplane's radio operator.
The A-26 headed west, and kept heading west. 90 hours, 54 minutes later, Colonel Holzapple and his crew arrived at Washington National Airport, Washington, D.C. They had flown completely around the world, covering 24,859 miles (40,007 kilometers). The flight time was 96 hours, 50 minutes.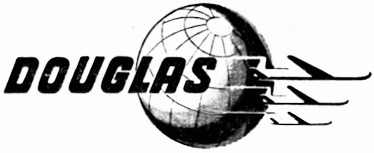 The A-26C Invader was built by Douglas Aircraft Company at its Long Beach, California and Tulsa, Oklahoma plants. It was 51 feet, 3 inches (15.621 meters) long with a wingspan of 70 feet, 0 inches (21.336 meters) and overall height of 18 feet, 6 inches (5.639 meters). It was designed to be flown by a single pilot, with a navigator/bombardier and a gunner. The A-26C weighed 22,690 pounds (10,292 kilograms) empty an had a maximum takeoff weight of 37,740 pounds (17,119 kilograms).
Power was supplied by two air-cooled, supercharged 2,804.4-cubic-inch-displacement (45.956 liter) Pratt & Whitney Double Wasp 2SB-G (R-2800-27) two-row, 18-cylinder radial engines with a compression ratio of 6.65:1. The R-2800-27 had a Normal Power rating of 1,600 horsepower at 2,400 r.p.m. at 5,700 feet (1,737 meters), 1,450 horsepower at 2,400 r.p.m. at 13,000 feet (3,962 meters), and 2,000 horsepower at 2,700 r.p.m for takeoff. War Emergency Power was 2,370 horsepower at 2,700 r.p.m. at Sea level. The engines turned three-bladed propellers with a diameter of 12 feet, 7 inches (3.835 meters) through a 2:1 gear reduction. The R-2800-27 was 6 feet, 3.72 inches (1.923 meters) long, 4 feet, 4.50 inches (1.334 meters) in diameter and weighed 2,300 pounds (1,043 kilograms).
The A-26 was a fast airplane for its time. It had a maximum speed of 323 knots (372 miles per hour/598 kilometers per hour) at 10,000 feet (3,048 meters). The service ceiling was 20,450 feet ( meters) and its range was 1,510 nautical miles (1,738 statute miles/2,797 kilometers) carrying a 4,000 pound (1,814 kilogram) bomb load.
Armament varied. The attack bomber could carry as much as 4,000 pounds (1,814 kilograms) of bombs in the bomb bay and 2,000 pounds (907 kilograms) on underwing hardpoints. Two Browning AN/M2 .50-caliber machine guns were mounted in upper and lower remotely-operated power turrets for defense, and as many as 14 forward-facing fixed .50-caliber machine guns were installed, with eight in the nose and three in each wing.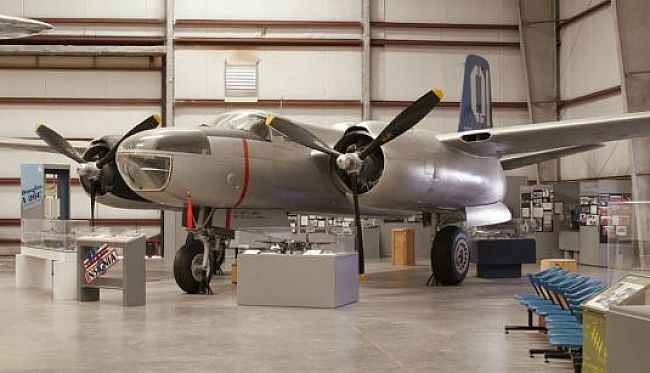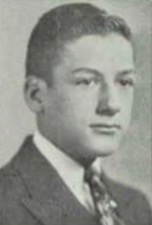 Joseph Randall Holzapple was born 7 September 1914 at Peoria, Illinois. He was the fourth of five children of Nathaniel A. Holzapple, a blacksmith, and Annetta Ritchie. He attended Pekin Junior High School, then Peoria High School, where he was a member of the French Club, Science and Math Club, and Drama Club. In his high school yearbook, Holzapple was called "refined" and "handsome." He graduated in 1932.
In 1938, Randy Holzapple graduated from Bradley Polytechnic Institute, also in Peoria, with a bachelor of science degree in business administration. He then worked as an insurance salesman.
Joseph R. Holzapple enlisted as an aviation cadet in the Air Corps, United States Army, 31 December 1940. At the time, he was 5 feet, 8 inches (1.68 meters) tall and weighed 146 pounds (66 kilograms). He completed his flight training and on 16 August 1941, was commissioned a second lieutenant, Air Reserve.
On 25 March 1942, 2nd Lieutenant Bradley was appointed to the rank of 1st lieutenant, Army of the United States (Air Corps). Six months later, 11 September 1942, he was promoted to captain, A.U.S. (A.C.).
Captain Holzapple was assigned as operations officer of the 319th Bombardment Group (Medium), Eighth Air Force, in England. The group was equipped with the twin-engine Martin B-26 Marauder medium bomber. Operation Torch, the Allied invasion of North Africa, began on 8 November 1942, and the 319th deployed to Saint-Leu Airfield, northeast of Oran, Algeria, as an element of XII Bomber Command.
The wartime military often brought rapid advancement to qualified officers, and Holzapple was promoted to the rank of major, A.U.S. (A.C.), 5 February 1943. He took command of the 319th Group 13 August 1943, then in Tunisia. Major Holzapple was promoted to lieutenant colonel, A.U.S. (A.C.), on 13 September 1943. He was advanced to colonel, A.U.S. (A.C.), on 1 August 1944.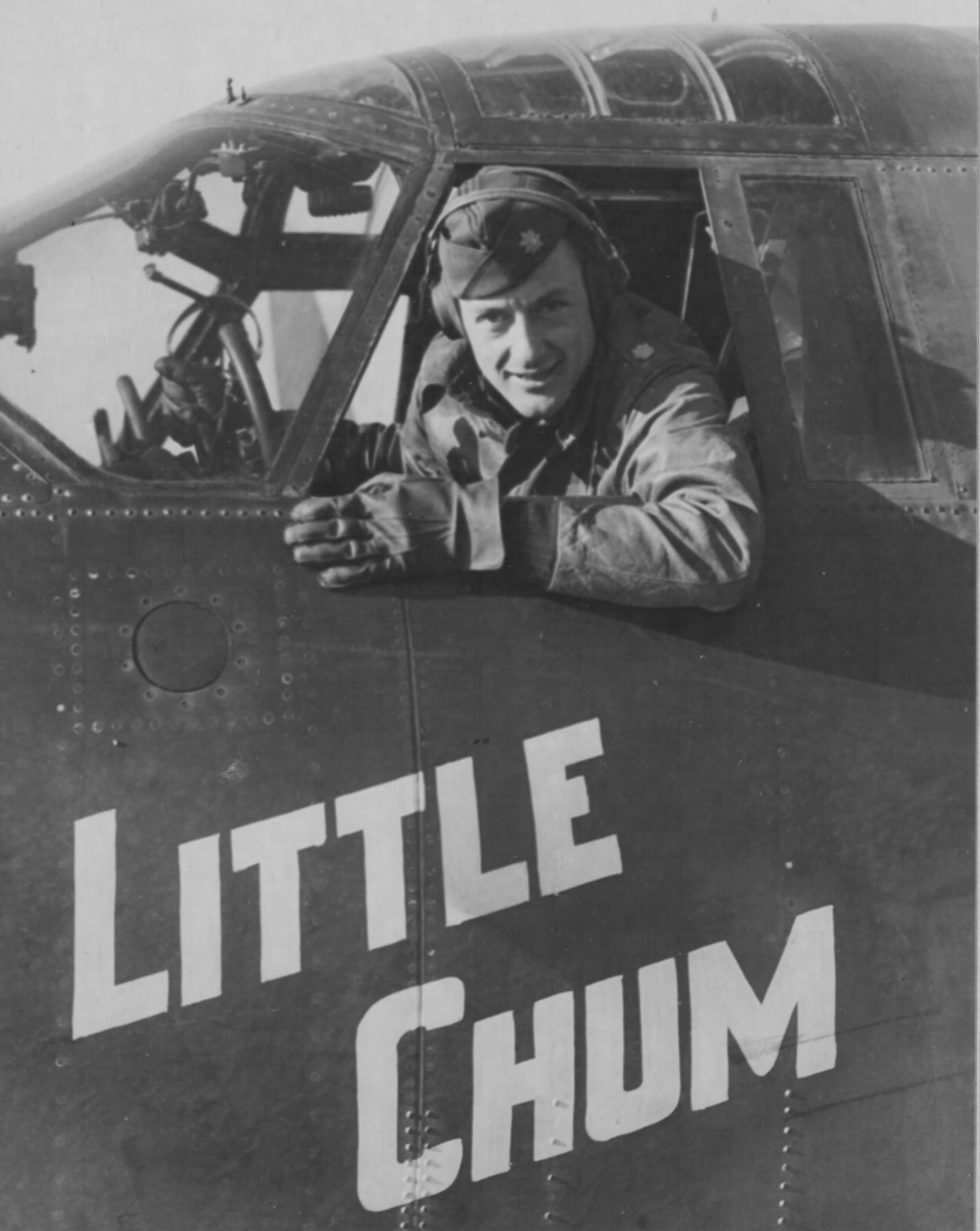 In November 1944, the 319th transitioned to the North American Aviation B-25 Mitchell medium bomber, but the group was returned to the continental United States in January 1945. It was then equipped with the Douglas A-26 Invader and redesignated the 319th Bombardment Group (Light).
On 1 March 1945, Colonel Holzapple married Miss Lois M. Miller in a ceremony at the Zion Evangelical Lutheran Church in Peoria. They would have two daughters, Nancy and Lynn.
The 319th redeployed to Okinawa in July 1945. It was was the first unit to be transferred from Europe to the Pacific as a complete unit.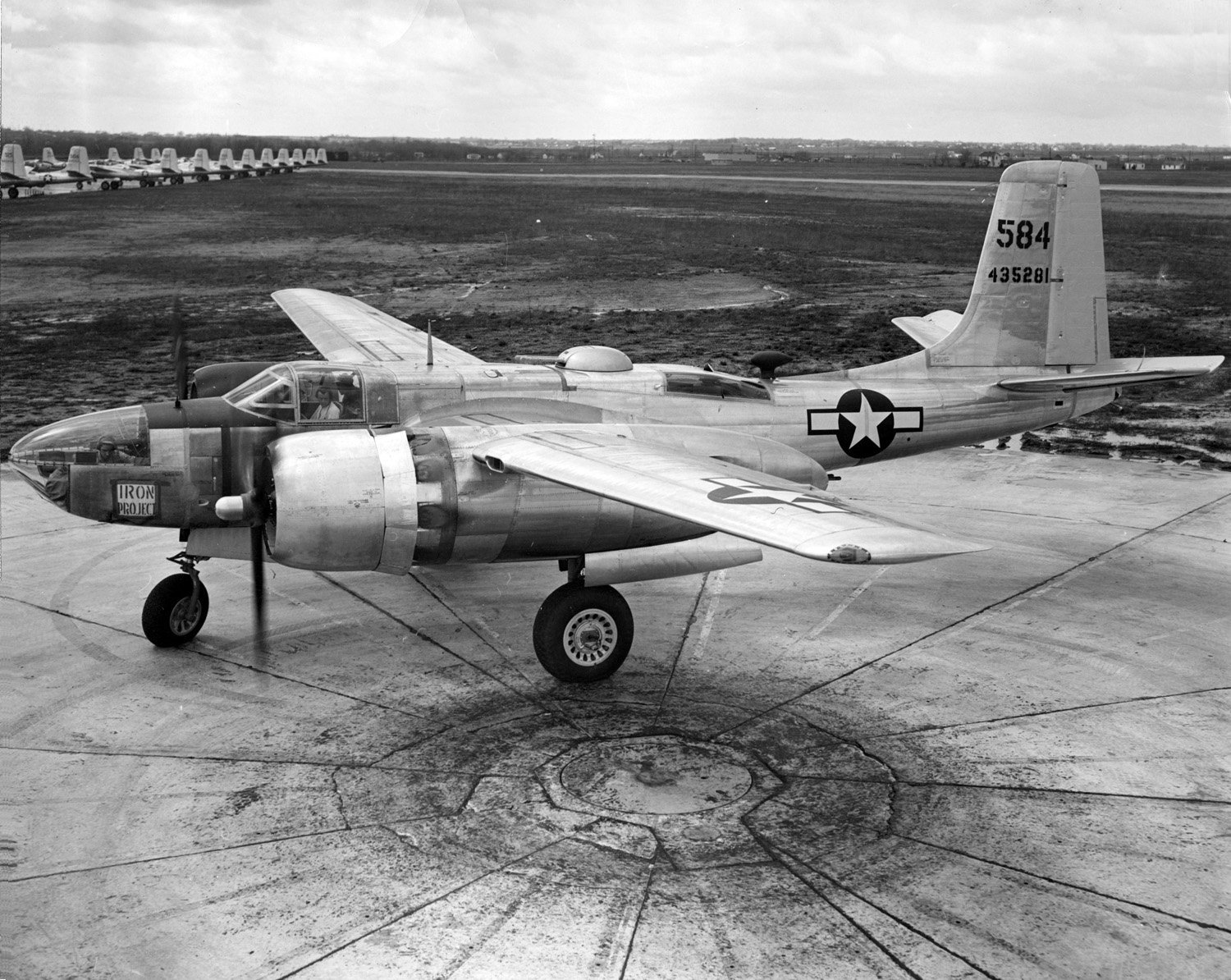 Colonel Holzapple flew 91 combat missions in North Africa and the Mediterannean, and another 8 over Japan and China. For his service during World War II, he was awarded  teh Silver Star, the Legion of Merit, the Distinguished Flying Cross with one oak leaf cluster (a second award), and the Air Medal with 17 oak leaf clusters (18 awards). He was also awarded the British Empire's Distinguished Flying Cross and the Croix de Guerre by France.
Colonel Holzapple remained on active duty following the war. While he continued to hold his wartime rank, his permanent rank in the Air Corps, United States Army, was advanced to 1st lieutenant, on 5 July 1946, with date of rank from 7 September 1942.
Holzapple was assigned to a number of staff positions, before being sent to the Armed Forces Staff College, 1949–50. He was next assigned to the Armed Forces Special Weapons Project, the military agency responsible for maintenance, storage, security, handling and testing of nuclear weapons. In 1954, Colonel Holzaple was appointed assistant chief of staff for Operational Readiness at the Air Research and Development Command headquarters in Baltimore, Maryland. He also attended the National War College.
In 1955 Colonel Holzapple was assiged as commanding offier of the 47th Bombardment Wing, then based at RAF Sculthorpe, near Fakenham, Norfolk, England. The group was equipped with the North American Aviation B-45 Tornado four-engine jet bomber, and the Douglas B-26 Invader. ¹
From England, Holzapple went to Germany as deputy chief of staff for operations at Headquarters, United States Air Forces in Europe. Promoted to brigadier general, in 1958 he was appointed chief of staff, USAFE.
Brigadier General Holzapple returned to the weapons systems management with ARDC at Wright-Patterson Air Force Base.
From 1969–1971, General Holzapple served as Commander in Chief, United States Air Forces Europe, based at Wiesbaden, Germany.
General Holzapple retired from the U.S. Air Force 1 September 1971.
General Holzapple collapsed and died while playing squash at The Pentagon Athletic Center, Arlington, Virginia, 14 November 1973. He was 59 years old. He was buried at the Arlington National Cemetery.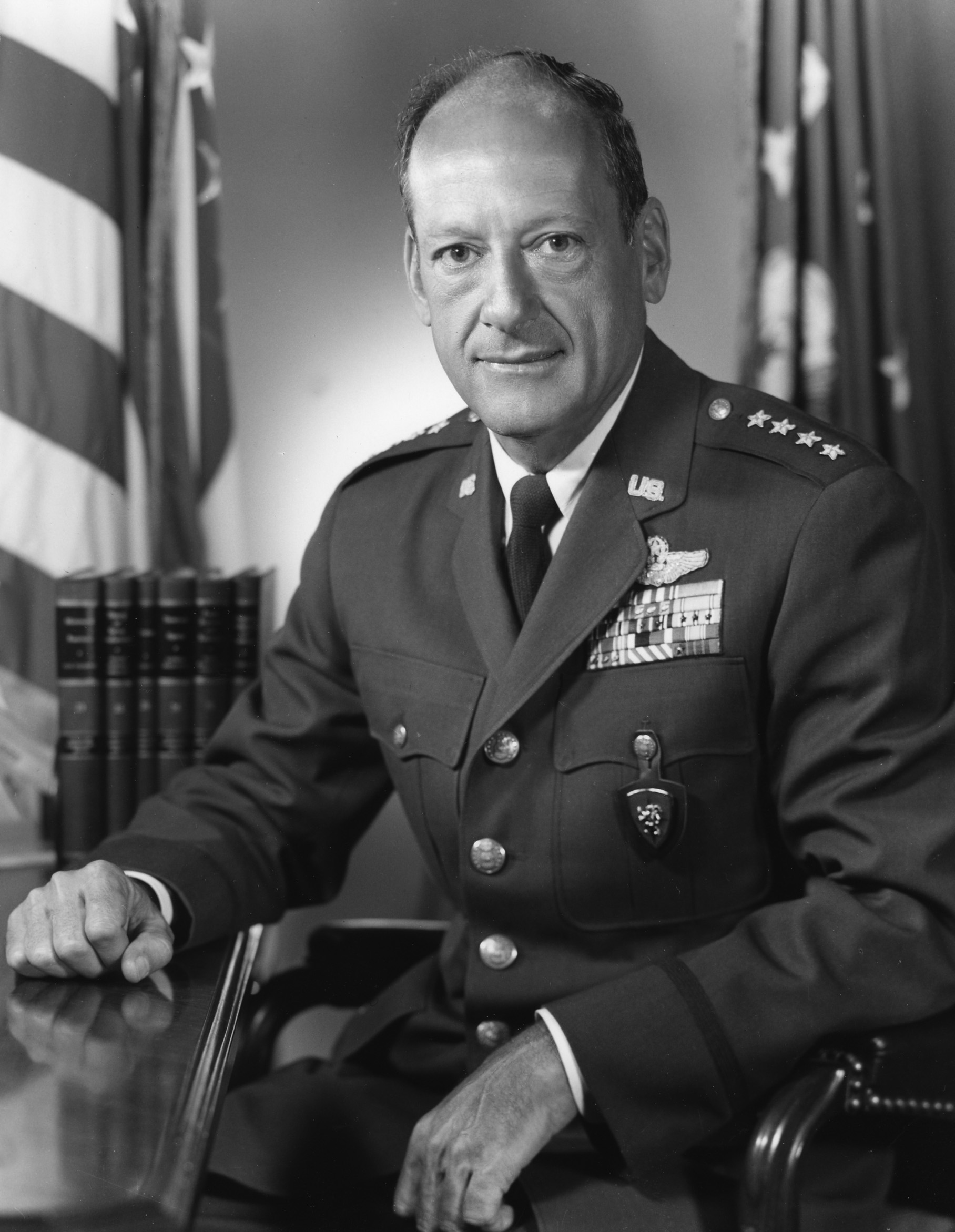 ¹ The Martin B-26 Marauder was withdrawn from service following World War II. Most of them were scrapped. In 1948, The Douglas A-26B and A-26C Invader light bombers were then designated B-26A and B-26B.
© 2018, Bryan R. Swopes