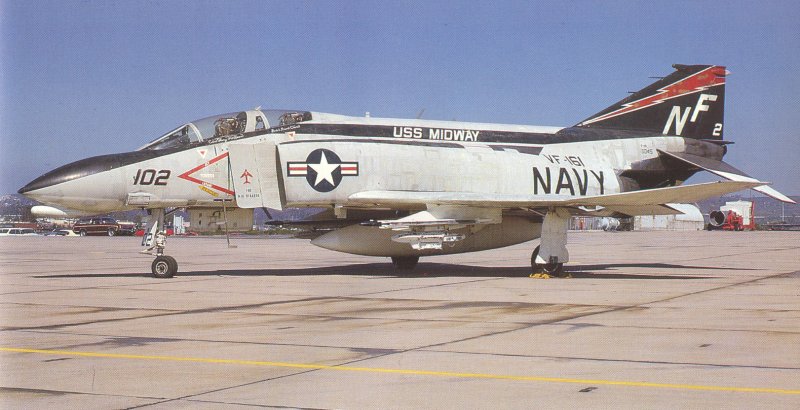 14 January 1973: A McDonnell F-4B-28-MC Phantom II, Bu. No. 153068, flown by Lieutenant Victor T. Kovaleski and Ensign D.H. Plautz of VF-161 Chargers, from the aircraft carrier USS Midway (CVA-41), was hit by 85 mm anti-aircraft artillery approximately 10 miles (16 kilometers) south of Thanh Hóa, North Vietnam. The aircraft began leaking fuel and after flying offshore, the crew ejected. Both men were rescued.
Two days earlier, Lieutenant Kovaleski and Lieutenant James R. Wise, flying 153068, had shot down a Vietnam Peoples Air Force MiG 17 flown by Senior Lieutenant Luu Kim Ngo, near Hải Phòng, using an AIM 9 Sidewinder heat-seeking air-to-air missile. This was the last air combat victory by a U.S. airplane during the Vietnam War.
On 18 May 1972, F-4B Bu. No. 153068, flown by Lieutenants Henry A. ("Bart") Bartholmay and Oran R. Brown, on their first combat mission over North Vietnam, shot down an enemy MiG 19 fighter with an AIM-9 Sidewinder near Kep Airbase, northeast of Hà Nội, North Vietnam.
© 2016, Bryan R. Swopes