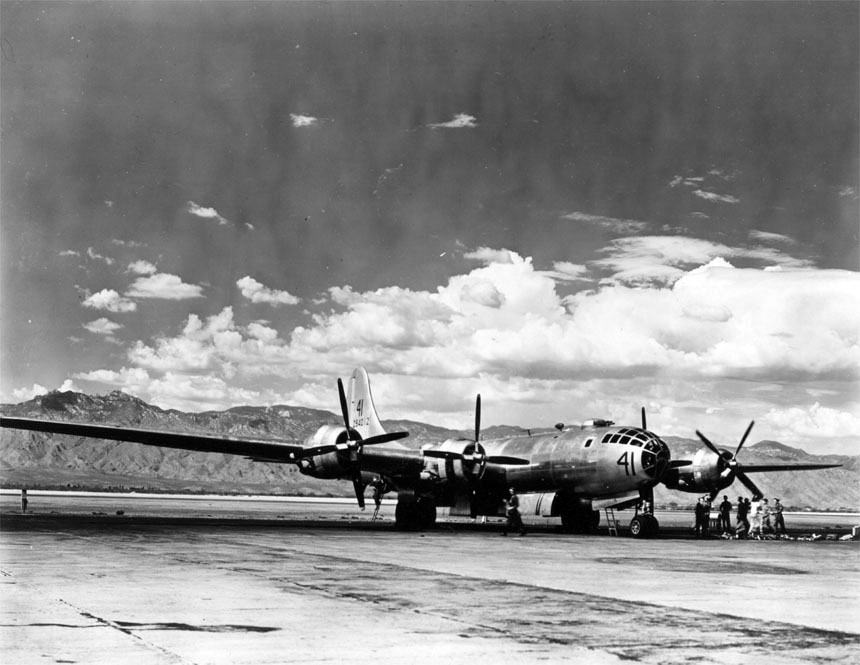 1 November 1954: The United States Air Force begins to retire the Boeing B-29 Superfortress from service. In the above photograph, B-29A-20-BN 42-94012 is at the aircraft storage facility, Davis-Monthan Air Force Base, Tucson, Arizona, "The Boneyard." The dry desert climate and hard, alkaline soil make the base ideal for long-term aircraft storage. The Santa Catalina Mountains are in the background.
The B-29 Superfortress was the most technologically advanced—and complex—aircraft of World War II. It required the manufacturing capabilities of the entire nation to produce. Over 1,400,000 engineering man-hours had been required to design the prototypes.
The Superfortress was manufactured by Boeing at Seattle and Renton, Washington, and Wichita, Kansas; by the Glenn L. Martin Company at Omaha, Nebraska; and by Bell Aircraft Corporation, Marietta, Georgia.
There were three XB-29 prototypes, 14 YB-29 pre-production test aircraft, 2,513 B-29 Superfortresses, 1,119 B-29A, and 311 B-29B aircraft. The bomber served during World War II and the Korean War and continued in active U.S. service until 1960. In addition to its primary mission as a long range heavy bomber, the Superfortress also served as a photographic reconnaissance airplane, designated F-13, a weather recon airplane (WB-29), and a tanker (KB-29).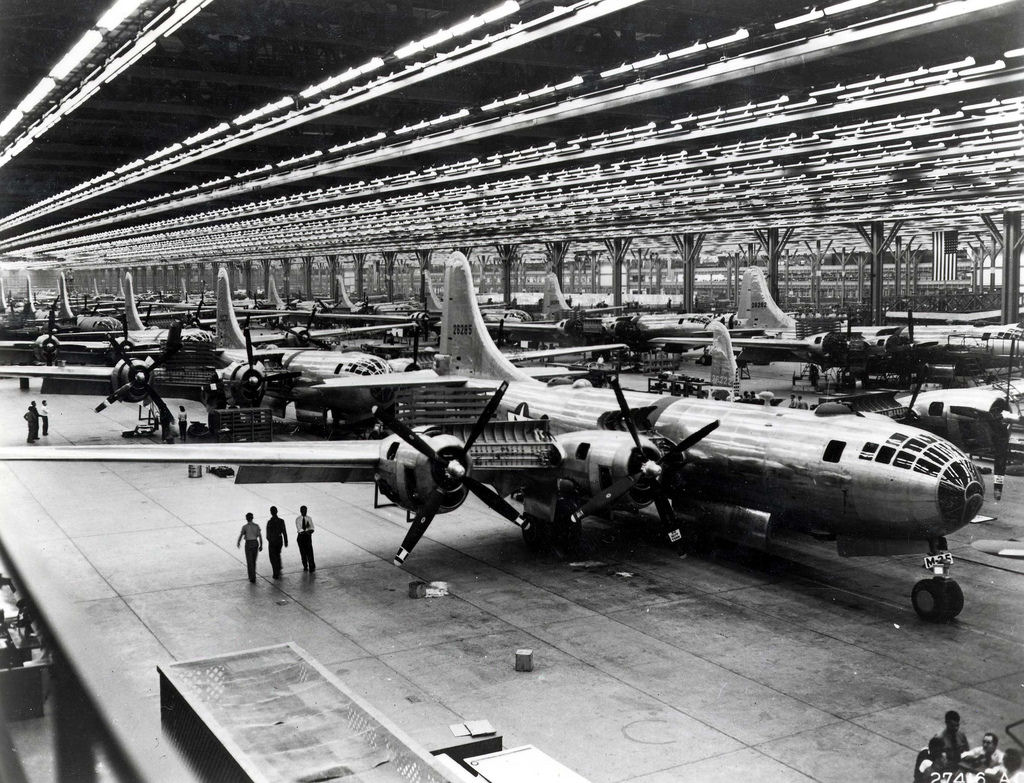 The B-29 was operated by a crew of 11 to 13 men. It was 99 feet, 0 inches (30.175 meters) long with a wingspan of 141 feet, 3 inches (43.068 meters). The vertical fin was 27 feet, 9 inches (8.305 meters) high. The wings had a total are of 1,720 square feet ( square meters). The angle of incidence was 4° with 4° 29′ 23″ dihderal. The leading edges were swept aft 7° 1′ 26″. The bomber's empty weight was 71,500 pounds ( kilograms) with a maximum takeoff weight of 140,000 pounds ( kilograms).
The B-29 was powered by four air-cooled, supercharged, 3,347.66-cubic-inch-displacement (54.858 liter) Wright Aeronautical Division Cyclone 18 (also known as the Duplex-Cyclone) 670C18BA4 (R-3350-23A) two-row 18-cylinder radial engines, which had a Normal Power rating of 2,000 horsepower at 2,400 r.p.m., and 2,200 horsepower at 2,800 r.p.m. for takeoff. They drove 16 foot, 7 inch (5.055 meter) diameter, four-bladed, Hamilton Standard constant-speed propellers through a 0.35:1 gear reduction. The R-3350-23A was 6 feet, 4.26 inches (1.937 meters) long, 4 feet, 7.78 inches (1.417 meters) in diameter and weighed 2,646 pounds (1,200 kilograms).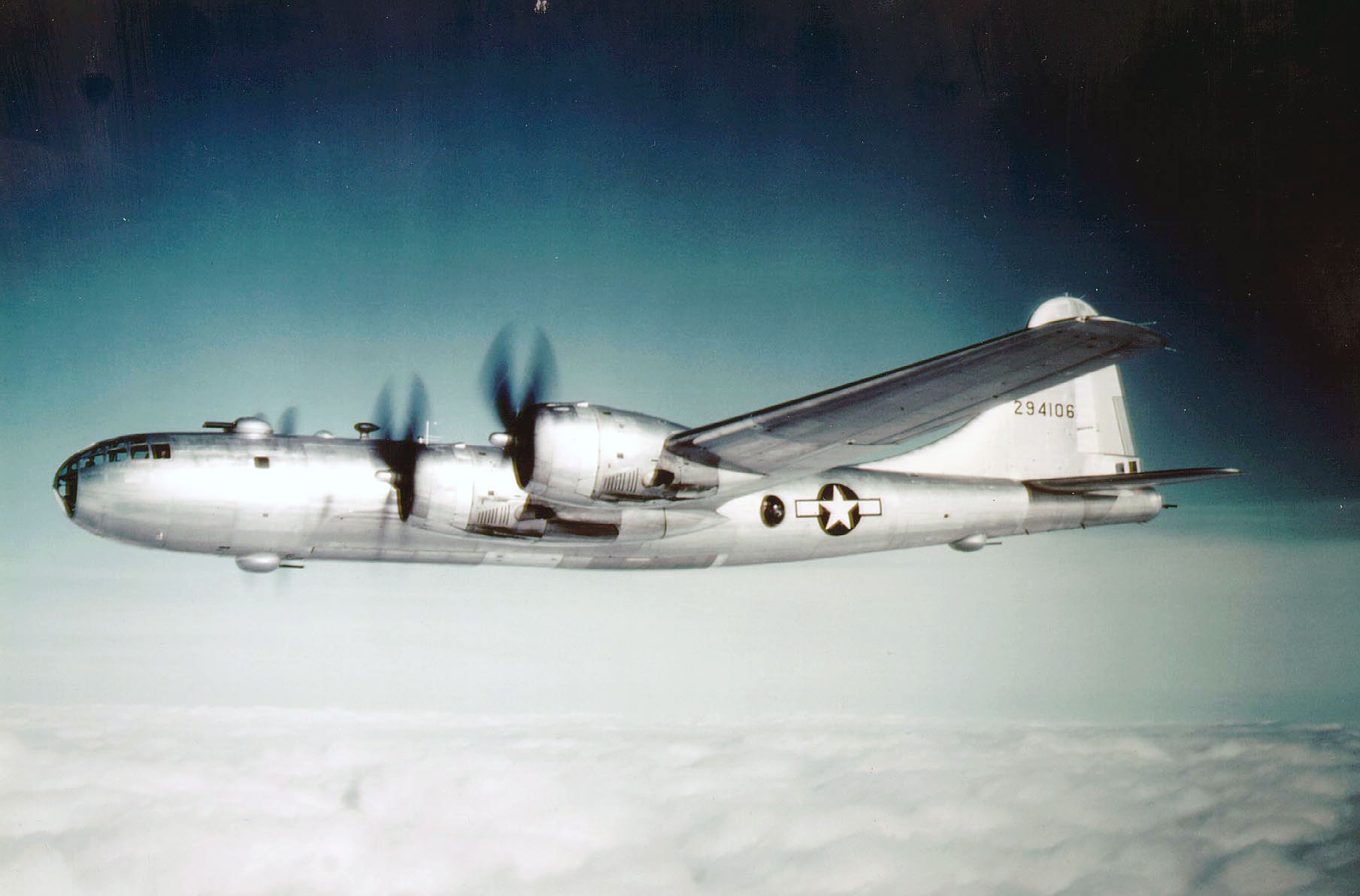 The maximum speed of the B-29 was 353 knots (406 miles per hour/654 kilometers per hour) at 30,000 feet (9,144 meters), though its normal cruising speed was 198 knots (228 miles per hour/367 kilometers per hour) at 25,000 feet (7,620 meters). At its maximum takeoff weight, the B-29 required 1 hour, 1.5 minutes to climb from Sea Level to 20,000 feet (6,096 meters). The bomber's service ceiling was 43,200 feet (13,167 meters). The combat range was 3,445 nautical miles (3,964 statute miles/6,380 kilometers) and its maximum ferry range was 4,493 nautical miles (5,170 statute miles/8,321 kilometers).
The Superfortress could carry a maximum of 20,000 pounds (9,072 kilograms) of bombs in two bomb bays. For defense it had 12 Browning M2 .50-caliber machine guns in four remote-controlled turrets and a manned tail position. The B-29 carried 500 rounds of ammunition per gun.
A number of B-29 Superfortresses are on display at locations around the world, but only two, the Commemorative Air Force's B-29A-60-BN 44-62070, Fifi, and B-29-70-BW 44-69972, Doc, are airworthy. (After a lengthy restoration, Doc received its Federal Aviation Administration Special Airworthiness Certificate, 19 May 2016.)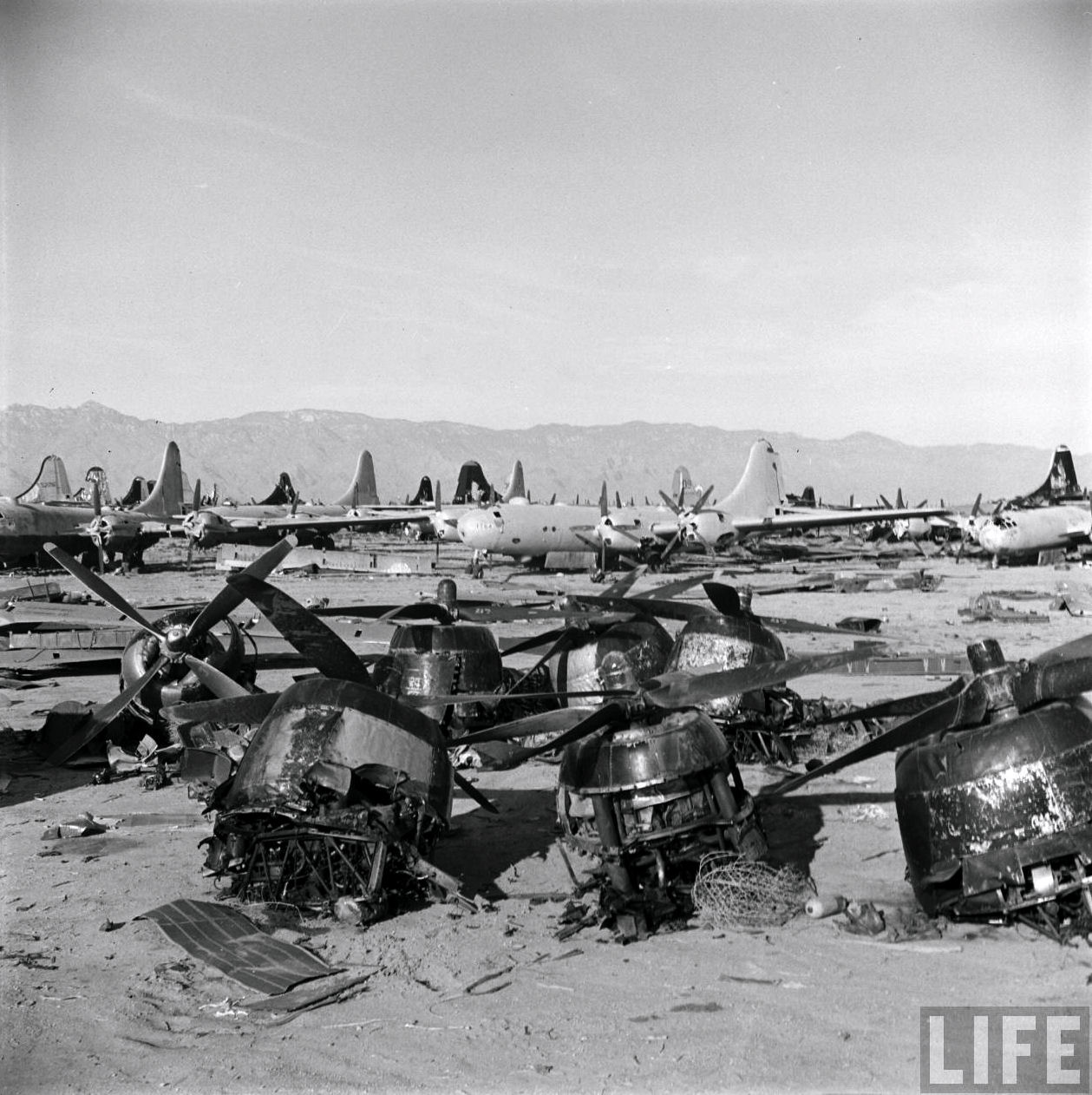 © 2016, Bryan R. Swopes