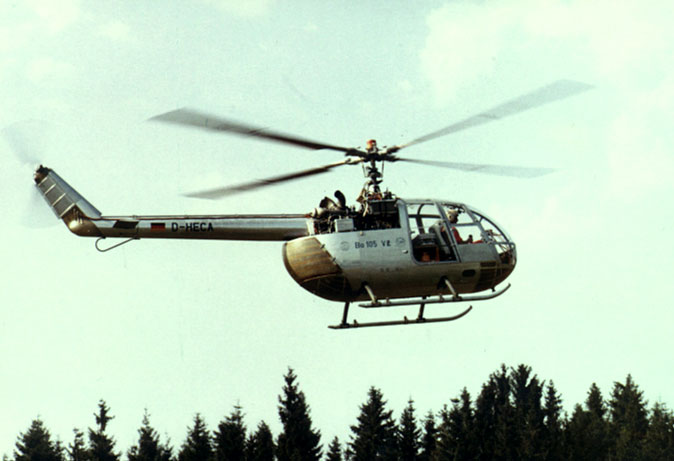 16 February 1967: At Ottobrun, Germany, test pilot Wilfried von Engelhardt made the first flight of the Bölkow-Entwicklungen KG Bo-105 prototype V-2, D-HECA, a twin-engine, rigid rotor helicopter. This was the second prototype. The first one was destroyed by ground resonance during pre-flight testing.
Messerschmitt AG merged with Bölkow-Entwicklungen KG in June 1968, becoming  Messerschmitt-Bölkow. The following year, the new company merged with Blohm & Voss to become Messerschmitt-Bölkow-Blohm, or MBB. The Bo-105 entered production in 1970.
The Bo-105 is a 5-place light helicopter powered by two turboshaft engines. It has a four-bladed rigid (or hingeless) main rotor. This gives it a high degree of maneuverability, and it is capable of performing aerobatic maneuvers. The two-bladed tail rotor is mounted high on a pylon and gives exceptional ground clearance for a helicopter of this size. There are two "clam shell" doors located at the rear of the cabin section, giving access to a large flat floor. The helicopter has been widely used by military, law enforcement and as an air ambulance.
The Bo-105 is 38 feet, 11 inches (11.86 meters) long. The diameter of the main rotor is 32 feet, 3.5 inches (9.84 meters). Overall height is 9 feet, 10 inches (3.00 meters). The helicopter has an empty weight of 2,813 pounds (1,276 kilograms) and maximum takeoff weight of 5,511 pounds (2,500 kilograms).
The prototype was powered by two Allison 250-C18 turboshaft engines, with increasingly more powerful 250-C20, -C20B and C-28C engines being added through the production run. The Allison 250-C18 is a 2-spool, reverse-flow, gas turbine engine with a 6-stage axial-flow, 1-stage centrifugal-flow, compressor section, and a 4-stage axial-flow turbine (2-stage gas producer, and 2-stage power turbine). The 250-C18 is rated at 317 shaft horsepower at 6,000 r.p.m. (100% N2). These were very light weight engines, ranging from just 141 to 173 pounds (64.0 to 78.5 kilograms).
The helicopter's cruise speed is 127 miles per hour (204 kilometers per hour) and maximum speed is 167 miles per hour (242 kilometers per hour). The range is 691 miles (1,112 kilometers. Service ceiling is 17,000 feet (5,180 meters).
The Bo-105 was produced in Germany, Canada, Spain, Indonesia and the Philippines from 1967 to 2001. More than 1,500 have been built.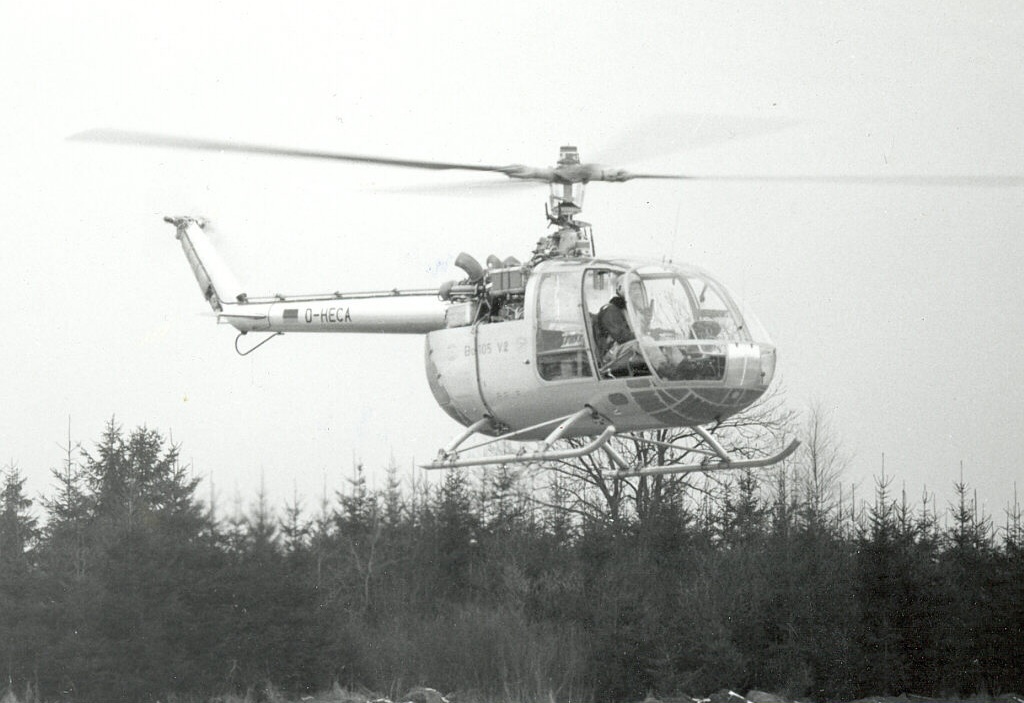 Wilfried  Baron von Englehardt died 24 January 2015 at the age of 86 years.
© 2017, Bryan R. Swopes
by