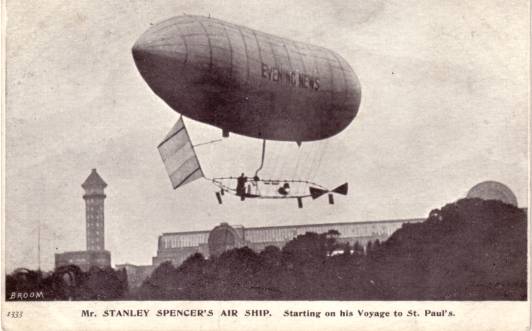 19 September 1902:
The New York Times reported:
AN AIRSHIP TRAVELS NEARLY THIRTY MILES
Stanley Spencer, the Aeronaut, Astonishes Londoners.
He Starts from the Crystal Palace and Descends Near Harrow—Makes Various Detours.
     LONDON, Sept. 20.—Stanley Spencer, the well-known English aeronaut, yesterday successfully accomplished a remarkable flight over London in an airship of his own invention. It is estimated that his ship traveled nearly thirty miles.
     From the observations of those on the ground, Stanley seemed to have complete control of the vessel. He started from the Crystal Palace at 4:15 o'clock in the afternoon, and descended three hours later near Harrow. The route taken by the aeronaut was over Streatham, Clapham Common and the smoky south side of the metropolis, across the Thames, over the populous Chelsea district, and across Kensington and Earl's Court out to Harrow. Spencer executed an easy descent at the little village of Eastcote.
     Spencer has recently been experimenting with his vessel at the Crystal Palace. Finding the conditions suitable, he suddenly decided to start on his dangerous voyage yesterday afternoon, and the usual crown of palace spectators gave him a hearty send-off. The airship at once rose to a height of about 300 feet. After traveling for about a mile with practically no deviation in course, Spencer made various detours, and seemed able to steer his ship as easily as a torpedo boat. Near Clapham Common he came fairly close to the ground for the purpose of manoeuvring. The appearance of the air craft created intense astonishment among the thousands of persons in the streets over whose heads the aeronaut passed.
      Pericval Spencer, referring to his brother's trip, said it exceeded the longest trip of Santos-Dumont by nearly twenty miles.
     Spencer's airship has a blunt nose and tail, and does not taper to a cigar-like point, like the airships of Santos-Dumont. In general outline it has the appearance of a whale. The bag, which is seventy-five feet long, contains 20,000 cubic feet of hydrogen. The frame is built of bamboo, and the propeller is in front, instead of behind, as is the case with Santos-Dumont's vessels.
     The motive power of Spencer's machine is a petroleum motor of about 30 horse power, and the machinery is controlled by electric buttons. The extreme speed of the new airship in calm weather is about fifteen miles an hour.
     The machine accommodates only one person, and its entire weight is about 600 pounds. Special features of the airship are devices to avoid pitching and dipping.
_______
     Stanley Spencer is the aeronaut who, on Sept. 15, 1898, made an ascension from the Crystal Palace, and afterward claimed that he had reached the highest elevation that had yest been attained.
     Scientists denied his assertion, pointing out that Coxwell and Glaisher, in September, 1862, reached an altitude of 37,000 feet, while Mr. Spencer only claimed that he had reached an altitude of 27,500 feet.#0000ff;">

—The New York Times, 20 September 1902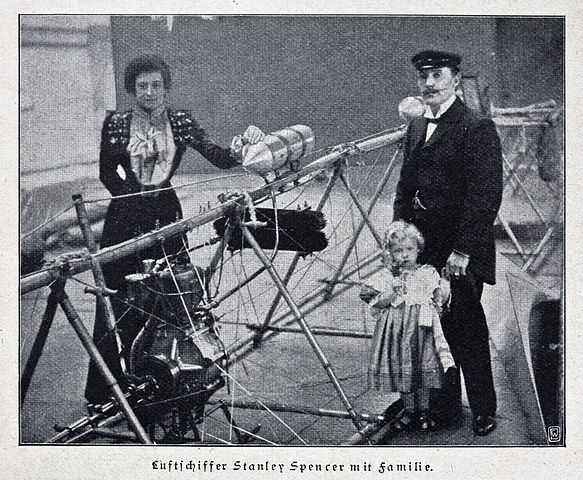 © 2015, Bryan R. Swopes