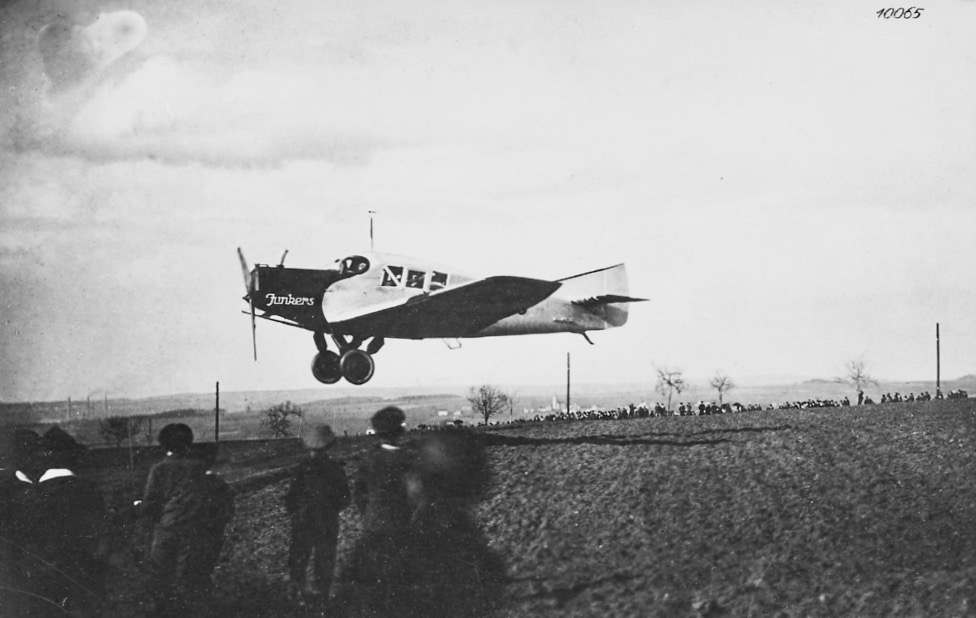 25 June 1919: Junkers Flugzeugwerke Aktiengesellschaft test pilot Emil Monz made the first flight of the Junkers F.13 at Dessau, Saxony-Anhalt, Germany. It was the first airplane to be built of all-metal construction specifically for commercial passenger service. The the first flyable prototype, constructor's number (c/n) 533, carried the identification mark D 183. Professor Junkers had named the airplane Herta in honor of his oldest daughter.¹
Up to this time, airplanes had been primarily constructed of wood. Wood is susceptible to changes in dimension because of temperature and humidity, and it can warp over time. This effects the flight characteristics of the aircraft. Wood is also vulnerable to termites.
By building the airplane of metal, a much more rigid structure was created. The airplane's flight characteristics did not change over time. Also, because metal is so much stronger than wood, an all-metal airplane could be significantly lighter than one built of wood.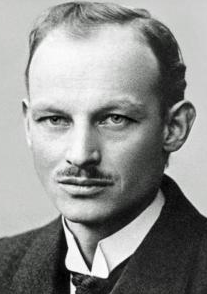 Designed by Chief Engineer Otto Reuter, the F.13 was a single-engine, low-wing monoplane (tiefdecker) with a corrugated duralumin skin over a duralumin structure. It had a flight crew of two and four passengers could be carried in a comfortable enclosed cabin of the same size as automobiles of the time. The single wing was cantilevered and, unusually for the time, used no braces or support wires.
The prototype had a wingspan of 14.47 meters (47 feet, 5.7 inches). The wingspan was increased to 14.82 meters (48 feet, 7.5 inches) in production airplanes. The airplane was 9.59 meters (31 feet, 5.6 inches) long and 4.10 meters (13 feet, 5.4 inches) high. It had a maximum takeoff weight of 1,800 kilograms (3,968 pounds).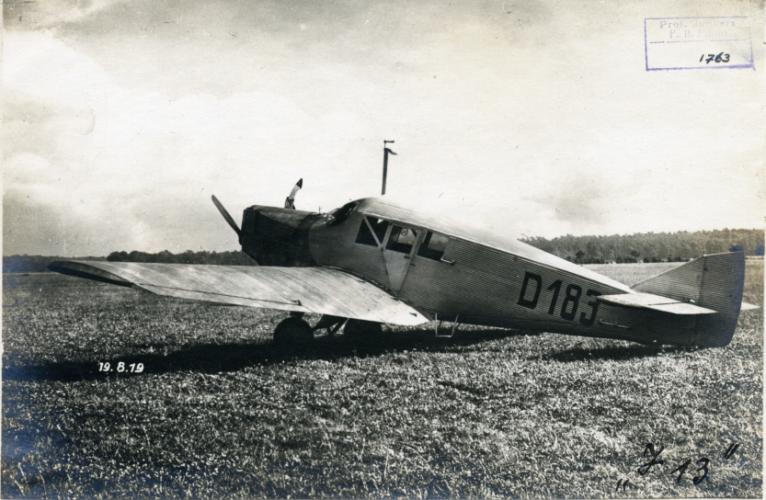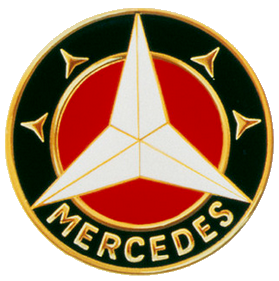 The first F.13 was powered by a water-cooled, normally-aspirated 14.778 liter (901.81 cubic inch) Daimler Motoren Gesellschaft Mercedes D.IIIa vertical inline six-cylinder engine. This was a single overhead cam right-hand tractor direct-drive engine. It used two valves per cylinder and a compression ratio of 4.64:1. It produced 174 horsepower at 1,400 r.p.m., and drove a two-bladed, fixed-pitch laminated wood propeller. The D.IIIa weighed 660.0 pounds (299.4 kilograms), including the propeller hub and exhaust manifold.
Production airplanes used BMW and Junkers engines.
The F.13 had a maximum speed of 170 kilometers per hour (106 miles per hour).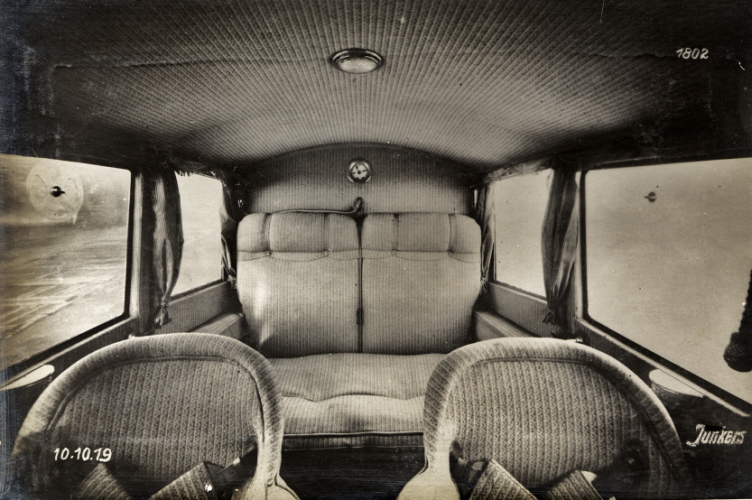 In production from 1919 to 1932, a total of 332 Junkers F.13s were built. Some remained in service in the late 1930s.
In 1920, D 183 was confiscated by the Inter-Allied Control Commission. Later, the F.13 flew for Lufthansa. The registration mark was changed to D 1 and it was named Nachtigall (Nightingale).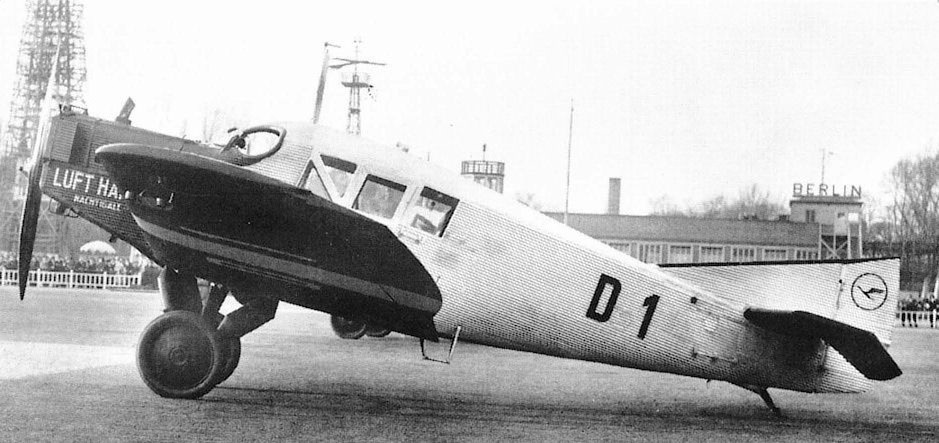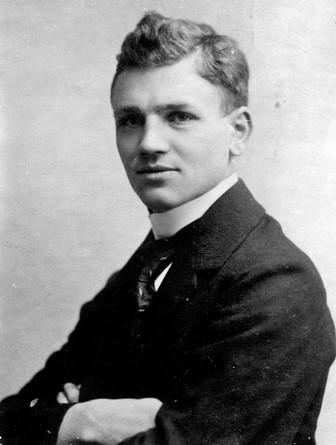 Emil Monz was born 9 June 1893, in Stuttgart, Germany. He was the son of Karl and Mathilde Monz. He married Fräulein Maline Georgine Erhardt, 24 January 1915, at Weingarten u. Wilhelmsdorf, Württrmberg, Deutschland.
During World War I, Monz was a reconnaissance pilot for the German Empire.
On 13 September 1919, Monz flew the second F.13, with seven passengers on board, to an altitude of 6,750 meters (22,146 feet). This was an unofficial world record.
Emil Monz died 18 February 1921 when the Junkers F.13 that he was flying, D 128, crashed in a snowstorm enroute to Stuttgart.
¹ While it is believed that Professor Junkers named the prototypes after his daughters Herta and Annelise, sources vary over which name was applied to which aircraft. The confusion may be a result of the serial numbers. The first F.13 to fly was c/n 533, while the second had an earlier number, c/n 531.
© 2018, Bryan R. Swopes