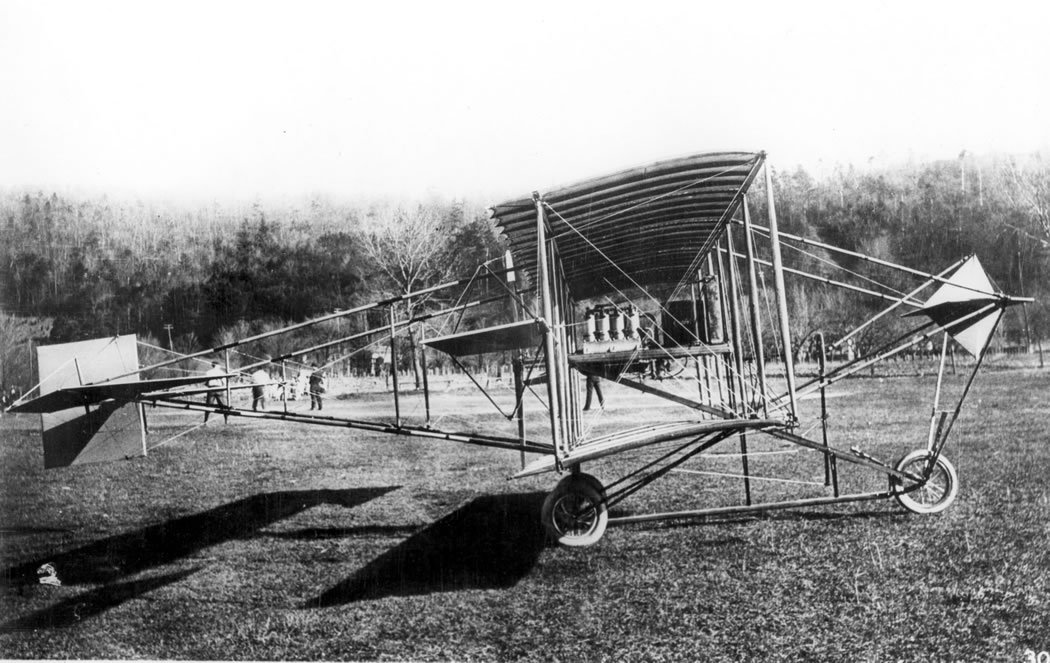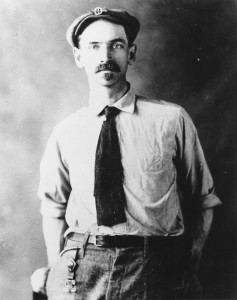 27 April 1911: At Fort Sam Houston, Texas, the Aeronautical Division of the Signal Corps, United States Army, accepted its second airplane, a Curtiss Model D Type IV. The airplane was built by Glenn H. Curtiss' Curtiss Aeroplane and Motor Company at Hammondsport, New York. It was known as a "Curtiss Pusher," as it was propelled by a propeller behind the engine. The aircraft was a canard configuration with elevators mounted in front. It had tricycle landing gear.
The airframe was primarily spruce and ash, with flying surfaces covered with doped fabric. It was easily disassembled for transport on Army wagons.
The Wrights had patented their "wing-warping" system of flight controls and refused to allow Curtiss to use it. The Model D used ailerons instead, which was a superior system.

The Model D Type IV had a length of 29 feet, 3 inches (8.915 meters) with a wingspan of 38 feet, 3 inches (11.659 meters) and height of 7 feet, 10 inches (2.388 meters). Its empty weight was 700 pounds (317.5 kilograms) and loaded weight was 1,300 pounds (589.7 kilograms).
The engine was a "Curtiss Vee," an air-cooled, normally-aspirated, 268.336-cubic-inch displacement (4.397 liter) Curtiss Model B-8 90° V-8 engine, producing 40 horsepower at 1,800 r.p.m. The Model B-8 was 29½ inches (0.75 meters) long, 19 inches (0.48 meters) high and 17 inches (0.43 meters) wide. It weighed approximately 150 pounds (68 kilograms). The engine drove a two-bladed, fixed-pitch wooden propeller in pusher configuration.
The airplane's top speed was 60 miles per hour (96.6 kilometers per hour). Endurance was 2½ hours.
The Signal Corps assigned serial number S.C. No. 2 to the Curtiss. Intended as a trainer, it was in service until 1914, when it was scrapped.
A reproduction of S.C. No. 2 is on display at the National Museum of the United States Air Force, Wright-Patterson Air Force Base, Ohio.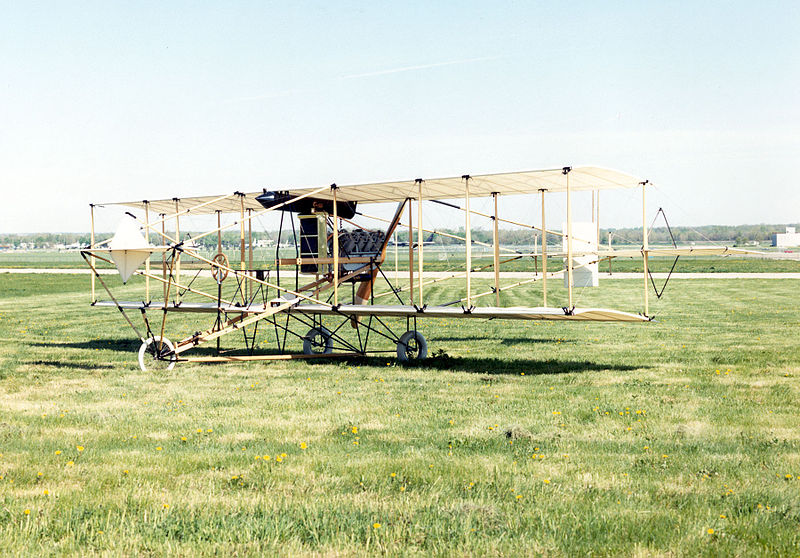 © 2018, Bryan R. Swopes