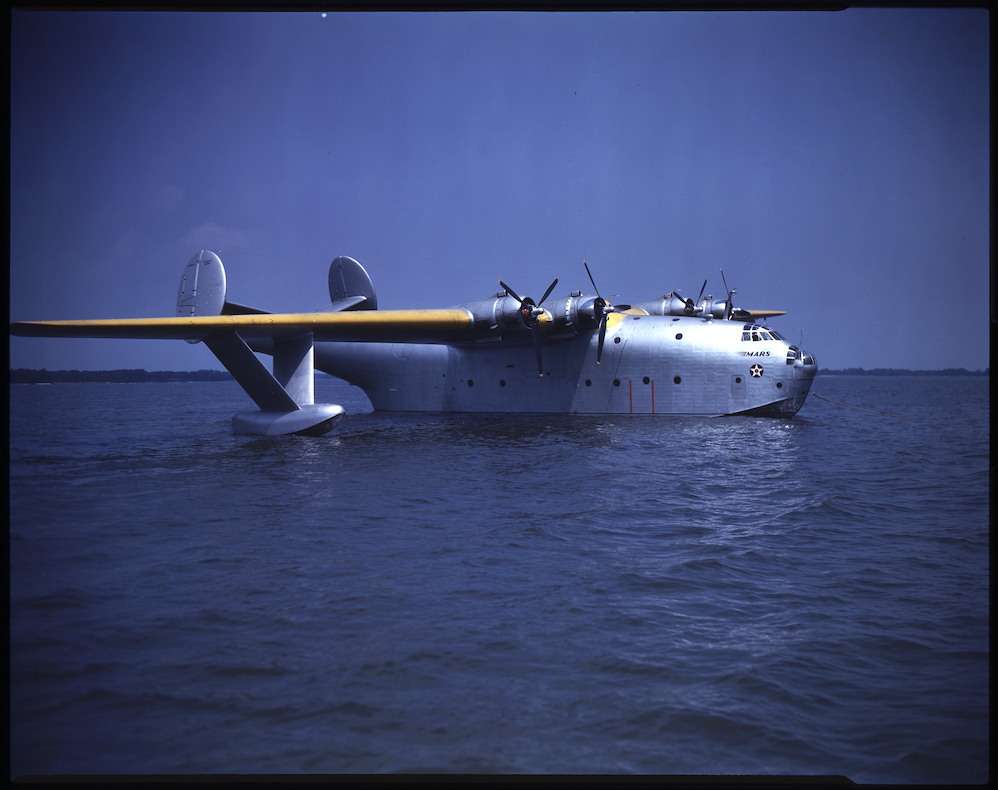 3 July 1942: Chief Test Pilot William Kenneth Ebel, Ph.D., Vice President of Engineering for the Glenn L. Martin Company, took the  Martin Model 170, s/n 877, for its first flight, lifting off from the waters of Chesapeake Bay. Dr. Ebel's co-pilot was Ellis Dent Shannon, who would later become the chief test pilot for Convair.
Designated XPB2M-1 Mars, Bureau of Aeronautics serial number ("Bu. No.") 1520, by the United States Navy, the flying boat was a prototype for a long-range patrol bomber. The first rivets had been driven for the airplane's keel 22 August 1940, and the Mars was launched 8 November 1941. During a test in December 1941, the prototype had been damaged when a runaway propeller tore away from the No. 3 engine.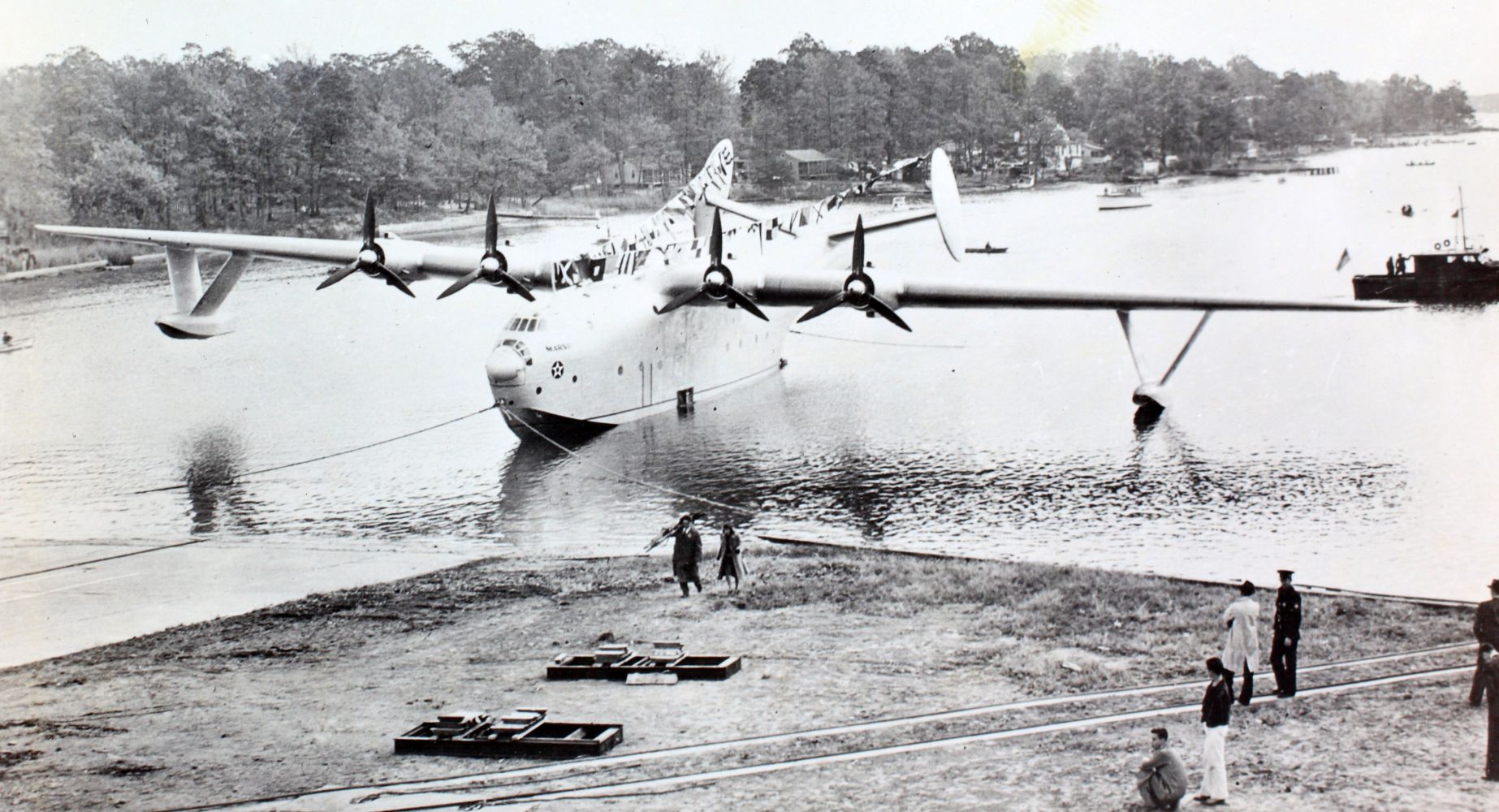 The U.S. Navy's experiences early in World War II led it to adopt the Consolidated B-24 Liberator as its long range bomber (PB4Y-1 and PB4Y-2 Privateer). The XPB2M-1 was converted to a transport configuration, the XPB2M-1R, in 1943. The Navy ordered twenty transport versions, designated JRM-1. By the end of the war, only six had been built and the remaining order was cancelled.
The Martin XPB2M-1 was a large, four-engine flying boat, operated by a crew of 11 persons. It was  118 feet, 9 inches (36.195 meters) long with a wing span of 200 feet, 0 inches (60.96 meters), and height of 37 feet, 4 inches (11.379 meters). The hull had a maximum width ("beam") of 13 feet, 6 inches (4.115 meters). The total wing area was 3,683 square feet (342.2 square meters). The flying boat had an empty weight 75,573 pounds (34,279 kilograms), and gross weight of 140,000 pounds (63,503 kilograms).
The XPB2M-1 prototype was powered by four air-cooled, supercharged, 3,347.66-cubic-inch-displacement Wright R-3350-4 engines with a compression ratio of 6.85:1. Burning 100-octane aviation gasoline, these engines had a normal power rating of 1,700 horsepower at 2,300 r.p.m., and 2,000 horsepower at 2,400 r.p.m., at Sea Level for Takeoff. They drove three-bladed 16 foot, 6 inch (5.029 meters) diameter Curtiss Electric constant-speed propellers through a 16:7 gear reduction. The R3350-4 was 5 feet, 11.5 inches (1.816 meters) long, 4 feet, 7.12 inches (1.400 meters) in diameter, and weighed 2,450 pounds (1,111 kilograms).
The prototype Mars had a maximum speed of 221 miles per hour (356 kilometers per hour) at 4,500 feet (1,372 meters). It took 27.1 minutes to climb to 10,000 feet (,048 meters), and its service ceiling was 14,600 feet (4,450 meters). The flying boat's fuel capacity was 10,410 gallons (39,406 liters), with 664 gallons (2,514 liters) of lubricating oil. This gave it a maximum range of 4,945 statute miles (7,958 kilometers)at 135 miles per hour (217 kilometers per hour). The maximum endurance was 37.1 hours at 131 miles per hour (211 kilometers per hour).
In the patrol bomber configuration, the XPB2M-1 could carry bombs or torpedoes. It was armed with machine guns for defense.
The XPB2M-1 was assigned to VR-8 at NAS Patuxent River, 27 Nov 1943, and later transferred to VR-2 at NAS Alameda. It was withdrawn from service in March 1945, and beached at Alameda. In April 1945 it was returned to Martin Co. for JRM-1 crew training. The prototype served as a maintenance trainer until 1949. It was then broken up.
The airplane once flew from PAX in the United States to Natal, Brazil, a distance of 4,375 miles (7,041 kilometers), while carrying a payload of 13,000 pounds (5,897 kilograms).
JRM: 0 -lift over drag coefficient 0.0233, max lift over drag 16.4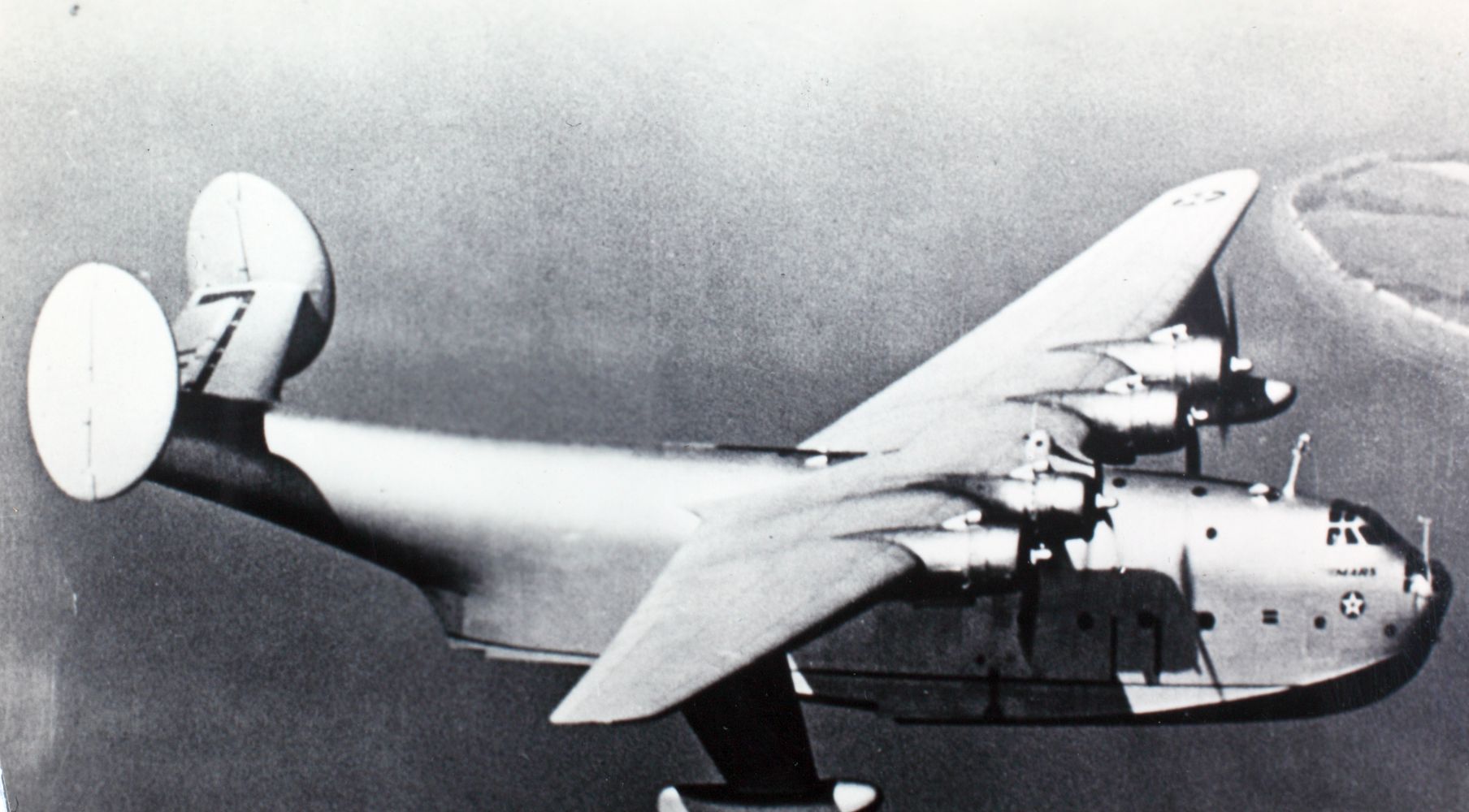 Not So Graceful
     It was not so graceful as it was towed from the Martin plant into the misty bay by small auxiliary craft.
     Through the mists from following craft it looked like as large gray whale.
     It was moved slowly by the power boats down Dark Head Creek from the plant and into the channel of the bay, 15 miles north of the mouth of the Patapsco River.
     At the controls was William K. Ebel, chief test pilot and vice-president in charge of engineering at the Martin Company.
Maneuvered Slowly
     He maneuvered the Mars slowly. When the towing boats cast off and while fireboats stood by, he started each engine separately.
     It was at this point last December, during a water test, that the No. 3 propeller tore away.
     No such mishap occurred yesterday. As the motors warmed, Ebel took the flying boat in half circles, first right, then left.
     Then he "gunned" her and the Mars sailed through the water down the bay to meet boats carrying naval officials, executives of the Martin Company and Washington officials.
Twenty-Man Crew
     With the twenty-man crew headed by Pilot Ebel, Co-Pilot Ellis E. Shannon, Capt. Harold Gray of Pan American Airways and Flight Engineer Benjamin Zelubowski, the ship warmed up for thirty minutes.
     Brig. Gen. James H. Doolittle sat with Glenn L. Martin in the observer's boat.
     Out of the sky came a not-so-small navy amphibian plane. It paced the huge flying boat down the Chesapeake and hung over its right wing as the four largest propellers in the world lifted the ship from the water.
     Together, the two planes disappeared toward the southwest. Within thirty minutes the Mars was back. It "bumped" easily four times and sat down just as easily in the water.
Martin Jubilant
     Within a few minutes it was off again. This time it met the water evenly as it landed, then was immediately taken off again.
     Its manufacturer, Glenn L. Martin, was jubilant over the flying boat's maiden performance.
—The Sun, Baltimore, Maryland, Vol. 211, No. 42, Saturday, 4 July 1942, Page 18, Columns 3 and 4, and continued on Page 4, Column 6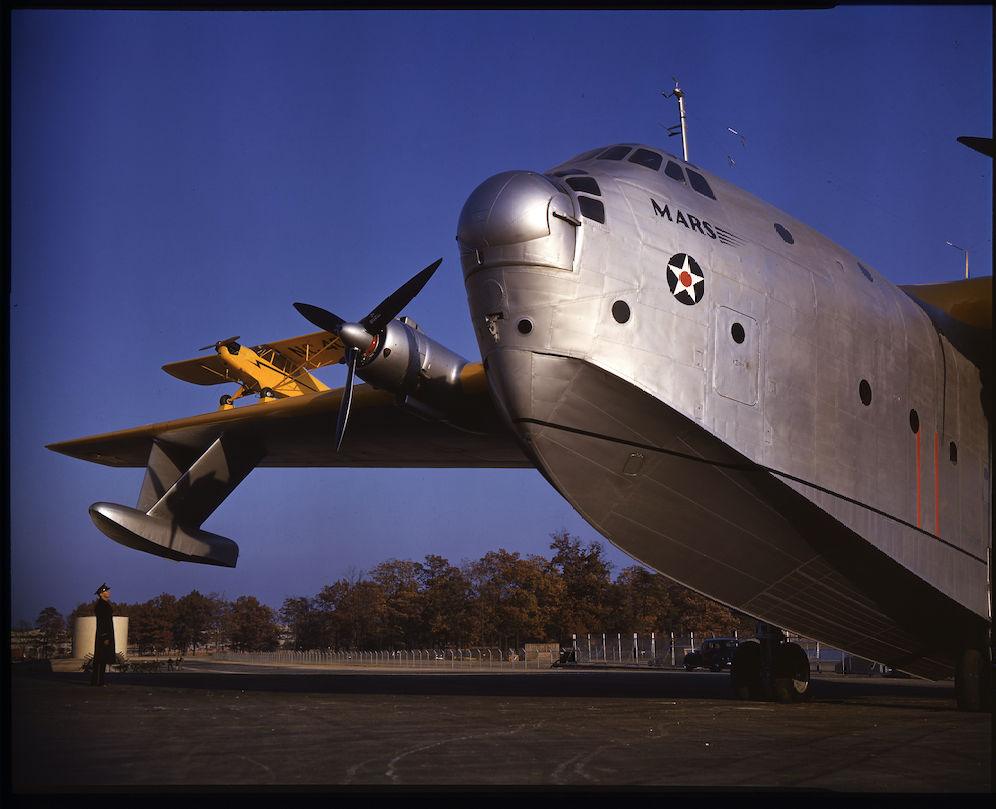 William Kenneth Ebel was born at Orangeville, Illinois, 2 January 1899. He was teh son of Willam Henry Ebel, a farmer, and Nora Agnes Rubendall Ebel.
One 1 October 1918, Ebel was enlisted as a private in the Student Army Training Corps (SATC). He was trained at Heidelberg College, Tiffin, Ohio. With the end of the War, Private Ebel was discharged 20 Dec 1918.
Ebel continued his education at Heidelberg, graduating with a Bachelor of Arts (B.A.) degree in 1921, and in 1923, he completed a Bachelor of Science in Mechanical Engineering (B.S.M.E.) at the Case School of Applied Science, Cleveland, Ohio.
Also in 1921, Ken Ebel joined the 104th Observation Squadron, Maryland National Guard, based at Baltimore. He was assigned as an aviation cadet from 11 September 1923 to 3 June 1924. He was trained as a pilot at the National Guard Primary Flying School.
On 12 January 1925, William K. Ebel was commissioned as a second lieutenant, Air Service, Officers Reserve Corps. He was promoted to first lieutenant, Air Corps, 21 December 1926. He continued to serve with the Maryland National Guard
Also in 1926, Lieutenant Ebel began his career as an engineer and test pilot for the Glenn L. Martin Company.
Effective 15 February 1929, Ebel's reserve officer's commission was converted to first lieutenant, Air Corps.
On 21 October 1929, William Kenneth Ebel married Miss Florence E. Sherck at Seneca, Ohio. The would have two children.
Ebel was promoted to captain, Air Corps, 5 January 1935.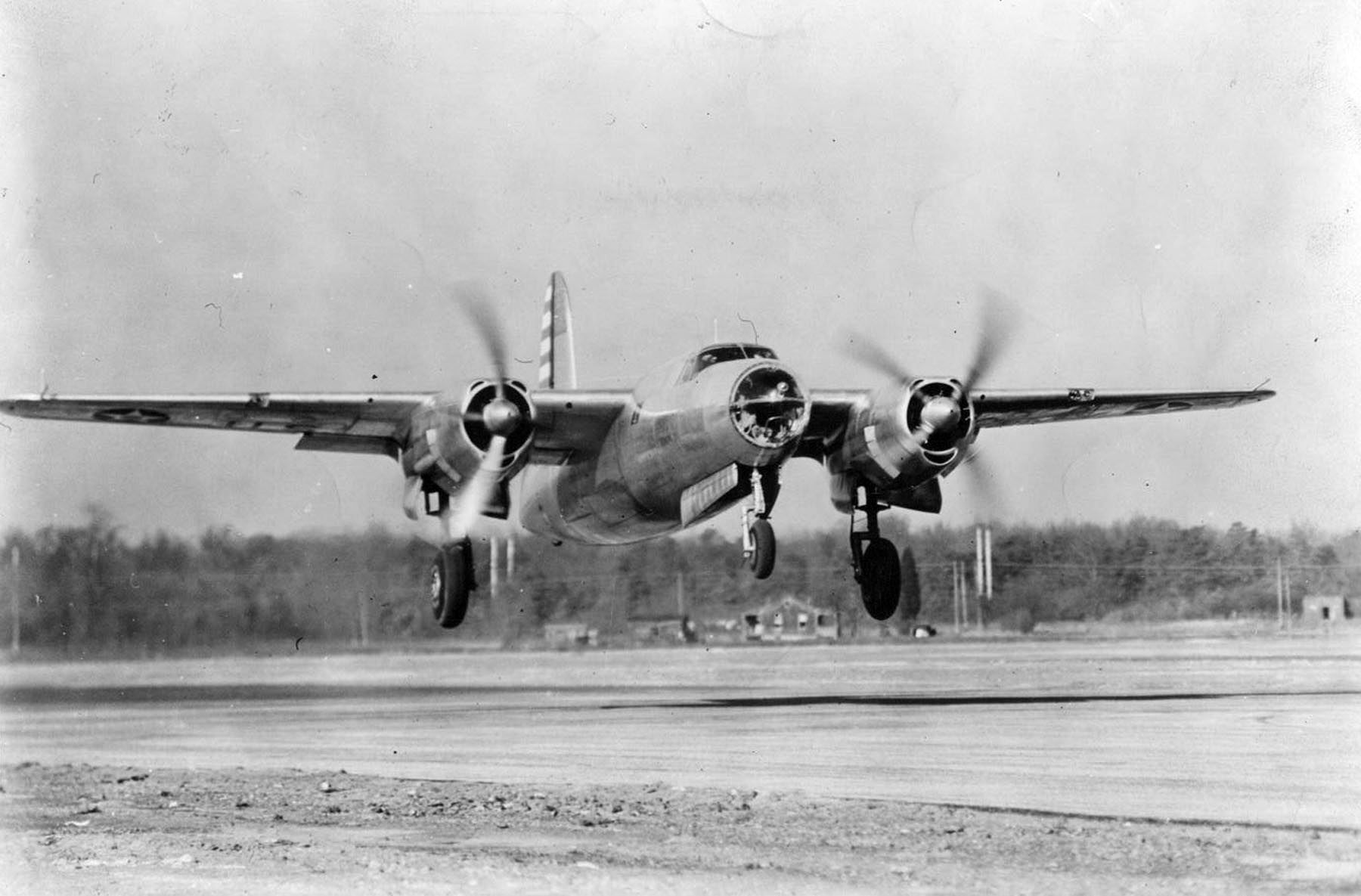 On 25 November 19840, Ken Abel made the first flight of the Martin B-26 Marauder twin-engine medium bomber.
Ebel earned a doctorate degree in engineering (Ph.D.) from Case.
After the War, Ebel left Martin. In 1948, he became the director of the airplane division Curtiss Wright Corporation at Columbus, Ohio. In 1950 he was appointed vice president of engineering for Canadair Ltd., a Canadian aircraft manufacturer owned by the General Dynamics Corporation. After serving as a consultant for General Dynamics in Washington, D.C., Ken Ebel retired.
Mrs. Ebel died in 1968. He later married Ms. Helene H. Topping
Walter Kenneth Ebel died at the Greater Baltimore Medical Center, Baltimnore, 12 July 1972.
© 2019, Bryan R. Swopes