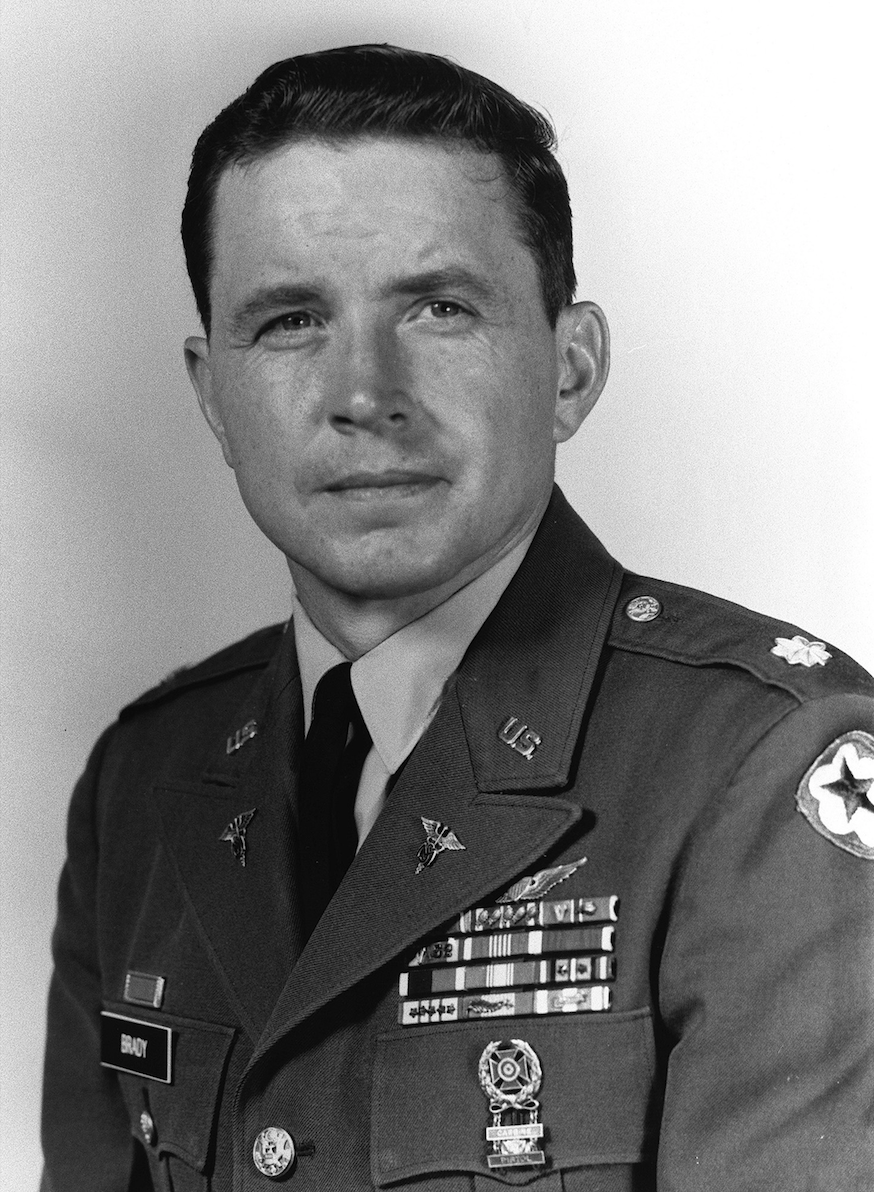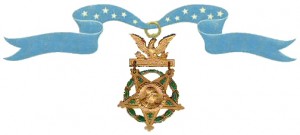 The President of the United States in the name of The Congress takes pleasure in presenting the MEDAL OF HONOR to
MAJOR PATRICK HENRY BRADY
Medical Service Corps, United States Army
for service as set forth in the following
Citation:

For conspicuous gallantry and intrepidity in action at the risk of his life above and beyond the call of duty, Maj. Brady distinguished himself while serving in the Republic of Vietnam commanding a UH-1H ambulance helicopter, volunteered to rescue wounded men from a site in enemy held territory which was reported to be heavily defended and to be blanketed by fog. To reach the site he descended through heavy fog and smoke and hovered slowly along a valley trail, turning his ship sideward to blow away the fog with the backwash from his rotor blades. Despite the unchallenged, close-range enemy fire, he found the dangerously small site, where he successfully landed and evacuated 2 badly wounded South Vietnamese soldiers. He was then called to another area completely covered by dense fog where American casualties lay only 50 meters from the enemy. Two aircraft had previously been shot down and others had made unsuccessful attempts to reach this site earlier in the day. With unmatched skill and extraordinary courage, Maj. Brady made 4 flights to this embattled landing zone and successfully rescued all the wounded. On his third mission of the day Maj. Brady once again landed at a site surrounded by the enemy. The friendly ground force, pinned down by enemy fire, had been unable to reach and secure the landing zone. Although his aircraft had been badly damaged and his controls partially shot away during his initial entry into this area, he returned minutes later and rescued the remaining injured. Shortly thereafter, obtaining a replacement aircraft, Maj. Brady was requested to land in an enemy minefield where a platoon of American soldiers was trapped. A mine detonated near his helicopter, wounding 2 crewmembers and damaging his ship. In spite of this, he managed to fly 6 severely injured patients to medical aid. Throughout that day Maj. Brady utilized 3 helicopters to evacuate a total of 51 seriously wounded men, many of whom would have perished without prompt medical treatment. Maj. Brady's bravery was in the highest traditions of the military service and reflects great credit upon himself and the U.S. Army.
// Richard M. Nixon//
President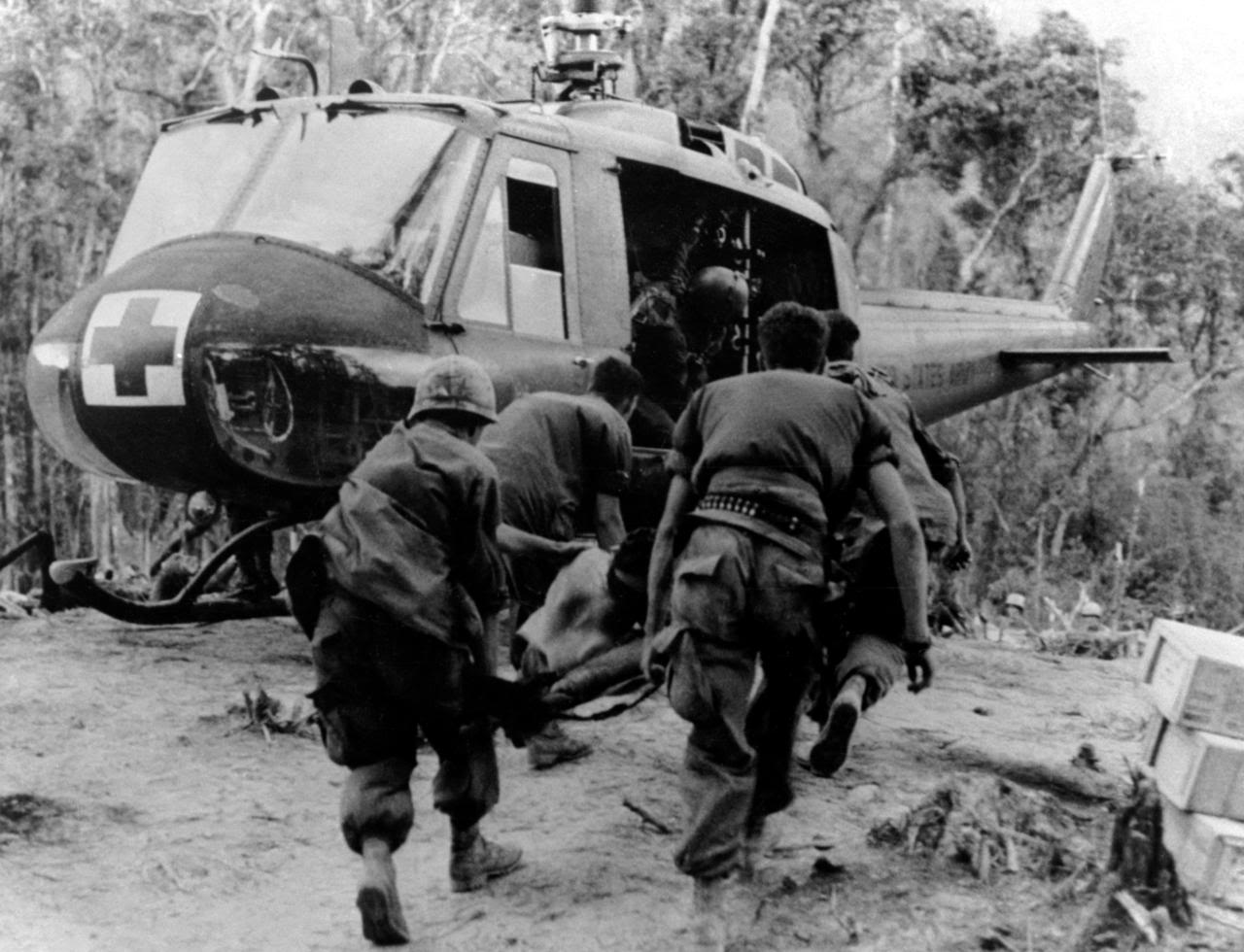 Major General Patrick Henry Brady was born 1 October 1936 at Philip, South Dakota, the son of Michael and LaVona Brady. He attended O'Dea High School, Seattle, Washington, and then graduated from Seattle University with a bachelor's degree in psychology. As a member of the Reserve Officers Training Corps (ROTC), he received a commission as a second lieutenant in the Medical Service Corps, United States Army Reserve, 20 March 1959.
On 17 September 1959, 2nd Lieutenant Brady was transferred to the Regular Army, with his date of rank retroactive to 8 April 1959. He was promoted to 1st lieutenant, 8 April 1962. Lieutenant Brady served in Berlin, Germany from 1959 to 1963. Lieutenant Brady was promoted to the rank of captain, Army of the United States (AUS), 8 April 1963. (Brady's permanent rank in the Regular Army was advanced to captain, 8 April 1966.)
In 1963, Brady was sent to the Army Aviation School at Fort Rucker, Alabama, to be trained as a helicopter pilot. He received his wings in December and the following month was sent to the Republic of Vietnam, assigned to the 57th Medical Detachment (Helicopter Ambulance).
When the unit's commanding officer was killed in action, Captain Brady assumed command of the 57th's Detachment A at Sóc Trăng Airfield. After completing his combat tour, Captain Brady was assigned as a helicopter pilot at Fort Benning, Georgia.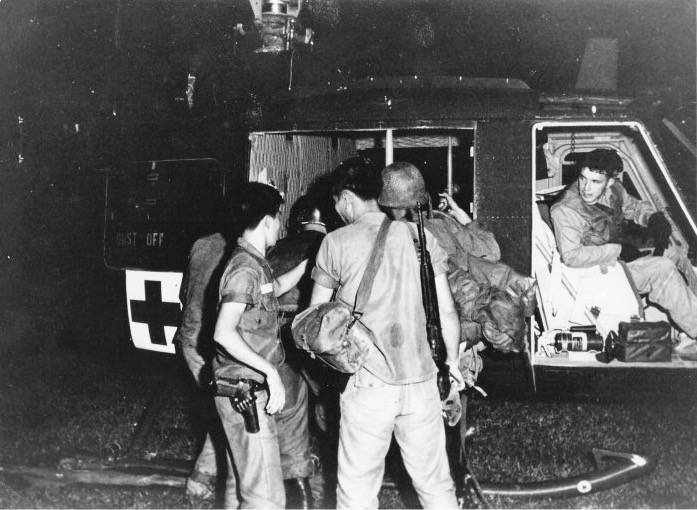 Captain Brady was promoted to the rank of major, 3 July 1967. In 1967 he was reassigned to the 54th Medical Detachment (Helicopter Ambulance), 67th Medical Group, 44th Medical Brigade, and after the unit completed training, deployed to Chu Lai, Vietnam. It was while serving with this unit that he flew the missions for which he was awarded the Medal of Honor.
The Medal of Honor was presented to Major Brady by President Richard M. Nixon in a ceremony at The White House, Washington, D.C., 9 October 1969.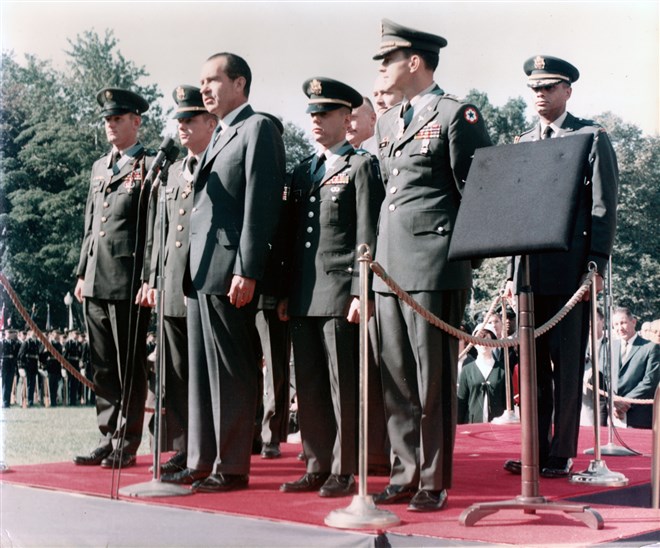 During two combat tours in Vietnam, Major Brady flew more than 2,000 combat missions and rescued as many as 5,000 wounded soldiers.
Patrick Brady served in the United States Army for thirty-four years, rising to the rank of Major General. Major General Brady has been awarded the Medal of Honor, Distinguished Service Cross, Distinguished Service Medal with oak leaf cluster (two awards), Defense Superior Service Medal, Legion of Merit, Distinguished Flying Cross with silver oak leaf cluster (six awards), Bronze Star with one oak leaf cluster (two awards) with "V" Device ("participation in acts of heroism involving conflict with an armed enemy"), Purple Heart, Meritorious Service Medal with two oak leaf clusters (three awards), Air Medal with "V" Device (52 awards), and Army Commendation Medal with oak leaf cluster (two awards).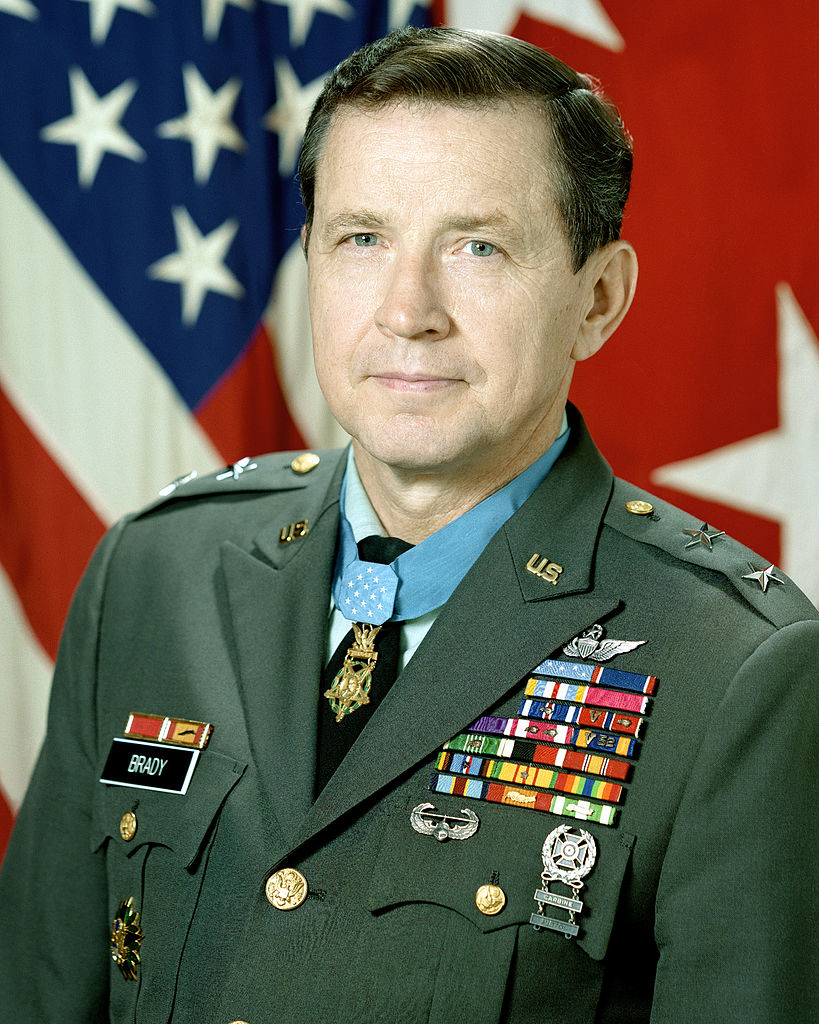 Major General Brady retired in 1983 and lives in Sumner, just south of Auburn, Washington, with his wife, the former Nancy Lee Parsek, whom he met in high school. They have six children. Two are graduates of the United States Military Academy at West Point, New York. A daughter, Meghan Brady, who also graduated from the ROTC unit at Seattle University, served as an officer in the Medical Service Corps with duty in Kosovo and the invasion of Iraq. Captain Brady was awarded the Bronze Star.
Major General Brady and Captain Brady are co-authors of Dead Men Flying: Victory in Vietnam (WND Books, 2012).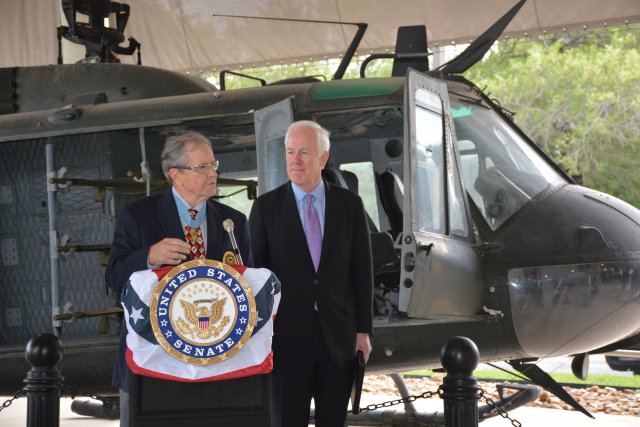 The Bell Helicopter Co. UH-1H Iroquois (Model 205A-1) is an improved variant of the UH-1D (Model 205), which was itself derived from the UH-1B (Model 204). The type's initial military designation was HU-1, and this resulted in the helicopter being universally known as the "Huey."
The UH-1H is a single main rotor/tail rotor medium helicopter powered by a turboshaft engine. It can be flown by a single pilot, but is commonly flown by two pilots in military service. The helicopter has an overall length of 57 feet, 0.67 inches (17.375 meters) with rotors turning. The fuselage is 41 feet, 5 inches (12.624 meters) long. The two blade semi-rigid, under-slung main rotor has a diameter of 48 feet, 3.2 inches (14.712 meters), and turns counter clockwise when viewed from above. (The advancing blade is on the helicopter's right.) At 100% NR, the main rotor turns 324 r.p.m. The two blade tail rotor assembly has a diameter of 8 feet, 6 inches (2.591 meters). It is on the left side of the pylon in a pusher configuration and turns counter-clockwise as seen from the helicopter's left. (The advancing blade is above the axis of rotation.) The helicopter has a height of 13 feet, 7.4 inches (4.150 meters), measured to the top of the mast.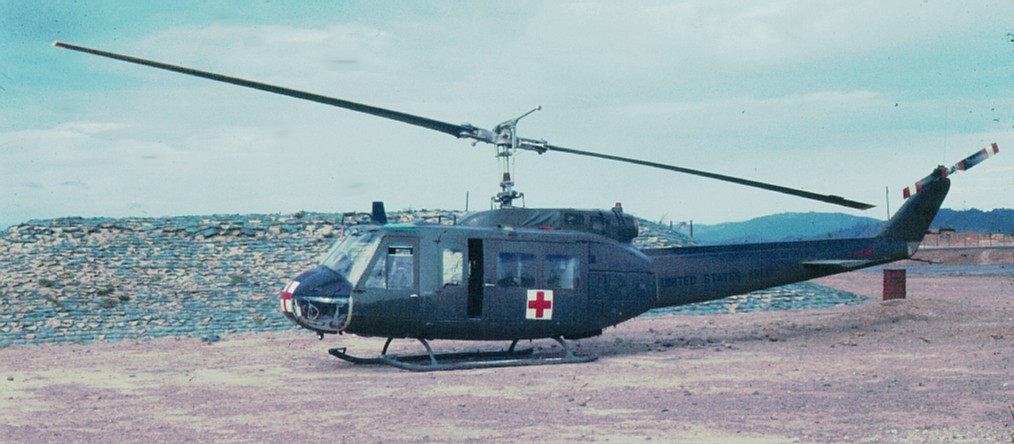 The UH-1H is powered by a Lycoming LTC1K-4 (T53-L-13) turboshaft engine rated at 1,400 shaft horsepower, though it is derated to the helicopter's transmission limit. The T53-L-13 is a two-shaft free turbine with a 6-stage compressor (5 axial-flow stages, 1 centrifugal-flow stage) and a 4-stage axial-flow turbine (2 high-pressure stages, 2 low-pressure power turbine stages). The T53-L-13 is 3 feet, 11.9 inches (1.217 meters) long, 1 foot, 11.0 inches (0.584 meters) in diameter and weighs 549 pounds (249 kilograms).
The UH-1H has a maximum gross weight of 9,500 pounds (4,309.1 kilograms). Its maximum speed, VNE, is 124 knots (143 miles per hour, 230 kilometers per hour). With full fuel, 206.5 gallons (781.7 liters), the helicopter has a maximum endurance of three hours.
5,345 UH-1H Hueys were built, and many of the earlier UH-1Ds were upgraded to the UH-1H standard.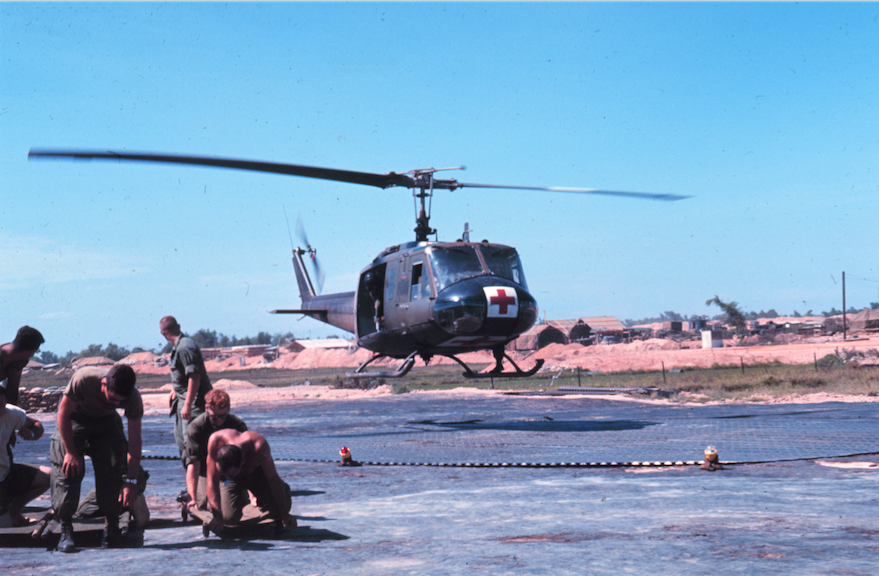 © 2019, Bryan R. Swopes