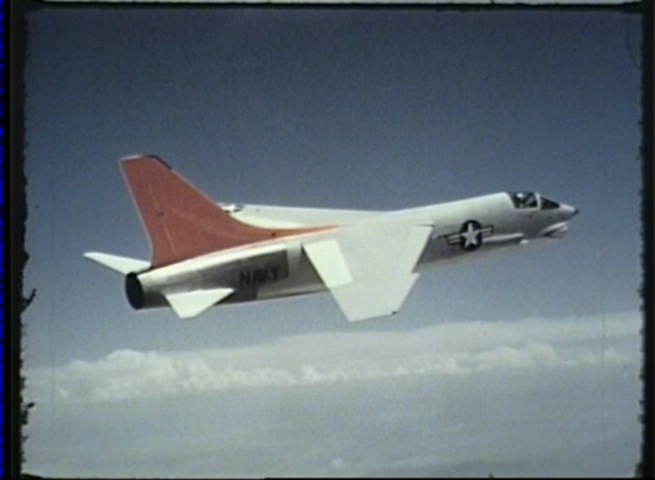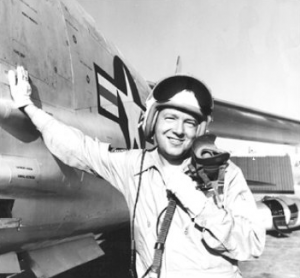 21 August 1956: At 40,000 feet (12,192 meters) over Naval Ordnance Test Station China Lake, near Ridgecrest, California, Commander Robert Wilks Windsor, Jr., United States Navy, flew a production Chance Vought Aircraft F8U-1 Crusader, Bu. No. 141345, to 1,015.428 miles per hour (1,634.173 kilometers per hour)—Mach 1.54—over a 15 kilometer (9.3 miles) straight course. This established a new National Aeronautic Association U.S. national speed record, breaking the previous record set by a North American Aviation F-100C Super Sabre two years earlier by 193.16 miles per hour (310.86 kilometers per hour).
"Duke" Windsor was awarded the Thompson Trophy for 1956 at the National Aircraft Show, Will Rogers Field, Oklahoma, during the first weekend of September.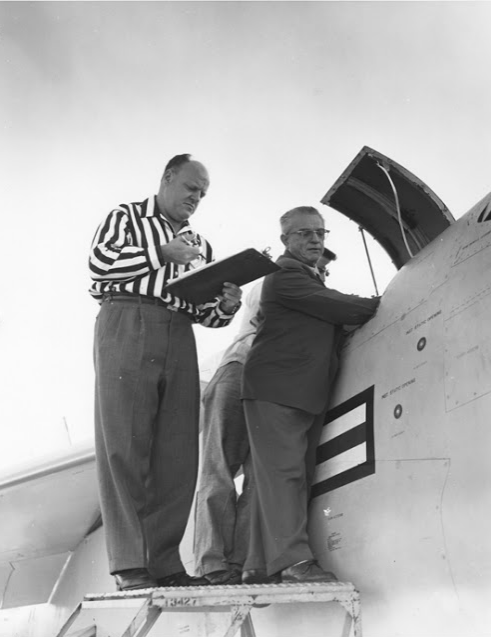 F8U-1 Bu. No. 141345 was the twelfth production Chance Vought F8U-1 Crusader. It was a single-place, single-engine turbojet-powered air superiority day fighter designed to operate from the United States Navy's aircraft carriers.
The F8U-1 (redesignated F-8A in 1962) was 54 feet, 3 inches (16.535 meters) long with a wingspan of 35 feet, 8 inches (10.770 meters) and overall height of 15 feet, 9 inches (14.801 meters). With the wings folded for storage, the span is 22 feet, 6 inches (6.858 meters). The wings were swept aft 42° at ¼-chord.
The swept wing is placed high on the fuselage and its angle of incidence is adjustable in flight. The wing has a total area of 375 square feet (34.84 square meters) and has a "dog tooth" leading edge, extending 1 foot, 0.7 inches (0.323 meters). The leading edges are swept aft to 47° (42° at ¼-chord), and there is 5° anhedral. The horizontal stabilator is placed lower than the wings. Its leading edge is swept aft to 50° and it has 3° 25′ dihedral.
The empty weight of the F8U-1 was 15,513 pounds (7,037 kilograms) with a maximum takeoff weight of 27,500 pounds (12,474 kilograms).
The F8U-1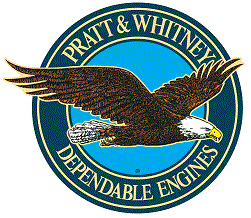 is powered by a single Pratt & Whitney J57-P-4 engine. The J57 was a two-spool, axial-flow turbojet engine with a 16-stage compressor section (9 low- and 7-high-pressure stages) and a 3-stage turbine section (1 high- and 2 low-pressure stages). Its Normal (continuous) rating is 8,700 pounds of thrust (38.70 kilonewtons) at 5,780 r.p.m. The Military Power rating is 10,200 pounds (45.37 kilonewtons) at 6,100 r.p.m., and it can produce 16,000 pounds (71.17 kilonewtons) at 6,100 r.p.m. with afterburner. The J57-P-4 is 20 feet, 10 inches (6.35 meters) long, 3 feet, 5 inches (1.041 meters) in diameter, and weighs 4,860 pounds (2,205 kilograms).
The F8U-1 had a maximum speed of 637 knots (733 miles per hour/1,180 kilometers/hour) at Sea Level, and 880 knots (1,013 miles per hour/1,630 kilometers per hour) at 35,000 feet (10,668 meters). Its service ceiling is 42,300 feet (12,893 meters), and it has a combat ceiling of 51,500 feet (15,697 meters) with afterburner. The airplane's combat radius is 310 nautical miles (357 statute miles/ kilometers)and the combat range is 1,150 nautical miles (1,323 statute miles/2,130 kilometers) at 494 knots (568 miles per hour/915 kilometers per hour)and 42,100 feet (12,832 meters).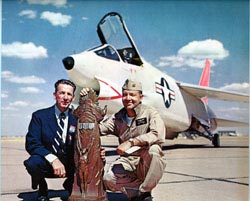 The F8U-1 was armed with four Colt Mk. 12 20 mm cannon with 500 rounds of ammunition, and two AIM-9 Sidewinder infrared-homing air-to-air missiles. It could also carried thirty-two 2.75-inch Folding Fin Aerial Rockets (FFAR) internally.
Commander Windsow was a Navy test pilot who carried out much of the F8U test program, including the aircraft carrier qualifications aboard USS Forrestal (CVA-59).
Bu. No. 141345 was assigned to the Pacific Missile Test Center (PMTC), NAS Point Mugu, California, in 1961. It was converted to an F-8D, but was withdrawn from service in 1964.
Chance Vought built 1,213 F-8 Crusaders. 318 were the F8U-1 variant. Crusaders were in service with the United States Navy for 30 years.
A Chance Vought F8U-1 Crusader (F-8A), Bu. No. 143806, is on display at the Harold F. Pitcairn Wings of Freedom Aviation Museum at Horsham, Pennsylvania, approximately 30 minutes north of Philadelphia.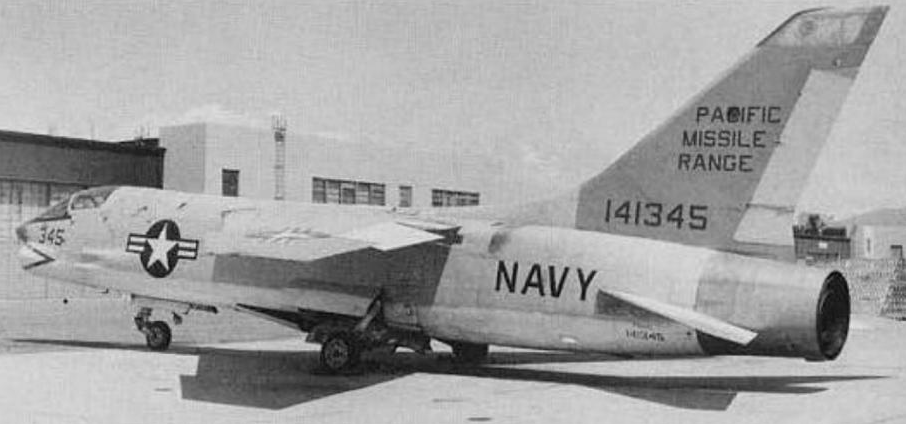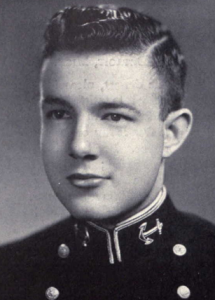 Robert Wilks Windsor, Jr. was born at Wilmington, Delaware, 8 October 1918, the son of Robert W. Windsor and Mary B. Hackett Windsor. He studied at the University of Virginia before being appointed as a midshipman at the United States Naval Academy, Annapolis, Maryland, entering 9 July 1937 and  graduating in 1941. He was commissioned as an Ensign, United States Navy, 7 February 1941, and promoted to the temporary rank of Lieutenant, effective 1 December 1942.
Trained as a pilot, Windsor was designated a Naval Aviator in 1943. During World War II, he served aboard the battleship USS Colorado (BB-45) and USS McLanahan (DD-615 ), a Benson-class destroyer, in the Mediterranean Theater of Operations. He also commanded Composite Squadron 68 (VC-68) aboard the escort carrier USS Shamrock Bay (CVE-84).
Lieutenant Windsor was promoted to the rank of lieutenant commander, 20 July 1945. He served on the staff of Admiral Marc A. Mitsher. He was promoted to commander, 1 June 1951.
Following World War II, Lieutenant Commander Windsor trained at the Combat Information Center School, and then the Naval Air Test Pilot School at NAS Patuxent River, Maryland. During the Korean War, Commander Windsor flew off of USS Yorktown (CV-10).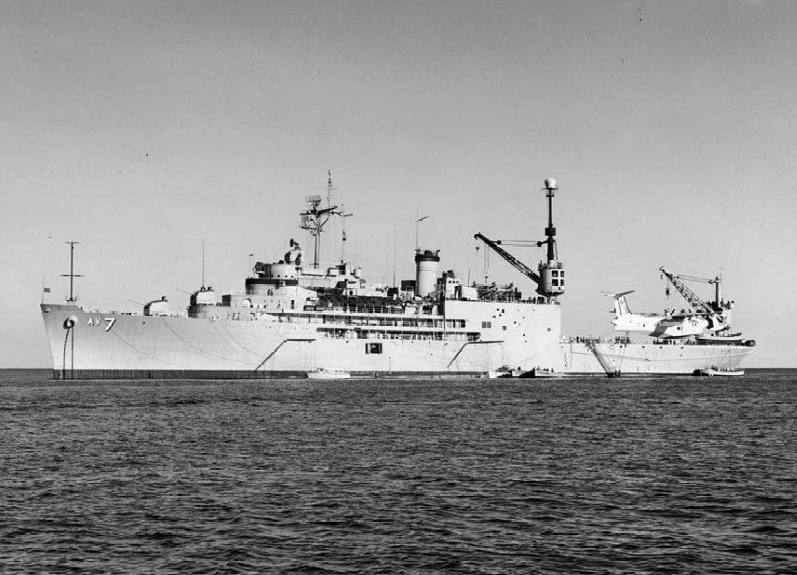 After two tours as a test pilot, Commander Windsor was promoted to the rank of Captain, 1 July 1959. He served on the naval operations staff. Captain Windsor commanded USS Currituck (AV-7), a sea plane tender, from April 1962 to February 1963. From 31 July 1964 to 11 August 1965, he commanded the aircraft carrier USS Independence (CVA-62), and then served on the staff of Commander, Second Fleet, aboard USS Newport News (CA-148). Captain Windsor retired from the Navy in April 1967, after 30 years of service.
Captain Windsor married Miss Elizabeth Bethell Foster of Denver, Colorado. They had one son, also named Robert. Mrs. Windsor died in 1963.
Captain Robert Wilks Windsor, Jr., United States Navy (Retired), died at Ponte Vedra Beach, Florida, 27 May 2000, at the age of 81 years. He and his wife are buried at the Fort Rosecrans National Cemetery, San Diego, California.
© 2018, Bryan R. Swopes