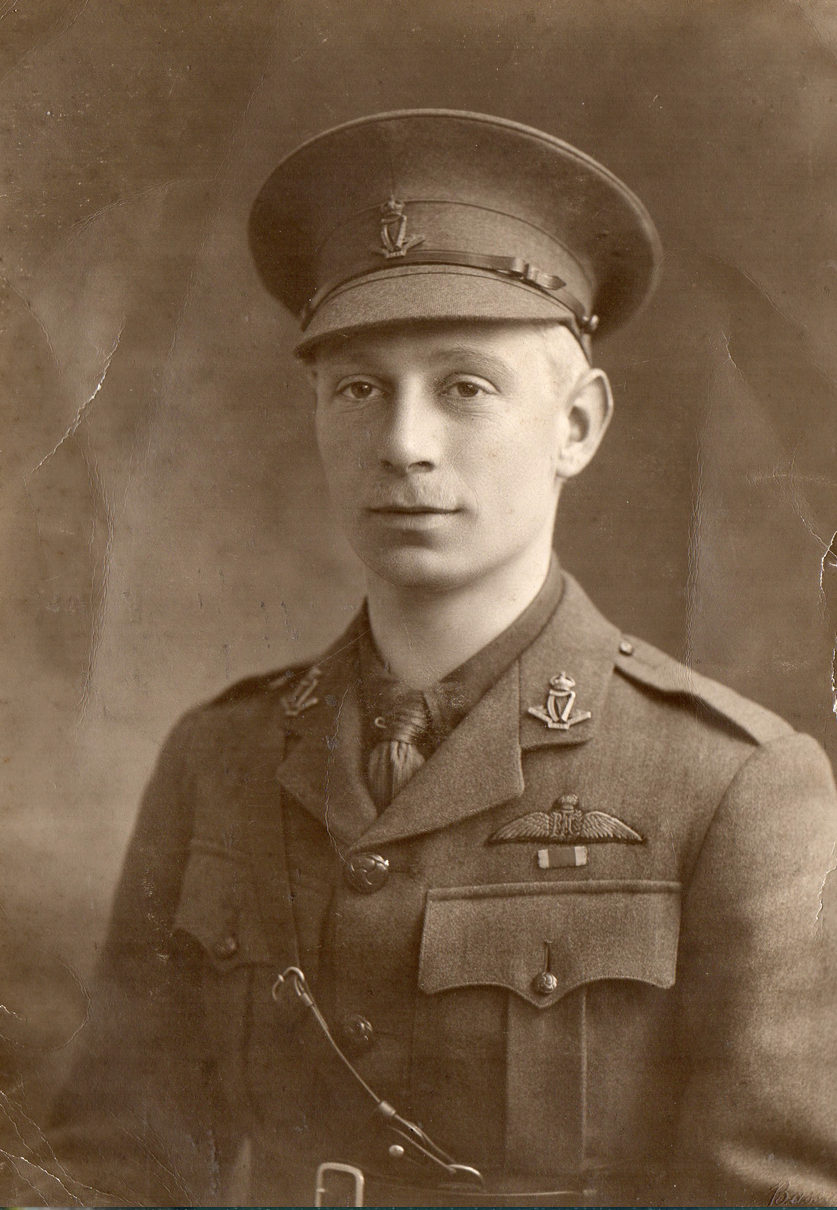 13 August 1914: Lieutenant Hubert Dunsterville Harvey-Kelly, No. 2 Squadron, Royal Flying Corps, departed Dover at 6:25 a.m., 13 August 1914, enroute to Amiens, France. He flew a Royal Aircraft Factory B.E.2.a, number 471. Landing near Amiens at 8:20 a.m., this was the first British airplane to arrive in France following the outbreak of World War I.
Hubert Dunsterville Harvey-Kelly was born at Berry Pomeroy, Devon, 9 February 1891. He was one of five children of Colonel Harvey Hamilton Harvey-Kelly, Indian Staff Corps, and Constance J. Dunsterville Harvey-Kelly. (They were married at Hyderabad, Siad, 15 December 1877.) He attended the Modern School, and the Royal Military College at Sandhurst. On graduation, Harvey-Kelly received a commission as a second lieutenant in the Royal Irish Regiment, 5 October 1910. He was promoted to lieutenant, 23 October 1912.
After learning to fly, Lieutenant Harvey-Kelly received the Royal Aero Club aviator's license number 501, issued 30 May 1913. At his own request, Harvey-Kelly was then attached to the Royal Flying Corps, as a Lieutenant, R.F.C. Reserve, 14 August 1913.
Lieutenant Harvey-Kelly was created a Companion of the Distinguished Service Order, 18 February 1915, and promoted to captain, 23 May 1915. On 30 January 1916, Captain Harvey-Kelly was promoted to the temporary rank of major.
In command of No. 19 Squadron, R.F.C., Major Dunston was flying a SPAD S.VII C.1 when he was shot down 25 April 1917 by Oberleutnant Kurt Robert Wilhelm Wolff, flying an Albatros D.III. Severely injured, he died in a German field hospital, 29 April.
Major Hubert Dunsterville Harvey-Kelly, D.S.O., Royal Irish Regiment (attd. Royal Flying Corps) was buried at Brown's Copse Cemetery, northwest of Roeux, Pas-de-Calais, France.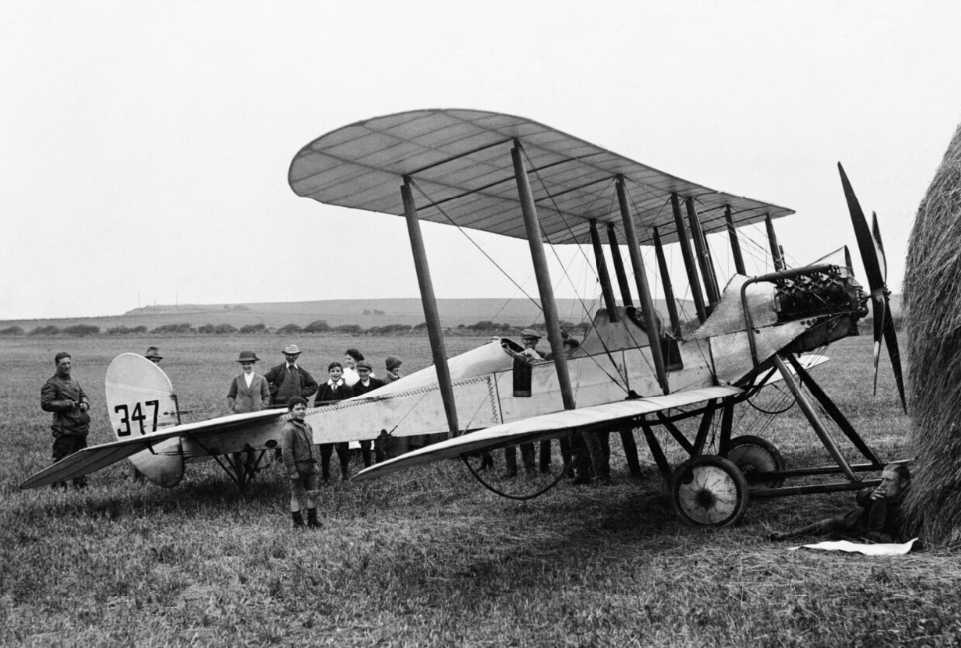 Royal Aircraft Factory B.E.2.a number 471 had been built by the Coventry Ordnance Works and delivered to the Royal Flying Corps at Farnborough, 5 June 1913. It had initially been assigned to the Central Flying School before being transferred to No. 2 Squadron.
The Royal Aircraft Factory B.E. (which stands for Blériot Experimental, meaning that it was a tractor-type airplane, which had been developed by Louis Blériot) was designed by Geoffrey de Havilland. It was a two-place, single-engine, two-bay biplane which was used as a trainer, reconnaissance aircraft, artillery spotter or bomber. An observer occupied the forward cockpit and the pilot was aft.
The B.E.2.b was essentially the same as the B.E.2.a, except the cockpit sides were higher. The elevator control cables were external from the pilot's cockpit, aft. Probably the most significant change was the use of ailerons for the B.E.2.b, where the previous versions had used wing-warping like the original 1903 Wright Flyer.
The fuselage was constructed of a wooden framework, cross-braced with wires. The wings had wood spars and ribs. The airframe was covered in doped fabric.
The wings of the 2.a and 2.b were straight with no dihedral. Both upper and lower wings had the same span and chord, and were not staggered. (The B.E.2.c added both dihedral and stagger.) The lower wing spars were connected through the fuselage with steel tubing. The landing gear had both wheels and tires, but also wood-covered steel tube skids extending forward to protect the propeller from contacting the ground.
The B.E.2.a–2.b was 29 feet, 6½ inches (9.004 meters) long with a wingspan of 38 feet, 7½ inches (11.773 meters). The wings' chord was 6 feet, 4 inches (1.930 meters). It had an empty weight of 1,274 pounds (578 kilograms) and gross weight of 1,600 pounds (726 kilograms).
The B.E.2, B.E.2.a and B.E.2.b were powered by an air-cooled, normally-aspirated 6.949 liter (424.036 cubic inch) Renault Type WB side-valve 90° V-8 engine with two valves per cylinder and a compression ratio of 4.12:1. The WB was rated at 70 horsepower at 1,750 r.p.m. The engine drove a four-bladed, fixed-pitch wooden propeller at one-half crankshaft speed. The Renault WB was 3 feet, 9.5 inches (1.556 meters) long, 2 feet, 8.8 inches (0.833 meters) high and 2 feet, 5.8 inches (0.757 meters) wide. It weighed 396 pounds (180 kilograms).
The airplane had a maximum speed of 70 miles per hour (113 kilometers per hour) at Sea Level and 65 miles per hour (105 kilometers per hour) at 6,500 feet (1,981 meters). It could climb to 3,000 feet (914 meters) in 9 minutes and to 7,000 feet (2,134 meters) in 35 minutes. The service ceiling was 10,000 feet (3,048 meters). Maximum endurance was 3 hours.
The B.E.2.b was unarmed. The crew could only defend themselves with their personal weapons. The type was easy prey for German fighters. It could carry a small bomb.
Although designed by the Royal Aircraft Factory, Farnbourough, only 6 B.E.2s were built there. The remainder were built by Armstong Whitworth, British and Colonial Airplane Co., Coventry Ordnance Works, Handley Page, Hewlett and Blondeau, and Vickers. Eighty-five of the B.E.2.b variant were produced, with most being used as trainers. Nineteen were sent to the Expeditionary Force in France, and one to the Middle East Brigade. By late 1915, the type had been almost completely replaced by the improved B.E.2.c.
© 2018, Bryan R. Swopes