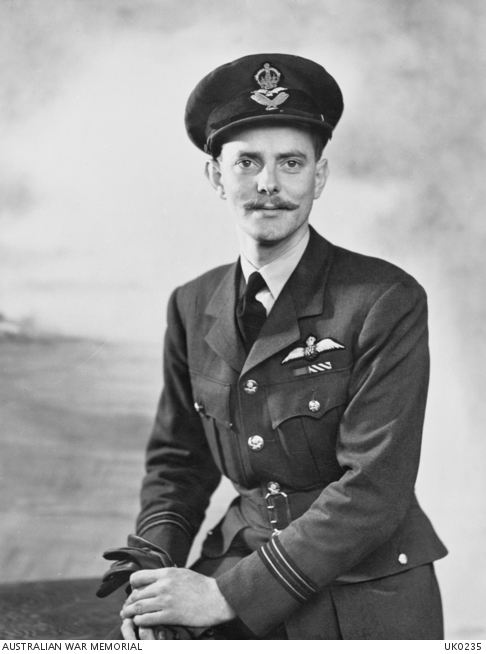 30 April–1 May 1947: Squadron Leader H.B. "Mick" Martin, D.S.O., D.F.C., pilot, and Squadron Leader Edward Barnes "Ted" Sismore, D.S.O., D.F.C., navigator, departed from Heathrow Airport, London, England, at 20:06 D.B.S.T., 30 April, in a Royal Air Force Transport Command de Havilland DH.98 Mosquito PR.34. They flew to Brooklyn Airport, Capetown, South Africa, arriving at 17:35 D.B.S.T., 1 May.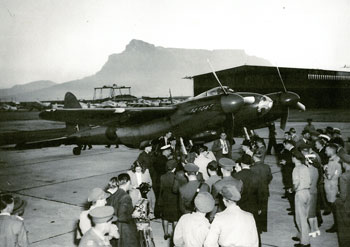 The total duration of the 6,717 mile (10,810 kilometer) flight was 21 hours, 31 minutes, 30 seconds. This included a 20 minute refueling stop at El Adem, Libya, and a 25 minute stop at Kisumu, Kenya.
Martin and Sismore cut 23 hours, 36 minutes off of the existing record speed for the route set by Flying Officer A.E. Clouston and Mrs. Betty Kirby-Green with a DH.88 Comet, G-ACSS, 14–16 October 1937. ¹
For their record-breaking ² long-distance flight, Martin and Sismore were awarded the Britannia Trophy of the Royal Aero Club of Great Britain.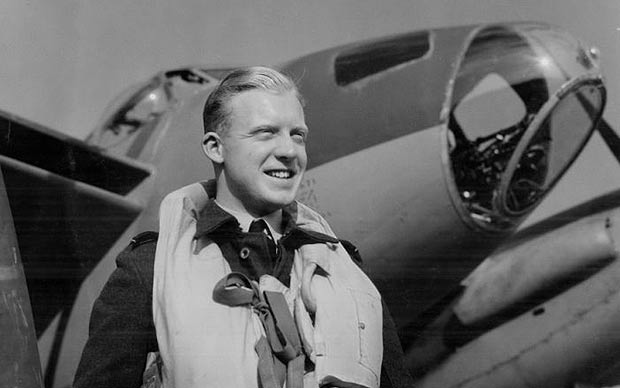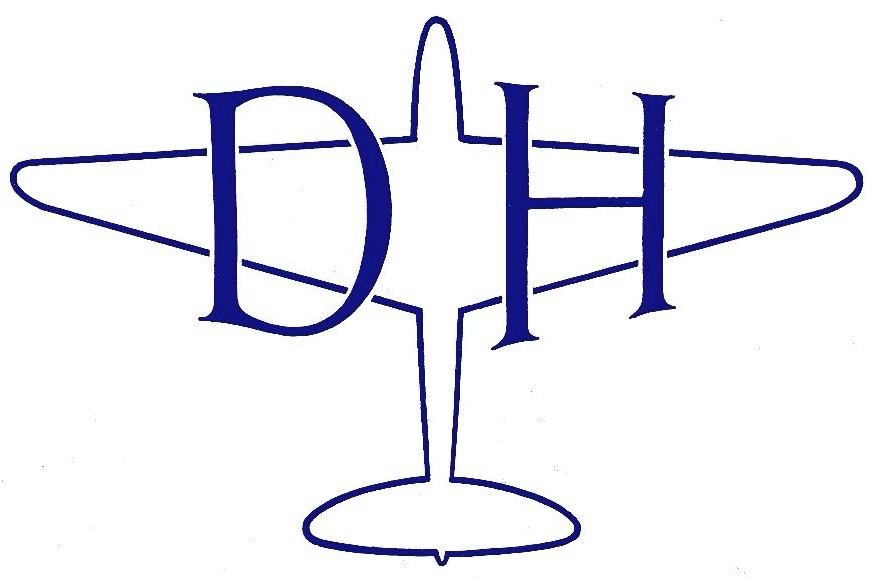 Their airplane was a de Havilland DH.98 Mosquito PR.34, a very long range, high altitude reconnaissance aircraft. It was the fastest of all Mosquito variants. The identification of their Mosquito is undetermined.
The de Havilland DH.98 Mosquito was designed and built by the de Havilland Aircraft Company, Limited. It was a twin-engine aircraft constructed primarily of wood. The airplane was flown by a pilot and navigator/bombardier. It was produced in bomber, fighter-bomber, night fighter and photo reconnaissance versions.
The PR.34 was 41 feet, 6 inches (13.649 meters) long, with a wingspan of 54 feet, 2 inches (16.510 meters) and overall height of 15 feet, 3 inches (4.648 meters). Its empty weight was 16,630 pounds (7,543 kilograms) and  it had a gross weight of 25,500 pounds (11,567 kilograms)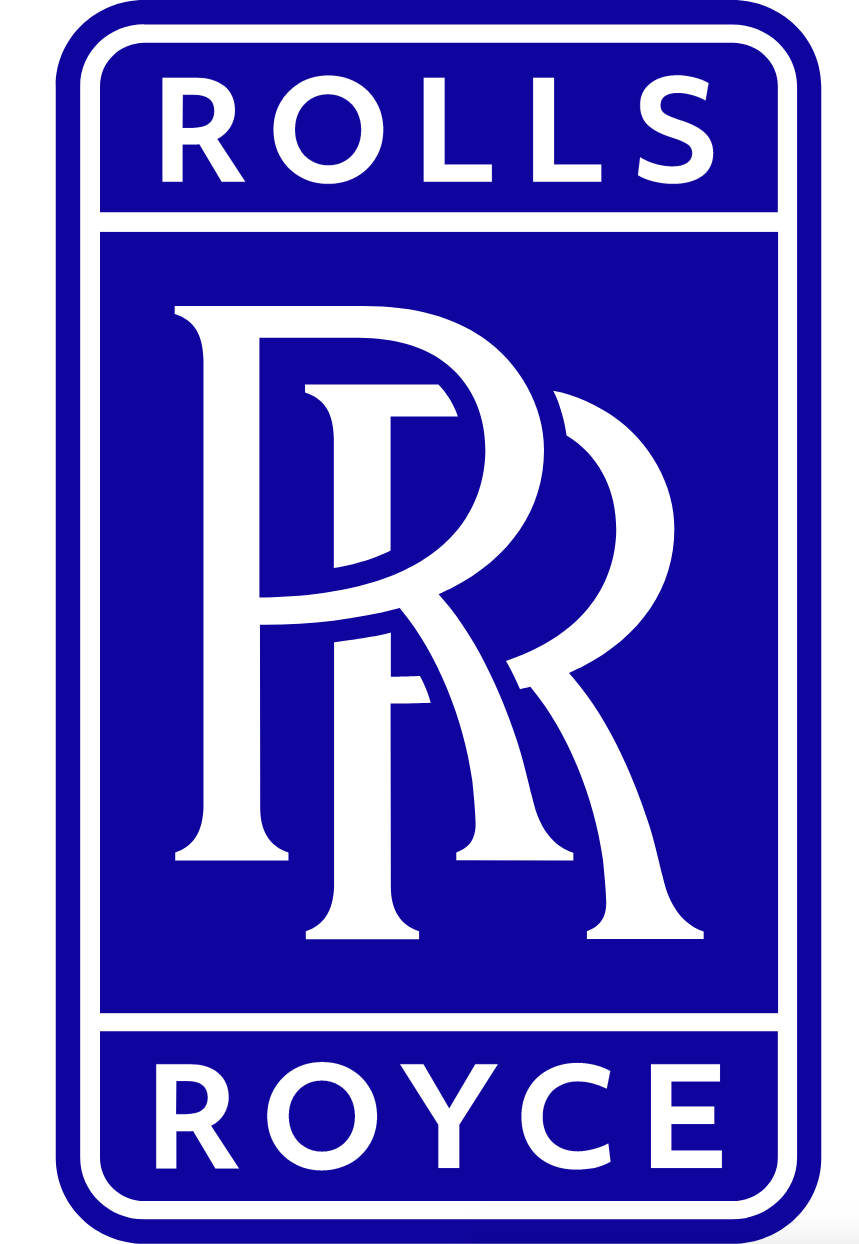 The Mosquito PR.34 was powered by two liquid-cooled, fuel injected and supercharged, 27.01 liter (1,648.96 cubic inch) Rolls-Royce Merlin 113/114 single overhead camshaft 60° V-12 engines which produced 1,430 horsepower at 27,250 feet (8,306 meters) with 18 inches of boost (1.24 Bar). These engines used S.U. single-point fuel injection. The Merlins drove three-bladed de Havilland Hydromatic constant-speed, quick-feathering, propellers with a diameter of 12 feet, 0 inches (3.658 meters) through a 0.420:1 gear reduction. The Merlin 113 weighed 1,650 pounds (748.4 kilograms) while the 114 was slightly heavier, at 1,654 pounds (750.2 kilograms). The 114 drove a second supercharger for cabin pressurization.
The PR.34 had bulged bomb bay doors to accommodate an 869 gallon auxiliary fuel tank and could carry a 200-gallon (909 liter) "slipper" tank under each wing. The total fuel capacity  of the London–Capetown Mosquito was was 1,267 Imperial gallons (5,760 liters).
The DH.98 Mosquito PR.34 had a maximum speed of 422 miles per hour (679 kilometers per hour) at 30,000 feet (9,144 meters). Its service ceiling was 43,000 feet (13,106 meters) and it had a range of 3,340 miles (5,375 kilometers).
There were 181 PR.34s built, with 50 of those constructed by the Percival Aircraft Company.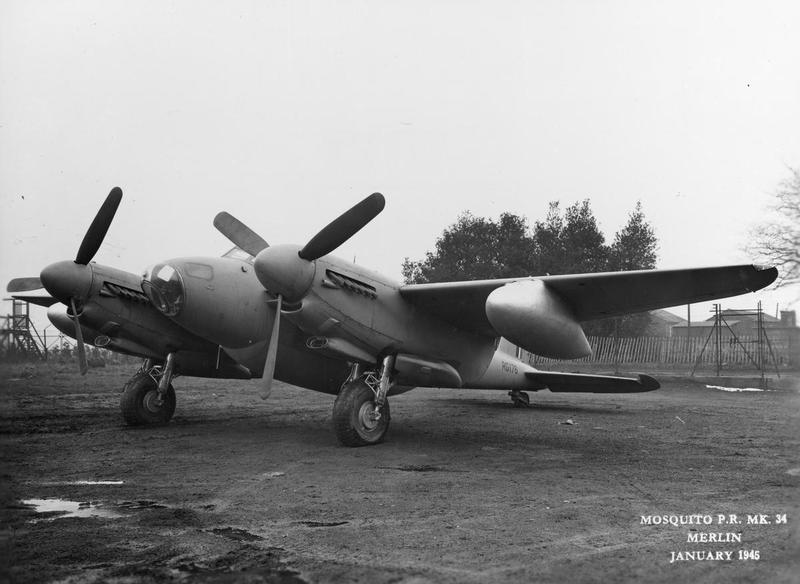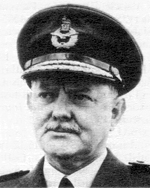 (Acting) Squadron Leader Mick Martin (later, Air Marshal Sir Harold Brownlow Morgan Martin, K.C.B., D.S.O. and Bar, D.F.C. and Two Bars, A.F.C., Royal Air Force), was one of the few No. 617 Squadron Avro Lancaster bomber pilots who participated in Operation Chastise, the raid on the Ruhr Valley hydroelectric dams in 1943, to survive the war. (He flew ED909/G, AJ P, "Popsie." Remarkably, his airplane also survived World War II.) Air Marshal Martin retired from the RAF in 1974. He died 3 November 1988 at the age of 70 years.
(Acting) Squadron Leader Ted Sismore (later, Air Commodore Edward Barnes Sismore, D.S.O., D.F.C. and Two Bars, A.F.C., A.E., O.D. (K.), ³ M.B.I.M.), was known as the best long-range low-level navigator in the Royal Air Force. He was the lead navigator for the attack of Amiens Prison, 18 February 1944, and the raid on the Gestapo headquarters at Copenhagen, Denmark in 1945. Air Commodore Sismore retired from the Royal Air Force, 23 June 1976. He died 22 March 2012 at the age of 90 years.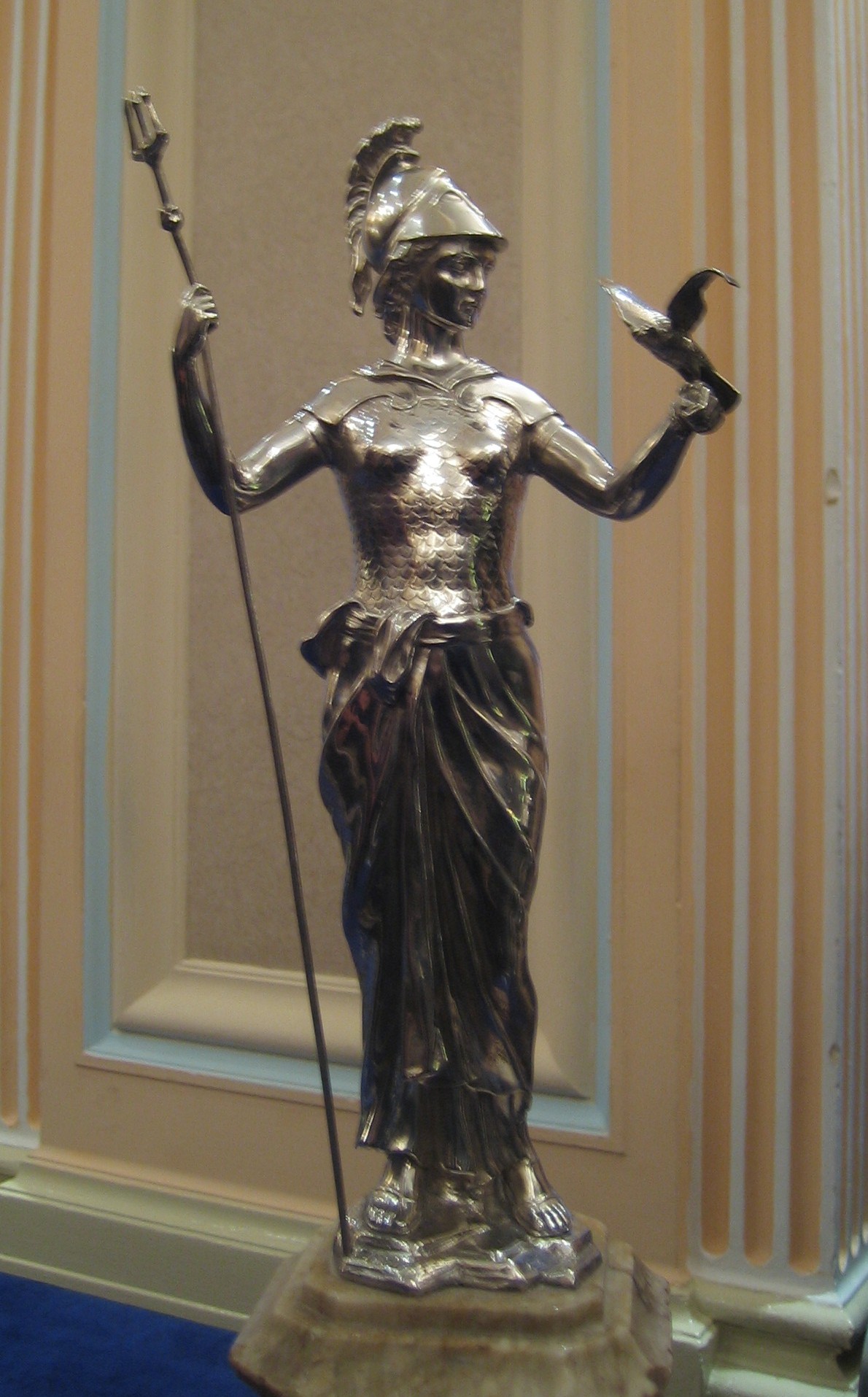 ¹ FAI Record File Number 13242
² This flight does not appear to be an official Fédération Aéronautique Internationale record.
³ Order of Dannebrog, Degree of Knight, conferred by His Majesty the King of Denmark, 18 March 1949.
© 2018, Bryan R. Swopes