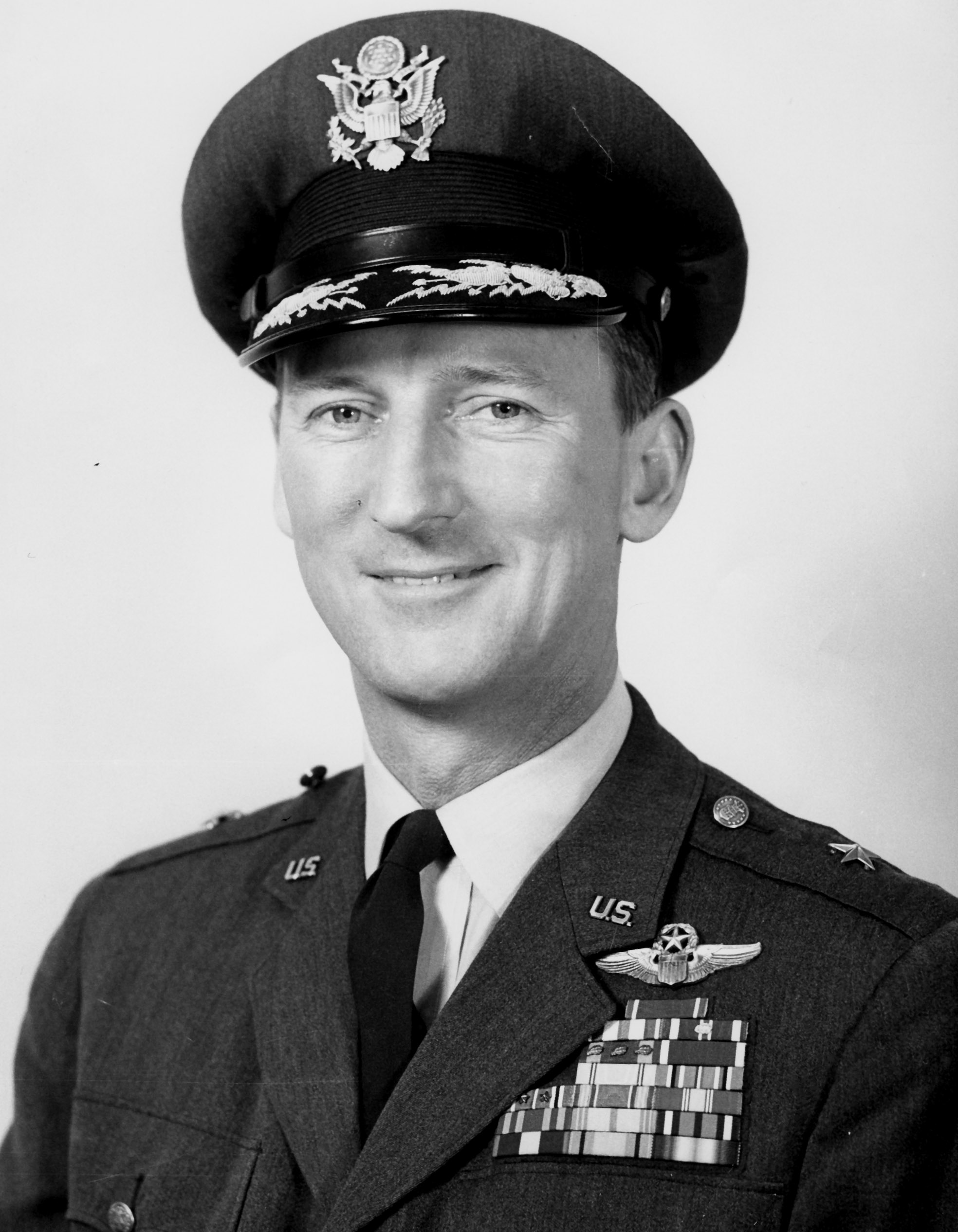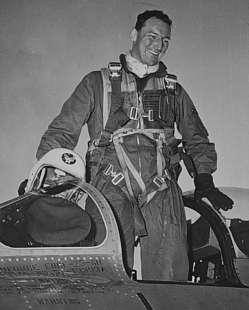 2 January 1954: Colonel Willard W. Millikan, United States Air Force, flew a North American Aviation F-86F-25-NH Sabre, 51-13393, named Minuteman, from Los Angeles International Airport to New York in 4 hours, 6 minutes, 16 seconds,¹ averaging 595.91 mph (959.02 kilometers per hour).
Colonel Millikan departed Los Angeles International Airport at 10:10:55 a.m., Eastern Standard Time, and flew most of the route at 40,000 feet (12,192 meters). After expending the fuel in his two 670-gallon (2,536 liter) wing tanks, he dropped them over the southwest desert.
The Sabre crossed over Colorado Springs, Colorado, at 11:28 a.m., EST. At 12:26 p.m., Millikan made a refueling stop at Offutt Air Force Base, Omaha, Nebraska (OFF), where a waiting 20-man crew attached two full wing tanks to the Sabre and he was airborne after only 6 minutes, 28 seconds on the ground.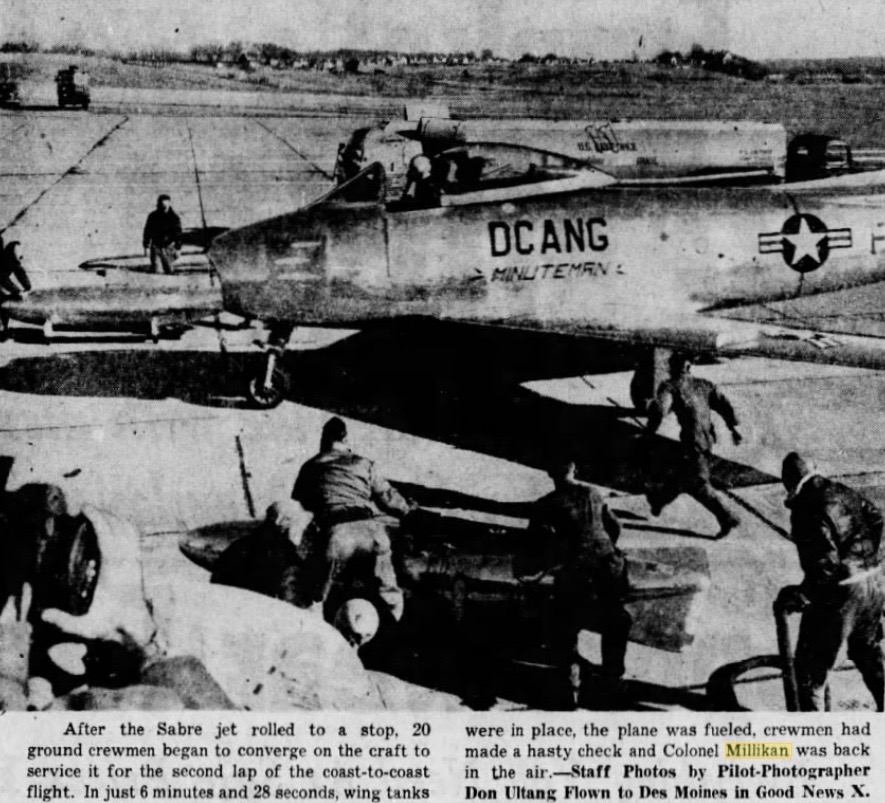 Cruising at 40,000 feet (12,192 meters), he reported 10 miles (16 kilometers) north of Youngstown, Ohio, at 1:47 p.m. EST. Millikan dropped the second set of tanks over Lake Michigan.
Colonel Millikan crossed the finish line at Floyd Bennett Field at 2:19 p.m. EST. His engine flamed out as the aircraft ran out of fuel at 5,000 feet (1,524 meters). Colonel Millikan made a "dead stick" landing at Idlewild Airport, New York City (IDL) at 2:23 p.m., EST.
"My tank was dry," he said. "I had to glide in. When I arrived on the ground I did not have a drop of fuel." After refueling at Idlewild, Colonel Millikan took off at 3:57 p.m., and flew back to Mitchel Field, landing there at 4:07 p.m., EST.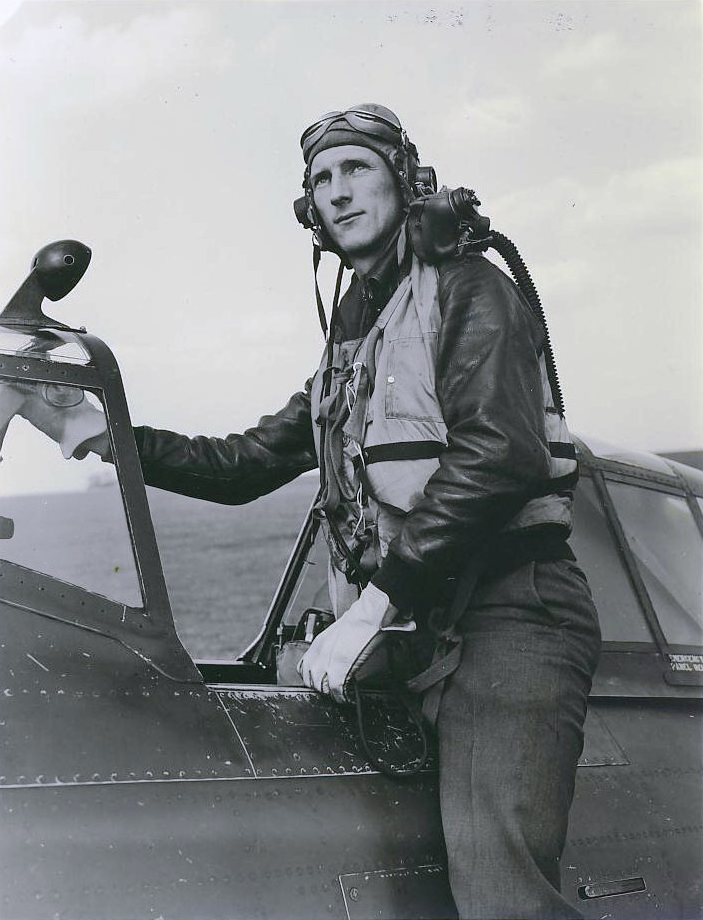 Willard Wesley "Millie" Millikan was a fighter ace in World War II, officially credited with having destroyed enemy 13 Messerschmitt Bf-109s and Focke-Wulf Fw-190s.
Millie Millikan was born 4 December 1919 at Hamburg, Iowa. He was the second of five children of John Reily Millikan, a farm laborer, and Hattie Mae Moore Millikan. After graduating from high school, Millikan studied at the Nebraska State Teachers College at Peru, in Peru, Nebraska.
Willard W. Millikan enlisted as an Aviation Cadet in the Air Corps, United States Army, 16 August 1941, at Fort Leavenworth, Kansas. He had brown hair and blue eyes, was 6 feet, 0 inches (1.829 meters) tall and weighed (161 pounds (73 kilograms).
After failing his flight checks as an Aviation Cadet, he went to England and joined the Royal Air Force, serving as a Flying Sergeant in the No. 133 Squadron (one the three Eagle Squadrons) and piloting Hawker Hurricanes and Supermarine Spitfires.
While stationed in England, Captain Millikan married Miss Ruby Samantha Wesson. They would later have a daughter, Patricia.
After the United States entered the war, Millikan was transferred to the U.S. Army Air Forces, and commissioned as a second lieutenant. Millikan served with the 4th Fighter Group and was eventually promoted to the rank of captain. He commanded the 336th Fighter Squadron and flew the Republic P-47C Thunderbolt and North American Aviation P-51B Mustang.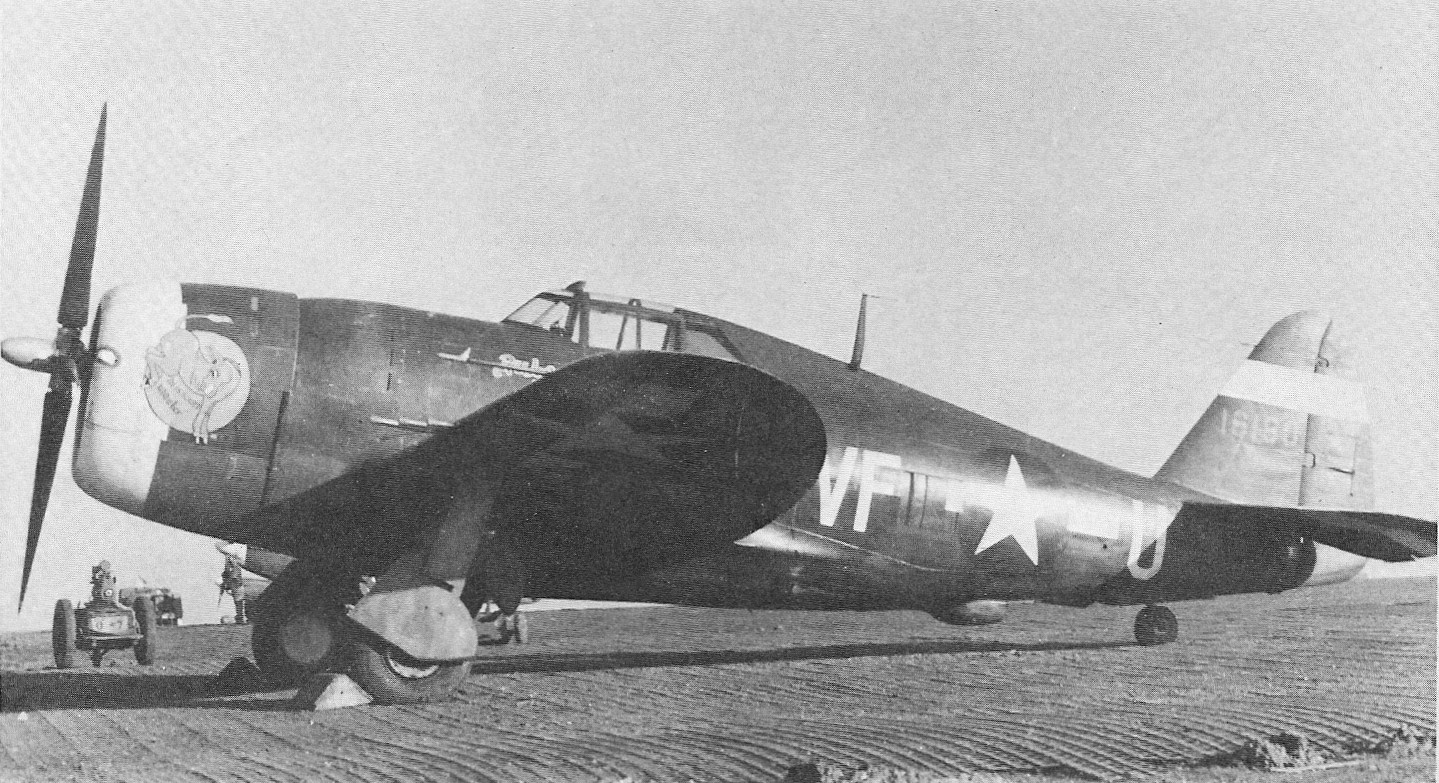 On 22 April 1944, during a 25-minute air battle, Millikan shot down four Messerschmitt Bf 109s with just 666 rounds of ammunition from his Mustang's four .50-caliber machine guns.
On 30 May 1944, he had to bail out of his North American Aviation P-51B-15-NA Mustang, 43-24769, Missouri Mauler, near Wittenberg, Germany, after colliding with his wingman, Lieutenant Sam Young, who was evading anti-aircraft fire.
Captain Millikan was captured and held as a prisoner of war. He later escaped and returned to friendly lines.
Major Millikan was released from active duty in 1946. He then joined the District of Columbia Air National Guard. In civilian life he worked for the the Norair Division of Northrop Corporation, and the aviation products division of the Goodyear Tire and Rubber Company.
Millikan served during the Korean War, flying the Republic F-84 Thunderjet fighter bomber. At the time of his record-setting flight, he was commanding officer of the 113th Fighter Interceptor Wing, District of Columbia Air National Guard.
Major General Willard W. Millikan, United States Air Force, was awarded the Distinguished Service Cross, Silver Star, Legion of Merit, Distinguished Flying Cross with one silver oak leaf cluster (six awards), Air Medal with three bronze oak leaf clusters (four awards), and the Purple Heart.
He died at Alexandria, Virginia, 20 October 1978 at the age of 59 years. Cremated, his ashes were scattered over England.

The North American Aviation F-86 was a single-seat, single-engine day fighter designed by Edgar Schmued and the same team at North American that designed the World War II P-51 Mustang fighter. The F-86F was the third variant, with improvements over the earlier F-86A and F-86E. Colonel Millikan's Minuteman was a Block 25 F-86F Sabre built at Columbus, Ohio. The Sabre was the first fighter to incorporate swept wings, which improved flight at high subsonic speed by reducing aerodynamic drag and delaying the onset of compressibility effects. The leading edges of the wings and tail surfaces were swept 35° based on captured German technical data and extensive wind tunnel testing.
The F-86F was 37 feet, 6.5 inches (11.443 meters) long with a wingspan of 37 feet, 1.4 inches (11.313 meters) and overall height of 14 feet, 1 inch (4.293 meters). Its empty weight was 10,890 pounds (4,939.6 kilograms) and the maximum takeoff weight was 20,357 pounds (9,233.8 kilograms).
The F-86F was powered by a General Electric J47-GE-27 single-shaft axial-flow turbojet engine. The engine had a 12-stage compressor, 8 combustion chambers, and single-stage turbine. It produced 5,910 pounds of thrust (26.289 kilonewtons) at 7,950 r.p.m. (5 minute limit).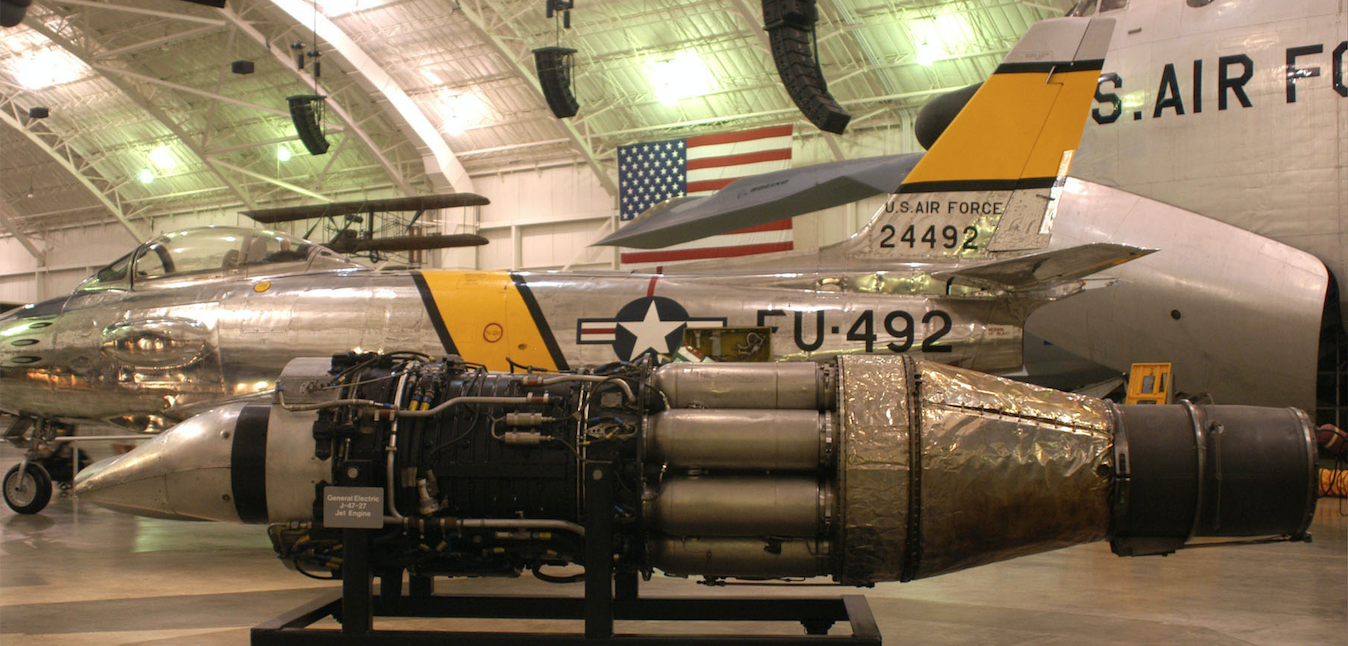 Minuteman was one of the first Block 25 fighters built with the "6–3 wing," which deleted the leading edge slats of the earlier variants, and moved the wings' leading edges forward 6 inches (15.24 centimeters) at the root and 3 inches (7.62 centimeters) at the tip. A boundary layer fence was also added. This change increased the Sabre's maximum speed to 695 miles per hour (1,118.49 kilometers per hour) at Sea Level and improved high altitude maneuvering. This came with a 16 mile per hour (25.75 kilometers per hour) increase in the stall speed, to 144 miles per hour (231.75 kilometers per hour). The service ceiling with this wing was 48,000 feet (14,630 meters).
The F-86F-25 carried 437 gallons (1,654.2 liters) of fuel internally and could carry two 200-gallon (757.1 liter) drop tanks under the wings. Maximum range was 1,525 miles (2,454.25 kilometers).
The F-86A, E and F Sabres were armed with six air-cooled Browning AN-M3 .50-caliber aircraft machine guns with 1,602 rounds of ammunition.
6,233 F-86 Sabres were built by North American at Inglewood, California and Columbus Ohio. Another 521 were assembled by Fiat and Mitsubishi. 1,815 CL-13 Sabres were built by Canadair, and 115 CA-26 and CA-27 Sabres by Commonwealth Aircraft Corporation in Australia. Total production for all types and manufacturers was 8,684.
¹ In an e-mail, Mr. A.W. Greenfield, Director, Contests and Records, National Aeronautic Association, confirmed Colonel Millikan's transcontinental speed record was certified by the N.A.A. and stated that the time was adjusted.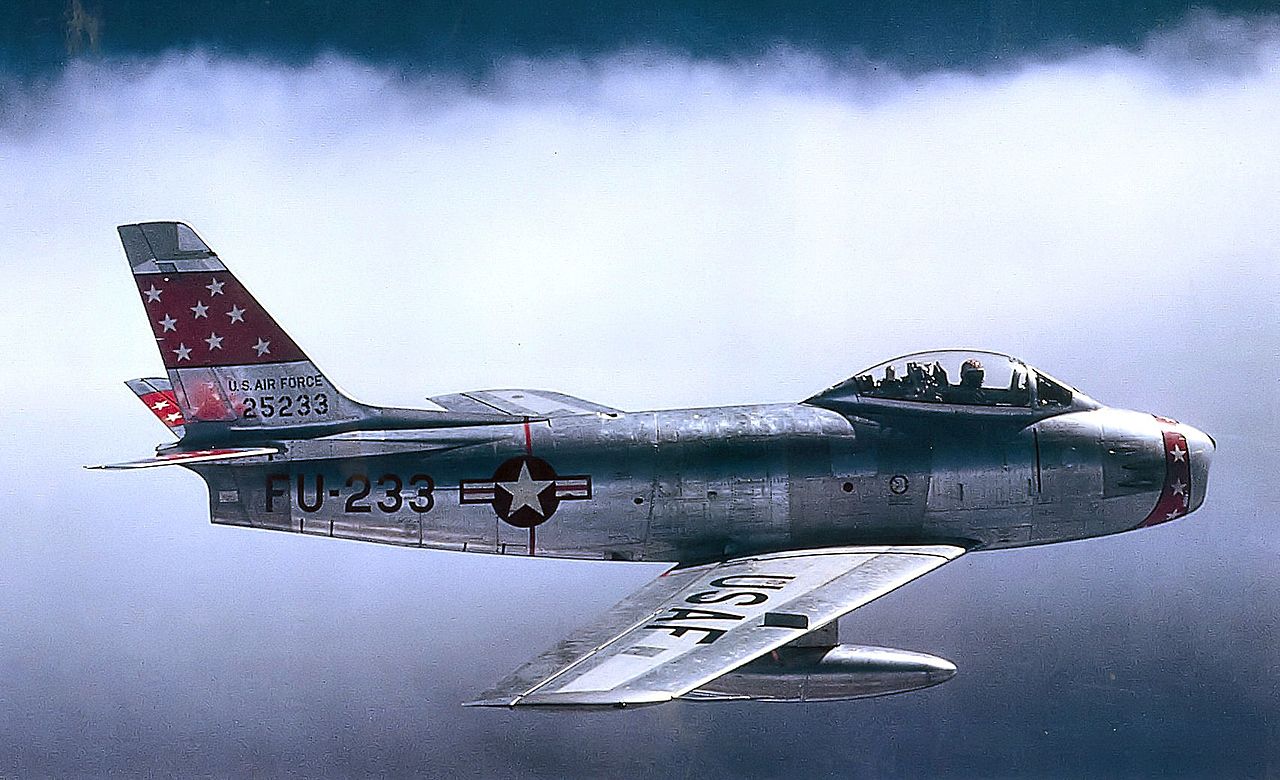 © 2018, Bryan R. Swopes