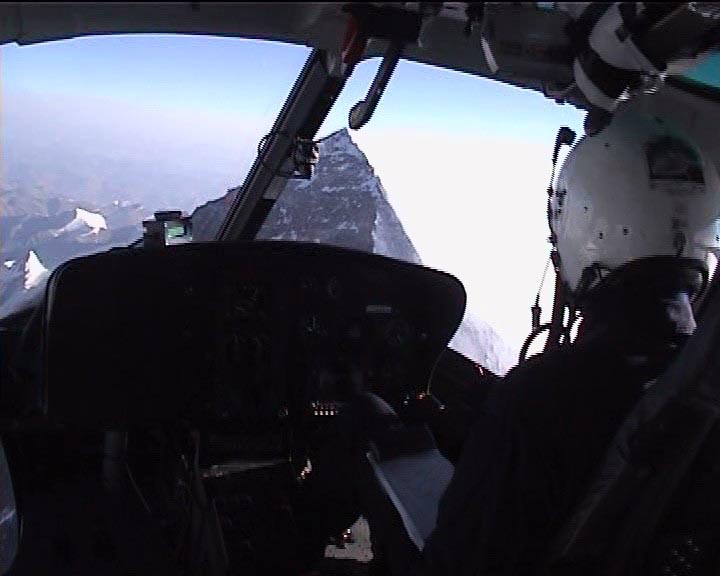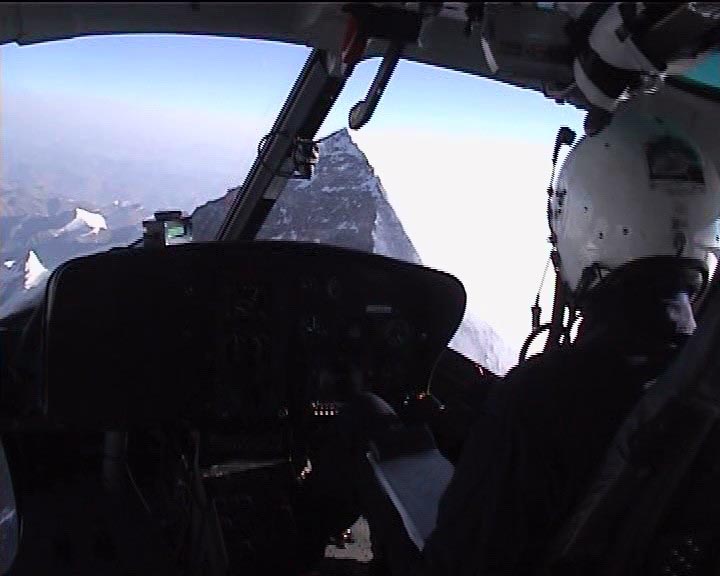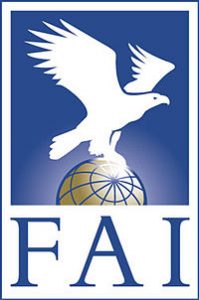 14 May 2005: Test pilot Didier Delsalle landed a Eurocopter AS 350 B3 Écureuil, c/n 3934, registration F-WQEX, at the summit of Mount Everest, the highest point on Earth, at 8,848 meters (29,029 feet).
The Fédération Aéronautique Internationale required that the helicopter remain on the summit for at least two 2 minutes for the landing to be considered official. Delsalle actually landed on the summit twice, staying four minutes each time. The flight set two world records for the highest take-off. ¹
These records broke Delsalle's previous records for highest take-off, 7,927 meters (26,007 feet), set just two days earlier. ²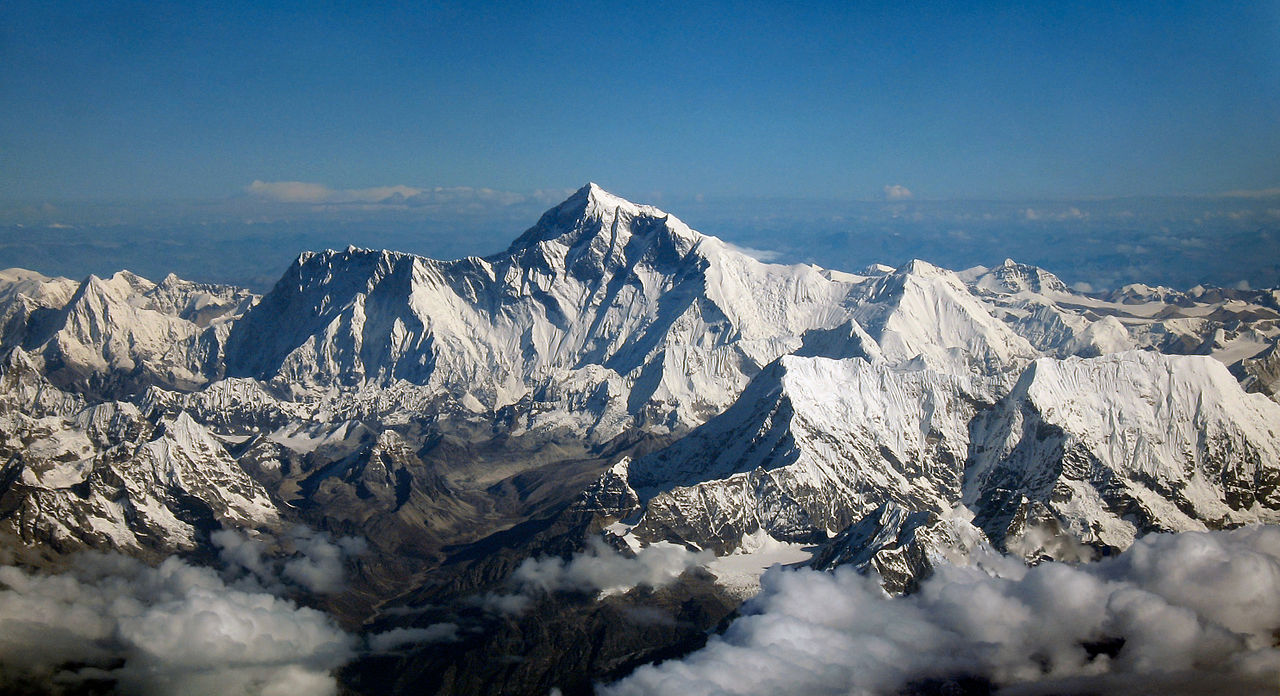 During flight tests to evaluate the practicality of the Everest flight, on 14 April 2005, Delsalle and the AS 350 set three time to climb world records over Istres, France. The Écueriel climbed to a height of 3,000 meters (9,843 feet) in 2 minutes, 21 seconds; 6,000 meters (19,685 feet) in 5 minutes, 6 seconds; and 9,000 meters (29,528 feet) in 9 minutes, 26 seconds. ³
Delsalle also rescued two Japanese climbers at 16,000 feet (4,877 meters).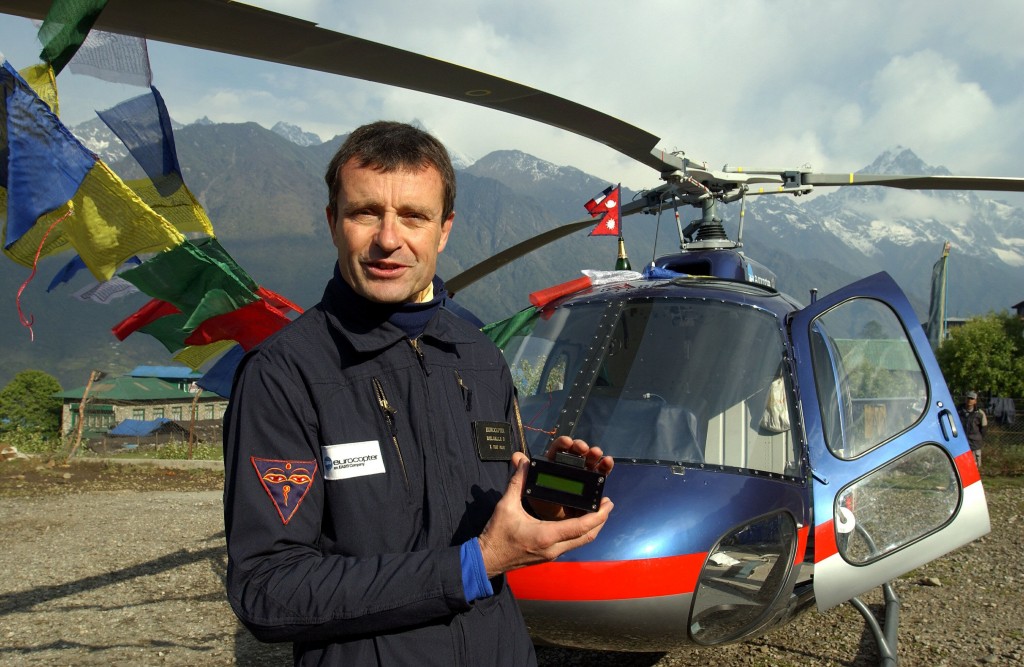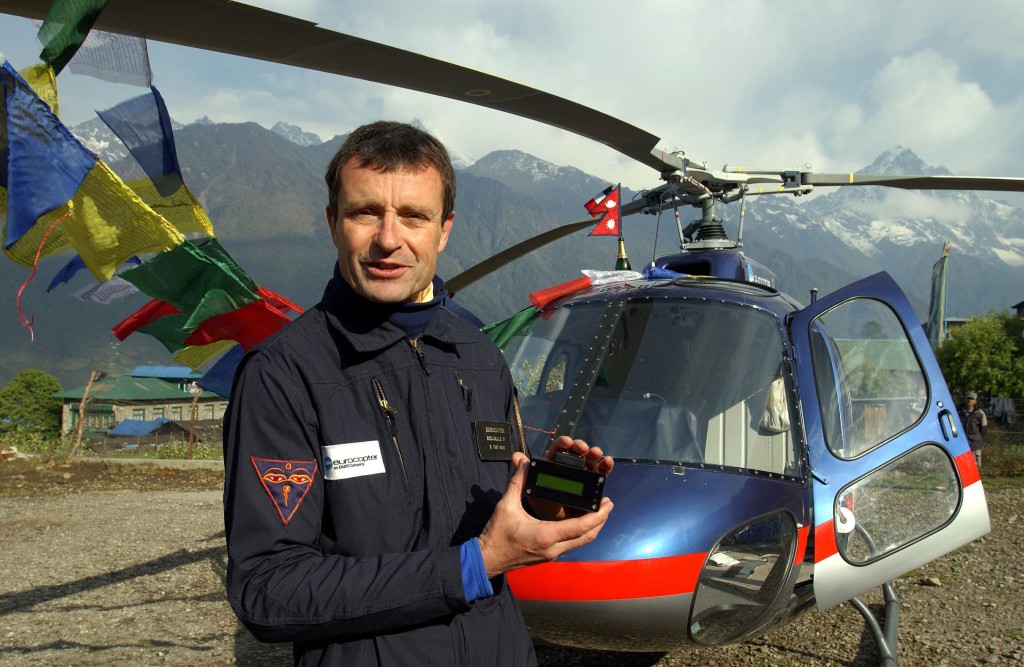 Didier Delsalle was born 6 May 1957, at Aix-en-Provence, France. He joined the Armée de l'Air (French Air Force) in 1979, and was trained as fighter pilot. In 1981 he transitioned to helicopters and was assigned to search-and-rescue operations. After twelve years military service, Delsalle became an instructor at École du personnel navigant d'essais et de réception, the French test pilot school at Istres, France. He then became the chief test pilot for light helicopters for Eurocopter, and later for the NH90 medium helicopter.
Delsalle holds seven FAI world records, five of which remain current.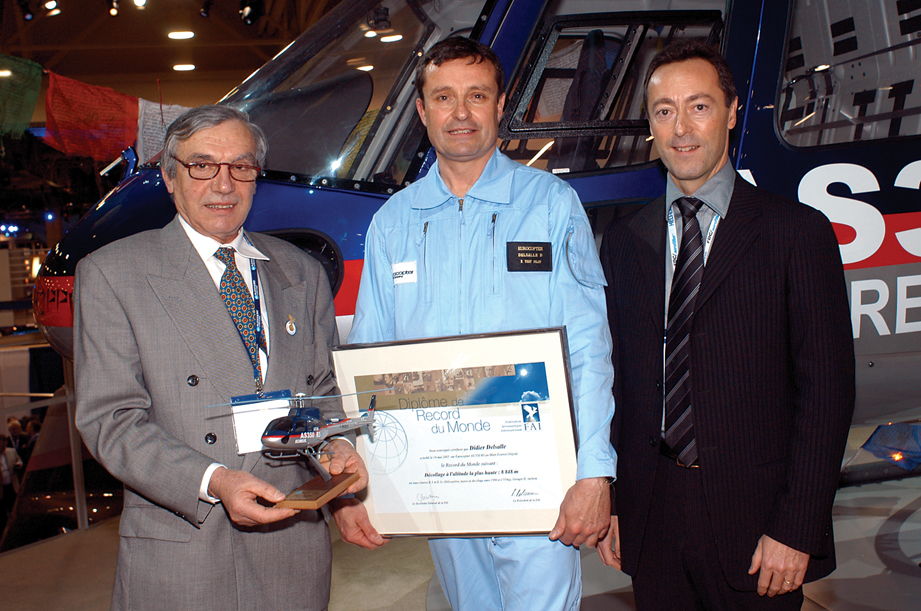 The Eurocopter AS 350 Écureuil is a  6–7 place, single-engine light helicopter, operated by a crew of one or two pilots. (It is known as the A-Star in the United States.) Introduced by Aérospatiale in 1975, it remains in production today and is one of the most popular civil helicopters. The manufacturer is now known as Airbus Helicopters.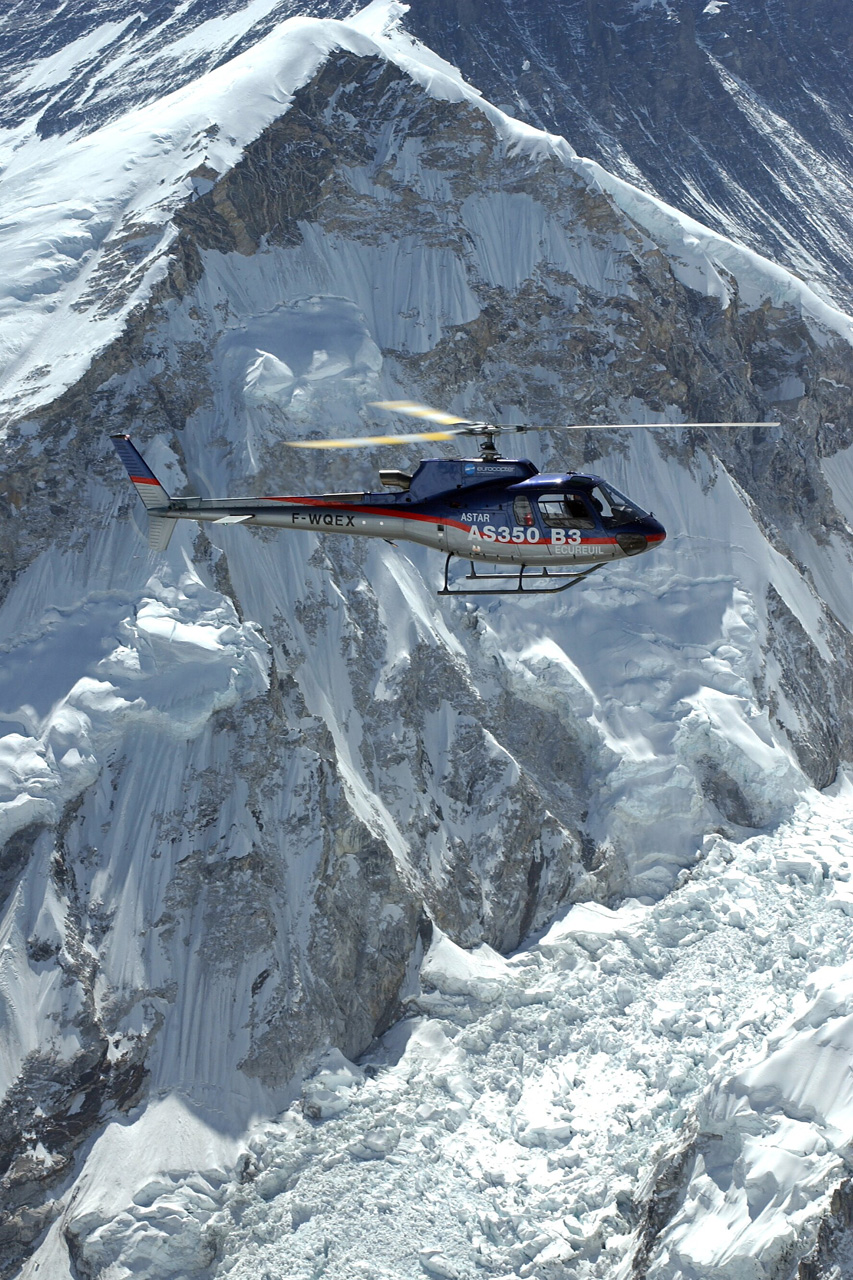 The AS 350 B3 is a high-performance variant, widely used in law enforcement. The overall length with rotors turning is 12.94 meters (42 feet, 5.4 inches). The fuselage is 10.93 meters (35 feet, 10.3 inches) long and the cabin is 1.87 meters (6 feet, 1.6 inches) wide. The helicopter's overall height is 3.14 meters (10 feet, 3.6 inches).
In keeping with standard French practice, the Écureuil/A-Star's main rotor system turns clockwise as seen from above. (The advancing blade is on the helicopter's left side.) The fully-articulated the three-blade rotor has a diameter of 10.69 meters (35 feet, 0.9 inch). The normal operating range is 385–394 r.p.m. (320–430 r.p.m. in autorotation). A two-bladed tail rotor is mounted on the right side of the tail boom in a pusher configuration. It rotates clockwise, as seen from the helicopter's left. (The advancing blade is below the axis of rotation.) Its diameter is 1.86 meters (6 feet, 1.2 inches.)
The AS 350 B3 has an empty weight of approximately 1,174 kilograms (2,588 pounds), depending on installed equipment, and maximum gross weight of 2,250 kilograms (4,961 pounds)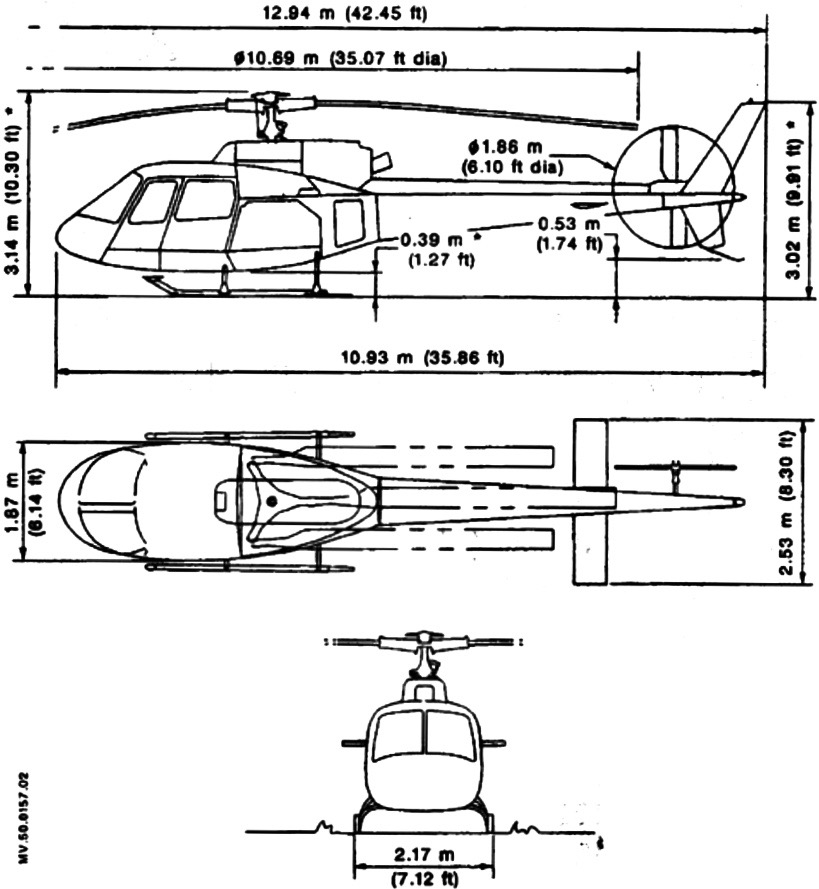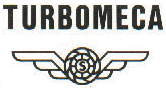 The AS 350 B3 variant is powered by a single Turboméca Arriel 2B turboshaft engine. The Arriel 2B is a free turbine turboshaft engine which uses an electronic engine control system (EECU). The engine has a two-stage compressor section (single-stage low-pressure axial flow, single-stage high-pressure centrifugal flow); an annular combustion chamber; and two-stage turbine section (single-stage gas generator and single-stage power turbine). The compressor section turns 52,110 r.p.m. at 100% N1; The power turbine, N2, turns 39,095 r.p.m. at 100%. A gear reduction unit reduces the engine's output shaft speed to 5,990 r.p.m.
The Arriel 2B produces 847 shaft horsepower, but is de-rated to the helicopter's main transmission limit. Installed, the Arriel 2B is rated at 536 horsepower for cruise; 700 horsepower, Maximum Continuous Power; and 733 horsepower for take off (5 minute limit).
The Arriel 2B is 118.0 centimeters (3 feet, 10.46 inches) long, 50.0 cm (1 foot, 6.69 inches) wide, 62.0 cm (2 feet, 0.41 inches) high. It weighs 134 kilograms (295.4 pounds), dry. The Arriel series engines are now produced by Safran Helicopter Engines.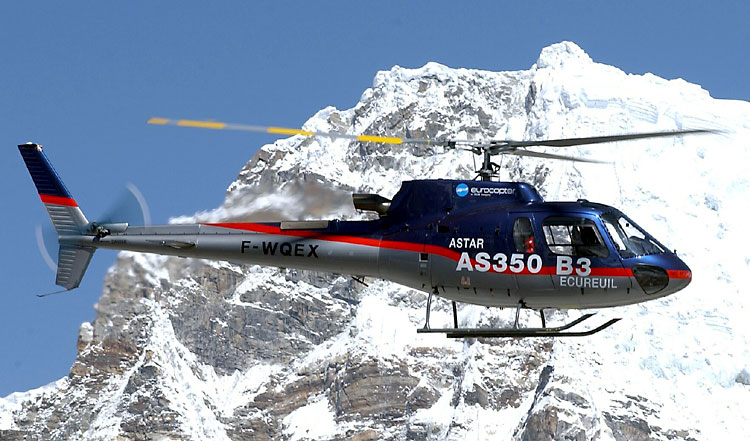 The AS 350 B3 has a cruise speed of 132 knots (152 miles per hour/245 kilometers per hour) and maximum speed of 155 knots (178 miles per hour/287 kilometers per hour). It carries over four hours of fuel and has a maximum range of 357 nautical miles (411 statute miles/662 kilometers). The maximum allowable altitude is 7,010 meters (23,000 feet).
AS 350 B3 c/n 3934 was originally registered F-WWPN, then F-WQEX, and was later registered as F-HMGM, in service with Hélimountains, Bourg-Saint-Maurice, France. As of 2014, F-WQEX is on display at the Musée de l'Aviation, Saint-Victoret, Provence-Alpes-Côte d'Azur, France.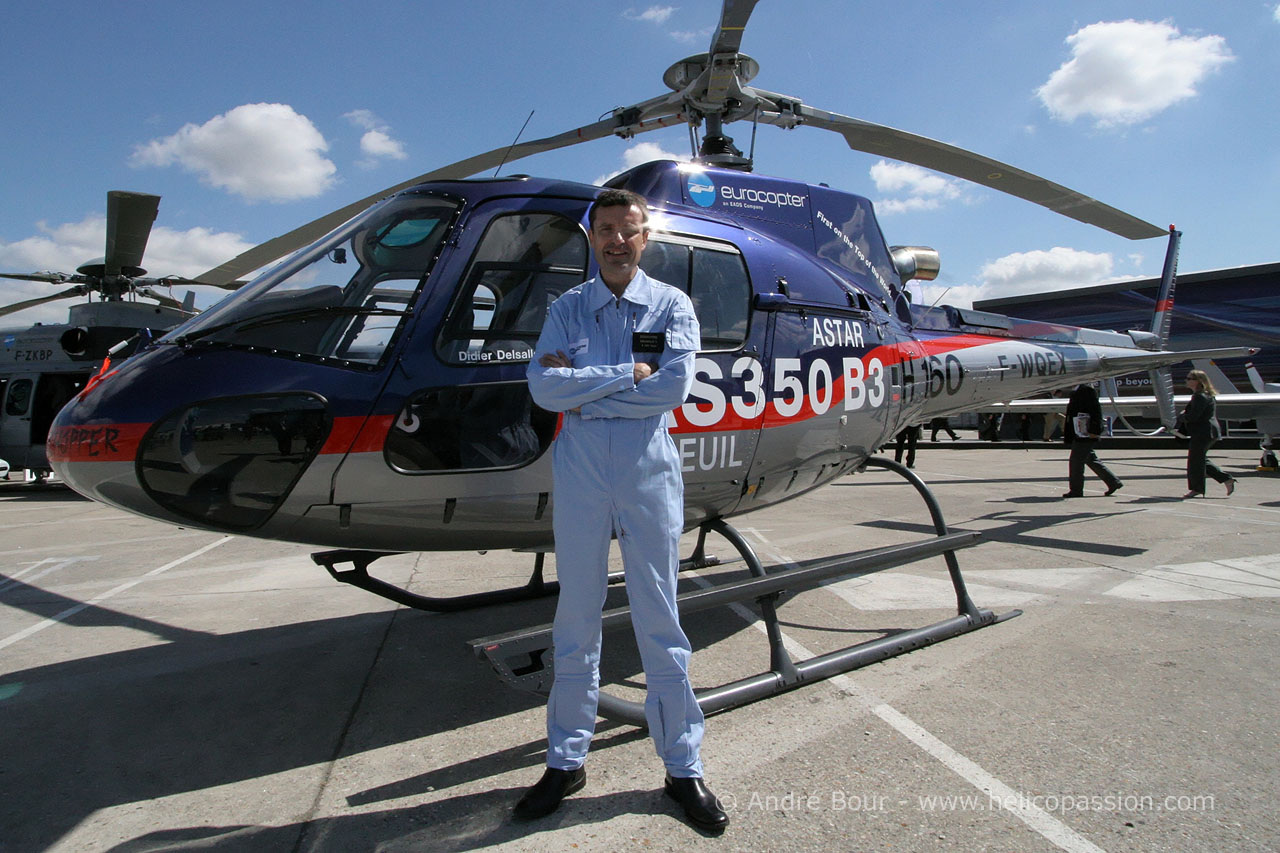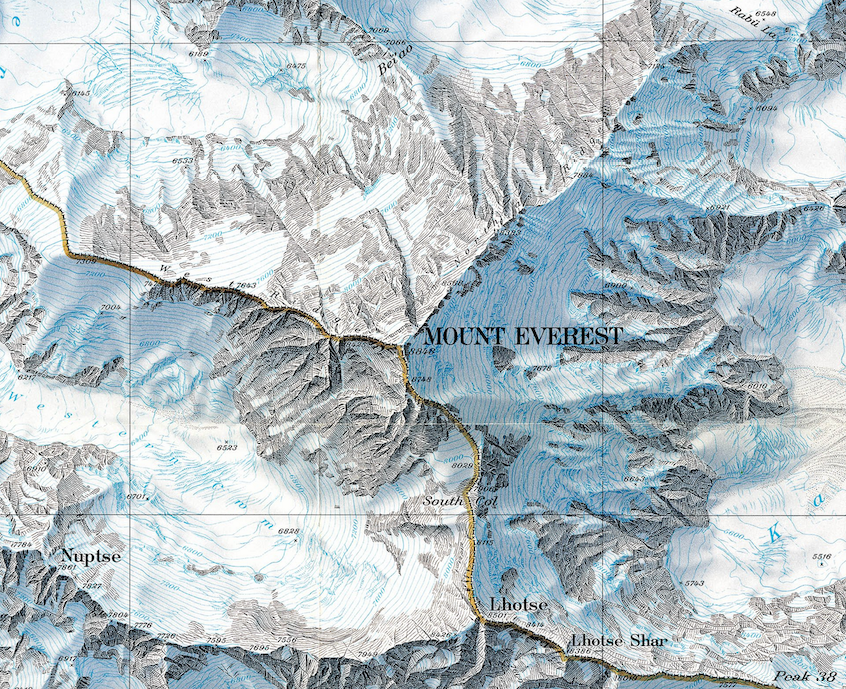 ¹ FAI Record File Number 11596: Highest take-off (Subclass E-1); FAI Record File Number 11596: Highest take-off (Subclass E-1c). 8,848 meters (29,029 feet).
² FAI Record File Number 11594: Highest take-off (Subclass E-1); FAI Record File Number 11595: Highest take-off (Subclass E-1c). 7,927 meters (26,007 feet).
³ FAI Record File Number 11323: 3,000 meters (9,843 feet), 2:21; FAI Record File Number 11325: 6,000 meters (19,685 feet), 5:06; and FAI Record File Number 11326: 9,000 meters (29,528 feet), 9:26.
© 2019, Bryan R. Swopes