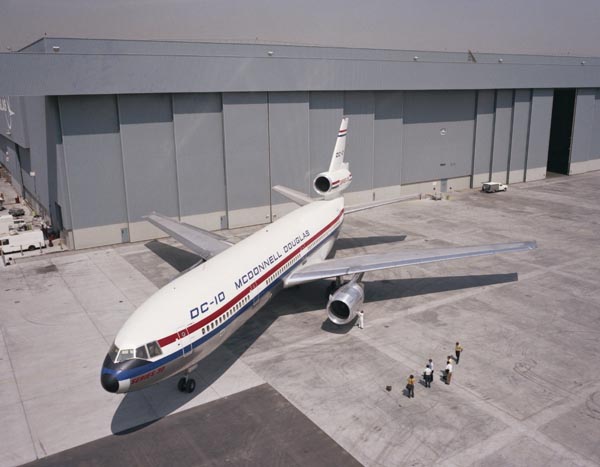 23 July 1970: At Long Beach, California, the first McDonnell Douglas DC-10 airliner was rolled out. A DC-10-10, serial number 46500 with FAA registration N10DC, this aircraft was used for flight testing and Federal Aviation Administration certification. It made 989 test flights, accumulating 1,551 flight hours. It was put into commercial service with American Airlines 12 August 1972, re-registered as N101AA.
The DC-10 was a wide-body commercial airliner designed for medium to long range flights. It was flown by a crew of three and depending on the cabin arrangement, carried between 202 and 390 passengers. The DC-10-10 was 170 feet, 6 inches (51.968 meters) long with a wingspan of 155 feet, 4 inches (47.346 meters) and overall height of 58 feet, 1 inch (17.704 meters). The airliner had an empty weight of 240,171 pounds (108,940 kilograms) and maximum takeoff weight of 430,000 pounds (195,045 kilograms). It was powered by three General Electric CF6-6D turbofan engines, producing 40,000 pounds of thrust, each. These gave the DC-10 a maximum cruise speed of Mach 0.88 (610 miles per hour, 982 kilometers per hour). Its range is 3,800 miles (6,116 kilometers) and the service ceiling is 42,000 feet (12,802 meters).
In production from 1970 to 1988, a total of 386 DC-10s were built in passenger and freighter versions. 122 were the DC-10-10 variant. Another 60 KC-10A Extender air refueling tankers were built for the U.S. Air Force and 2 KDC-10 tankers for the Royal Netherlands Air Force.
The first McDonnell Douglas DC-10 was in service with American Airlines from 12 August 1972 to 15 November 1994 when it was withdrawn from service and placed in storage at Tulsa, Oklahoma. The 24-year-old airliner had accumulated 63,325 flight hours.
After three years in storage, the first DC-10 returned to service flying for Federal Express. In 1998 it was modernized as an MD-10 and re-registered again, this time as N530FE. It was finally retired from service and scrapped at Goodyear, Arizona in 2002.
© 2015, Bryan R. Swopes