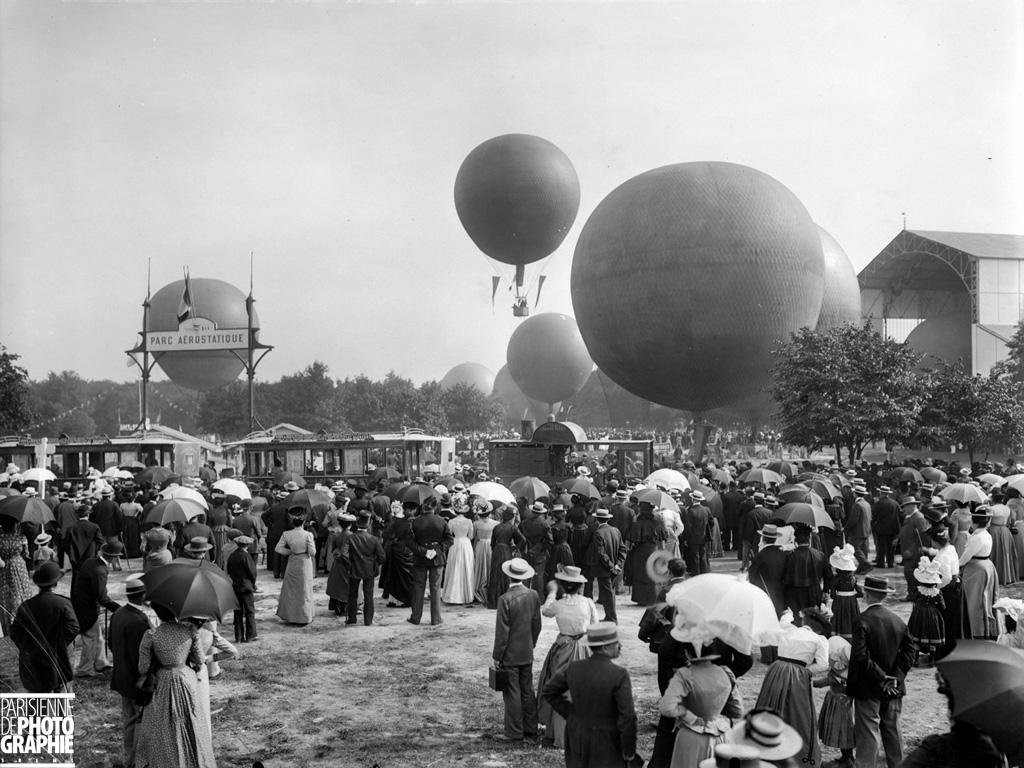 9–10 October 1900: The Aéro-Club de France held a long-distance balloon race, coinciding with the World's Fair and Olympic Games. Six balloon teams competed for the Grand Prix, including that of Henri François Joseph, Comte de la Vaulx, and Joseph Félix Georges, Comte de Castillon de Saint-Victor, co-founders, along with several others, including Jules Verne, of the Aero Club.
From the American Monthly Review of Reviews, Vol. 23, January–June 2001, beginning at Page 609 :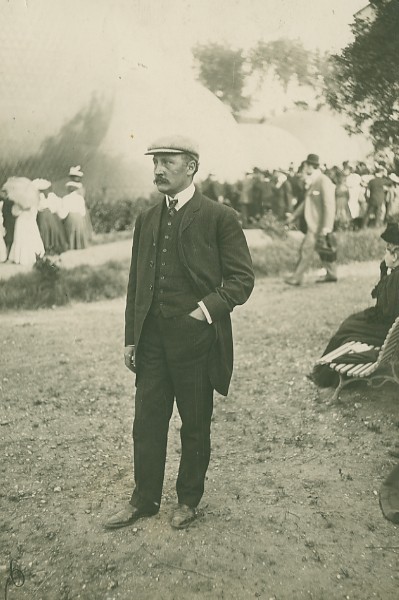 Of the six balloons entered for this record-breaking race, the Centaur was one of the smaller, its dimensions being 1,630 cubic meters, while its chief competitor, the St. Louis, measured 3,000 cubic meters. The Centaur rose from the grounds at Vincennes at 20 minutes past 5 in the afternoon of October 9. From Count de la Vaulx's account of the journey, which appears in Pearson's for April, we glean the following facts:
"Our direction at the start was north-north-east, and very soon, the sun having gone down, Paris was nothing for us but a vast, vaguely defined patch of luminosity far to the west. The Centaur was in equilibrium at about 5,000 feet [1,524 meters] above the sea-level, when the moon rose with such a radiant brilliance that we could read all our instruments without the aid of the electric lamp. Every now and then a shooting star traversed the vault of heaven, inciting us to wish for the success of our enterprise. . . ."
Count de la Vaulx described the route of the flight, the cities and landmarks that they passed over, the weather and temperatures at various altitudes. At several times during the race, they were in sight of another balloon, the larger St. Louis.
Centaur ascended as high as 22,000 feet (6,706 meters) and experienced temperatures as low as -12 °C. (10 °F.) The changes in air temperature caused the gas in the balloon to expand and contract, and it rose and fell as the density of the gas varied.
Having expended their supply of breathing oxygen, the two aeronauts opened the balloon's vents to descend closer to the ground. Their anchor rope caught in some trees and Centaur came to earth shortly thereafter.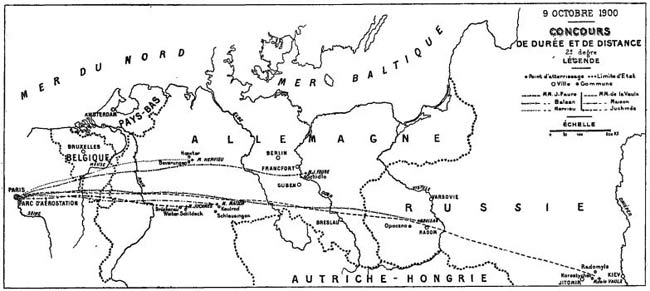 La Vaulx and Saint-Victor had landed near Korostyshiv, Ukraine. The two counts had traveled 1,153 miles (1,856 kilometers) in 35¾ hours.
Having crossed the Russian frontier without passports, the two gentlemen were held in custody for four days before being allowed to return to France by train.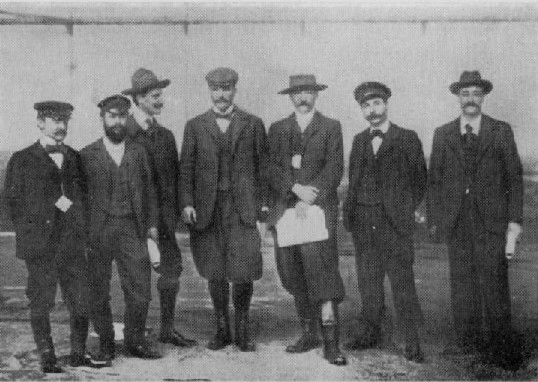 © 2016, Bryan R. Swopes