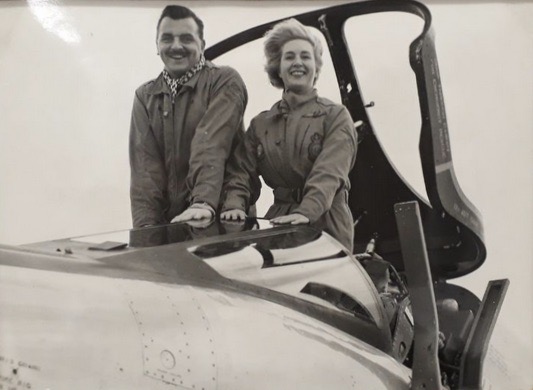 7 September 1962: Flight Officer Jean Oaks, WRAF, at the controls of an English Electric Lightning T Mk.4, exceeds 1,000 miles per hour (1,609 kilometers per hour).
The Nottingham Evening Post reported:
Spondon woman breaks sound barrier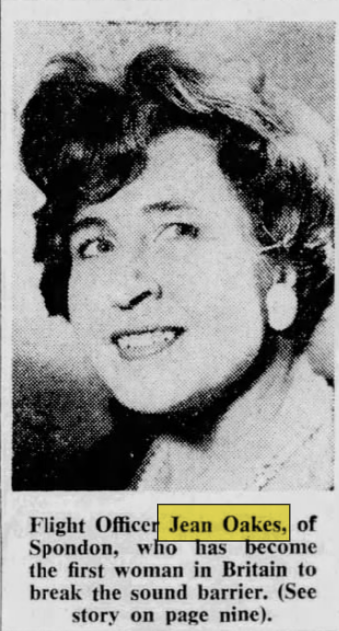 FLIGHT OFFICER JEAN OAKES, of Spondon, the first woman in Britain to break the sound barrier in an RAF jet fighter, celebrated her achievement last night at RAF Middleton St. George, County Durham.
     RAF officers and visiting Norwegian air officers feted blonde 28-year-old Jean, of Spondon, a few hours after she received the 1,000 m.p.h. flier's "ten ton tie" and certificate.
     Miss Oakes said last night: "It was an absolutely exhilerating experience—certainly the finest experience of my life."
     The jet was taken into the air by Fl. Lt. John Smith.
1,125 MPH
     "At about 35,000 feet he told me that it was all mine," said Miss Oakes, who has been in the WRAF for nearly nine years, is a school liaison officer and lectures on the force to girls' schools in Northumberland, Durham, Cumberland and Westmoreland. She lives at Dale-road, Spondon.
     The first woman to exceed the speed of sound was Miss Jacqueline Cochrane, an American, who did so in May, 1953, in a Canadian-built F86 Sabre jet.
—The Nottingham Evening Post,  No. 26,228, Friday, 14 September 1962, Page 9, Column 1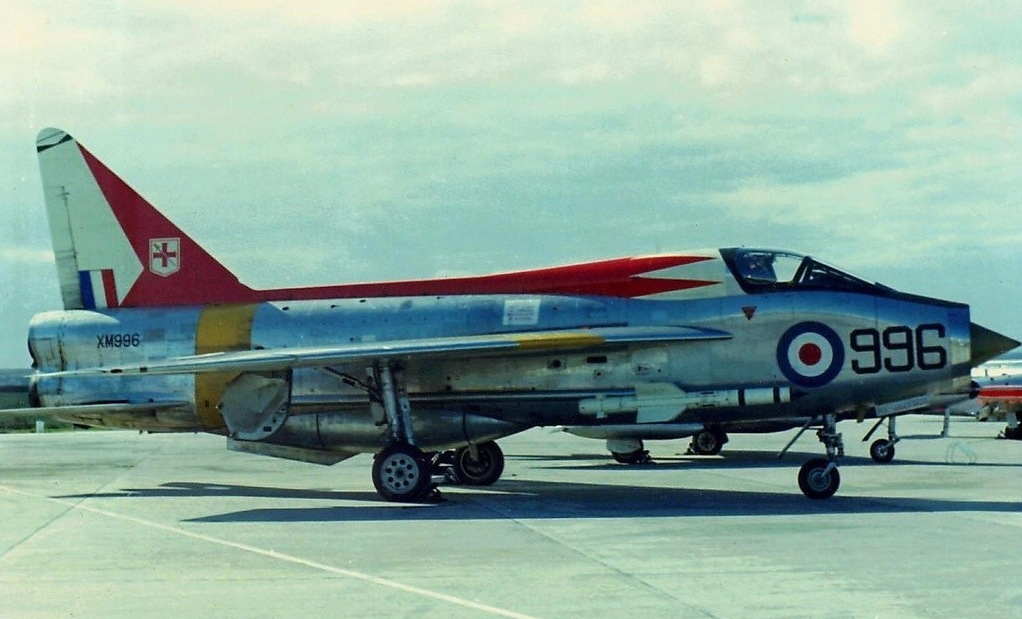 The English Electric Lightning T Mk.4 is a two-place, twin-engined, mid-wing monoplane interceptor trainer. A crew of two sit side-by-side in the cockpit. It is 55 feet, 3 inches (16.840 meters) long, with a wing span of 34 feet, 10 inches (10.617 meters) and height of 19 feet, 7 inches (5.969 meters). The wings have an angle of incidence of 2°' and 3° anhedral. The leading edges are swept aft 60° and the trailing edges, 51°56′. At the root, the wing's chord is 18 feet, 6 inches(5.638 meters) tapering to a theoretical 1 foot, 3.72 inches (0.399 meters) at the rounded tip. The variable incidence tail plane has a span of 14 feet, 6 inches (4.420 meters) with a 60° sweep. The Lightning T Mk.4 carries 966 Imperial gallons (4,392 liters or 1,160 U.S. gallons) of fuel in seven tanks throughout the fuselage and wings.
The Lightning is powered by two vertically-mounted axial-flow Rolls-Royce Avon Mk. 22001 afterburning turbojet engines. These are each rated 11,200 pounds (49.820 kilonewtons) static thrust at Sea Level, and 14,400 pounds (64.054 kilonewtons) with afterburner. One engine, No. 2, is mounted above and to the rear of engine No.1. The engines are limited to 100% +/- 0.5% r.p.m., for 15 minutes, and 97.5%, for 30 minutes. Maximum Continuous Power is restricted to 95% r.p.m.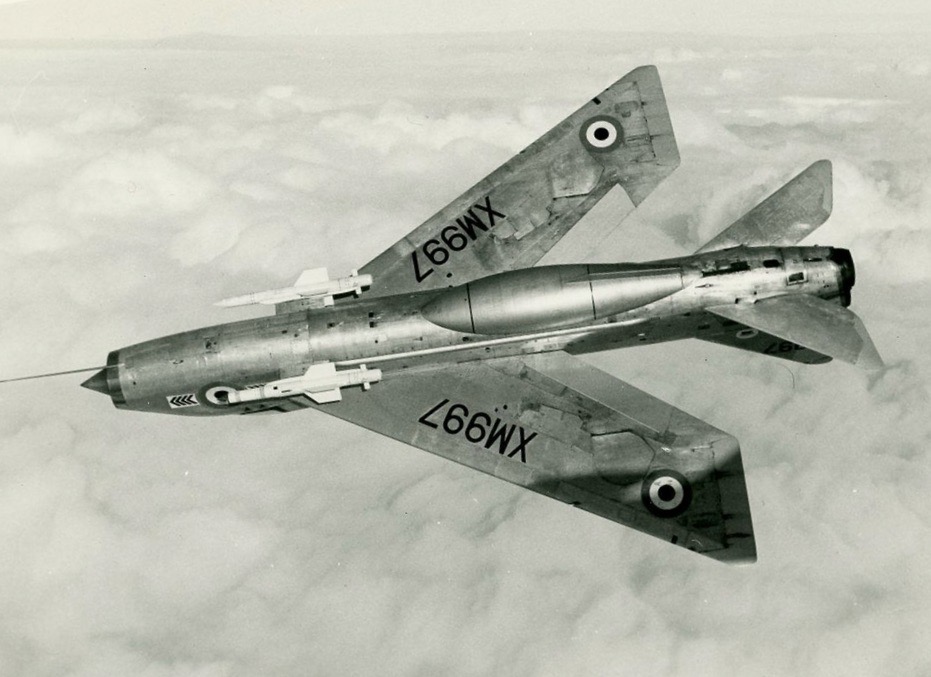 The Lightning T Mk.4 has an empty weight of 24,815 pounds (11,256 kilograms), and all-up weight of 34,914 pounds (15,837 kilograms), with a ventral fuel tank installed. Maximum Takeoff Weight (MTOW) is 35,000 pounds (15,876 kilograms).
The Lightning's maximum speed limitation is Mach 1.7. With no missiles carried, it is restricted to 650 knots (748 miles per hour/1,204 kilometers per hour) Indicated Air Speed; with two missiles, 600 knots (690 miles per hour/1,111 kilometers per hour) IAS below 25,000 feet; and 650 knots IAS above 25,000 feet (7,620 meters). The trainer's approach speed is 175–180 knots (201– 207miles per hour/324 –333 kilometers per hour).
The T Mk.4's maximum load factor is 6 g up to 0.9 Mach, or 5.5 g, above (empty or no ventral tank). The maximum negative acceleration is 3g.
The Lightning T Mk.4 is limited to a maximum altitude of 60,000 feet (18,288 meters).
The interceptor trainer can be armed with two ADEN 30mm guns or two de Havilland Firestreak heat-seeking missiles, and in addition to its primary training function, is fully operational as a fighter.
© 2023, Bryan R. Swopes