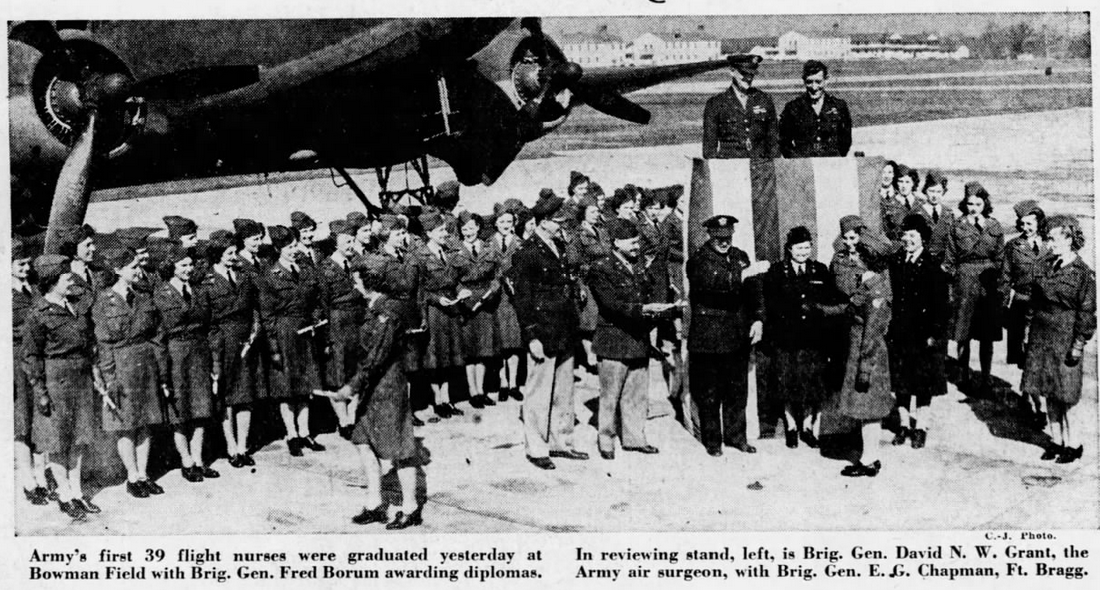 18 February 1943: The first class of 39 flight nurses graduated from the U.S. Army Air Force School of Air Evacuations at Bowman Field, Louisville, Kentucky. On 27 February, twenty-four of the graduates were assigned to duty at Guadalcanal, in the Solomon Islands.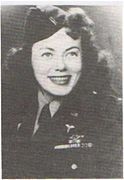 Second Lieutenant Geraldine Faye Dishroon, Army Nurse Corps, of Tulsa, Oklahoma, the honor graduate, received the first wings presented to a flight nurse. Major General David N.W. Grant, Air Surgeon, U.S. Army Air Forces, removed his own flight surgeon wings and pinned them on Lieutenant Dishroon as a sign of respect. She had competed the four-week course with an overall score of 96.5.
All members of the class were already Registered Nurses, many coming from the Army Nurse Corps, as had Lieutenant Dishroon, while others came directly from civilian practice.
A second class of 45 nurses began the following week.
More than 500 U.S. Army Air Force flight nurses served with 31 medical air evacuation squadrons during World War II. Seventeen of them died during the war.
Bowman Field opened in 1921. It is the oldest continually operating airport in North America.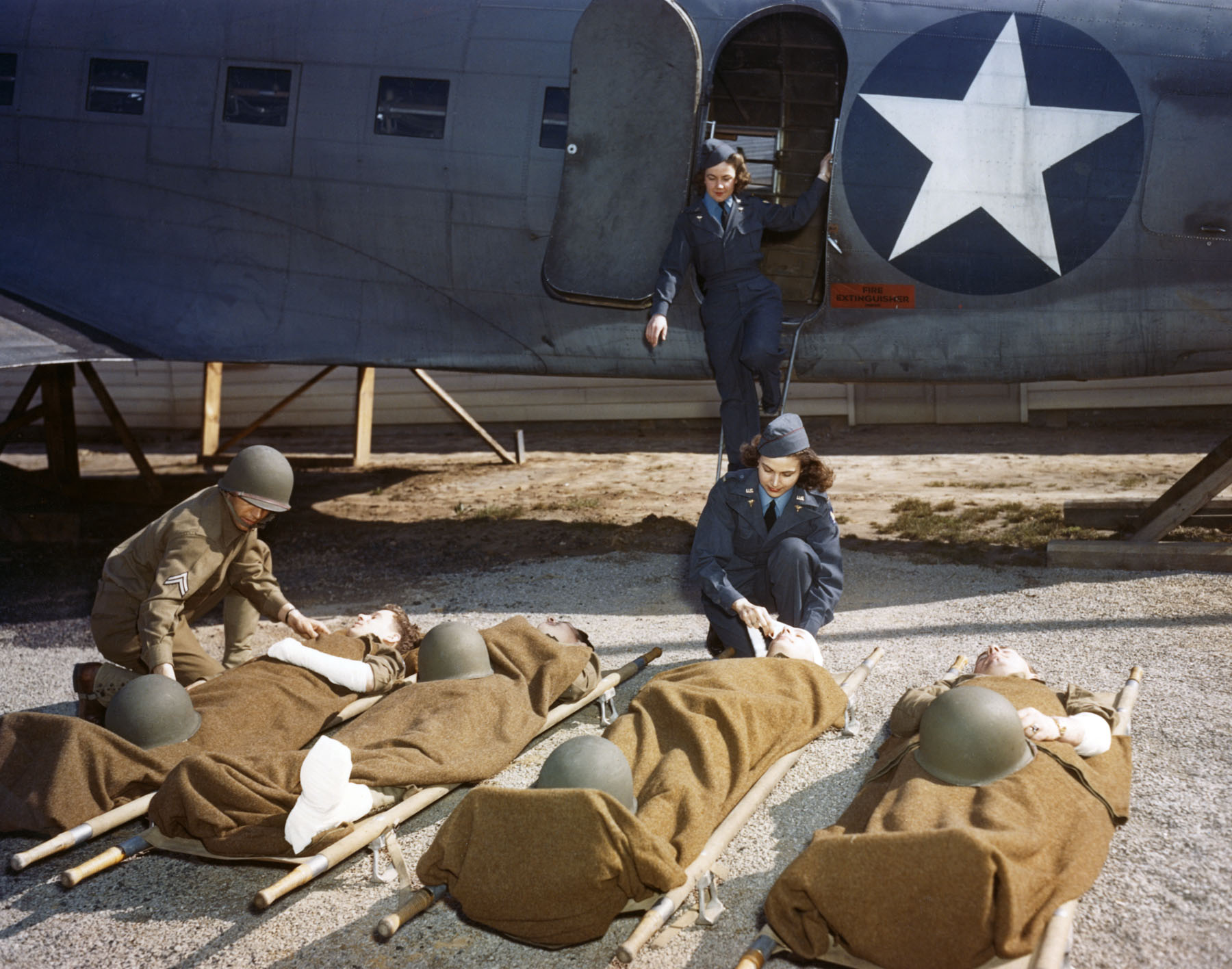 The Flight Nurse's Creed
I will summon every resource to prevent the triumph of death over life.
I will stand guard over the medicines and equipment entrusted to my care and ensure their proper use.
I will be untiring in the performances of my duties and I will remember that, upon my disposition and spirit, will in large measure depend the morale of my patients.
I will be faithful to my training and to the wisdom handed down to me by those who have gone before me.
I have taken a nurse's oath, reverent in man's mind because of the spirit and work of its creator, Florence Nightingale. She, I remember, was called the "Lady with the Lamp."
It is now my privilege to lift this lamp of hope and faith and courage in my profession to heights not known by her in her time. Together with the help of flight surgeons and surgical technicians, I can set the very skies ablaze with life and promise for the sick, injured, and wounded who are my sacred charges.
. . . This I will do. I will not falter in war or in peace.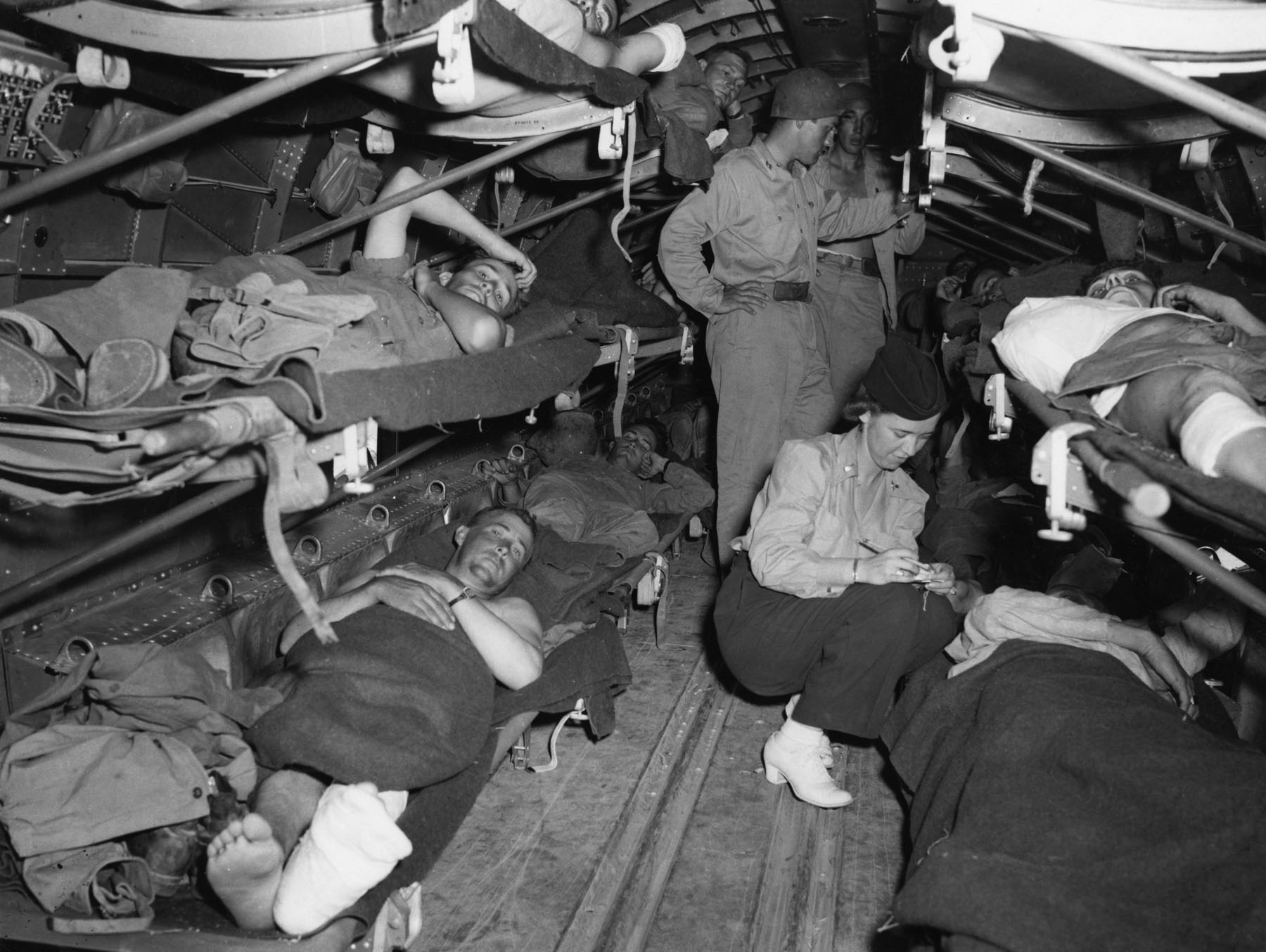 Geraldine Faye Dishroon was born 21 September 1916 at Carthage, Missouri. She was the third of four children of Olan L. Dishroon, a shipping clerk, and Mamie Cavanaugh Dishroon.
Miss "Jerry" Dishroon studied nursing at the Oklahoma General Hospital in Oklahoma City, where she graduated  with honors in 1940. She joined the Army Nurse Corps, United States Army, 1 October 1941, with the relative rank of second lieutenant. (Army nurses became commissioned officers in June 1944). At that time there were less than 1,000 nurses in the Army. By the end of World War II, there would be more than 59,000.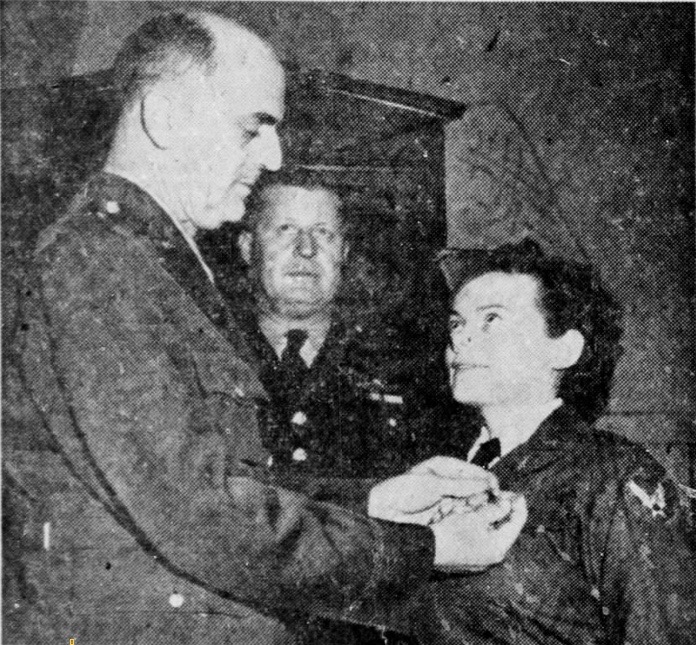 Lieutenant Dishroon was initially assigned to Orlando, Florida, where she met wounded soldiers returning from war zones. Later, she deployed to the European Theater of Operations. She participated in the first air evacuations of wounded men from Omaha Beach in Normandy after D-Day. Lieutenant Dishroon returned to the United States 30 October 1944, aboard a Douglas C-54 Skymaster (41-37289) flying from Prestwick, Scotland, to LaGuardia Field, New York.
On 1 April 1945 Miss Dishroon married Lieutenant Colonel William Wallace Brier, Air Corps, United States Army, at Paris, France. Colonel Brier was a graduate of the United States Military Academy at West Point, New York, and Martin B-26 Marauder pilot. They would have five sons.
Lieutenant Brier was released from the Air Corps in September 1945.
Geraldine Faye Dishroon Briers died 24 July 2002 at Cheyenne, Wyoming. She was buried at Mountain View Memorial Park in Cheyenne.

© 2019, Bryan R. Swopes