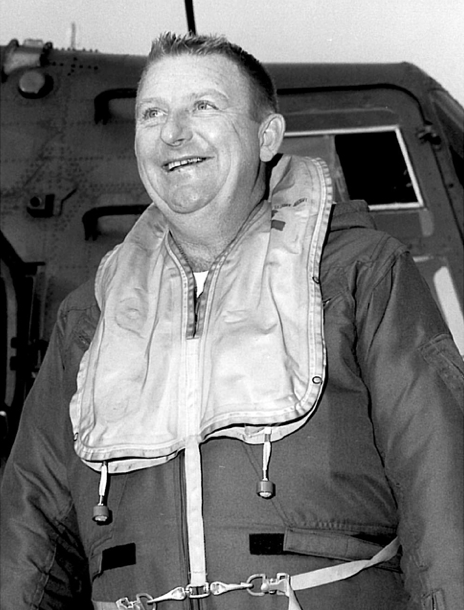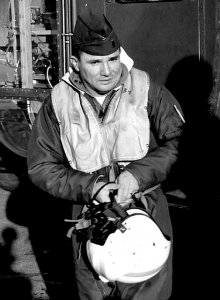 30 December 1968: At the Sikorsky Aircraft Corporation plant at Stratford, Connecticut, Chief Warrant Officer 4 James Paul Ervin, Jr., United States Army, set two Fédération Aéronautique Internationale (FAI) World Records for Time to Altitude while flying a Sikorsky CH-54A Tarhe. The helicopter's co-pilot for this flight was CW4 William T. Lamb. The "Sky Crane" reached 3,000 meters (9,842.52 feet) in 1 minute, 38.2 seconds, and 9,000 meters (29,527.56 feet) in 7 minutes, 54 seconds.¹ (It climbed through 6,000 meters (19,686 feet) in 2 minutes, 58.9 seconds.²)
Several attempts to break the existing time to altitude records had been made on 29 and 30 December. Erwin decided to deviate from Sikorsky's recommended climb profile and, instead, climbed vertically until reaching 20,000 feet, and then returned to Sikorsky's profile.
On the same date, CW4 Lamb, with Erwin as co-pilot, established a World Record for Altitude in Horizontal Flight, of 9,596 meters (31,483 feet).³
According to an article in U.S. Army Aviation Digest, during the record attempt flights, the regional air traffic control center called a commercial airliner which was cruising at 17,000 feet,
". . . be advised there's a helicopter at your 9 o'clock position descending out of 27,000 feet at a rate of 4,000 feet per minute."
The airliner replied, "Good lord, you mean they're up here now?"
Another pilot on the frequency asked, "What kind of helicopter is that?"
Mr. Ervin was awarded the Distinguished Flying Cross for his achievement.
A third U.S. Army aviator involved in the record attempts was Major James H. Goodloe, as was a Sikorsky test pilot, John J. Dixon.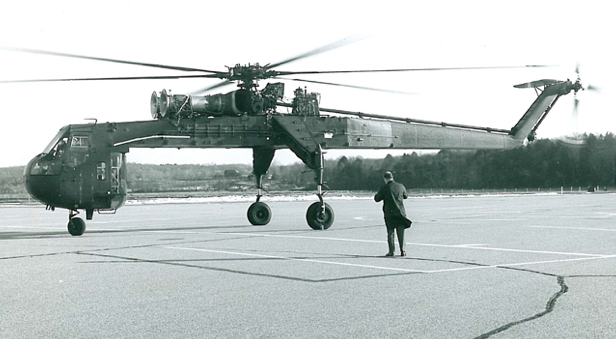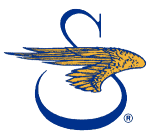 The Sikorsky CH-54A Tarhe is a large single-main-rotor/tail rotor helicopter, specifically designed to carry large external loads. In U.S. Army service, it had a crew of five: pilot, co-pilot, third pilot and two mechanics. The third pilot was in a rear-facing cockpit position and flew the helicopter while it was hovering to pick up or position an external load.
The CH-54A is 88 feet, 5.9 inches (26.972 meters) long and 25 feet, 4.7 inches (7.739 meters) high. The main rotor has six blades and turns counter-clockwise, seen from above. (The advancing blade is on the helicopter's right side.) The main rotor has a diameter of 72 feet (21.946 meters). The main rotor blades have a chord of 1.97 feet (0.601 meters) and incorporate a twist of -13°. The tail rotor has four blades and is placed on the left side of a vertical pylon in a pusher configuration. The tail rotor turns clockwise, as seen from the helicopter's left side. (The advancing blade is below the axis of rotation.) The diameter of the tail rotor is 16 feet (4.877 meters). The chord of the tail rotor blade is 1.28 feet (0.390 meters).
The helicopter has an empty weight of 19,120 pounds (8,673 kilograms) a design gross weight of 38,000 pounds (17,237 kilograms) and overload gross weight of 42,000 pounds (19,051 kilograms).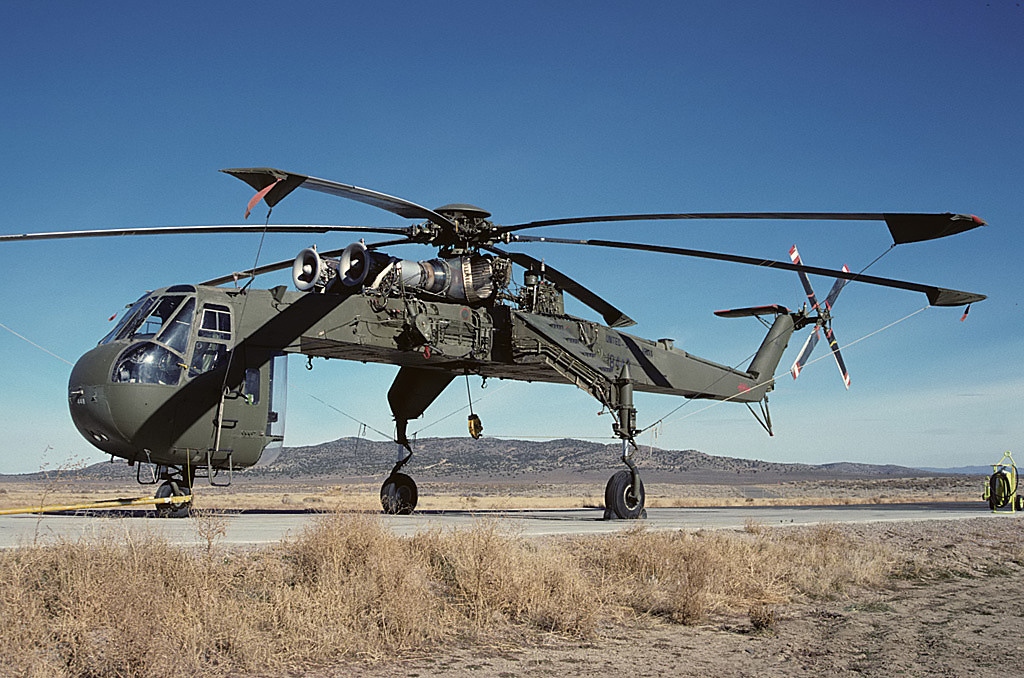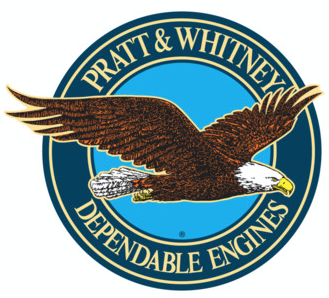 The CH-54A is powered by two Pratt & Whitney JFTD12A-4A (T73-P-1) turboshaft engines, each rated at 4,000 shaft horsepower at 9,000 r.p.m. (N2) maximum continuous power at Sea Level, and 4,500 shaft horsepower at 9,500 r.p.m. (N2) for takeoff, 5-minute limit, or 30 minutes, with one engine inoperative (OEI). The maximum gas generator speed (N1) is 16,700 r.p.m. The T73-P-1 is an axial-flow free-turbine turboshaft engine with a 9-stage compressor section, 8 combustion chambers and a 4-stage turbine section (2-stage gas generator and 2-stage free turbine). It is 107.0 inches (2.718 meters) long, 30.0 inches (0.762 meters) in diameter, and weighs 966 pounds (438 kilograms). The helicopter's main transmission is limited to a maximum 6,600 horsepower.
It has a useful load of 22,880 pounds (10,342 kilograms) and can carry a payload of 20,000 pounds (9,072 kilograms) from a single point cargo hoist.
The CH-54A has a maximum cruise speed of 115 knots (132 miles per hour, 213 kilometers per hour). It's range is 217 nautical miles (250 miles,  402 kilometers). The CH-54A has a hover ceiling in ground effect (HIGE) of 10,600 feet (3,231 meters) and its service ceiling is 13,000 feet (3,962 meters).
The U.S. Army ordered 54 CH-54A and 35 CH-54B Tarhes. Sikorsky produced another 12 civil-certified S-64E and S-64F Skycranes. Army CH-54s were retired from service in 1995. Sikorsky sold the type certificate to Erickson Air-Crane, Inc., Medford, Oregon. Erickson operates a fleet of Skycranes for heavy lift, logging and fire fighting, and also produces parts and new helicopters for worldwide customers.
The United States Army has a tradition of using Native American names for its aircraft. Tarhe (pronounced tar-HAY) was a famous chief, or sachem, of the Wyandot People of North America, who lived from 1742–1818. He was very tall and the French settlers called him "The Crane."
James Paul Ervin, Jr., was born 2 October 1931, in Arkansas. He was the second child of James Paul Erwin and Ruth Booker Ervin. He joined the United States Army in 1948. In 1955, he married his wife, Theresa M. ("Terry") Ervin. They resided in Columbus, Georgia.
CW4 Ervin was considered a pioneer of Army Aviation. He was one of the first pilots to experiment with armed helicopters, and he served with the first transportation company to be equipped with the Sikorsky CH-34 Choctaw and CH-37 Mohave helicopters. During the Vietnam War, he was assigned to the 478th Aviation Company (Heavy Helicopter). Mr. Ervin retired from the United States Army in July 1969 after 21 years of service.
At 1735, 2 September 1969, as a civilian pilot working for ERA Helicopters in Alaska, Ervin was flying a Sikorsky S-64E Skycrane, N6964E, on the North Slope near Prudhoe Bay, when the helicopter broke up in flight and crashed near a drilling site, Southeast Eileen. Chief Erwin and two others aboard, Byron Davis and Allen Bryan, were killed.
The National Transportation Safety Board determined that a tail rotor pitch control link failed due to a fatigue fracture. The NTSB accident report also cited improper factory installation as a factor.
At the time of the accident, Erwin had a total of 4,787 flight hours with 830 hours in type. He was 37 years old. James Paul Erwin, Jr., is buried at the Marietta National Cemetery, Marietta, Georgia.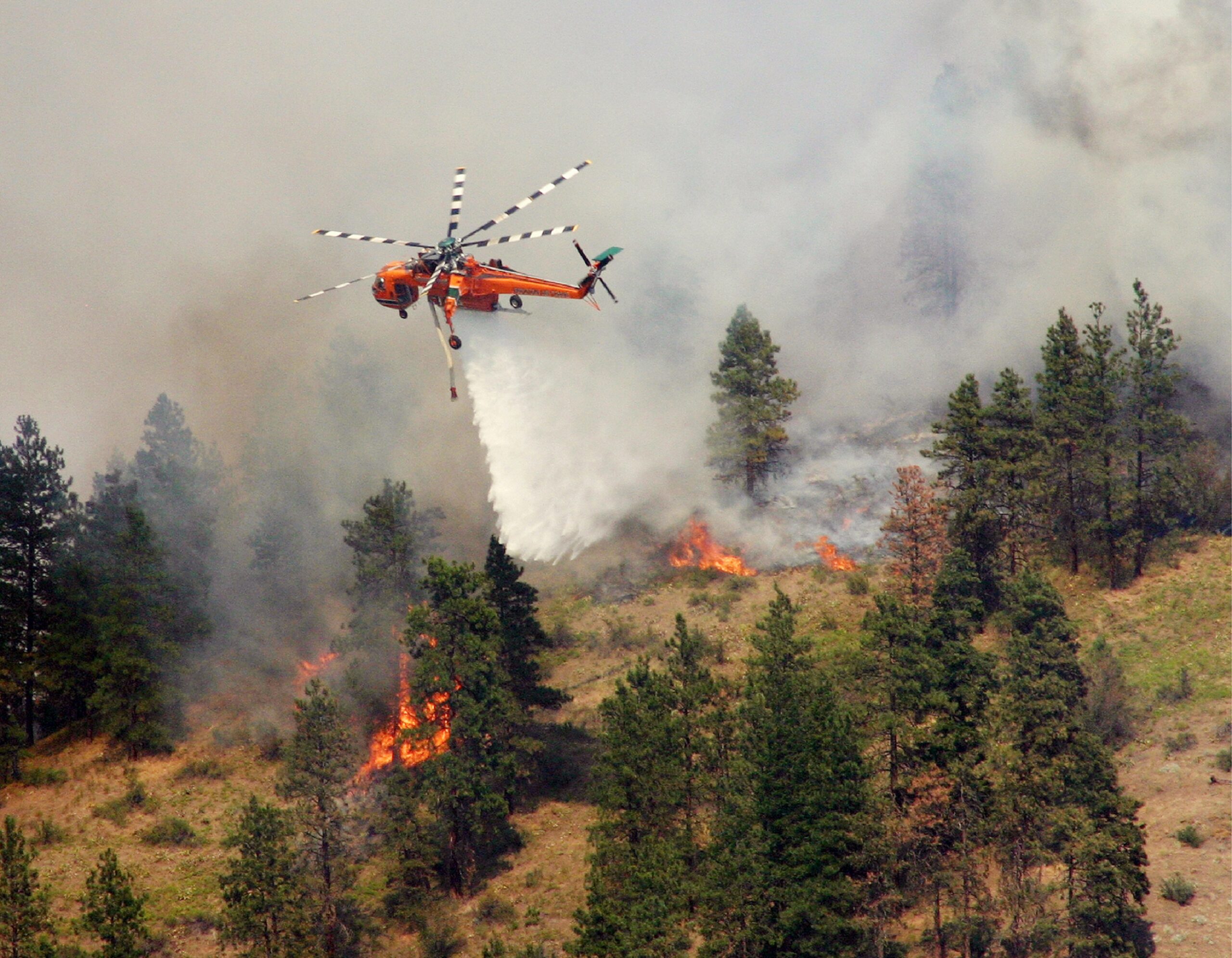 ¹ FAI Record File Numbers 9944 and 9961.
² Many sources state that CW4 Erwin set a record for Time to 6,000 meters, and some give the elapsed time as 3 minutes, 31.5 seconds. The FAI Records Database does not list this record.
³ FAI Record File Number 9919.
© 2017 Bryan. R. Swopes