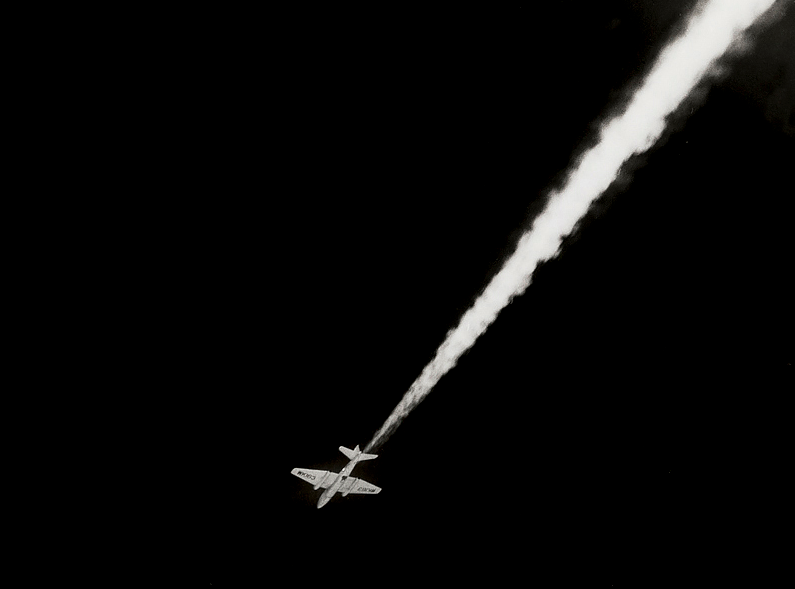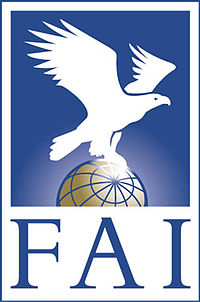 28 August 1957: Michael Randrup, Chief Test Pilot of D. Napier and Son, Ltd., and Walter Shirley, Deputy Chief Engineer, fly this Royal Air Force/English Electric Canberra B Mk.2, WK163, to an altitude of 21,430 meters (70,308 feet) over southern England.  This set a new Fédération Aéronautique Internationale (FAI) World Record for altitude.¹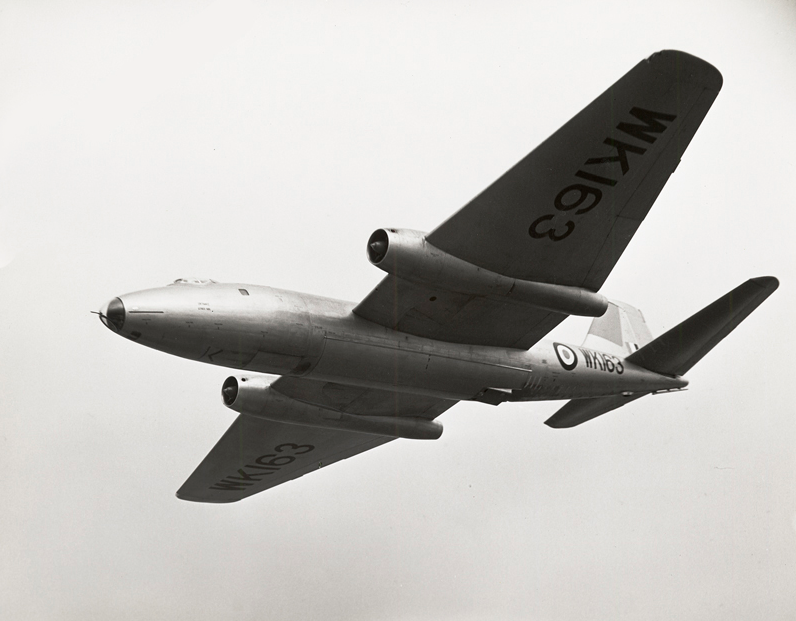 The Canberra was being used to test Napier's Double Scorpion NSc D1-2 rocket engine, which was used to drive the airplane far beyond its normal service ceiling of 48,000 feet (14,630 meters).
After taking off from Luton, Bedfordshire, at 5:26 p.m., Mike Randrup used the Canberra's two 6,500-pounds-thrust (28.91 kilonewtons) Rolls-Royce Avon RA.3 Mk. 101 turbojet engines to climb to 44,000 feet (13,411 meters), where he throttled the engines back to cruising r.p.m. and then ignited the Double Scorpion. The Canberra climbed at a very steep angle until reaching the peak altitude.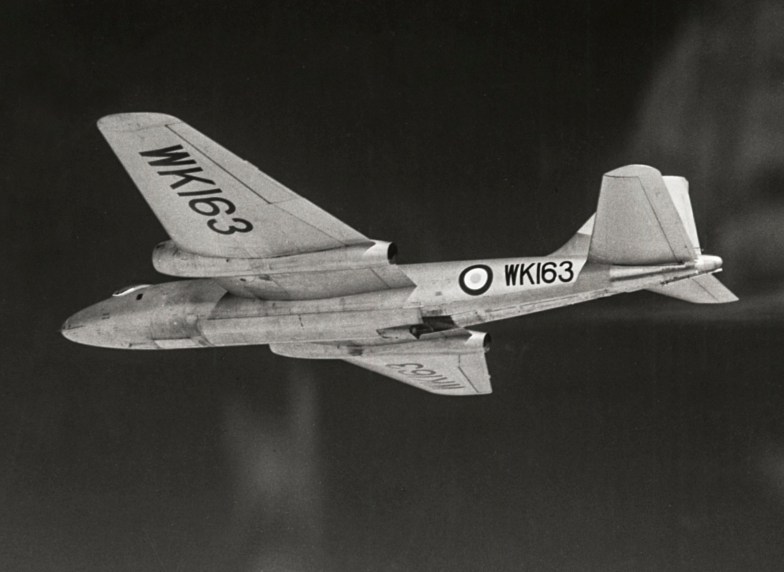 At this high altitude, there is an extremely narrow margin between the airplane's stall speed and it's critical Mach number—the point at which supersonic shock waves start to form on the wings and fuselage. On an Airspeed Limitations Chart, this area is known as "Coffin Corner." Aerodynamicists had calculated that Randrup needed to keep the Canberra within a 15-knot range of airspeed.
Though the Canberra's cockpit was pressurized, both Mike Randrup and Walter Shirley wore pressure suits in case of emergency.
WK163 landed back at Luton at 6:12 p.m.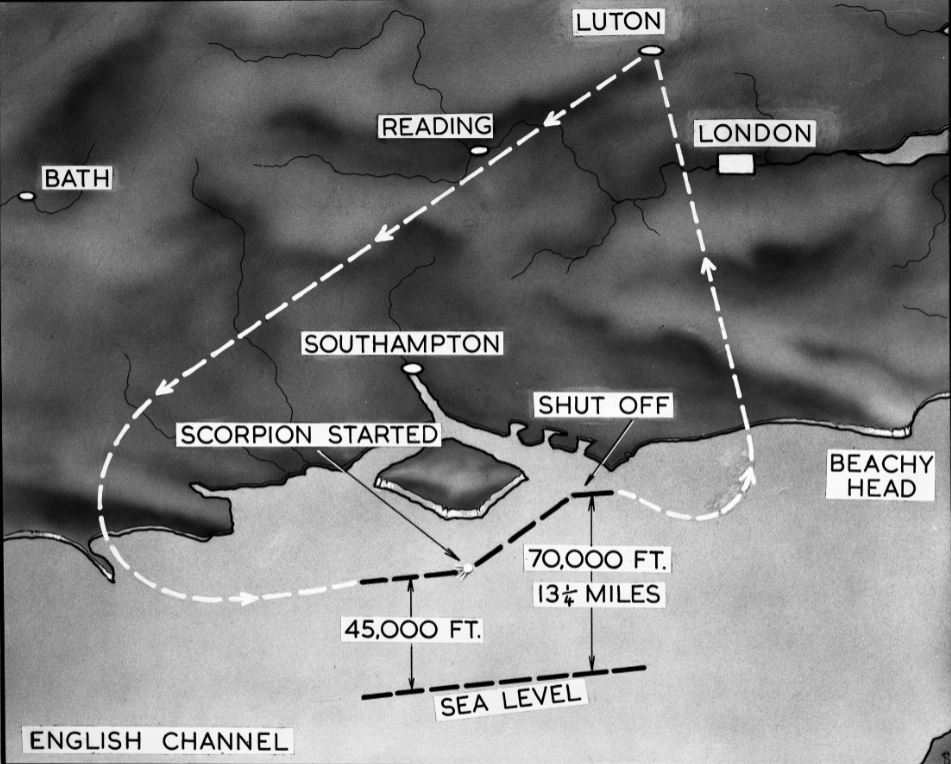 In 1958, the Royal Aero Club of Great Britain awarded the Britannia Trophy to Randrup and Shirley.

The English Electric Canberra B.2 was the first production variant of a twin-engine, turbojet powered light bomber. The bomber was operated by a pilot, navigator and bombardier. It was designed to operate at very high altitudes. The Canberra B.2 was 65 feet, 6 inches (19.964 meters) long with a wingspan of 64 feet, 0 inches (19.507 meters) and height of 15 feet, 7 inches (4.750 meters). The wing used a symmetrical airfoil and had 2° angle of incidence. The inner wing had 2° dihedral, and the outer wing, 4° 21′. The total wing area was 960 square feet (89.2 square meters). The variable-incidence tail plane ad 10° dihedral. The airplane's maximum takeoff weight was 46,000 pounds ( kilograms).
The Canberra B.2 was powered by two Rolls-Royce Avon RA.3 Mk. 101 engines. The RA.3 was a single-spool axial-flow turbojet with a 12-stage compressor section and single-stage turbine. It was rated at 6,500-pounds-thrust (28.91 kilonewtons).
The B.2 had a maximum speed of 450 knots (518 miles per hour/833 kilometers per hour). It was restricted to a maximum 0.75 Mach from Sea Level to 15,000 feet (4,572 meters), and 0.79 Mach from 15,000 to 25,000 feet (7.620 meters). Above that altitude the speed was not restricted, but pilots were warned that they could expect compressibility effects at 0.82 Mach or higher.
The Canberra was produced in bomber, intruder, photo reconnaissance, electronic countermeasures and trainer variants by English Electric, Handley Page, A.V. Roe, and Short Brothers and Harland. In the United States, a licensed version, the B-57A Canberra, was built by the Glenn L. Martin Company. The various versions were operated by nearly 20 nations. The Canberra was the United Kingdom's only jet-powered bomber for four years. The last one in RAF service, a Canberra PR.9, made its final flight on 28 July 2006.
WK163 was built under license by A.V. Roe at Woodford, Cheshire, in 1954, and accepted by the Royal Air Force 28 January 1955. Having spent its entire career as a research test bed, WK163 was declared surplus in 1994 and sold at auction to Classic Air Projects Ltd. It was assigned civil registration G-BVWC.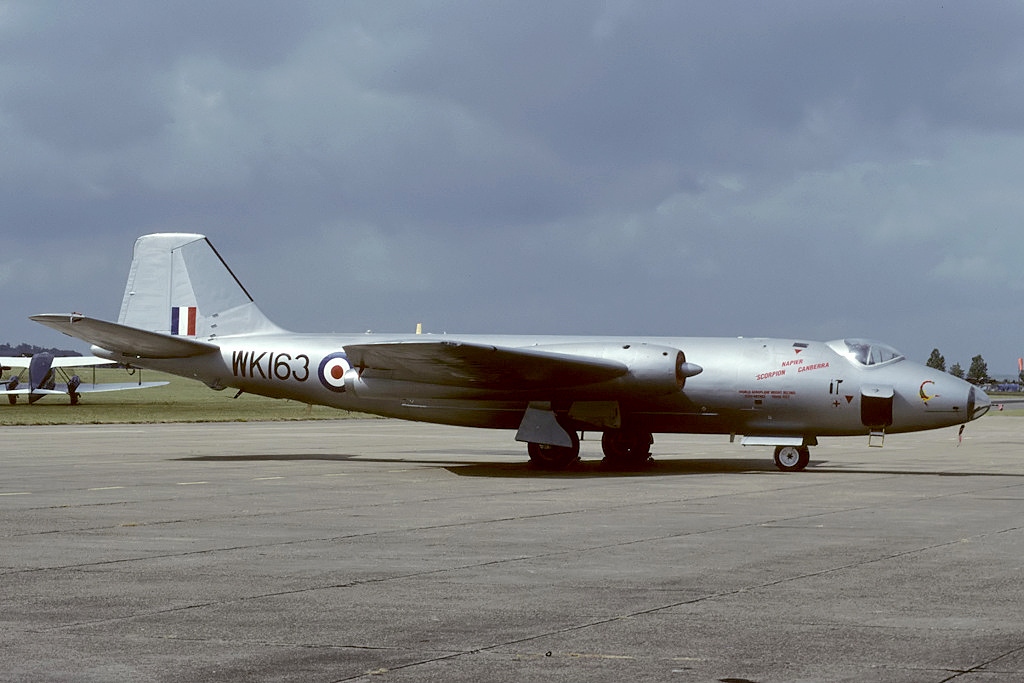 G-BVWC last flew in 2007. As of December 2016, the record-setting Canberra was undergoing a full restoration at Robin Hood Airport, near Doncaster, South Yorkshire.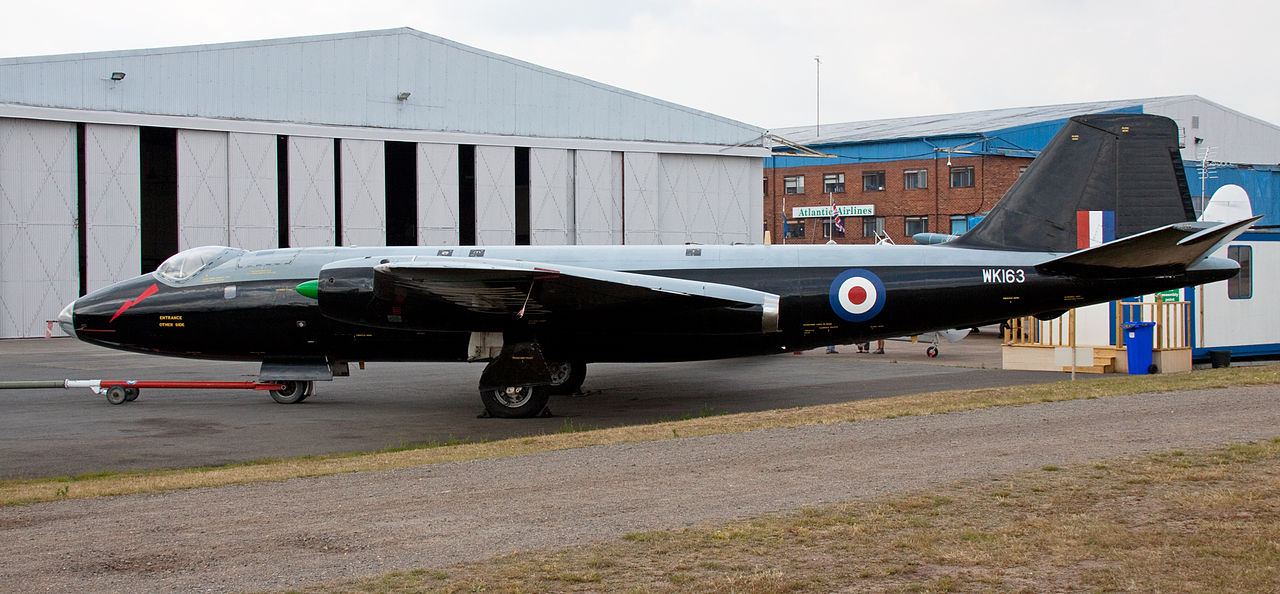 Michael Randrup was born in Moscow, Imperial Russia, 20 April 1913. He was one of four children of Søren Revsgaard Randrup and Alexandra Pyatkova Randrup. He held Danish citizenship through his father, who had emigrated to Russia in 1899. Following the Russian revolution, the Randrup family relocated to England.
Michael was educated at The King's School in Canterbury, Kent. He became interested in aviation in his early teens, and took his first flight as a passenger aboard an Avro 504K biplane. He began flight lessons at Bekesbourne Aerodrome in 1935, and soloed in June 1936. Randrup applied to join the Royal Air Force but was turned down because of his Danish citizenship. He then went to the Automobile Engineering College in Chelsea, West London, to study aeronautical engineering.
Randrup graduated in 1939, and along with a cousin, Ivan Christian Randrup, formed a small air charter company, AllFlights Ltd., at Heston Aerodrome, west of London. They operated a de Havilland DH.85 Leopard Moth, de Havilland DH.90 Dragonfly, and a Heston Type I Phoenix II (G-AEYX). The Phoenix was impressed into service by the R.A.F., 5 March 1940.
World War II bought their fledgling company to a close. (Ivan Randrup briefly flew for B.O.A.C. before going on to the Air Transport Auxiliary. First Officer Randrup died 29 January 1941.)
After Denmark fell to Nazi Germany in April 1940, Michael Randrup was accepted by the R.A.F. He received a commission as a Pilot Officer on probation, Royal Air Force Volunteer Reserve, 4 September 1940. One year later he was promoted to Flying Officer.
On completion of his military flight training, Pilot Officer Randrup was sent to a flying instructors school. For the next two years, he served as a military flight instructor in England and Southern Rhodesia. In 1942, Flying Officer Randrup was transferred from Training Command to Fighter Command and on 6 October, was assigned to No. 234 Squadron, then stationed at RAF Perranporth, flying the Supermarine Spitfire Vc. A number of Danish pilots had been assigned to No. 234. On 1 January 1943, Randrup was seconded to Air Service Training, Ltd., at Hamble, just southeast of Southampton, where he flight-tested new-production, repaired and overhauled Spitfire fighters.
In 1944, Randrup was assigned as a test pilot at the Royal Aircraft Establishment at Farnborough. Among other assignments, he flight-tested a captured Heinkel He 177 A-5/R-6 twin-engine heavy bomber. In 1945, Randrup was appointed Officer Commanding, Engine Research and Development Flight. By the end of the war, he had been promoted to the rank of Squadron Leader.
Following the war, Randrup went to work for D. Napier and Son Ltd. In 1946, he became the company's Chief Test Pilot. The following year, he became a naturalized subject of the United Kingdom and the British Empire.
From 1966 until 1973, Randrup served as manager for the British Aircraft Corporation in Saudi Arabia. BAC provided aircraft and missiles to the Royal Saudi Air Force.
Michael Randrup was twice married, first to Florence May Dryden, and then to Betty Perry. They would have two children.
Michael Randrup died in February 1984 at the age of 70 years.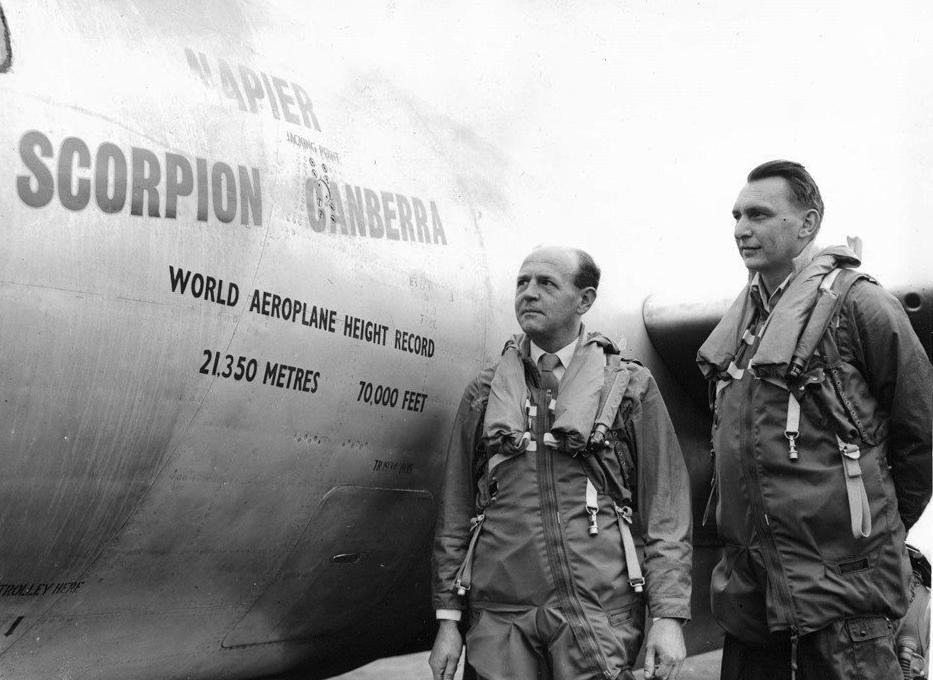 Walter Shirley was educated at the Blackpool Grammar School, a private boarding school in Blackpool, Lancashire, and St. Catherine's College, University of Cambridge.
Shirley was employed as a scientific officer at RAE Farnborough from 1942 to 1946. It was while there that he first flew as a flight test engineer with Squadron Leader Randrup. Shirley was sent to an R.A.F. flight school for pilot training. In 1946, he was assigned to rocket engine development.
Shirley joined Napier in 1947, working on turbine engines. In 1952, he was appointed Chief Technician. In 1956, Shirley was made the Chief Development Engineer for the Scorpion engine. He later became the company's Deputy Chief Engineer.
Walter Shirley died in 1993.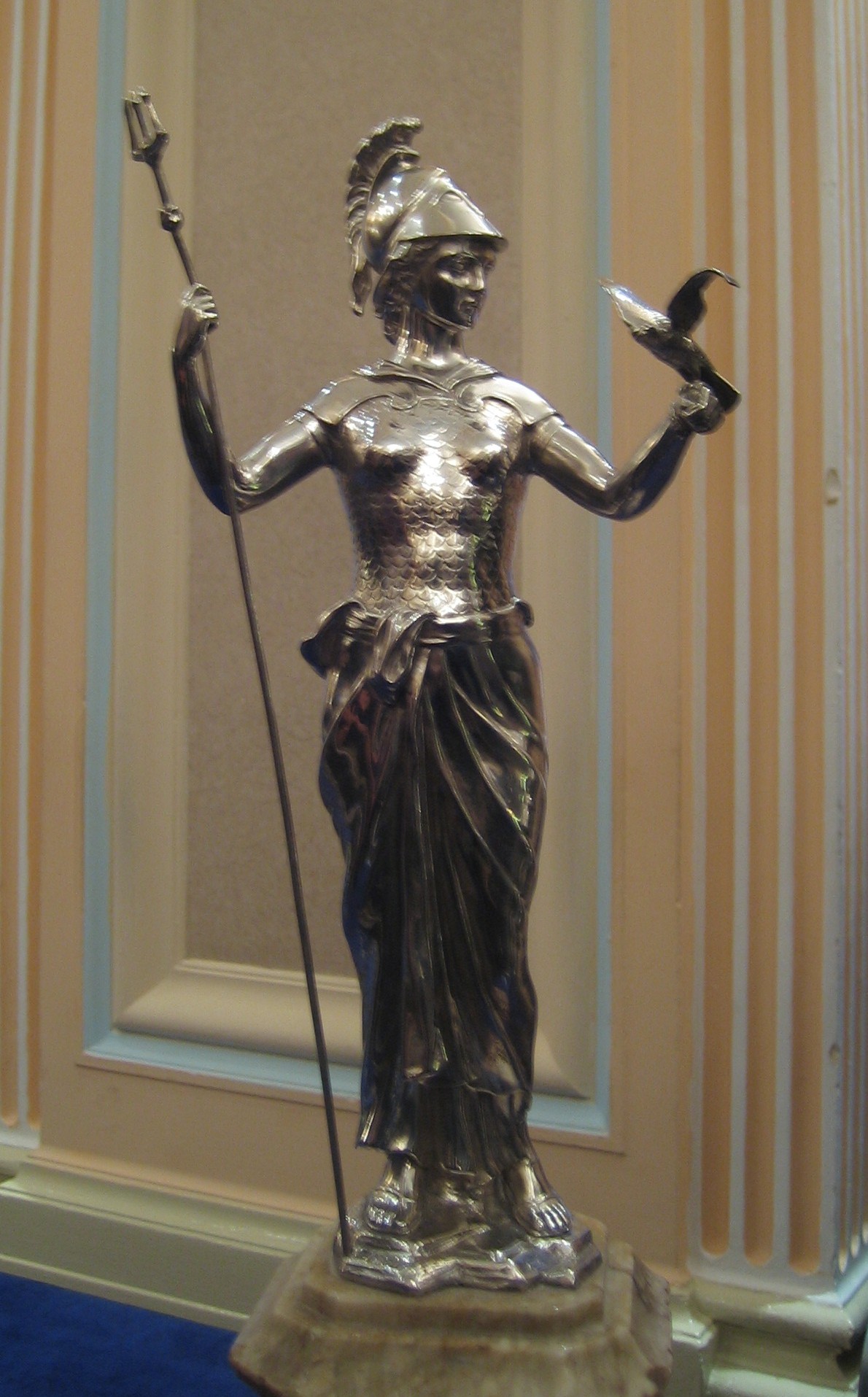 ¹ FAI Record File Number 9843
© 2018, Bryan R. Swopes