1 May 1940: The first Douglas Aircraft Company SBD-1 Dauntless dive bomber, Bu. No. 1596 (s/n 549), made its first flight at El Segundo, California. The airplane was delivered to the U.S. Navy 6 September 1940. Assigned to Marine Scout Bomber Squadron 234 (VMSB-234) at MCAS Ewa, 7 miles (11 kilometers) west of Pearl Harbor, Oahu,Territory of Hawaii, it ditched in the ocean and was lost, 8 August 1942.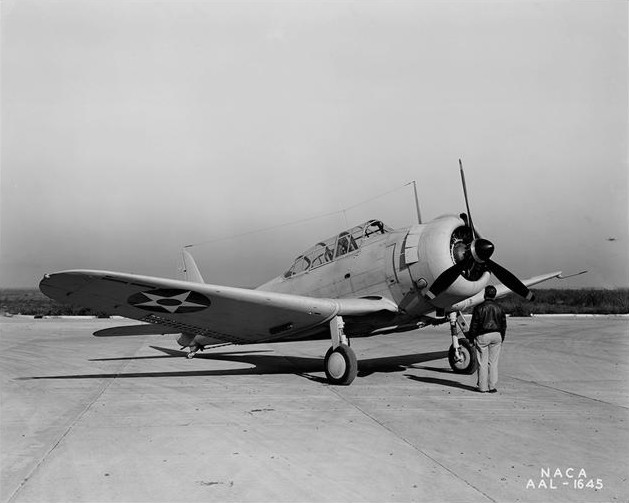 The Douglas SBD-1 Dauntless dive bomber was a single-engine, low-wing monoplane with retractable landing gear. It was developed from the Northrop BT-2. The flight crew consisted of a pilot and an aerial gunner. The SBD-1 was 32 feet, 2 inches (9.804 meters) long with a wingspan of 41 feet, 7 inches (12.675 meters) and height of 13 feet, 7 inches (4.140 meters). The wing area was 325 square feet (30.19 square meters). It had an empty weight of 5,903 pounds (2,678 kilograms) and maximum gross weight of 9,790 pounds (4,441 kilograms) with one 1,600 pound (726 kilogram) bomb.
Large, perforated split flaps were used to stabilize the airplane during steep dives.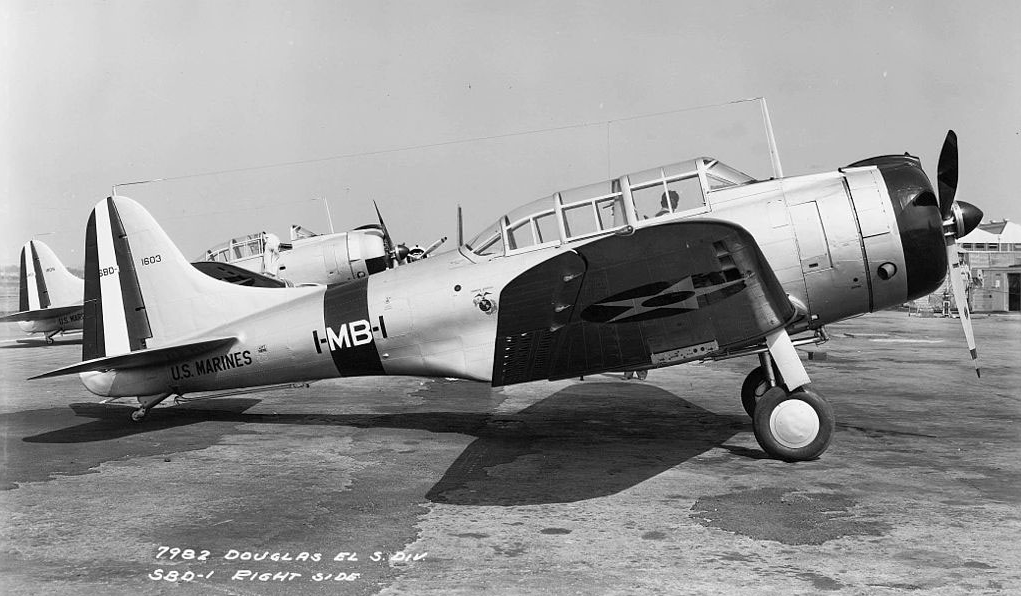 The SBD-1 was powered by an air-cooled, supercharged R-1820-32 (Wright Aeronautical Corporation R-1820G133 Cyclone) nine-cylinder radial engine with a compression ratio of 6.45:1, requiring 100-octane gasoline. It drove a 3-bladed Hamilton Standard propeller with a diameter of 10 feet, 10 inches (3.302 meters) through a 16:11 gear reduction. The R-1820-32 had a normal power rating of 950 horsepower at 2,300 r.p.m. at Sea Level, and 1,000 horsepower at 2,350 r.p.m. for takeoff. The engine was 3 feet, 9.06 inches long (1.145 meters), 4 feet, 7.12 inches (1.400 meters) in diameter, and weighed 1,255 pounds (569 kilograms).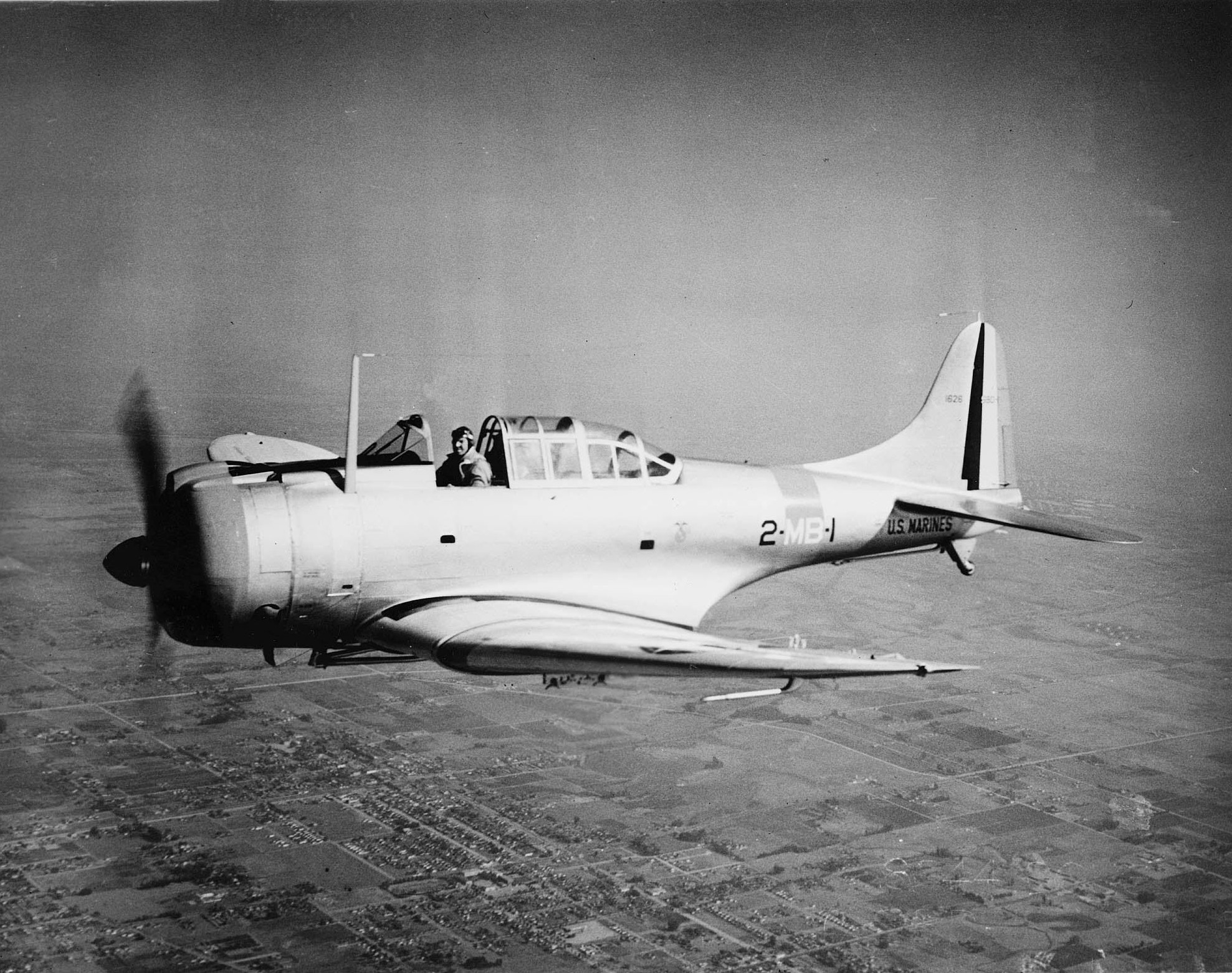 In scout configuration (no bombs) the SBD-1 had a maximum speed of 253 miles per hour (407 kilometers per hour at 16,000 feet (4,877 meters). It could reach 10,000 feet (3,048 meters) in 6.6 minutes, and 20,000 feet (6,096 meters) in 15.8 minutes. The service ceiling was 29,600 (9,022 meters). It had a fuel capacity of 180 gallons (681 liters). The airplane's maximum range was 985 miles (1,585 kilometers) at 142 mph (229 kilometers per hour).
The SBD-1 was armed with two fixed .50-caliber machine guns synchronized to fire forward through the propeller, with 360 rounds of ammunition, and one .30-caliber machine gun on a flexible mount, with 600 rounds of ammunition. It could carry one 1,600 pound (726 kilogram) bomb or one 650 pound (295 kilogram) depth bomb under the fuselage. Two racks under the wings could each carry a 100 pound (45 kilogram) bomb, or a 325 pound (147 kilogram) depth bomb.
The airplane was also ordered by the U.S. Army Air Corps as the A-24 Banshee.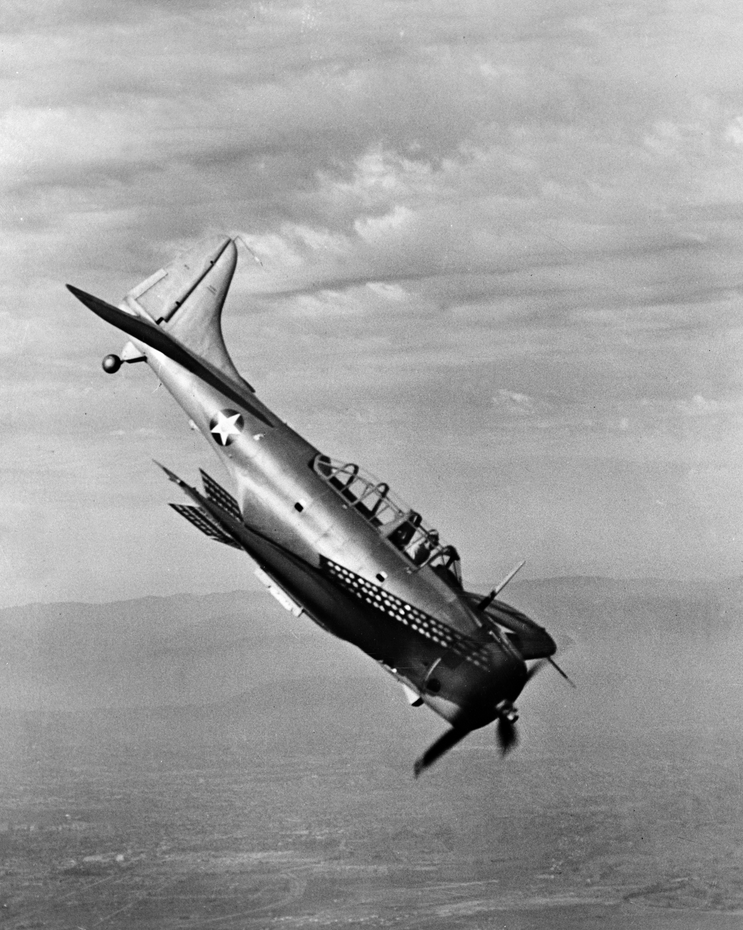 © 2023, Bryan R. Swopes