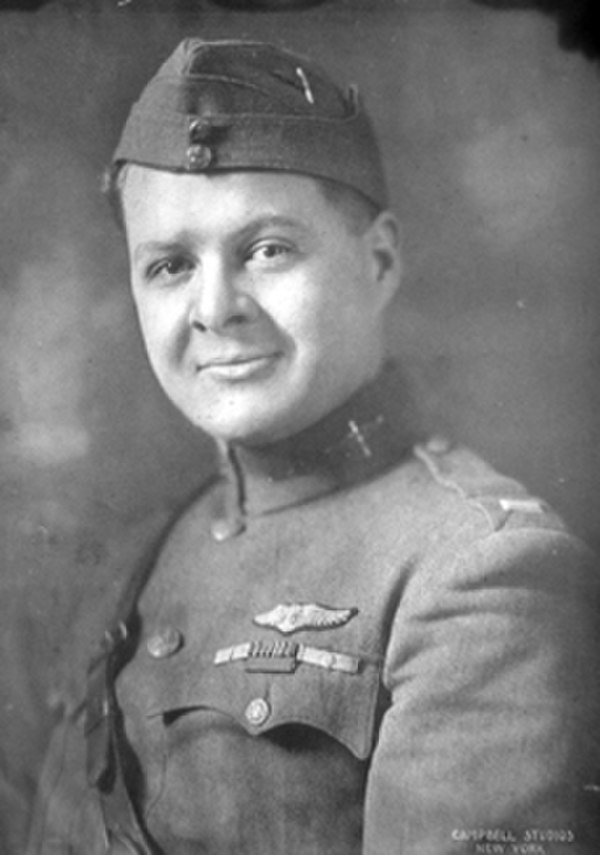 11 March 1918: 1st Lieutenant Paul Frank Baer, Air Service, United States Army, assigned to the103rd Aero Squadron,  American Expeditionary Forces, flying a SPAD S.VII C-1 chasseur, shot down an enemy Albatros D, near Cerney-les-Reims, France. For this and other actions, Lieutenant Baer was awarded the Distinguished Service Cross.
The President of the United States of America, authorized by Act of Congress, July 9, 1918, takes pleasure in presenting the Distinguished Service Cross to First Lieutenant (Air Service) Paul Frank Baer, United States Army Air Service, for extraordinary heroism in action while serving with 103d Aero Squadron, 3d Pursuit Group, U.S. Army Air Service, A.E.F., on 11 March 1918. First Lieutenant Baer attacked, alone, a group of seven enemy pursuit machines, destroying one, which fell near the French lines northeast of Reims, France. On 16 March 1918, he attacked two enemy two-seaters, one of which fell in flames in approximately the same region.
War Department, General Orders No. 128 (1919)

Lieutenant Baer was the first United States airman to receive the Distinguished Service Cross.
Lieutenant Baer is officially credited by the United States Air Force with 7.75 enemy airplanes shot down between 11 March and 22 May 1918, and he claimed an additional 7. (Credit for two airplanes was shared with four other pilots.) After shooting down his eighth enemy airplane on 22 May 1918, Baer and his SPAD S.XIII C.1 were also shot down. He was seriously injured and was captured by the enemy near Armentières and held as a Prisoner of War. At one point, Baer was able to escape for several days before being recaptured.
For his service in World War I, 1st Lieutenant Paul Frank Baer was awarded the United States' Distinguished Service Cross with one oak leaf cluster (a second award). He was appointed Chevalier de la Légion d'honneur by Raymond Poincaré, the President of France. He was also awarded the Croix de Guerre with seven palms.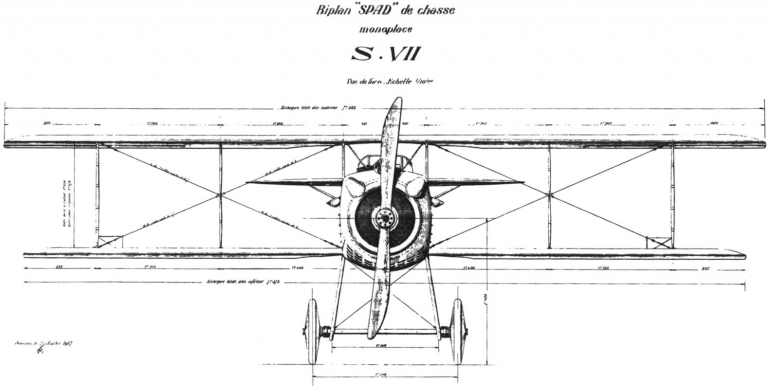 The Société Pour L'Aviation et ses Dérivés SPAD S.VII C.1 was a single-place, single-engine, two-bay biplane chasseur (fighter). The airplane was 19 feet, 11 inches (5.842 meters) long, with a wingspan of 25 feet, 7¾ inches (7.817 meters) and overall height of 7 feet, 2 inches (2.184 meters). It had a maximum gross weight of 1,632 pounds (740 kilograms).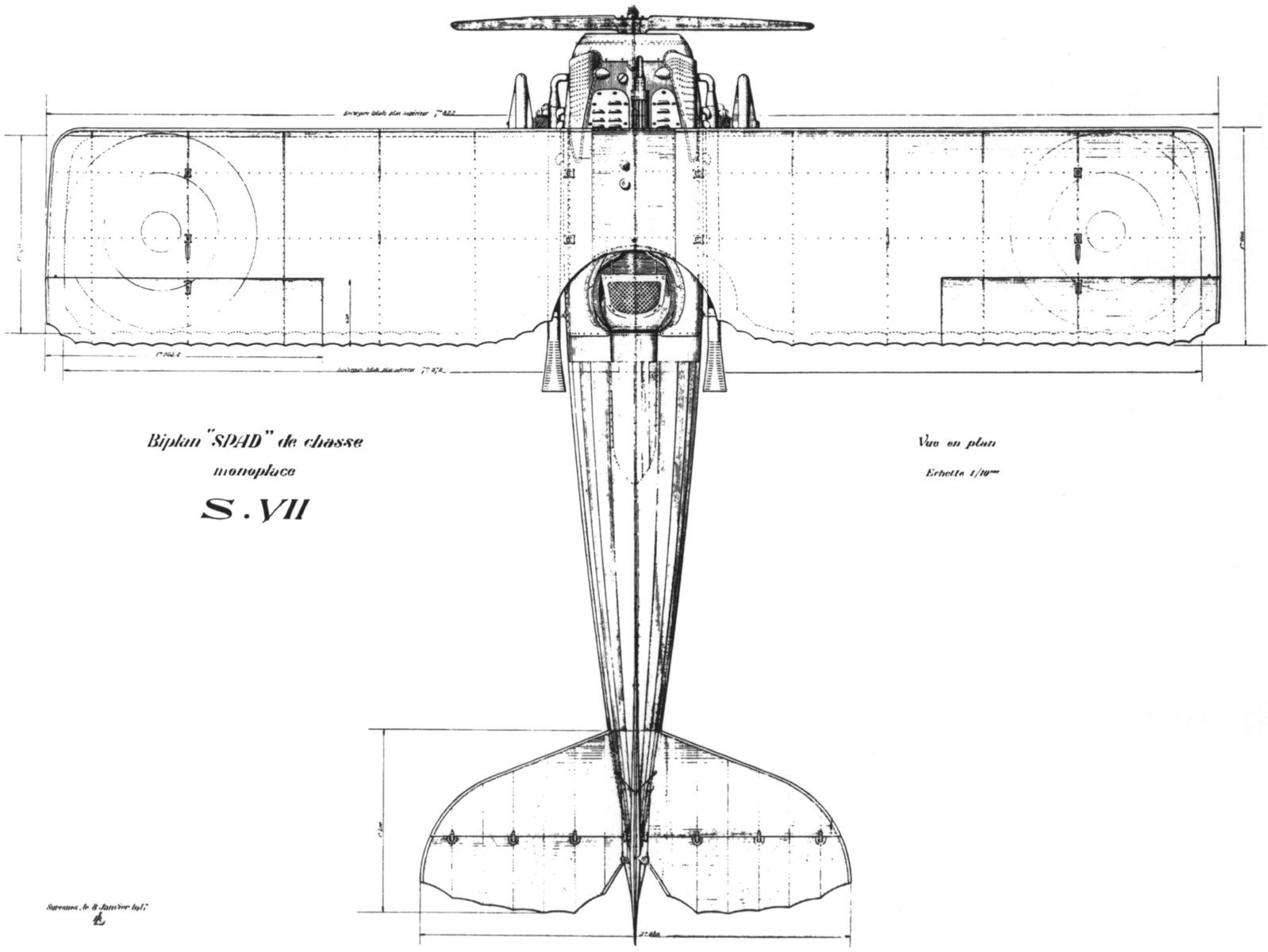 The SPAD VII was initially powered by a water-cooled, normally-aspirated, 11.762 liter (717.769 cubic inches) Société Française Hispano-Suiza 8Aa, a single overhead camshaft (SOHC) 90° V-8 engine with a compression ratio of 4.7:1. The 8Aa produced 150 horsepower at 2,000 r.p.m. By early 1918, the S.VII's engine was upgraded to the higher-compression 8Ab (5.3:1), rated at 180 horsepower at 2,100 r.p.m. These were right-hand tractor, direct-drive engines which turned a two-bladed fixed-pitch wooden propeller.
The SPAD VII had a maximum speed of 119 miles per hour (192 kilometers per hour). The 8Ab engine increased this to 129 miles per hour (208 kilometers per hour). The service ceiling was 17,500 feet (5,334 meters).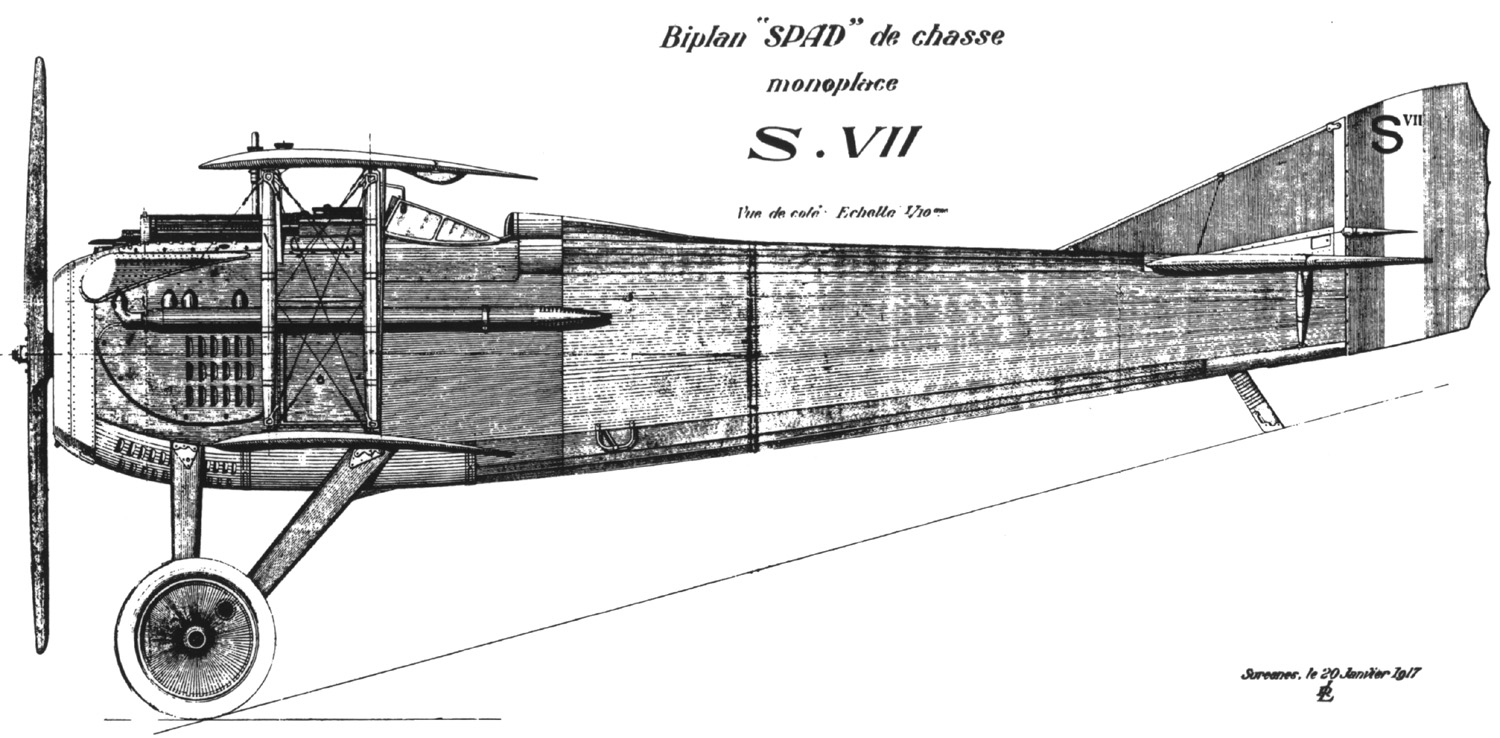 Armament consisted of a single air-cooled Vickers .303-caliber (7.7 × 56 millimeter) machine gun, synchronized to fire forward through the propeller arc.
The SPAD S.VII was produced by nine manufacturers in France and England. The exact number of airplanes built is unknown. Estimates range from 5,600 to 6,500.
The airplane in this photograph is a SPAD S.VII C.1, serial number A.S. 94099, built by Société Pour L'Aviation et ses Dérivés, and restored by the 1st Fighter Wing, Selfridge Air Force Base, Michigan. It is in the collection of the National Museum of the United States Air Force, Wright-Patterson Air Force Base, Ohio.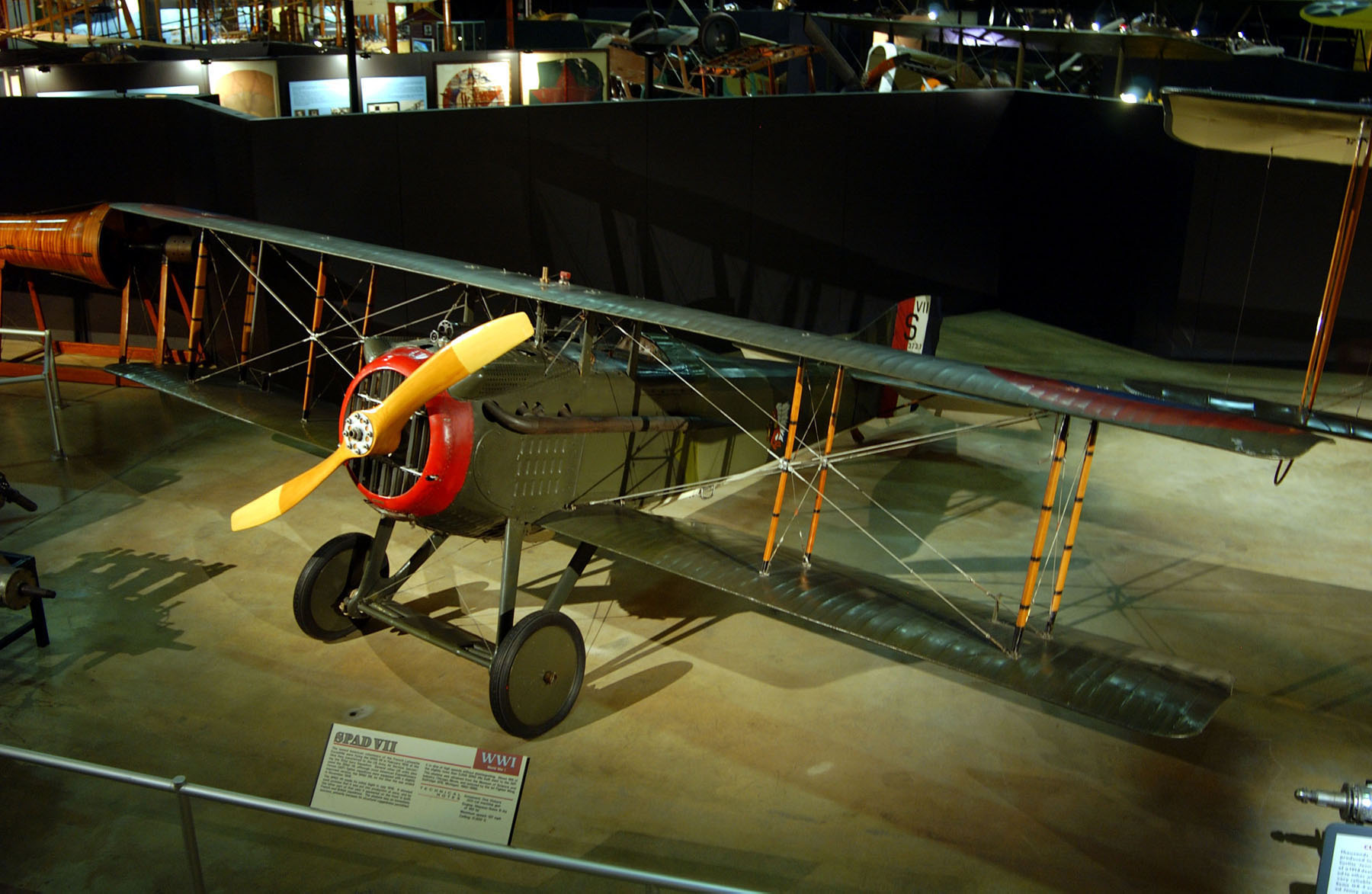 © 2023, Bryan R. Swopes