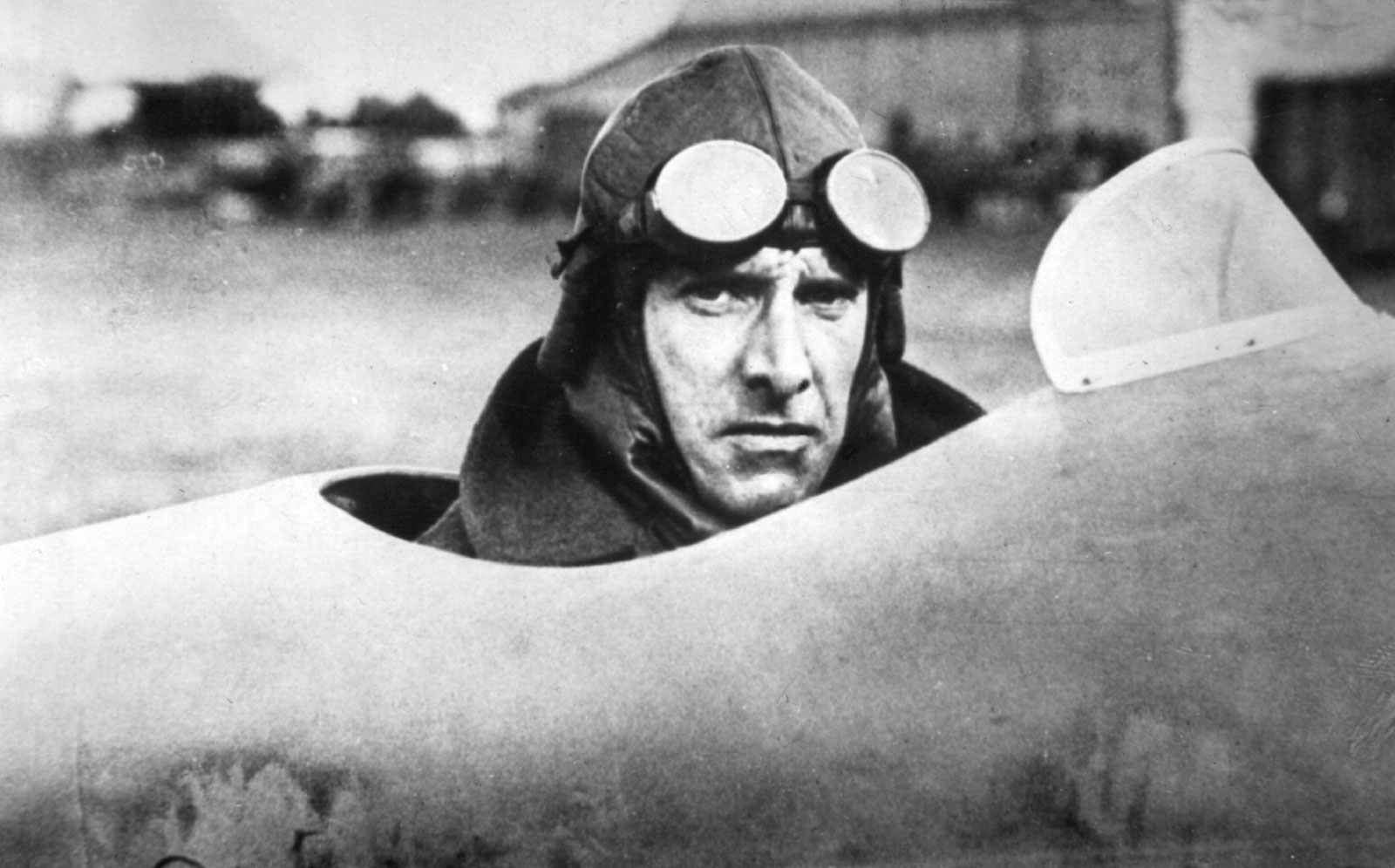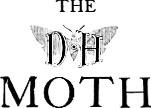 22 February 1925: At the de Havilland Aircraft Company airfield at Stag Lane, Edgware, London, Geoffrey de Havilland, O.B.E., took his new DH.60 Moth, c/n 168 (later registered G-EBKT), for its first flight.
The DH.60 was a light-weight, two-place, single-engine, single-bay biplane. The fuselage was constructed of plywood and the wings and tail surfaces were covered with fabric. The Moth was 23 feet, 5½ inches (7.150 meters) long with a wingspan of 29 feet, 0 inches (8.839 meters) and overall height of 8 feet, 9½ inches (2.680 meters). The airplane was designed so that the wings could be folded parallel to the fuselage, giving it an approximate width of 9 feet (2.7 meters).
The wings had a chord of 4 feet, 3 inches and the lower wing was staggered slightly behind the upper. Their total area was 229.0 square feet (21.3 square meters). The vertical gap between the wings was 4 feet, 10 inches (1.473 meters) and lower wing was staggered 3 inches (7.62 centimeters) behind the upper. Both wings had 3.5° angle of incidence and 3.5° dihedral. There was no sweep.
The DH.60 had an empty weight of 764 pounds (346.6 kilograms) and its gross weight was 1,650 pounds (748 kilograms).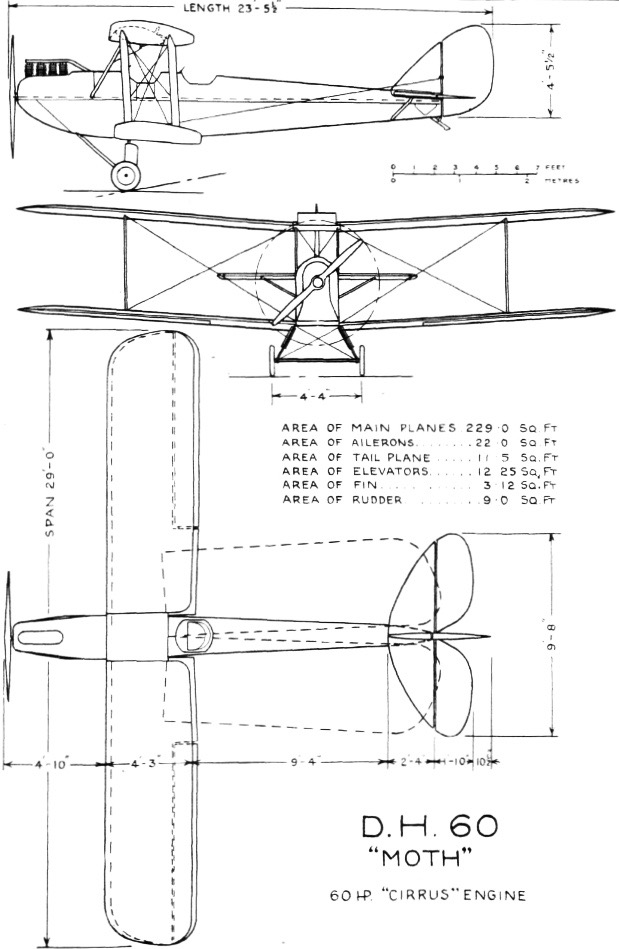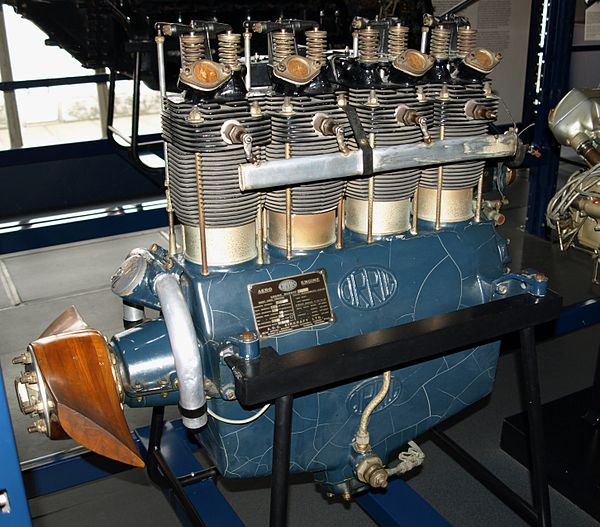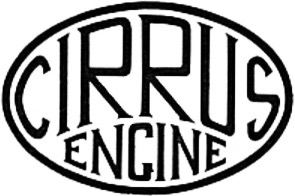 The Moth was powered by an air-cooled, normally-aspirated 4.503 liter (274.771-cubic-inch-displacement A.D.C. Aircraft Ltd., Cirrus inline 4-cylinder overhead valve engine with two valves per cylinder and a compression ratio of 5.4:1. The direct-drive engine produced 60 horsepower at 1,800 r.p.m., and 65 horsepower at 2,000 r.p.m. The Cirrus was 0.983 meters (3.225 feet) long, 0.908 meters (2.979 feet) high and 0.450 meters (1.476 feet) wide. It weighed 260 pounds (118 kilograms). The A.D.C. Cirrus was designed by Major Frank Bernard Halford, who later designed the de Havilland Gipsy engine, as well as the Goblin and Ghost turbojet engines.
De Havilland built 8 pre-production and 31 production DH.60 Moths. 595 DH.60s of all variants were produced at Stag Lane.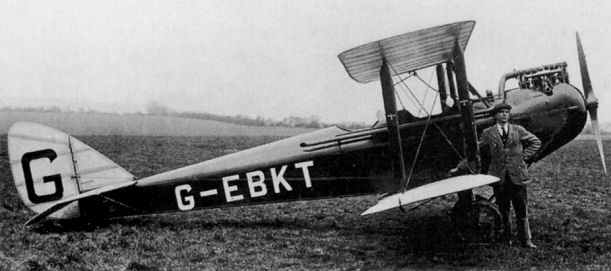 On 29 May 1925, Alan Cobham flew the prototype from Croydon to Zurich and back in 14 hours, 49 minutes. Cobham also flew the Moth in The Kings Cup Air Race, though weather forced him to land short of the finish. It placed second in a follow-up race.
The G-EBKT was used as a demonstrator for de Havilland for a brief time before being sold to Sophie C. Elliot Lynn, 26 March 1926. She flew the Moth in the Paris Concours d'Avions Economiques in August 1926. (Mrs. Elliott Lynn later became Mary, Lady Heath.)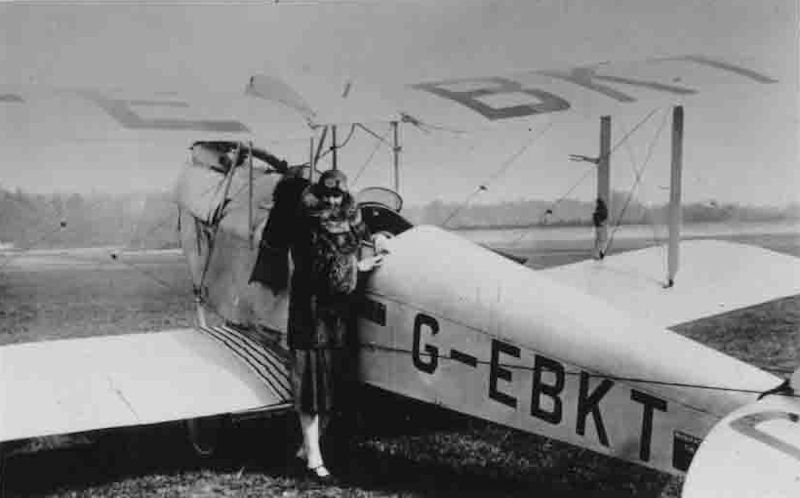 In 1927, G-EBKT was sold to the London Aeroplane Club. It crashed at Dennis Lane, Stanmore, Middlesex, 21 August 1927, injuring the pilot and a passenger:
On Sunday afternoon, Pilot Officer Stanley Pritchard-Barrett, flying on D.H. "Moth" G-EBKT with his wife as passenger, crashed in the grounds of the residence of Major Sir Maurice FitzGerald,Bt. He was severely injured about his head, and his wife, who was a passenger, had a leg broken. The machine fell from a height of about 90 ft.
The London Aeroplane Club "Moth" is apparently a complete write-off.
—Flight
G-EBKT's registration was cancelled 20 January 1928.
© 2019, Bryan R. Swopes