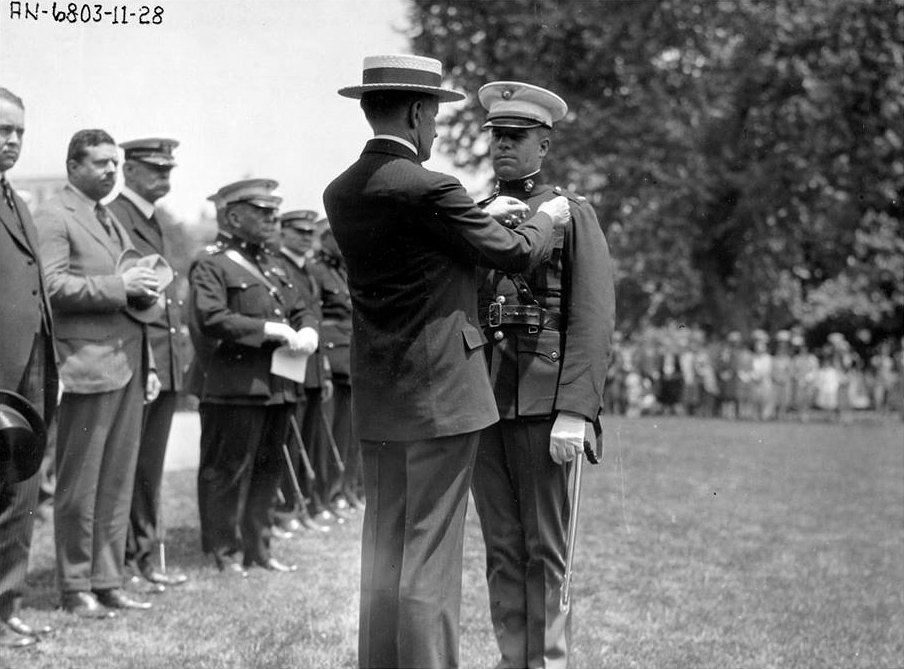 The President of the United States of America, in the name of Congress, takes pleasure in present the Medal of Honor to
FIRST LIEUTENANT CHRISTIAN F. SCHILT
UNITED STATES MARINE CORPS
for service as set forth in the following
CITATION:
For extraordinary heroism while serving with Marine Observation Squadron 7/M (VO-7M) in action during the progress of an insurrection at Quilali, Nicaragua, 6, 7, and 8 January 1928, Lieutenant Schilt, then a member of a Marine Expedition which had suffered severe losses in killed and wounded, volunteered under almost impossible conditions to evacuate the wounded by air, and transport a relief commanding officer to assume charge of a very serious situation. First Lieutenant Schilt bravely undertook this dangerous and important task and, by taking off a total of 10 times in the rough, rolling street of a partially burning village, under hostile infantry fire on each occasion, succeeded in accomplishing his mission, thereby actually saving three lives and bringing supplies and aid to others in desperate need.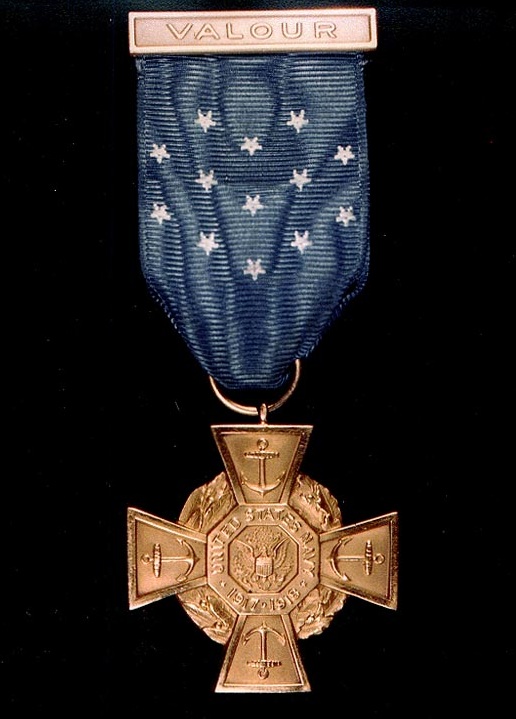 In 1926, civil war broke out in Nicaragua. United States Marines were sent in to establish a protected sector for American citizens who were in the country (this is known as the Second Nicaraguan Campaign). First Lieutenant Schilt, a Naval Aviator since 1919, was assigned to an observation squadron at Managua in November 1927. On 6 January 1928, rebel soldiers ambushed to U.S. Marine patrols at the village of Quilali. The Marines were cut off, unable to be re-supplied or to have the wounded men evacuated. Lieutenant Schilt volunteered to fly into the village and land on a road, carrying supplies and flying the wounded men out. Conditions were difficult, with low clouds, surrounding mountains and hostile gunfire on landing and takeoff.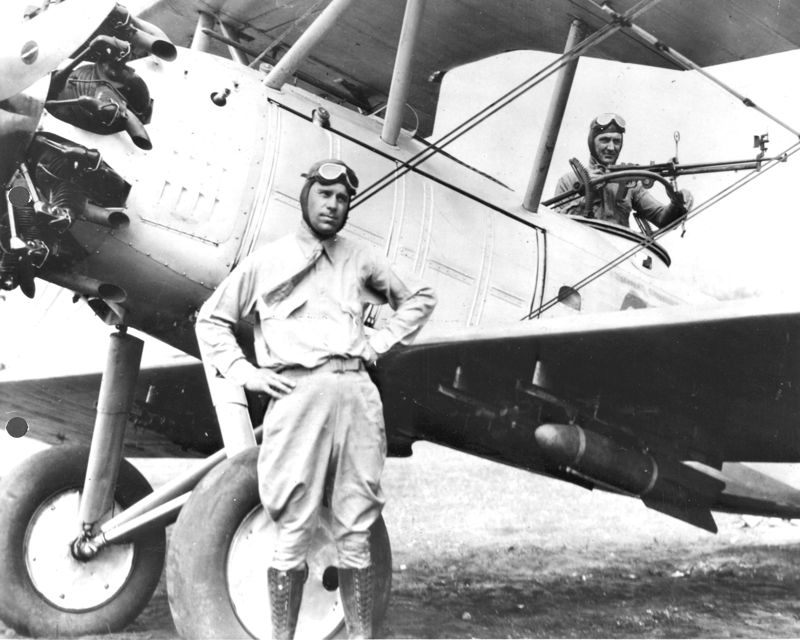 Over three days, Schilt made ten flights, bringing out 18 wounded Marines and flying in a replacement commander and badly-needed medical supplies. To make a landing strip on the village's rough, rolling, main street, the Marines on the ground had to burn and level part of the town, and since the plane had no brakes they had to stop it by dragging from its wings as soon as it touched down.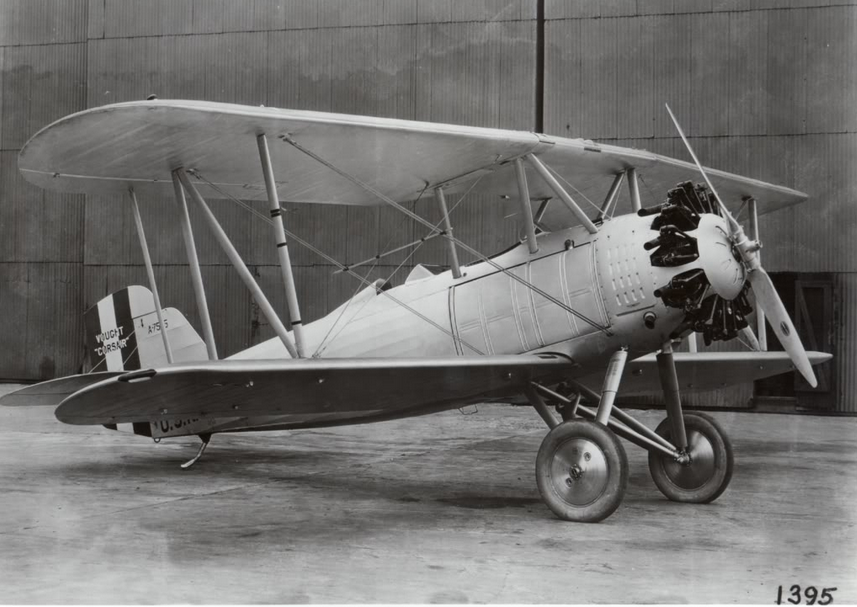 The Chance Vought O2U-1 Corsair was a two-seat, single-engine single-bay biplane used for reconnaissance. It was 24 feet, 8 inches (7.519 meters) long with a wingspan of 34 feet, 6 inches (10.516 meters) and height of 10 feet, ½ inch (3.060 meters). It had an empty weight of 2,342 pounds (1,062.3 kilograms) and gross weight of 3,635 pounds (1,648.8 kilograms).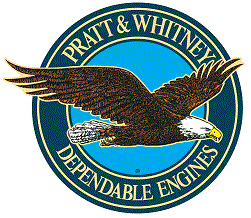 The 02U-1 was powered by an air-cooled, supercharged, 1,343.804-cubic-inch-displacement (22.021 liter) Pratt & Whitney Wasp C (R-1340-88) 9-cylinder radial engine with a compression ratio of 5.25:1. This was a direct drive engine, rated at 450 horsepower at 2,100 r.p.m, at Sea Level.
The O2U-1 had a maximum speed of 151 miles per hour (243 kilometers per hour) at Sea Level. Its service ceiling was 22,500 feet (6,858 meters) and the maximum range was 880 miles (1,416 kilometers) at cruise speed.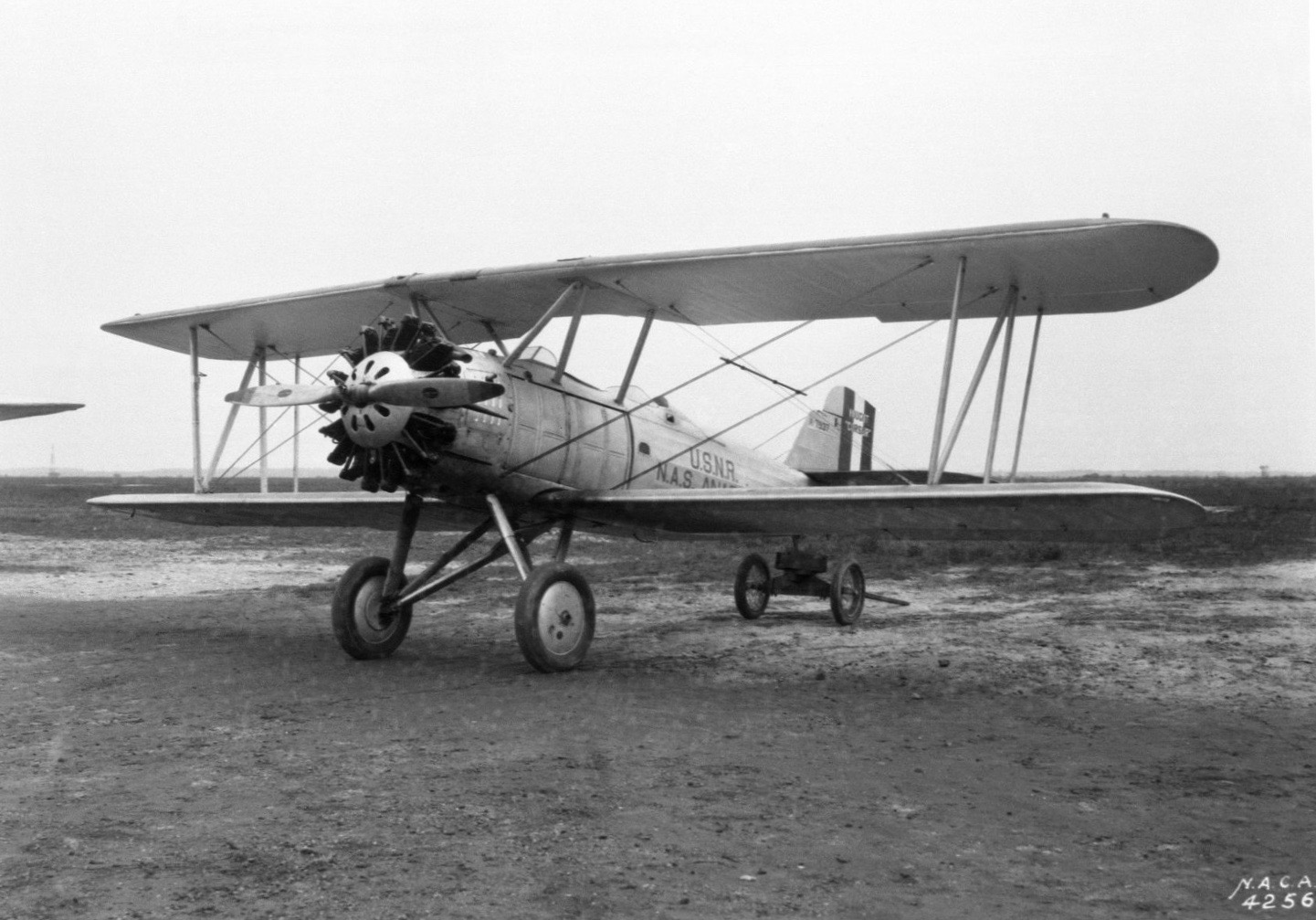 Armament consisted of two fixed .30-caliber Browning machine guns, and one or two .30-caliber Lewis machine guns on a flexible mount in the aft cockpit.
Vought produced 291 O2U Corsairs between 1926 and 1930.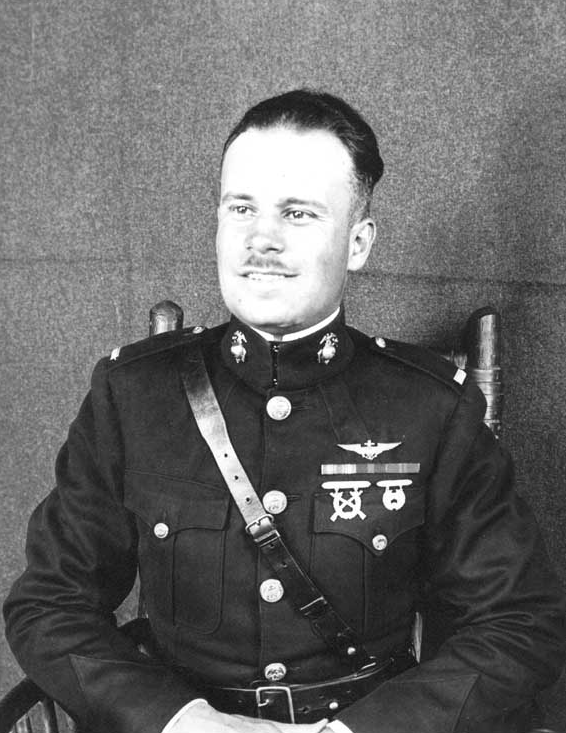 Christian Frank Schilt had a long career in the United States Marine Corps, beginning as an enlisted man with the first American military aviation unit sent overseas during World War I. After becoming a Naval Aviator and commissioned officer, he served for several years in the Carribean and Central American campaigns, before being assigned as chief test pilot at the Naval Aircraft Factory.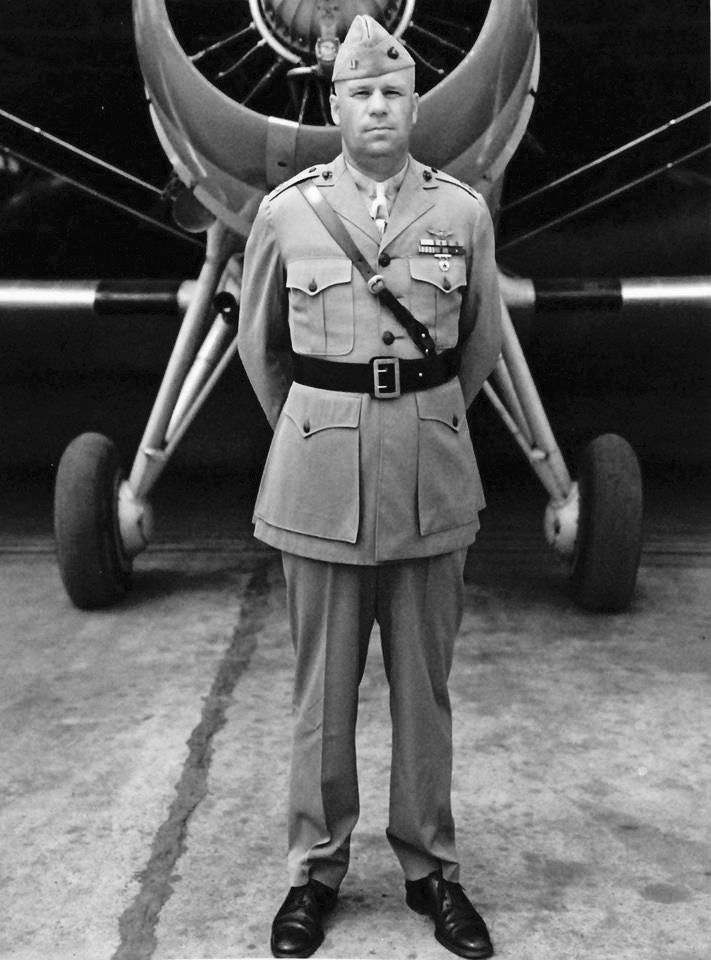 During World War II, Schilt served as chief of staff of the 1st Marine Air Wing at Guadalcanal, then commanded Marine Aircraft Group 11, commanding all Marine Corps aviation units during the Guadalcanal and Solomon Islands campaigns. He returned to the United States as commander MCAS Cherry Point.
General Schilt commanded the 9th and 2nd Marine Aviation Wings in the Pacific, and during the Korean War, he commanded the 1st Marine Aircraft Wing.
He next served as Commanding General, Aircraft, Fleet Marine Force, Pacific, and then as Director of Aviation at Headquarters Marine Corps.
Lieutenant General Schilt retired 1 April 1957 after forty years of service. Because of his distinguished combat career, he was promoted to the rank of General.
General Shilt was awarded the Medal of Honor, Distinguished Service Medal, Legion of Merit, Distinguished Flying Cross, Bronze Star Medal, Air Medal with Gold Stars (five awards), the Presidential Unit Citation Ribbon with Bronze Star (two awards).
General Schilt died 8 January 1987 at the age of 91 years.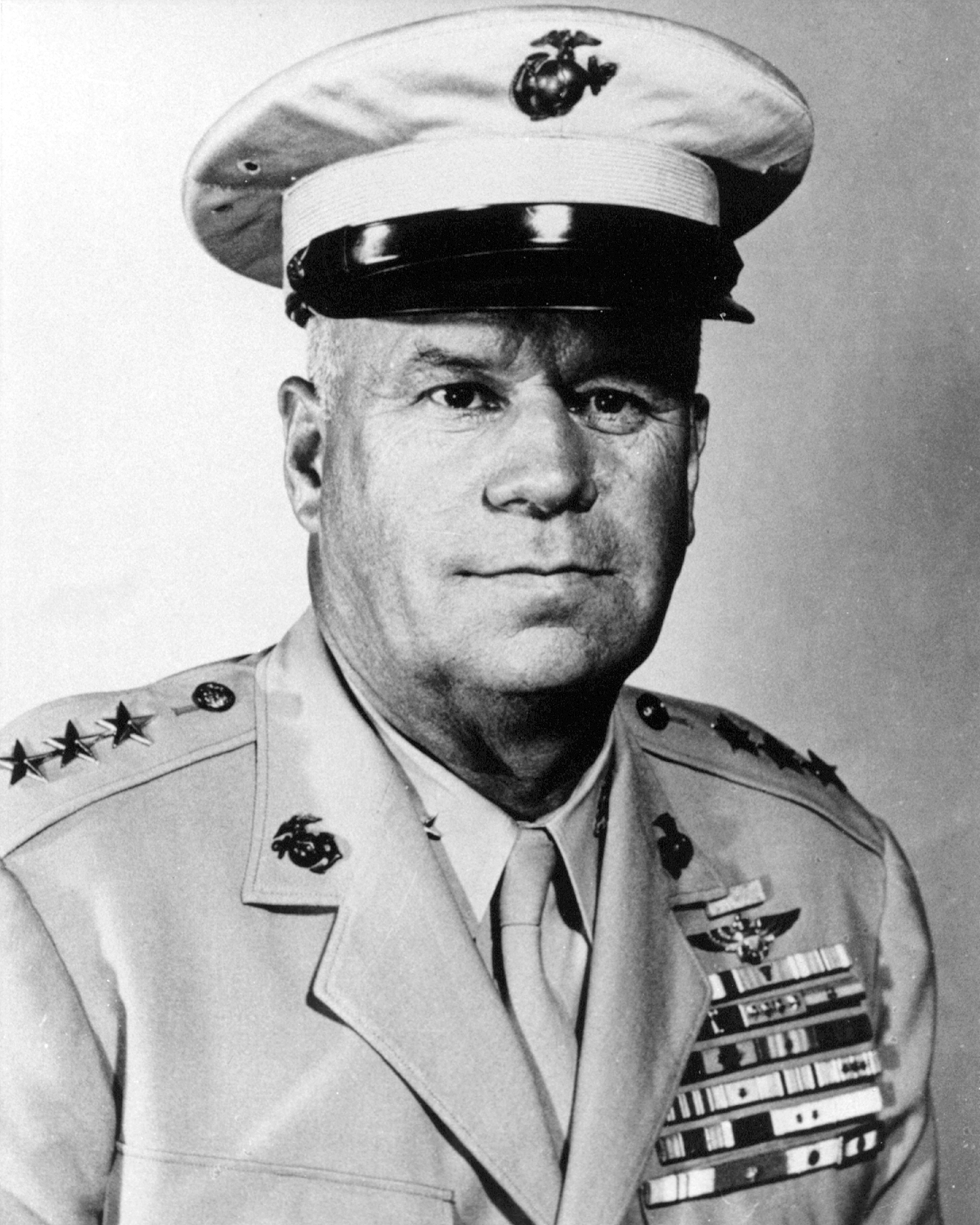 © 2018, Bryan R. Swopes