24–25 August 1932: Amelia Earhart flew her Lockheed Model 5B Vega, NR7952, from Los Angeles, California, to Newark, New Jersey, a distance of 3,939.25 kilometers (2,447.74 miles), in 19 hours, 5 minutes. She had departed Los Angeles Municipal Airport (now known as LAX) at 7:26:54 p.m. Pacific Time, 24 August, and landed at Newark Municipal Airport at 11:30 a.m. Eastern Time the following day. This set a Fédération Aéronautique Internationale (FAI) women's World Record for Distance in a Straight Line Without Landing.¹ Her average speed for the flight was 206.42 kilometers per hour (128.27 miles per hour).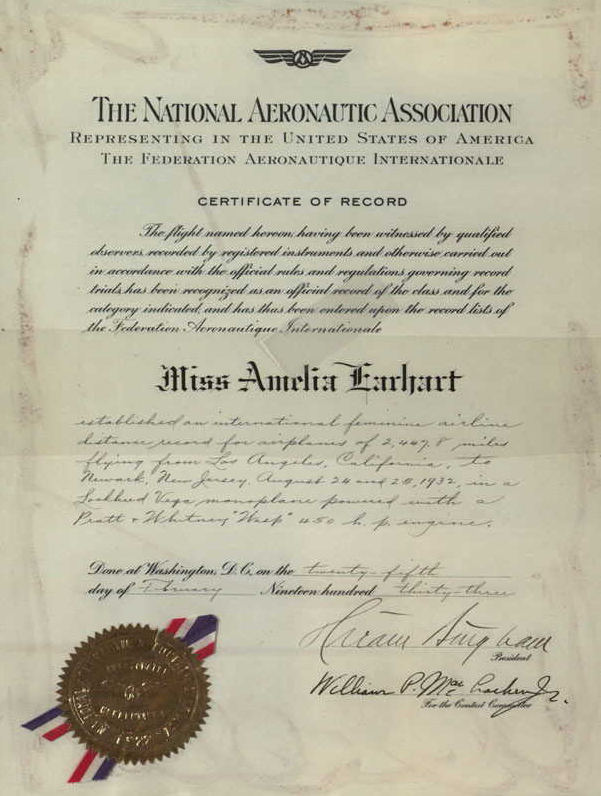 Amelia Earhart was the first woman to fly solo coast-to-coast. Less than a year later, she would break her own record by almost two hours.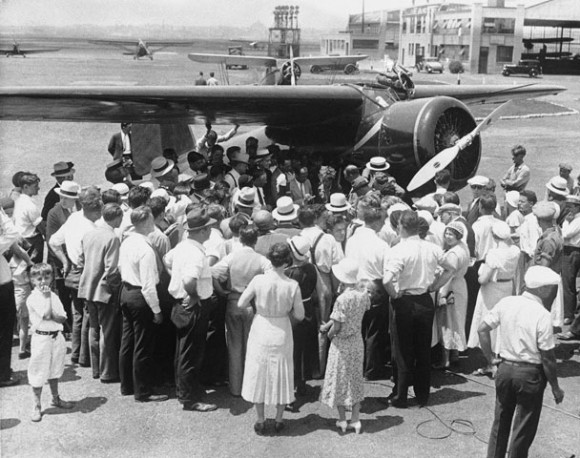 Built by the Lockheed Aircraft Company, the Model 5 Vega was a single-engine high-wing monoplane. The fuselage was molded wood monocoque construction and the wing was cantilevered wood. The Vega 5B is 27 feet, 6 inches (8.382 meters) long with a wingspan of 41 feet (12.497 meters) and overall height of 8 feet, 2 inches (2.489 meters). Its empty weight is 1,650 pounds (748.4 kilograms) and gross weight is 4,375 pounds (1,985 kilograms).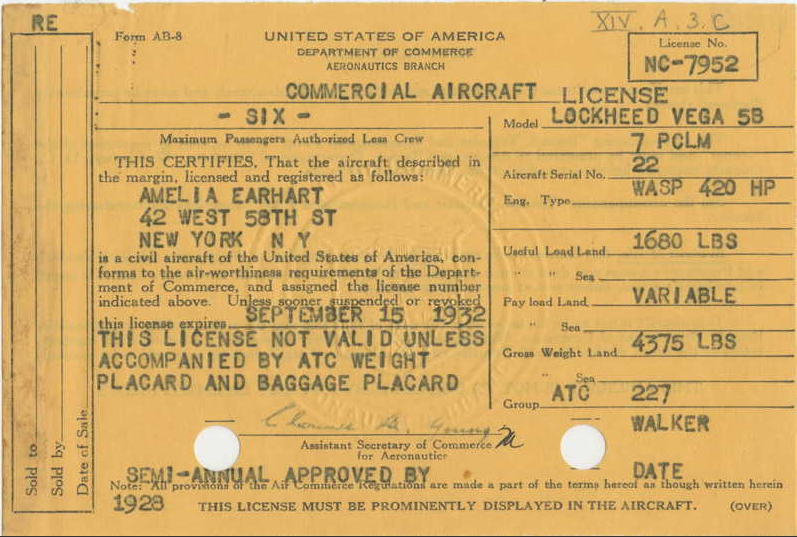 Earhart's modified Vega 5B is powered by an air-cooled, supercharged 1,343.804-cubic-inch-displacement (22.021 liter) Pratt & Whitney Wasp C nine cylinder radial engine. The Wasp C was rated at 420 horsepower at 2,000 r.p.m. at Sea Level.² It was 3 feet, 6.63 inches (1.083 meters) long, 4 feet, 3.44 inches (1.307 meters) in diameter, and weighed 745 pounds (338 kilograms). It drove a two-bladed Hamilton Standard controllable-pitch propeller through direct drive.
Just three months earlier, Earhart had flown solo across the Atlantic Ocean in this same airplane, which she called her "Little Red Bus." Today, Lockheed Vega NR7952 is in the collection of the Smithsonian Institution National Air and Space Museum.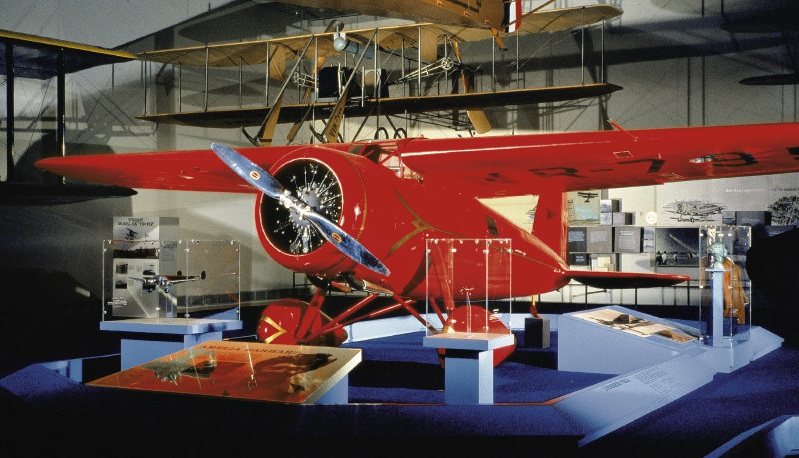 ¹ FAI Record File Number 12342
² The Pratt & Whitney Wasp C was also used by the U.S. Army and Navy, designated R-1340-7. In military service, it was rated at 450 horsepower at 2,100 r.p.m. at Sea Level.
© 2017, Bryan R. Swopes