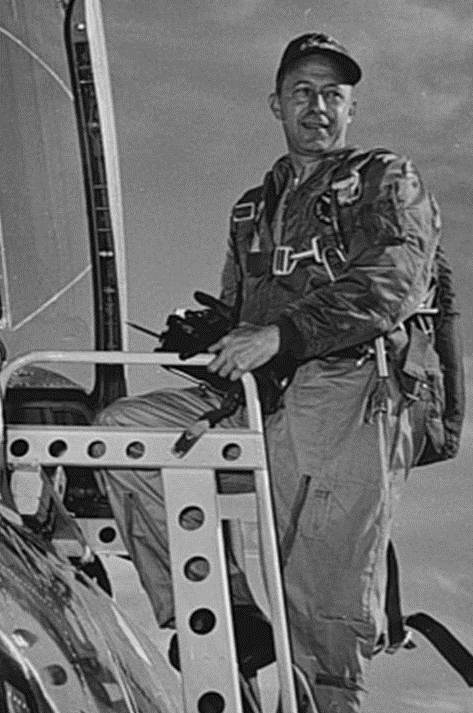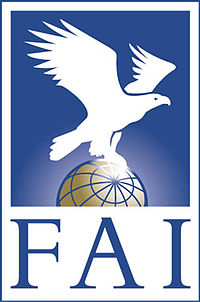 12 December 1957: Major Adrian Eason Drew, U.S. Air Force, commanding officer, 481st Fighter Bomber Squadron, 27th Fighter Bomber Wing, Tactical Air Command, set a new Fédération Aéronautique Internationale (FAI) absolute speed record over the 15/25 kilometer course at Edwards Air Force Base, California.¹ Major Drew flew a modified McDonnell F-101A-5-MC Voodoo, serial number 53-2426.
The Voodoo, the ninth production F-101A, had been bailed to Pratt & Whitney by the Air Force to test a new J57-P-55 afterburning turbojet engine intended for the F-101B Voodoo, and it was redesignated JF-101A. The new engine produced 16,000 pounds of thrust with afterburner. The modified aircraft had longer jet exhaust tubes, and air scoops were installed in the belly to provide additional cooling air for the afterburners.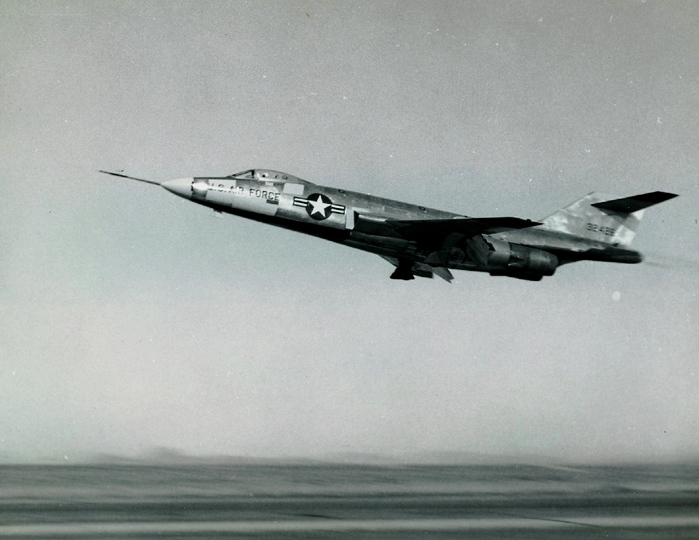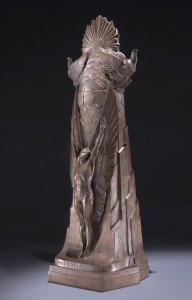 At 39,000 feet (11,887 meters), Major Drew accelerated for 65 miles (105 kilometers) before entering the 10.1 statute mile (16.25 kilometers) course. He made one pass in each direction. Actual time on course, each way, was 29.8 seconds. The official average speed for the two passes is 1,943.5 kilometers per hour (1,207.64 miles per hour). Although the air temperature was -79 °F. (-62 °C.), frictional heating brought the Voodoo's skin temperature to 190 °F. (88 °C.), high enough to blister the airplane's paint.
Major Drew was awarded the Distinguished Flying Cross and the Thompson Trophy for 1957.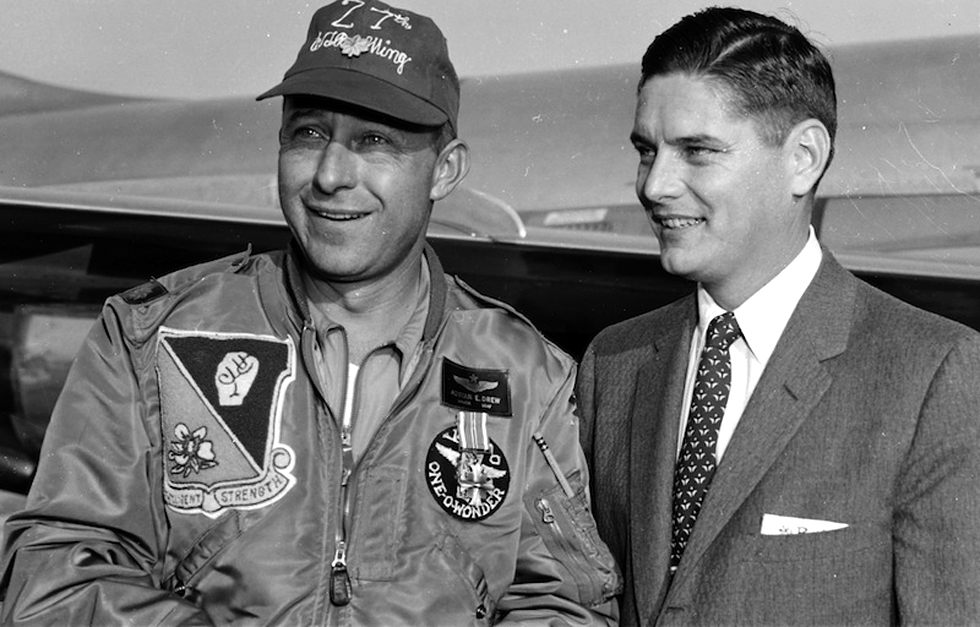 Adrian Eason Drew was born 8 October 1920 in Georgia, the first of six children of John Robert Drew, a farmer, and Ada Elma Eason Drew.
After one year of college, Adrian Drew enlisted as a private in the U.S. Army Air Corps, 31 March 1942, at Fort McClellan, Alabama. He was 5 feet, 8 inches (1.73 meters) tall and weighed 143 pounds (64.9 kilograms).
On 14 November 1942, Drew married Miss Sarah B. Kaylor in Pinellas County, Florida. They would have three daughters, Nancy, Bonnie and Jo Anne.
Colonel Drew was a combat pilot during World War II, the Korean War and the Vietnam War. He commanded the 309th Strategic Fighter Squadron from January to October 1955, flying the Republic F-84 Thunderjet. In August 1957, he became the first commanding officer of the 481st Fighter Bomber Squadron at Bergstom Air Force Base,  Austin, Texas. Lieutenant Colonel Drew commanded the 354th Tactical Fighter Squadron at George Air Force Base, California, from 1962 to 1964, flying the Republic F-105D Thunderchief, and briefly commanded the 355th Tactical Fighter Wing.
Two weeks before a scheduled promotion to Brigadier General, Colonel Drew suffered a major heart attack and was forced to retire from the Air Force. He died 27 July 1985 at the age of 64 years. He was buried at Shawnee View Gardens Cemetery, Cumming, Georgia.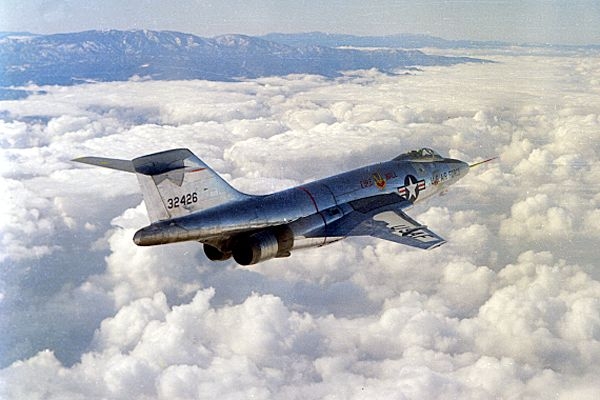 The McDonnell F-101 Voodoo was originally designed as a single-seat, twin-engine long range bomber escort, or "penetration fighter" for the Strategic Air Command, but was developed as a fighter bomber and reconnaissance airplane. The Voodoo first flew 29 September 1954, and the first F-101A was delivered to the Air Force 2 May 1957.
The F-101A was 67 feet, 5 inches (20.549 meters) long with a wingspan of 39 feet, 8 inches (12.090 meters). It was 18 feet (5.486 meters) high. The Voodoo weighed 24,970 pounds (11,245 kilograms) empty and had a maximum takeoff weight of 50,000 pounds (22,680 kilograms).
The standard F-101A was equipped with two Pratt & Whitney J57-P-13 afterburning turbojet engines. The J57 was a two-spool axial-flow turbojet which had a 16-stage compressor (9 low- and 7 high-pressure stages), and a 3-stage turbine (1 high- and 2 low-pressure stages). The J57-P-13 was rated at 10,200 pounds of thrust (45.37, and 15,800 pounds (70.28 kilonewtons) with afterburner.
The J57-P-55 engines installed in the JF-101A were rated at 10,700 pounds of thrust (49.60 kilonewtons), and 16,900 pounds (75.18 kilonewtons) with afterburner. They were 20 feet,  11.93 inches (6.399 meters) long, 3 feet, 4.5 inches (1.029 meters) in diameter, and weighed 5,215 pounds (2,365 kilograms).
The maximum speed of the F-101A was 1,009 miles per hour (1,624 kilometers per hour) at 35,000 feet (10,668 meters). Its service ceiling was 55,800 feet (17,008 meters). It carried 2,341 gallons (8,862 liters) of fuel internally. With external tanks, the fighter bomber had a maximum range of 2,925 miles (4,707.3 kilometers).
The F-101A was armed with four 20mm Pontiac M39 single-barreled revolver cannon, with 200 rounds per gun. It could carry a Mark 28 bomb on a centerline mount.
McDonnell JF-101A Voodoo 53-2426 is on static display at Cannon Air Force Base, New Mexico.

A McDonnell Aircraft Corporation film about Operations Sun Run and Fire Wall is available of YouTube:
¹ FAI Record File Number 9064
© 2017, Bryan R. Swopes