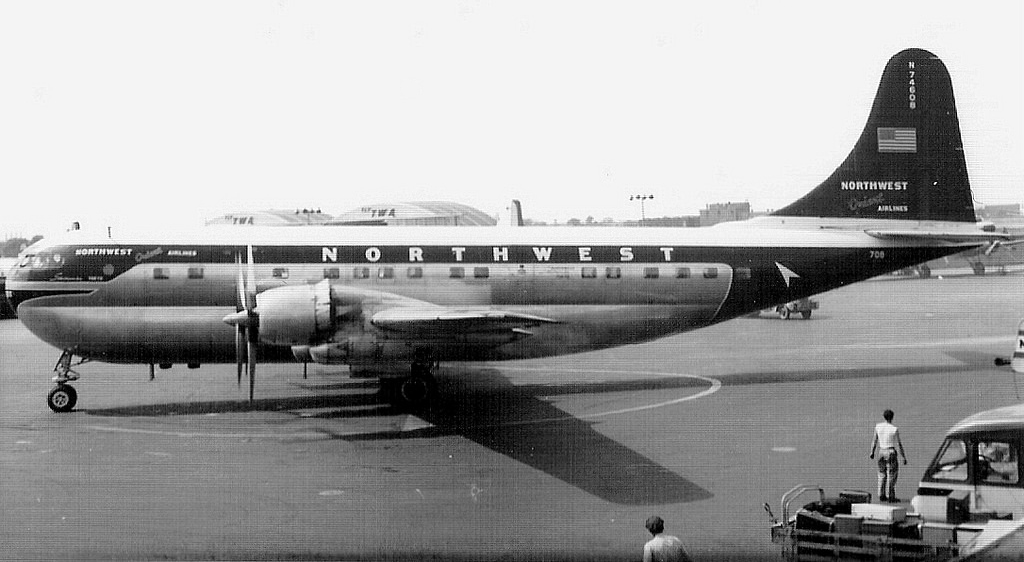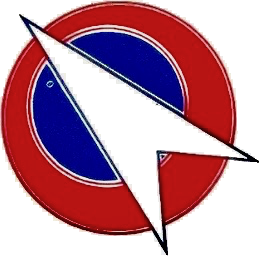 2 April 1956: On Monday morning at 8:10 a.m., Pacific Standard Time, Northwest Airlines Flight 2 took off from Seattle-Tacoma Airport en route to New York City, with intermediate stops at Portland, Oregon, and Chicago, Illinois. The airliner, a Boeing 377 Stratocruiser, N74608, had a crew of six and carried 32 passengers. The flight was under the command of Captain Robert Reeve Heard, with First Officer Gene Paul Johnson and Flight Engineer Carl Vernon Thomsen.
The weather at "SeaTac" was overcast, with a ceiling at 1,200 feet (366 meters) and 10 miles (16 kilometers) visibility. The wind was from the east-northeast at 7 knots (3.6 meters per second).
The Boeing reached the cloud layer at 145 knots (167 miles per hour/269 kilometers per hour). The engines were throttled back from takeoff power and the wing flaps were retracted. The airplane suddenly began to buffet severely, as if it were about to stall. (A passenger later said that the airplane "shook like a wet dog.") It also rolled to the left and Captain Heard had to use full opposite aileron to maintain control. N74608 began to lose altitude.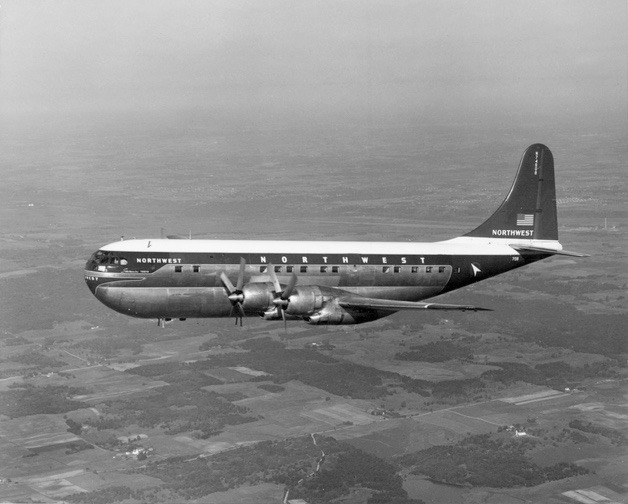 Captain Heard suspected a split-flap condition, in which, one of the flaps remained partially or fully extended. Initially considering a return to SeaTac, Heard decided that it would be safer to proceed to McChord Air Force Base. The situation continued to worsen. Captain Heard, fearing control would quickly be lost, decided to ditch the Stratocruiser in Puget Sound.
N74608 hit the surface 4.7 nautical miles (5.4 statute miles/8.7 kilometers) from the end of Seattle's Runway 20, The water was smooth and the airliner coasted to a stop. It then began to take on water. All passengers and crew were evacuated. Two passengers suffered minor injuries. Once in the water, they used seat cushions for flotation. (Flight 2 was not required to carry rafts or life vests.) The water temperature was 42 °F. (5.6 °C.). After about fifteen minutes, the Stratoliner sank in 430 feet (131 meters) of water.
A Northwest Airlines DC-3 flew over the scene and dropped three life rafts. Two U.S. Air Force Grumman SA-16 Albatross amphibians and a U.S. Coast Guard 83-foot (56.6 meters) patrol boat soon arrived on scene. Most of the passengers and crew were rescued. However, four passengers, probably suffering from hypothermia, had drowned. Flight Service Attendant David Victor Razey was missing. The accident occurred on his 27th birthday.¹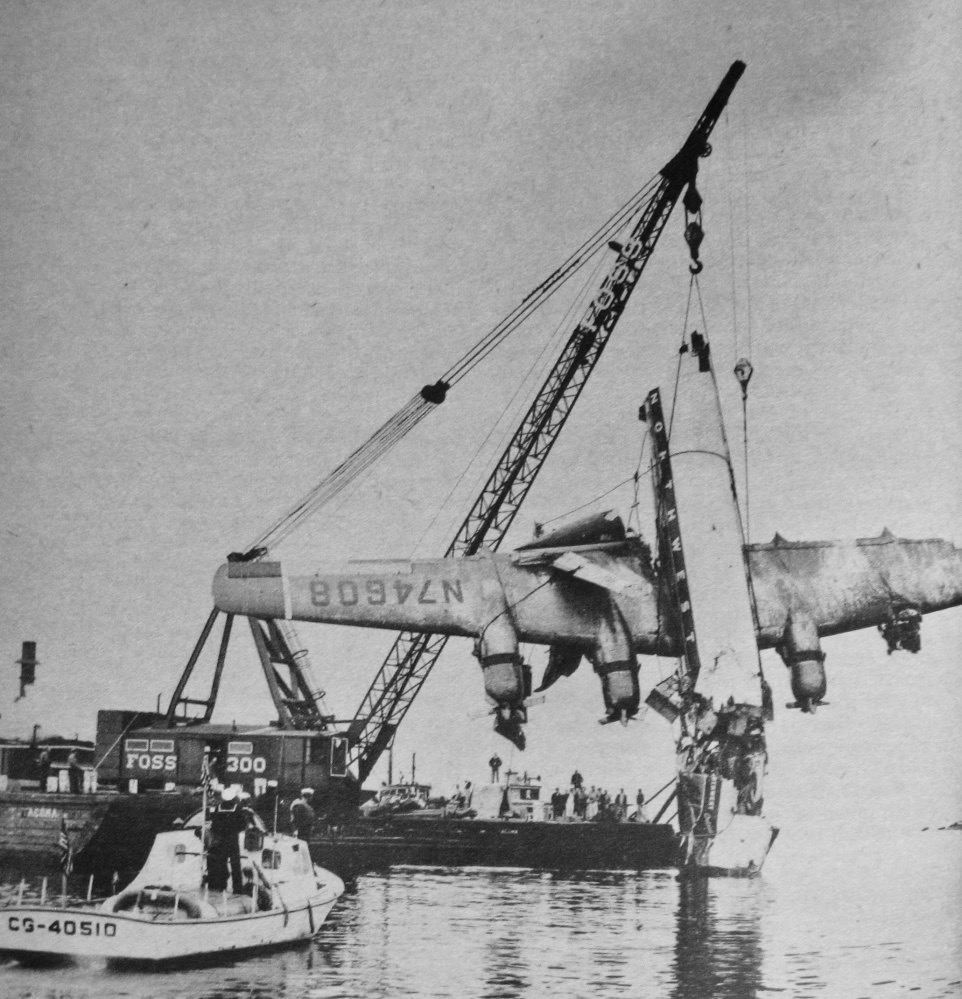 The wreck of N74608 was located on the floor of Puget Sound. It was initially moved to shallow water where divers were able to examine it. Later, the airliner was lifted onto a barge.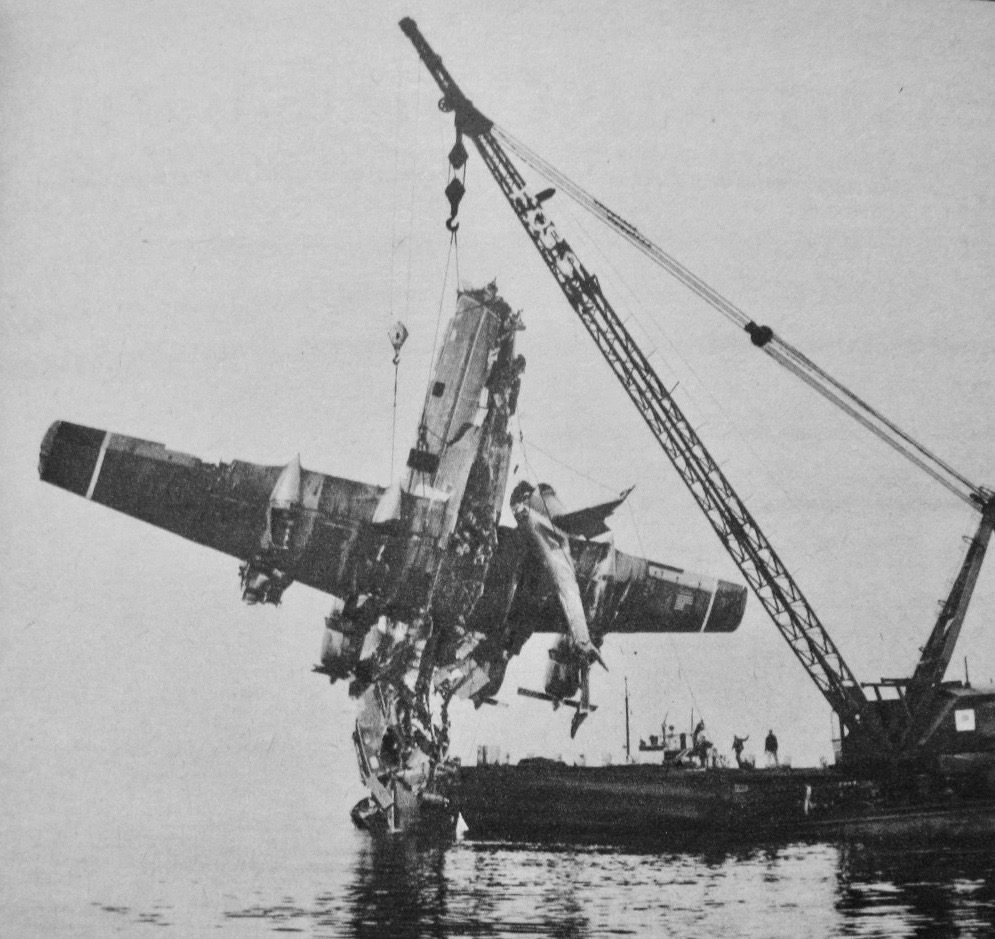 The Stratoliner's Number 1 engine (outboard, left wing) was missing and never found. Investigators found that the cowl flaps of the remaining three engines were all fully open. They should have been closed for takeoff.
When the flight crew went through the pre-takeoff check list, in response to the prompt, "Cowl flaps set for takeoff," the flight engineer responded, "Set for takeoff," when they were actually open.
At takeoff and climb out speeds, open cowl flaps disrupt the flow of air over the wings. With the wing flaps down, this isn't noticeable, but when the flaps are retracted, a severe buffeting occurs, as parts of the wing begin to stall.
Investigators found "no failure or malfunction of the aircraft, the power plants, or control systems prior to the ditching."
Probable Cause:
     The Board determines that the probable cause of the accident was the incorrect analysis of control difficulty which occurred on retraction of the wing flaps as a result of the flight engineer's failure to close the engine cowl flaps—the analysis having been made under conditions of great urgency and within an extremely short period of time available for decision.
—Civil Aeronautics Board Accident Investigation Report SA-319, File No. 1-0051, 9 November 1956, at Page 8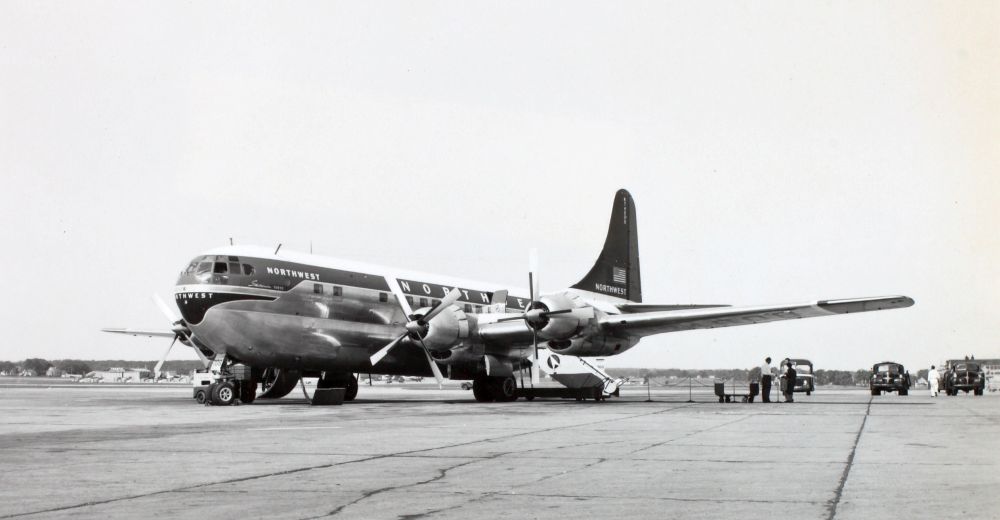 Northwest Airlines' N74608 was one of ten Boeing Model 377-10-30 Stratocruisers ordered by the airline. It was built at Seattle, Washington, in 1949, and assigned the manufacturer's serial number 15954. N74608 carried Northwest's fleet number, 708. The 377-10-30 was a variant built specifically for Northwest. It can be identified by the rectangular passenger windows.
At the time of the accident, the airliner had flown a total of 18,489 hours (TTAF).
The Model 377 was a large, four-engine civil transport which had been developed, along with the military C-97 Stratofreighter (Boeing Model 367), from the World War II B-29 Superfortress long-range heavy bomber. It utilized the wings and engines of the improved B-50 Superfortress. The airplane was operated by a flight crew of four. It was a double-deck aircraft, with the flight deck, passenger cabin and galley on the upper deck and a lounge and cargo compartments on the lower. The airliner was pressurized and could maintain Sea Level atmospheric pressure while flying at 15,500 feet (4,724 meters). The Model 377 could be configured to carry up to 100 passengers, or 28 in sleeping berths.
The Stratocruiser was 110 feet, 4 inches (33.630 meters) long with a wingspan of 141 feet, 3 inches (43.053 meters) and overall height of 38 feet, 3 inches (11.659 meters). The airliner had an empty weight of 83,500 pounds (37,875 kilograms) and the maximum takeoff weight was 148,000 pounds (67,132 kilograms).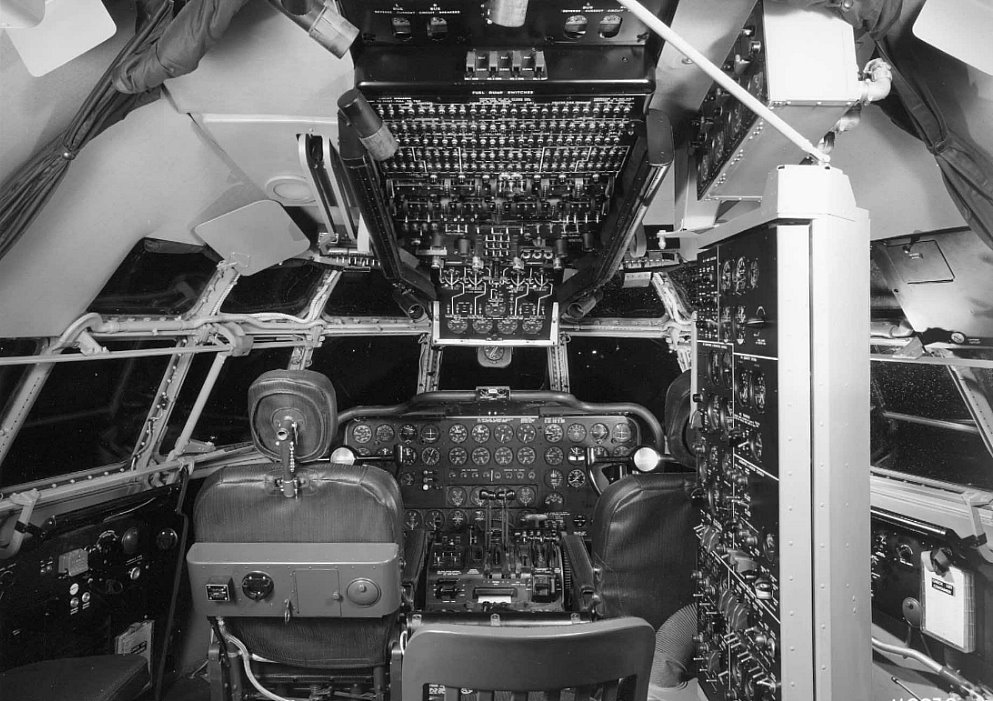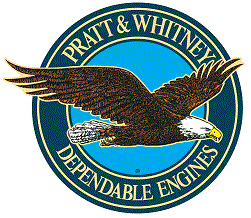 N74608 was powered by four air-cooled, supercharged, 4,362.49-cubic-inch-displacement (71.488 liter) Pratt & Whitney Wasp Major B6 engines. These were four-row, 28-cylinder, radial engines with a compression ratio of 6.7:1.
The B6 had a Normal Power rating of 2,650 horsepower at 2,550 r.p.m., at 5,500 feet (1,676 meters), and Maximum Continuous Power rating of 2,800 horsepower at 2,550 r.p.m. at 3,500 feet (1,067 meters). The Takeoff Power rating was 3,500 horsepower at 2,700 r.p.m. with water/alcohol injection.
The engines drove four-bladed Hamilton Standard Hydromatic 24260 constant-speed propellers with a diameter of 17 feet (5.182 meters) through a 0.375:1 gear reduction.
The Wasp Major B6 was 4 feet, 7.00 inches (1.397 meters) in diameter and 8 feet, 0.50 inches (2.451 meters) long. It weighed 3,584 pounds (1,626 kilograms), dry. The propeller assembly weighed 761 pounds (345 kilograms).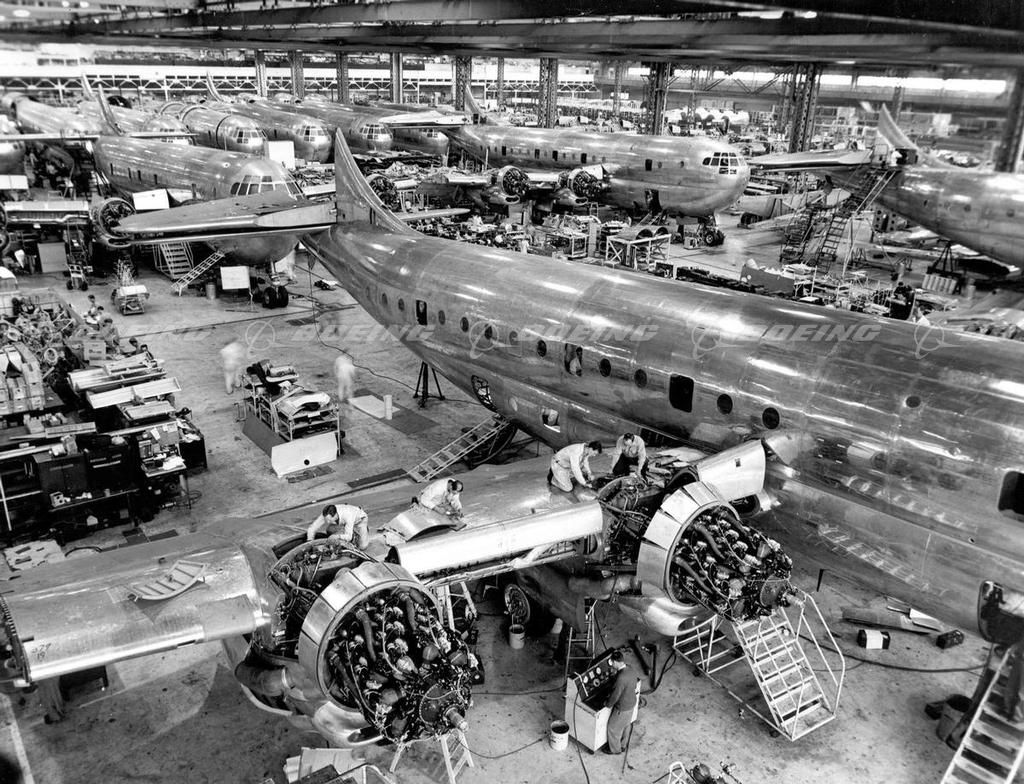 The 377 had a cruise speed of 301 miles per hour (484 kilometers per hour) and a maximum speed of 375 miles per hour (604 kilometers per hour). During testing by Boeing, a 377 reached 409 miles per hour (658 kilometers per hour). Its service ceiling was 32,000 feet (9,754 meters) and the range was 4,200 miles (6,759 kilometers).
Boeing built 56 Model 377 Stratocruisers, with Pan American as the primary user, and another 888 military C-97 Stratofreighter and KC-97 Stratotankers.
¹ David Victor Razey was born 2 April 1929 at Maerdy, Rhondda Cynon Taf, Wales. He had brown hair, hazel eyes and a medium complexion. He was 5 feet, 5 inches (1.65 meters) tall and weighed 140 pounds (63.5 kilograms). Razey became resident of the United States in 1949, and was naturalized as a U.S. citizen, 2 August 1954.
© 2019, Bryan R. Swopes