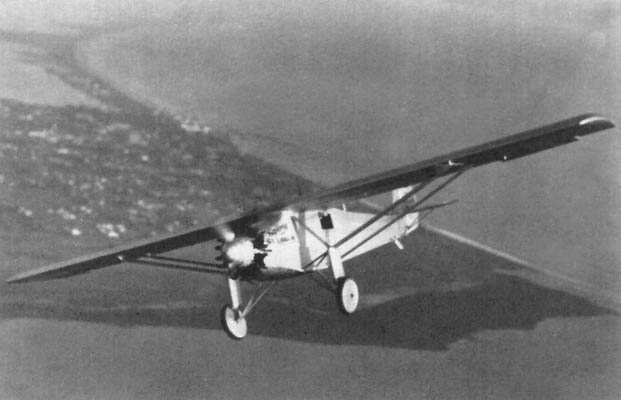 4 May 1927: Charles A. Lindbergh completes his last series of flight tests of the Ryan NYP, N-X-211, Spirit of St. Louis. Flying at 50 feet (15.2 meters) over San Diego Bay, he times the Spirit's flight from marker to marker with a stop watch. The airspeed indicator jumps past 130 miles per hour (209.2 kilometers per hour). He records indicated air speed and engine r.p.m. at various power settings. At 1,500 r.p.m. the Spirit can fly at 96 miles per hour (154.5 kilometers per hour). He makes three runs in each direction to come up with averages.
After the speed runs, Lindbergh flies back to Camp Kearney for load tests. Take-off distances are measured while increasing the fuel load in 50 gallon (189.3 liter) increments.
"Twilight is thickening. We stake the Spirit of St. Louis down and leave it under guard. . . When I get back to the city, I telegraph my partners that the tests are satisfactorily completed. . . ."
—The Spirit of St. Louis, by Charles A. Lindbergh, Charles Scribner's Sons, 1953, Chapter 37 at Page 128.
© 2016, Bryan R. Swopes