23 October 1952: At Culver City, California, Hughes Tool Company Aircraft Division test pilots Gale Joseph Moore and Chalmer Donald  Bowen,¹ with flight test engineer Wallace Marion, took the Hughes XH-17, U.S. Air Force serial number 50-1842, for its official first flight. At a height of 20 to 40 feet (6 to 12 meters) above the runway, the helicopter maneuvered for about nine minutes. It reached a speed of 45 miles per hour (72 kilometers per hour), flew backwards, and rotated 360°. (The helicopter had actually become briefly airborne for the first time 16 September 1952.) The crew nicknamed the aircraft "The Monster."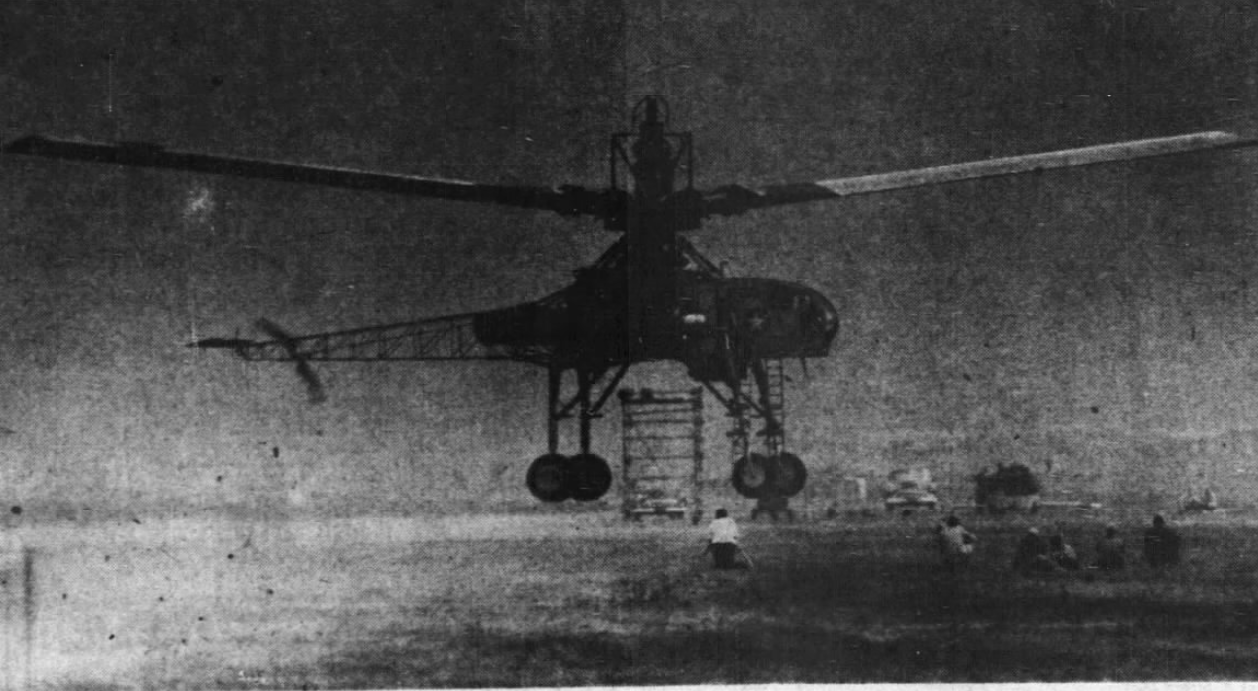 According to the Los Angeles Times, "Although it was termed a "first flight," the great machine had previously been airborne frequently in recent weeks at the Hughes strip in Culver City. . . Its fledgling flights have been witnessed by thousands of persons from nearby highways. . . ." Test pilot Moore did not call these flights, referring to them as "bounce drills."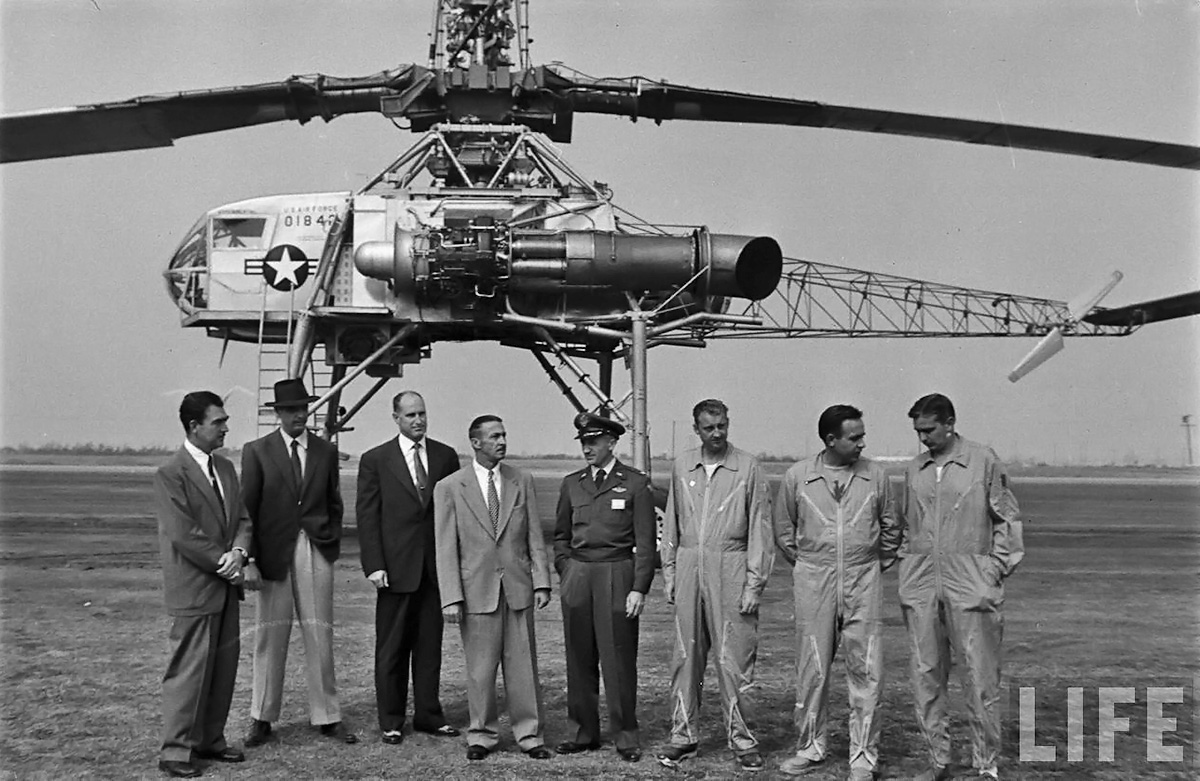 The XH-17 was primarily built by the Kellett Aircraft Corporation, a manufacturer of autogyros at Upper Derby, Pennsylvania, in response to a 1946 U.S. Army Air Forces request for a heavy lift helicopter, and originally designated XR-17. It was redesignated XH-17 in June 1948. When Kellett entered bankruptcy, the incomplete helicopter was purchased by the Hughes Tool Company for $250,000 and moved to Culver City, California in 1949.
The Hughes XH-17 was a single main rotor tip-jet-driven helicopter with an auxiliary tail rotor for yaw control. The main rotor diameter was 130 feet (39.624 meters).² The fuselage was 53 feet, 4 inches (16.256 meters) long, and the helicopter had an overall height of 30 feet, 1 inch (9.169 meters). The main rotor turned counter-clockwise, as seen from above (the advancing blade is on the right), at 88 r.p.m. The main rotor blade was 12 inches (30.38 centimeters) thick and had a chord of 4 feet, 10 inches (1.473 meters). Each blade weighed approximately 5,000 pounds (2.268 kilograms) and was fully articulated. Unlike a normal helicopter, the tip-jet-driven blades do not produce torque which needs to be counteracted by a tail rotor. However, an auxiliary tail rotor was used for yaw control. With a diameter of 8 feet, 8 inches (2.642 meters), it was borrowed from a Sikorsky S-55, and turned clockwise as seen from the helicopter's left side (the advancing blade is below the axis of rotation).
The XH-17's empty weight was 28,562 pounds (12,956 kilograms), and its maximum takeoff weight (MTOW) was 43,500 pounds (19,731 kilograms). On 15 December 1955, the helicopter lifted a trailer van weighing 7,800 pounds (3,538 kilograms), at that time the heaviest load ever lifted by a helicopter.
The XH-17 was powered by two modified General Electric J35 (7E-TG-180-XR-17A) turbojet engines, mounted on each side of the fuselage. The engines were rated at 1,740 horsepower, each. Bleed air from the engines' compressors was directed through ducts to the rotor blades to exit through the blade tips. Fuel was injected through GE 33F pressure jet burners and ignited to produce thrust to drive the rotors.
The XH-17 had a cruise speed of 85 miles per hour (137 kilometers per hour), and a maximum speed of 90 miles per hour (145 kilometers per hour) at 8,000 feet (2,438 meters). The helicopter's service ceiling was 13,100 feet (3,993 meters). With a maximum fuel capacity of 635 U.S. gallons (2,404 liters), the XH-17 had a maximum range of only 30 miles (48 kilometers)
The XH-17 was grounded in December 1955 when its main rotor blades reached their design limit, 10 flight hours. The helicopter was later scrapped.
Gale Joseph Moore, was born at Mauston, Wisconsin, 24 January 1921. He was second of four children of of George Joseph Moore, a dairyman, and Amy Dell Priessnitz Moore. By 1940, the family had moved to Inglewood, California, where Moore worked in a dairy with his father.
Moore attended John C. Fremont High School in Los Angeles, graduating in 1938, and Compton Community College, in Compton, California.
Moore registered for Selective Service (conscription), 15 February 1942, at Hawthorne, California. He was described as having a light complexion, red hair and hazel eyes. He was 5 feet, 11½ inches (1.82 meters) tall and weighed 145 pounds (66 kilograms).
Moore joined the United States Army Air Forces. He trained as a pilot and was commissioned a second lieutenant at Douglas Army Airfield, Arizona, in June 1943. Pilots at Douglas trained on the North American Aviation B-25 Mitchell twin-engine medium bomber. After the war, he left the service as a first lieutenant.
Gale Joseph Moore married Miss Patricia Elise Diehl at the Little Chapel of the Dawn, Santa Monica, California, 13 January 1948. They had one child, Richard D. Moore. They later divorced.
During 1948, Moore joined Los Angeles Airways to fly the Sikorsky S-51.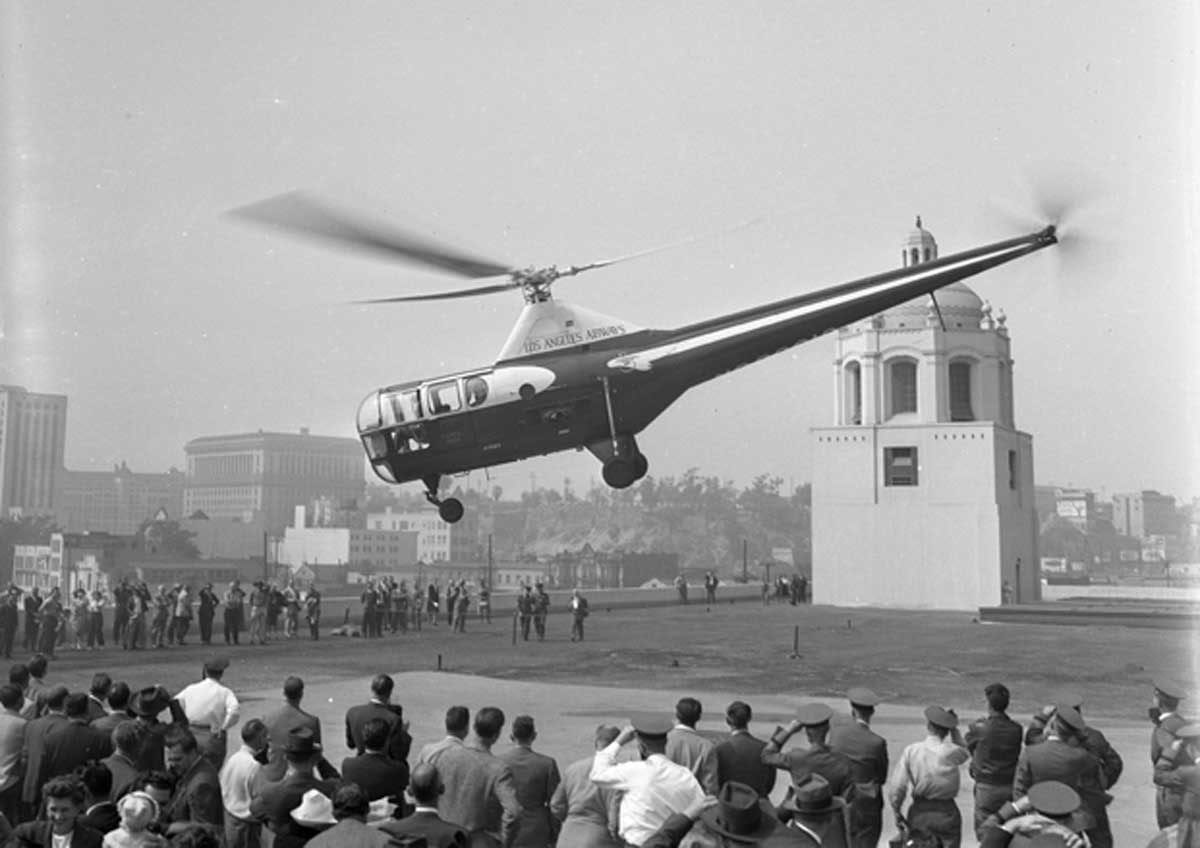 On 2 October 1956, Moore took the prototype Hughes Model 269, N78P, for its first flight. This helicopter was later adopted by the United States Army as the TH-55A Osage.
Moore next married Thais E. Hildebrand, three years his senior, in California, 15 December 1961.
Gale Joseph Moore died 18 Nov 2015, at Fernley, Nevada, at the age of 93 years. His remains were interred at the Northern Nevada Veterans Memorial Cemetery in Fernley.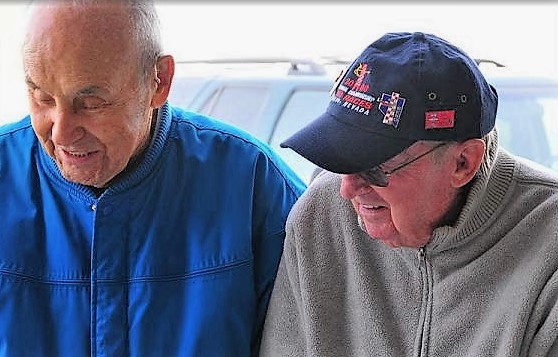 Chalmer Donald Bowen was born 21 August 1912 at Delta, Iowa. He was the third of five children of Perman Montague Bowen, a farmer, and Martha ("Mattie") Esther Taylor Bowen. He attended Van Buren and Wilson schools in Cedar Rapids, Iowa, and graduated from the State University of Iowa.
Bowen married Miss Emma Louise Brink at Cedar Rapids, 17 August 1931. They would have two sons. Mrs. Bowen died in 1988.
In 1940, Bowen worked for the Quaker Oats Company in Cedar Rapids as a package room laborer. He registered for conscription 16 October 1940. At that time he was described as having a light brown complexion, with brown hair and blue eyes. He was 5 feet, 7 inches (1.70 meters) tall, and weighed 165 pounds (75 kilograms). He then moved to Burbank, California, in 1942, where he was employed as a flight engineer by the Lockheed Aircraft Company.
Bowen worked as a pilot for Hughes Aircraft for 31 years. He had acted as Howard Hughes' co-pilot for the only flight of the Hughes H-4 "Spruce Goose," 2 November 1947.
Charles Donald Bowen died at Montrose, Colorado, 28 February 2011. His remains were interred at Cedar Memorial Park, Cedar Rapids, Iowa.
¹ The rotor diameter has been variously described as being 125 feet (38.1 meters) and 136 feet (41.45 meters).
© 2023, Bryan R. Swopes