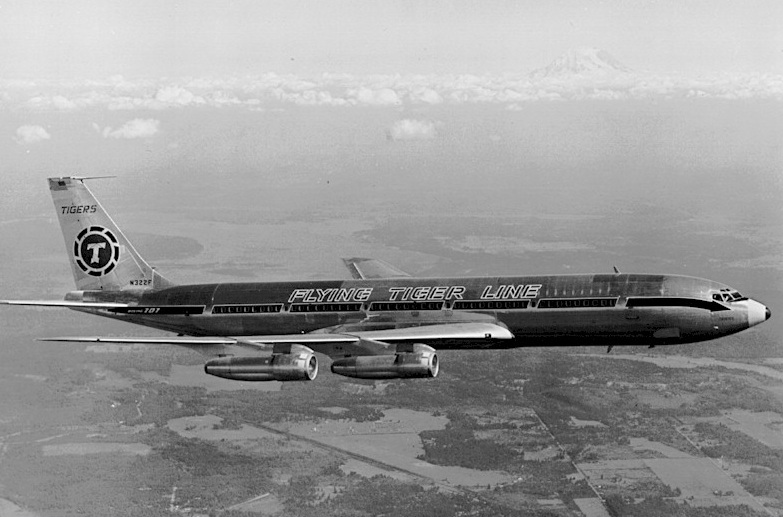 14–17 November 1965: Captains Fred Lester Austin, Jr., and Harrison Finch, two retired Trans World Airlines pilots, took off from Honolulu on a 26,230-mile (42,213 kilometer), 57 hour, 27 minute flight around the world—from Pole to Pole!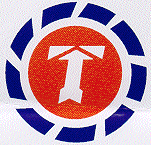 The pair leased a brand new Boeing 707-349C, c/n 18975, registered N322F, from Flying Tiger Line. Nick-named Pole Cat, the airplane was crewed by a total of five pilots, all rated captains. In addition to Austin and Finch, there were Captain Jack Martin, Chief Pilot of Flying Tigers Line; Captain Robert N. Buck, TWA; and Boeing Senior Engineering Test Pilot James R. Gannett. Three navigators and three flight engineers completed the flight crew. John Larsen, TWA's chief navigator, did most of the planning and the other two navigators and all three flight engineers were Flying Tiger Line employees.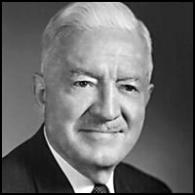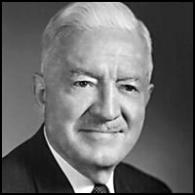 Most of the cost of the flight was paid for by Colonel Willard F. Rockwell, Sr., founder of the Rockwell Corporation, who was one of 27 passengers aboard. The airliner was equipped with an experimental Litton Systems Inertial Navigation System (INS) and the very latest Single Side Band (SSB) communications equipment from Collins Radio.
The flight departed HNL and flew north to the North Pole, then south to London Heathrow, where they stopped for fuel. Unexpected runway restrictions limited the 707's takeoff weight, so they had to make an extra fuel stop at Lisbon, Portugal before flying to Buenos Aires, Argentina. After another fuel stop there, they continued south, circled the South Pole four times, then headed north to Christchurch, New Zealand. From there, they continued on to Honolulu.
Total elapsed time for the flight was 62 hours, 27 minutes, 35 seconds with just under 5 hours on the ground.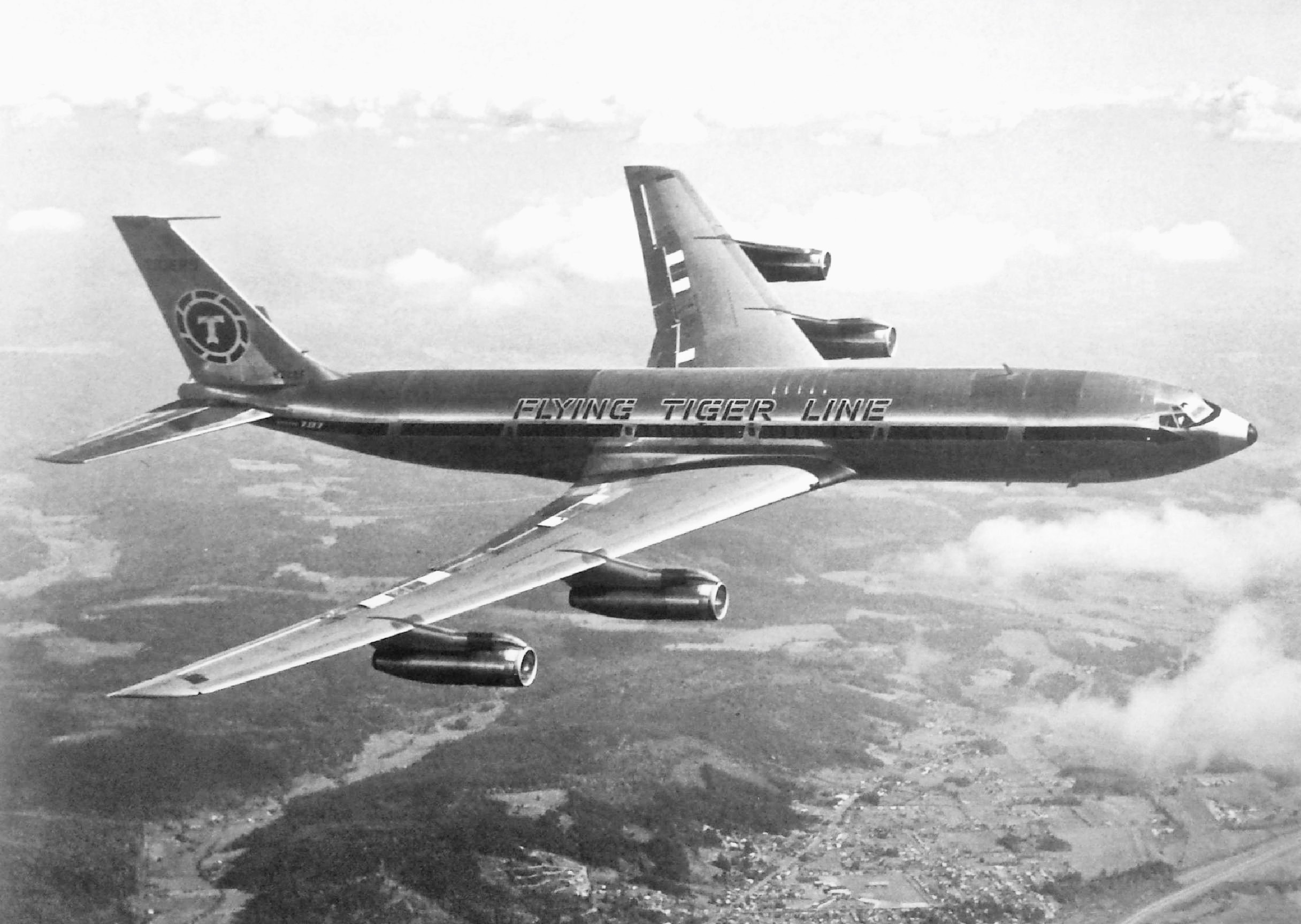 Flying Tiger Line's Boeing 707-349C (an airline-specific variant of the 707-320C) was a "combi" that could be configured to carry passengers and/or cargo. The –320 series was a stretched version of the original 707-120 airliner, with longer, redesigned wings and tail plane, as well as a taller vertical fin for increased stability during low-speed flight. It was operated by a flight crew of four on international flights.
The 707-320 series was 152 feet, 11 inches (46.609 meters) long with a wingspan of 145 feet, 9 inches (44.425 meters) and overall height of 42 feet, 5 inches (12.929 meters). It had an empty weight of 146,400 pounds (66,406 kilograms) and a maximum takeoff weight of 333,600 pounds (151,318 kilograms).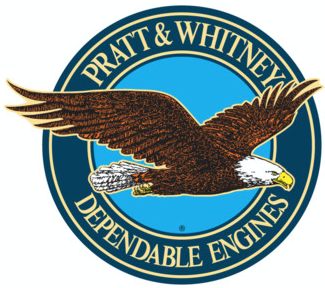 The –320 was powered by four Pratt & Whitney Turbo Wasp JT3D-3 or JT3D-7 turbofan engines which produced 18,000 and 19,000 pounds of thrust, each, respectively. This engine was a civil variant of the military TF33 series. The JT3D-7 was a two-spool axial-flow turbojet engine with a 2-stage fan, 14-stage compressor (7 intermediate-, 7 high-pressure stages) and 4-stage turbine (1 high- and 3 low-pressure stages). The JT3D-7 had a maximum power rating of 19,285 pounds of thrust at 10,300 r.p.m. N2, (five-minute limit). The engine was 136.64 inches ( meters) long, 53.00 inches ( meters) wide and 56.00 inches ( meters) high, and weighed 4,340 pounds ( kilograms).
At MTOW, the 707-320 required 10,840 feet (3,304 meters) of runway for takeoff. 15 knots slower than a 707-120, the –320 had a maximum speed of 480 knots (552 statute miles per hour/889 kilometers per hour). The airliner's range with maximum fuel was 5,750 nautical miles (6,617 statute miles/10,649 kilometers).
Boeing built a total of 1,010 707s. Of these, 337 were –320Cs. N322F was delivered to Flying Tiger Line 27 September 1965. It was sold to Caledonian Airways in 1968 and registered as G-AWTK. In 1970, Caledonian merged with British United and became British Caledonian. 18975 was then registered as G-BDCN, and named County of Renfrew. It was sold to TAAG Angola Airlines in 1977. The African cargo line registered 18975 as D2-TAC, D2-TOB and D2-TOI. Internet records list it as "written off" 15 February 1988.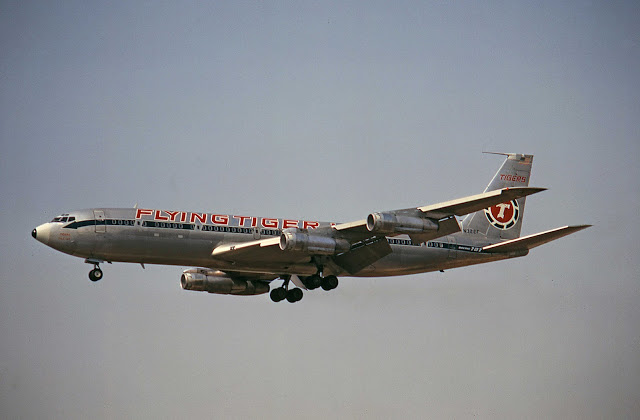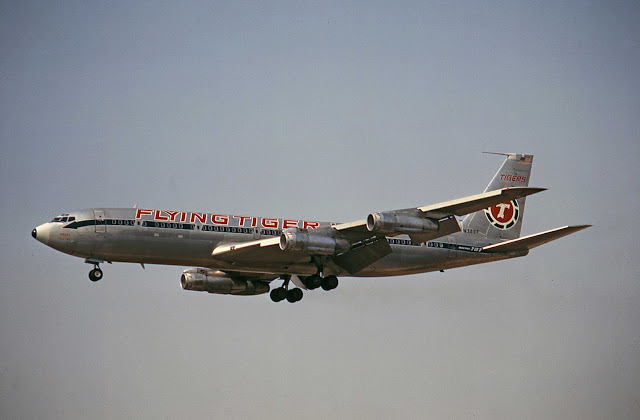 © 2016, Bryan R. Swopes