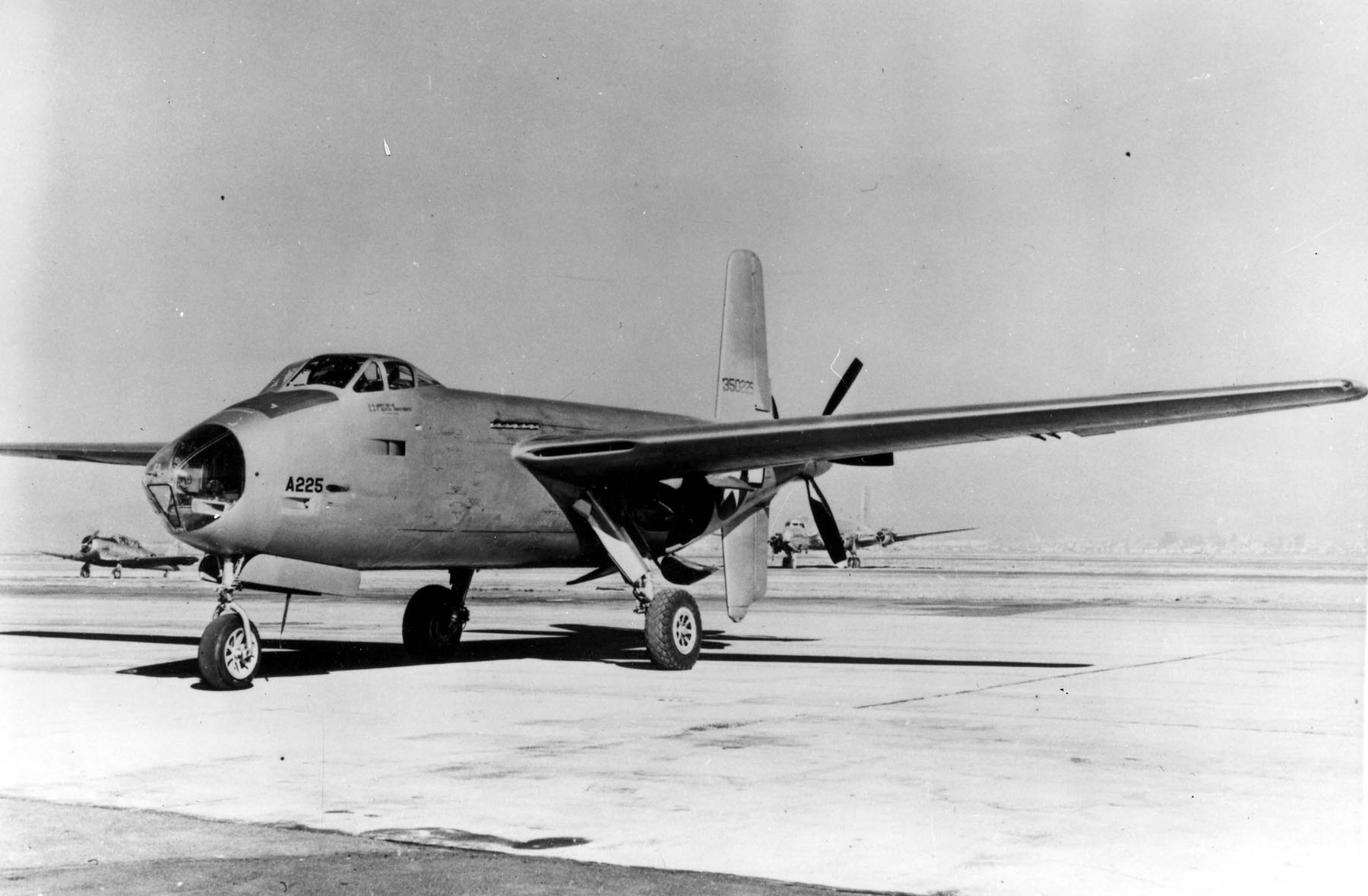 8 December 1945: Lieutenant Colonel Henry E. Warden and Captain Glen W. Edwards, U.S. Army Air Corps, flew the second prototype Douglas XB-42, serial number 43-50225, from Long Beach, California to Washington, D.C., in 5 hours, 17 minutes, 34 seconds, averaging 433.6 miles per hour (697.8 kilometers per hour).
The XB-42 (originally designated as an attack aircraft, XA-42) was as unusual design. It used two engines inside the fuselage to drive contra-rotating three-bladed propellers in a pusher configuration at the tail. This created a very low-drag aircraft that was much faster than similar sized and powered aircraft.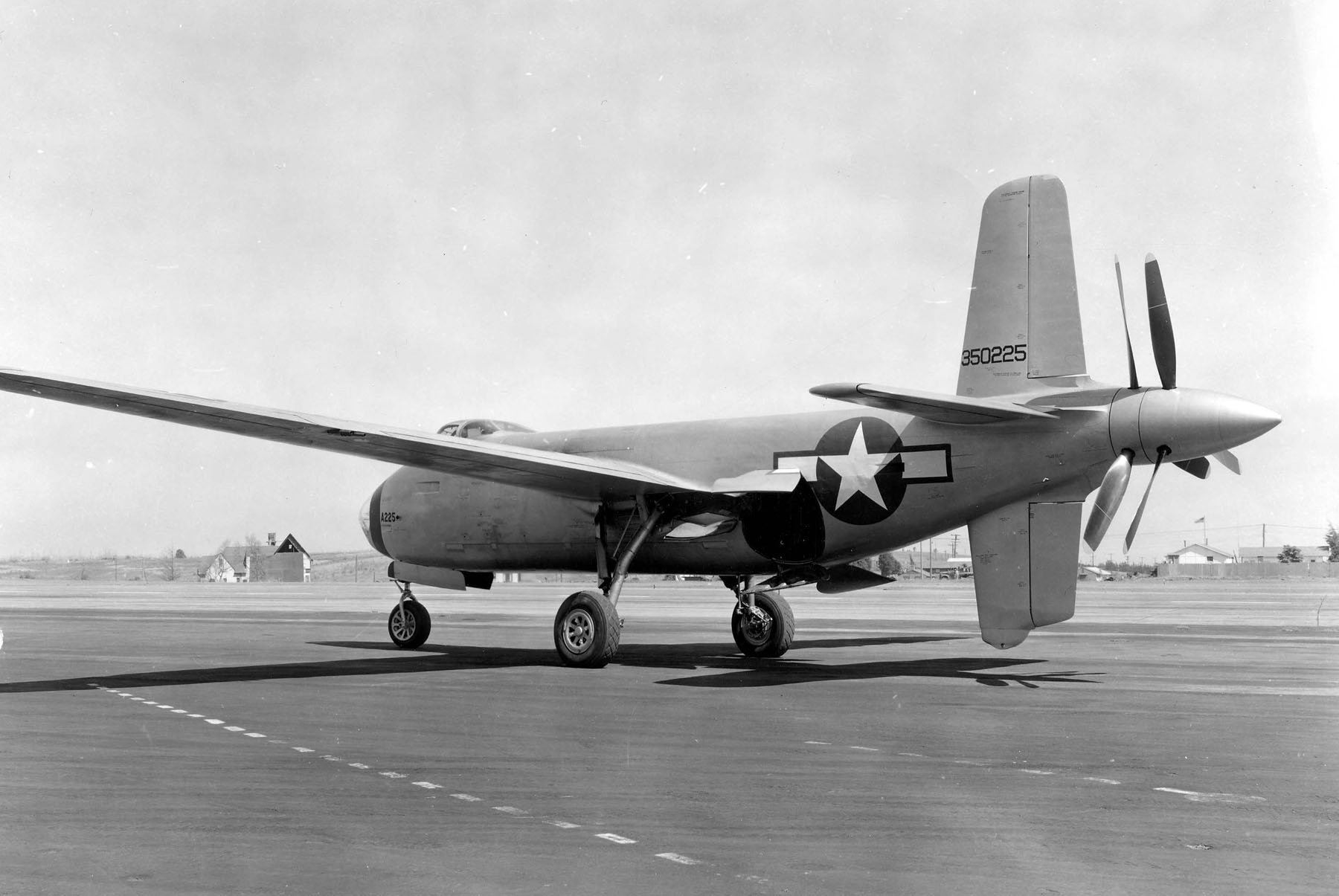 A pilot and co-pilot sat side-by-side under separate bubble canopies. (This was later changed to improve communication between the crew.) The third crewman, a navigator/bombardier, occupied the nose. The co-pilot also served as a gunner and could operate four remotely-controlled .50-caliber machine guns located in two retractable power turrets inside the trailing edge of the wings. Another two .50-caliber machine guns were fixed, aimed forward. The bomber was designed to carry a 8,000 pound (3,629 kilogram) bomb load.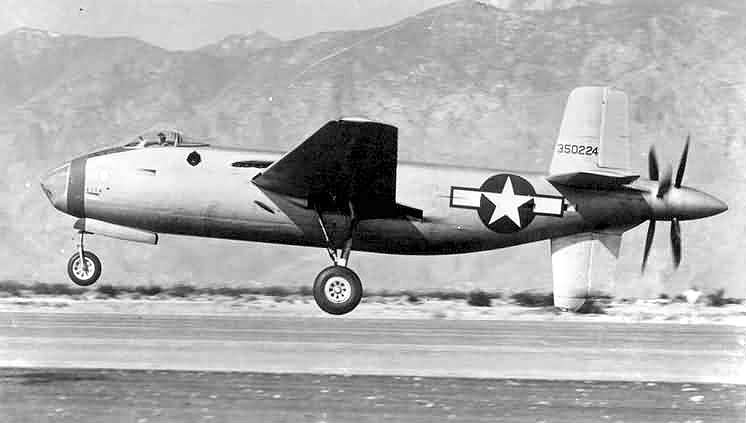 The XB-42 was powered several variants of the Allison Engineering Company E-series V-1710 engines, confiured as combined power assembles, and driving a remote propeller gear box through five Bell P-39 Airacobra driveshafts. The starboard engine turned counter-clockwise and drove the rear propeller. The port engine turned clockwise and drove the forward propeller. These engines were the V-1710-E23 (V-1710-103), V-1710-E24 (V -1710-125) and V-1710-E23B (V-1710-129). The V-1710 was a liquid-cooled, supercharged 1,710.60-cubic-inch-displacement (28.032 liter) single-overhead-camshaft (SOHC) 60° V-12 aircraft engine with four valves per cylinder. The engines used in the XB-42 had two-stage superchargers and turbosuperchargers.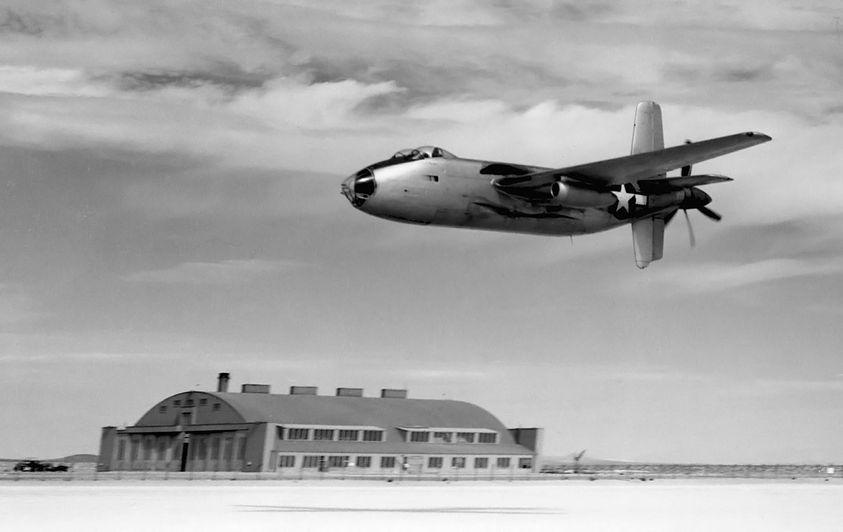 The V-1710-129 was an experimental turbocompound engine, in which an exhaust-driven turbocharger is coupled to the drive shaft to provide a direct power input. It had a compression ratio of 6.65:1 and required 100/130 octane aviation gasoline. The V-1710-129 had a continuous power rating of 1,050 horsepower at 2,600 r.p.m., at Sea Level, and takeoff/military power rating of 1,675 horsepower at 3,200 r.p.m. (1,100 horsepower at 3,000 r.p.m. at 25,000 feet (7,620 meters) ). The engines turned three-bladed, counter-rotating, Curtiss Electric propellers through a 2.773:1 gear reduction. The forward propeller had a diameter of 13 feet, 2 inches (4.013 meters) and the rear diameter was 13 feet (3.962 meters). The difference was to prevent interference of the blade tip vortices.
The airplane was 53 feet, 8 inches long (16.358 meters), with a wingspan of 70 feet, 6 inches (21.488 meters). Empty weight was 20,888 pounds (9,475 kilograms), with a maximum gross weight of 35,702 pounds (16,194 kilograms). The prototype's cruising speed was 310 miles per hour (499 kilometers per hour) and its maximum speed was 410 miles per hour (660 kilometers per hour) at 23,500 feet (7,163 meters). The service ceiling was 29,400 feet (8,961 meters). The XB-42's normal range was 1,840 miles (2,961 kilometers).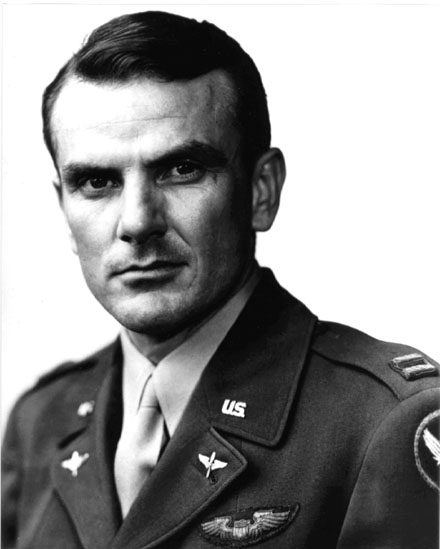 Glen W. Edwards graduated from the University of California, Berkeley and soon after enlisted in the U.S. Army Air Corps. He was commissioned as a second lieutenant in February 1942 after completing flight training. Edwards flew 50 combat missions in the Douglas A-20 Havoc attack bomber during the North Africa and Sicily campaigns of World War II. He returned to the United States and was assigned to the Pilot Standardization Board, but was then sent to train as a test pilot at Wright Field. He tested the Northrop XB-35 flying wing and the Convair XB-46. He was recommended to fly the Bell X-1 rocket plane, but when that assignment went to Chuck Yeager, Edwards was sent to Princeton University, Princeton, New Jersey, to study aeronautical engineering.
Captain Edwards was killed along with four others while test flying the Northrop YB-49 "Flying Wing" in 1948. In 1949, Muroc Air Force Base, California, was renamed Edwards Air Force Base in his honor.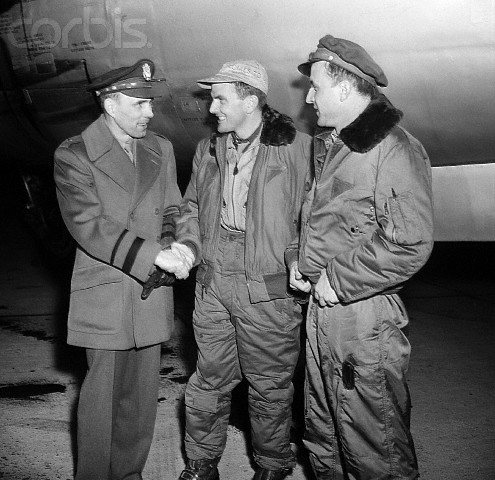 Colonel Henry E. ("Pete") Warden (1915–2007) flew Curtiss P-40 Warhawks with the 20th Pursuit Squadron in the Philippine Islands at the beginning of World War II. He  was evacuated from Bataan to Australia, where he set up and ran the air logistics system for several years, before being sent to Wright Field.
After World War II, Warden was responsible for the development of the Convair B-36, Boeing B-47 and the Boeing B-52. He was called the "Father of the B-52." After retiring from the Air Force, Colonel Warden went to work for North American Aviation on the B-70 Valkyrie program.
XB-42 43-50224 flew for the first time 1 August 1944. On 16 December 1945, it was on a routine flight from Bolling Field, Washington, D.C., with Lieutenant Colonel Fred J. Ascani in command, when a series of failures caused the crew to bail out. The XB-42 crashed at Oxon Hill, Maryland and was destroyed.
The second prototype, 43-50225, is in storage at the National Museum of the United States Air Force, Wright Patterson AFB, Ohio.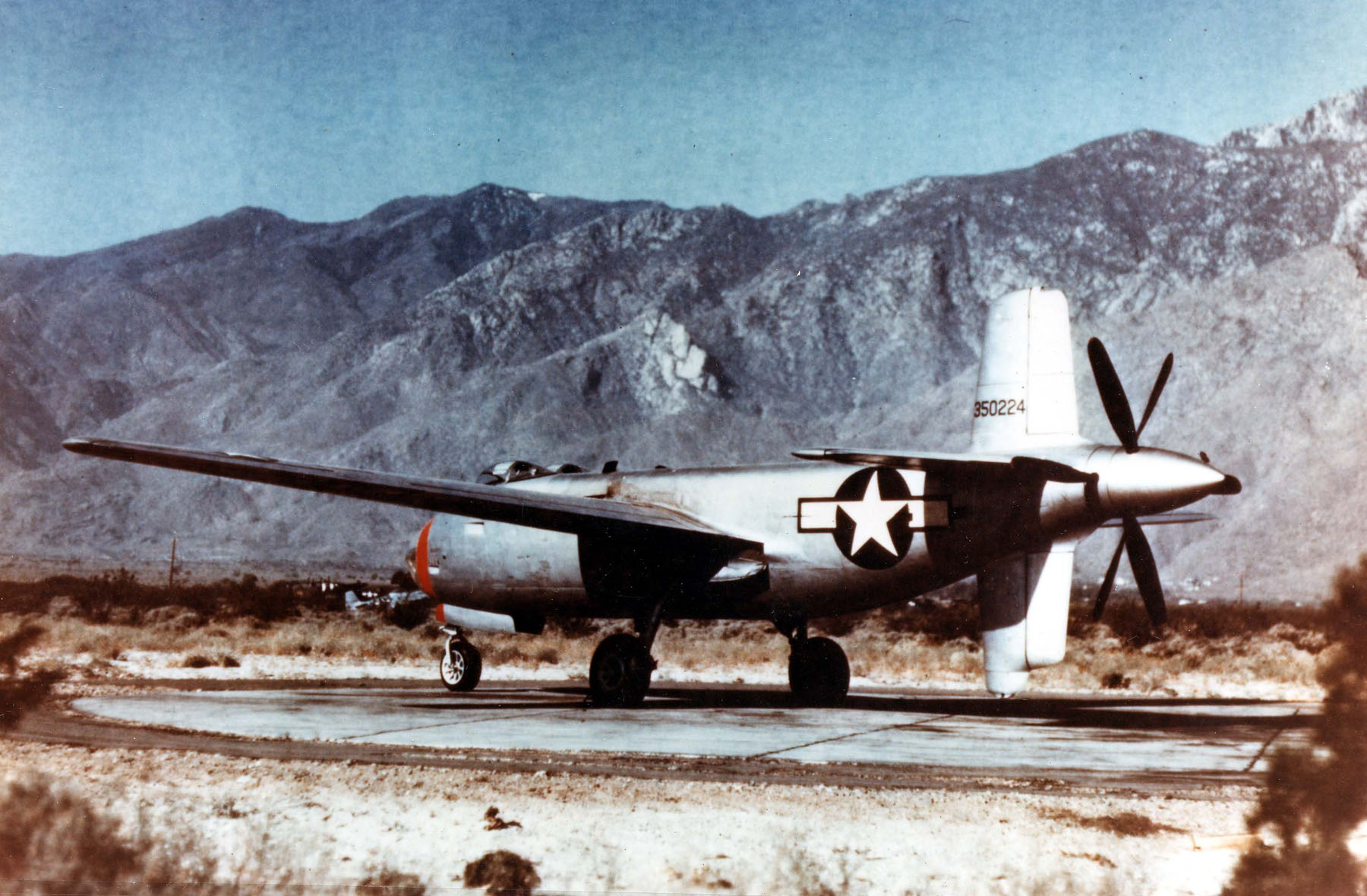 © 2016, Bryan R. Swopes