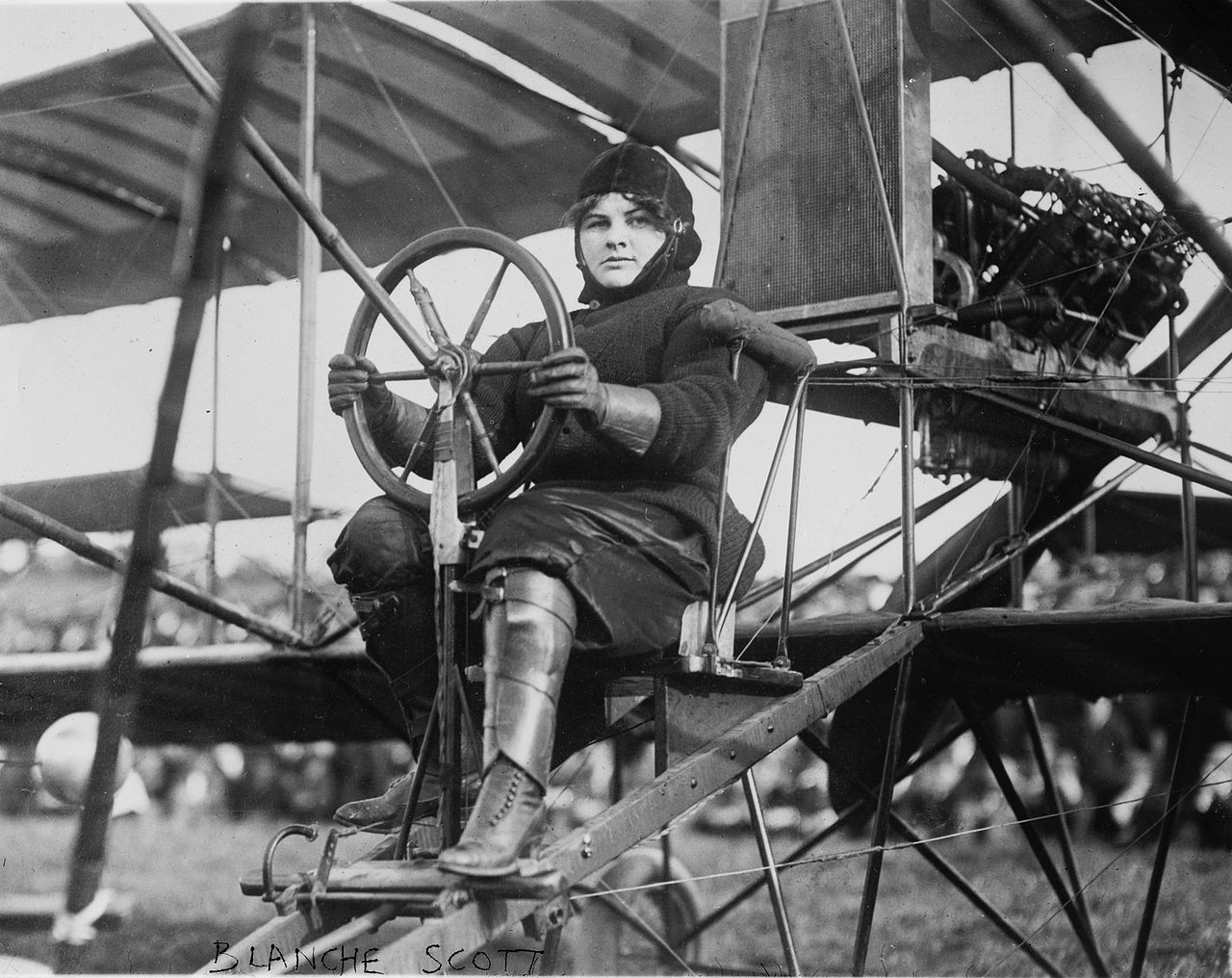 2 September 1910:¹ After receiving flight instruction from Glenn Hammond Curtiss, Miss Blanche Stuart Scott became the first woman in the United States to fly an airplane when she made a solo flight in a Curtiss biplane at Lake Keuka Field, Hammondsport, New York.
She later wrote:
It was customary in those days to have the student "cut grass" for many days, to become thoroughly familiar with the controls. As the plane was a one seater, no instructor would go along to teach the student. There was a governor on the engine to hold the power down and keep the plane on the ground. My fourth trip down the field "grass cutting" caught a side wind and the plane soared about ten feet in the air. It felt like a hundred feet. Curtiss was alarmed, because at that stage in aviation an injured or killed woman would have been the worst publicity. However, and perhaps because I didn't know enough to be afraid, I landed safely. Two days later, I asked Curtiss to take the governor off the engine, and he finally agreed. I stepped into the little old 35 hp ship, waved a flippant good-bye and took right off, flew around the field and made a good landing. I have never found that any woman antedated that flight.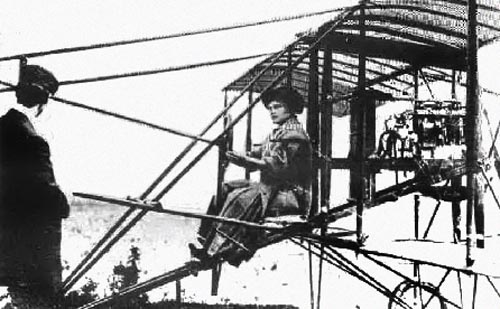 She became a professional exhibition pilot and worked for Curtiss as a test pilot—the first woman in that occupation. She is said to have earned as much as $5,000 per week with Curtiss, nearly $133,000 in 2018 U.S. dollars.
On 6 September 1948, Blanche Scott was the first woman to fly in a jet-powered aircraft when she rode with Major Charles E. ("Chuck") Yeager, U.S. Air Force, in a two-place Lockheed TF-80C Shooting Star (later redesignated T-33A).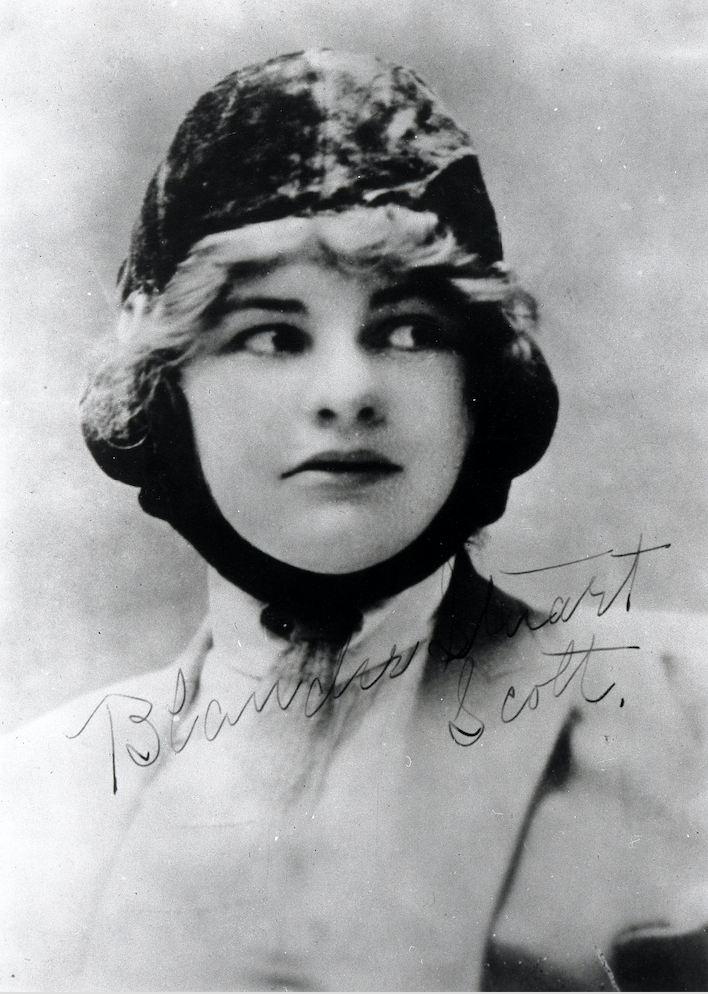 Blanche Stuart Scott ² was born 8 April 1885 ³ at Rochester, New York. Her father was James C.S. Scott, owner of Scott's Hoof Paste Co., Inc., of Rochester, and her mother was Belle J. Herendeen Scott. Mr. Scott died in 1904. Mrs. Scott continued to run the business.
Blanche Scott, also known as "Betty," was educated at Vassar College, a highly-regarded residential school for women in Poughkeepsie, New York.
In April 1910, Blanche Scott was employed as an auto saleslady.
Miss Scott first gained public notice when she drove across the North American continent, departing New York City on 16 May 1910, and arriving at San Francisco, California, on 23 July. She had driven approximately 5,400 miles (8,690 kilometers) in 69 days.
Scott's automobile was an Overland Model 38 "runabout," named Miss Overland. It was a front-engine, rear-wheel drive car, with a water-cooled, normally-aspirated 198.804 cubic-inch-displacement Overland inline four-cylinder L-head engine with two valves per cylinder. It used a single Schebler carburetor. The engine produced 25 horsepower. The power was transmitted from a two-speed transmission by a drive shaft to the rear axle. Two wheels were equipped with manual brakes. Goodyear 32″×  3.5″ tires were used on all four wheels. The Model 38 was advertised for sale at $1,095.  (Scott was the first woman to make the transcontinental journey from east to west. The previous year, Alice Ramsey, also a Vassar alumni, drove a Maxwell touring car from San Francisco to New York, west-to-east, in 59 days.
Blanche S. Scott married 32-year-old Harry Bronson Tuttle, superintendent of agencies for Willys-Overland Co., (until recently, the head of the service department of the Dayton Motor Car Company) at Detroit, Michigan, 24 October 1910.
On 1 July 1912, Mrs. Tuttle was flying for Glenn L. Martin's exhibition team, the Martin Flying Circus, at Squantum, Massachussets, and witnessed the death of Harriet Quimby, America's first licensed female pilot.
Her husband, Harry Tuttle, is reported to have told her, "she must choose at once and for all between him and aviation."
There marriage soon ended.
Blanche Scott starred as "The Aviator" in "An Aviator's Success," and as "Bertha Monroe" in "The Aviator and the Autoist Race for a Bride." Both silent films were produced by the Champion Film Company and released in 1912.
On Memorial Day, 26 May 1913, Blanche crashed her airplane during an exhibition at Madison, Wisconsin. There are many versions as to what occurred, and as many as to the extent of her injuries.
By 1915, Blanche Scott Tuttle was living with her mother, now running a hotel in Mentz, New York. She listed he occupation as "aviator."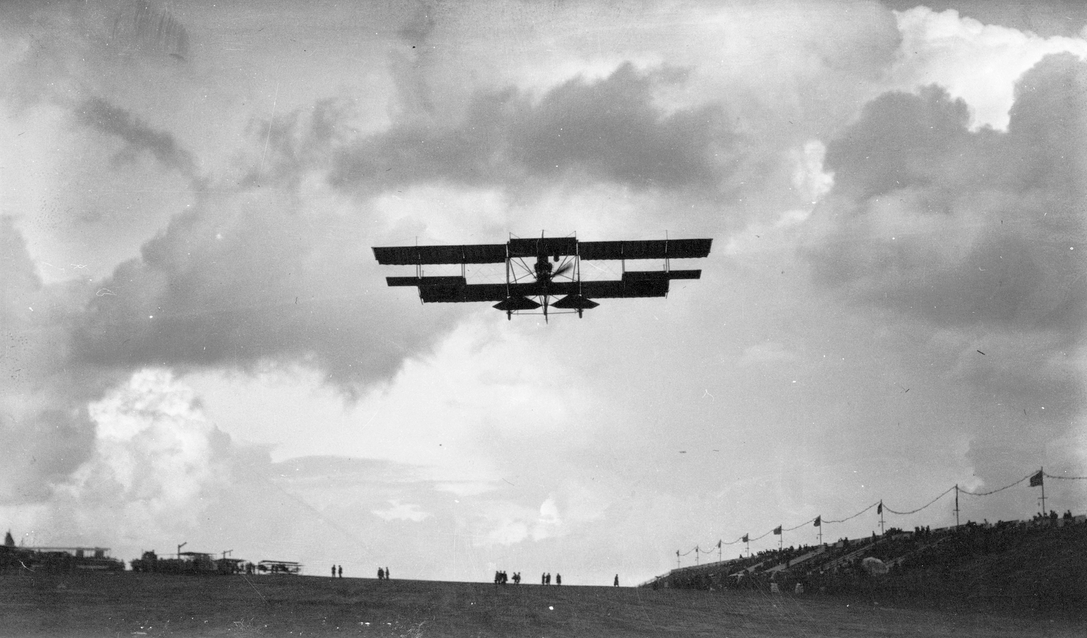 13 July 1917 Mrs. Tuttle married George K. Hennings, of Philadelphia, at Lake County, Indiana. They eventually separated and she headed west to Hollywood where she became a script writer for R.K.O. Pictures, Universal, and Warner Brothers. She was known for her witty dialogue. George Hennings died in 1941.
In 1921, Blanche Scott was the studio manager for the Hal Benedict Studios at Flushing, New York.
In 1929, the organization Early Birds of Aviation was founded. The membership was limited to pilots who had made their solo flights before 1916. Blanche Stuart was one of the original members.
1931, she joined radio station KFI in Los Angeles as a talk show host. In 1936 Scott returned to Rochester to care for her mother. She worked for several radio stations in the area.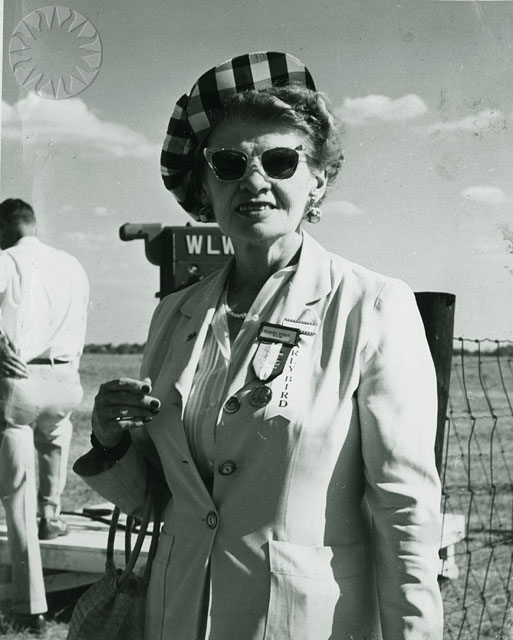 From 1953 to 1958, Ms. Scott was employed as a consultant by the National Museum of the United States Air Force at Wright-Patterson Air Force Base, Dayton, Ohio. She searched for items that the museum could acquire to help tell the history of early aviation.
Blanche Stuart Scott died at Genesee Hospital in Rochester, 12 January 1970. Her remains were interred at the Riverside Cemetery, Rochester, New York.
¹ The actual date of her flight is uncertain. Some sources cite 6 September, while others give a range of from 2 to 12 September.
² Blanche Stuart Scott was also known as Betty Scott, Blanche S. Tuttle and Blanche S. Hennings.
³ Various sources give Ms. Scott's date of birth as 1880, 1884, and 1889. Social Security Administration records state 1885, which coincides with her age as listed in Federal and New York state censuses from 1900, 1905 and 1915.
© 2018, Bryan R. Swopes