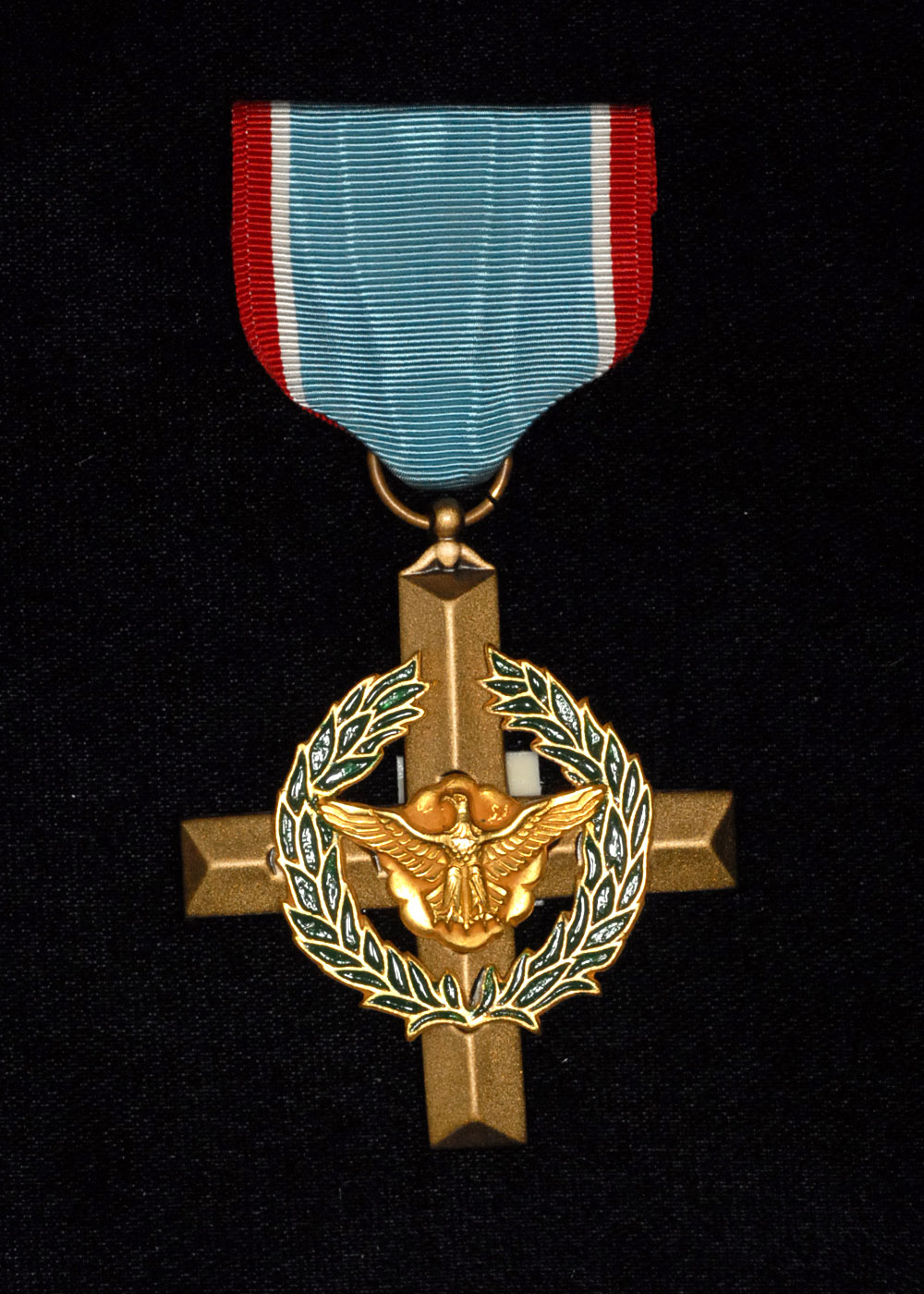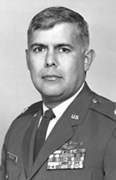 The President of the United States of America, authorized by Title 10, Section 8742, United States Code, takes pleasure in presenting the Air Force Cross to Major Leonard A. Gonzales (AFSN: 2227075), United States Air Force, for extraordinary heroism in military operations against an opposing armed force as Aircraft Commander of a UH-1F gunship helicopter of the 20th Special Operations Squadron, Nha Trang Air Base, Vietnam, in action near Duc Co, Republic of Vietnam, on the night of 26 – 27 November 1968. On that date, Major Gonzales went to the aid of a six-man Special Forces Long Range Reconnaissance Patrol that was in danger of being overrun by a large, well-armed hostile force. Major Gonzales made continued minigun and rocket passes at treetop level, even after his wingman had been hit. His aggressive attacks sufficiently quelled the hostile fire to allow a transport helicopter to pick up the beleaguered patrol. Through his superb airmanship, aggressiveness, and extraordinary heroism, Major Gonzales reflected the highest credit upon himself and the United States Air Force.
Action Date: November 26 – 27, 1968
Service: Air Force
Rank: Major
Company: 20th Special Operations Squadron
Division: Nha Trang Air Base, Vietnam
For a more detailed account, see:
http://www.vhpa.org/KIA/panel/battle/68112600.HTM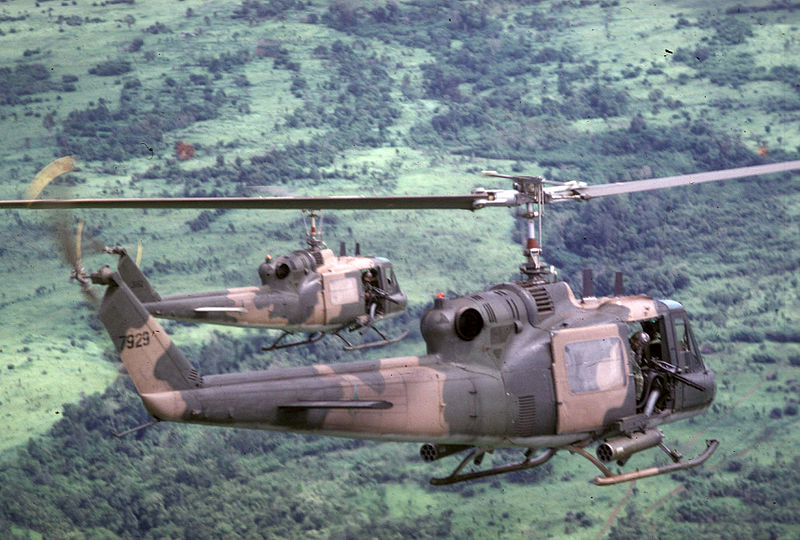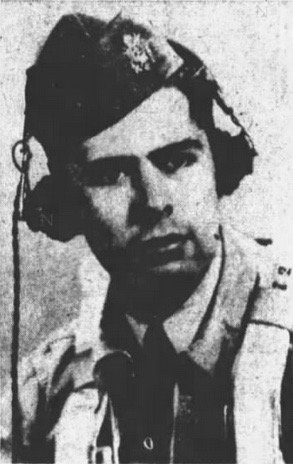 Leonardo Armando Gonzales was born 30 August 1929 at San Gabriel, California. He was the youngest of three children of Joaquin Luevanos Gonzales, a salesman, and Aurora Martinez Gonzales. Leonard attended Santa Maria Union High School in Santa Maria, California, graduating 5 June 1947.
Gonzales began his college education at Santa Maria Junior College, where he earned an associate of arts (A.A.) degree. He then transferred to the California Polytechnic College at San Luis Obispo, California.
Gonzales enlisted in the U.S. Air Force, 9 November 1950. Private First Class Gonzales was trained as a radio technician at Scott Air Force Base, Illinois. He was then appointed an aviation cadet, 12 March 1952. Gonzales was commissioned a second lieutenant 14 January 1953. He entered B-29 Superfortress Combat Crew Training as an aircraft observer.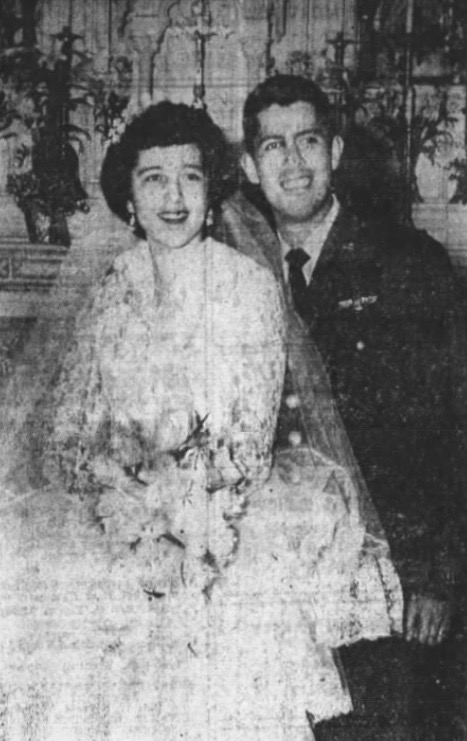 On 12 April 1953, Lieutenant Gonzales married Miss Mavi Gonzales, the daughter of Mr. and Mrs. Refugio Gonzales, at St. Mary's Church in Santa Maria. They would have six daughters.
After flight training at Forbes Air Force Base, Kansas, and Malden Air Force Base, Missouri, Lieutenant completed his Air Force pilot training at Webb AFB, Big Spring, Texas in August 1954. Lieutenant Gonzales then entered training as a fighter interceptor pilot.
Lieutenant Gonzales served with the 4th Fighter Interceptor Squadron, Misawa Air Base, Japan, from February 1957 to July 1960. The squadron was equipped with the North American F-86D Sabre. Additional duty assignments were to Grifiss Air Force Base, New York, Wiesbaden Air Base, Germany, and Wright-Patterson Air Force Base, Ohio.
In February 1968, Major Gonzales completed conversion training as a helicopter pilot, and was assigned to the 20th Special Operations Squadron. He was rated a Senior Pilot, with more than flight 4,000 hours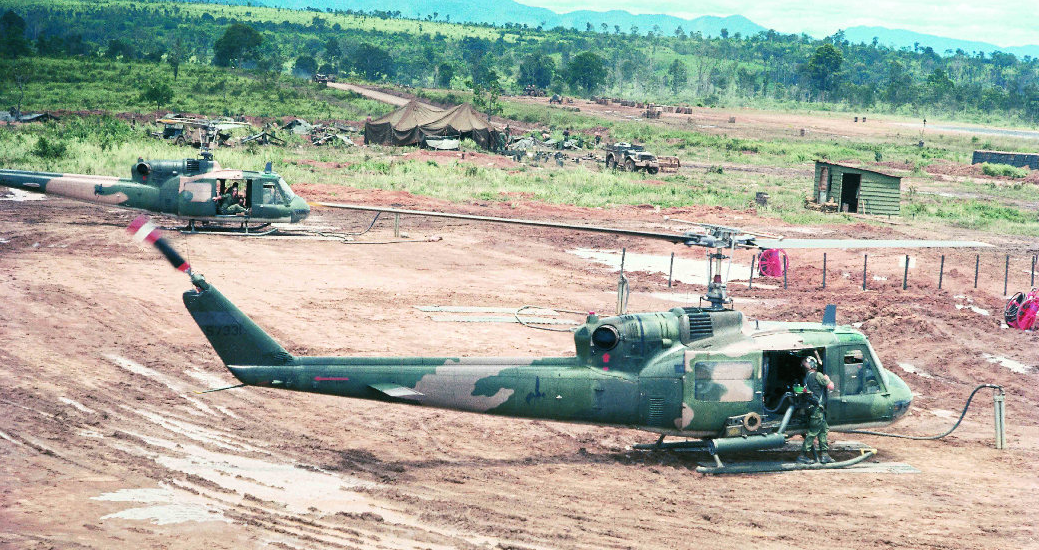 Reassigned to the 4392d Aerospace Support Group at Vandenberg Air Force Base in May 1969, Lieutenant Colonel Gonzales was presented the Air Force Cross by Major General William C. Garland, commander, 1st Strategic Aerospace Division, in a ceremony at Vandenberg, 6 November 1969.
Lieutenant Colonel Gonzales retired from the U.S. Air Force in 1971. In addition to the Air Force Cross, he had been awarded the Distinguished Flying Cross with four oak leaf clusters (five awards), and the Air Medal with ten oak leaf clusters (eleven awards). The Republic of Vietnam had awarded him its Vietnam Cross of Gallantry on two occasions, and the Silver Star with Palm.
Leonard Gonzales had continued his pursuit of higher education. He earned a bachelor of arts degree in political science from the University of Maryland; a master of arts degree in education counseling from Chapman College; masters degree in public administration from California State University Bakersfield, and was pursuing a doctorate in economics.
Lieutenant Colonel Leonard A. Gonzales, United States Air Force (Retired), died in Santa Maria, California, 13 March 2017, at the age of 81 years. He was buried at the Santa Maria Cemetery.
© 2018, Bryan R. Swopes