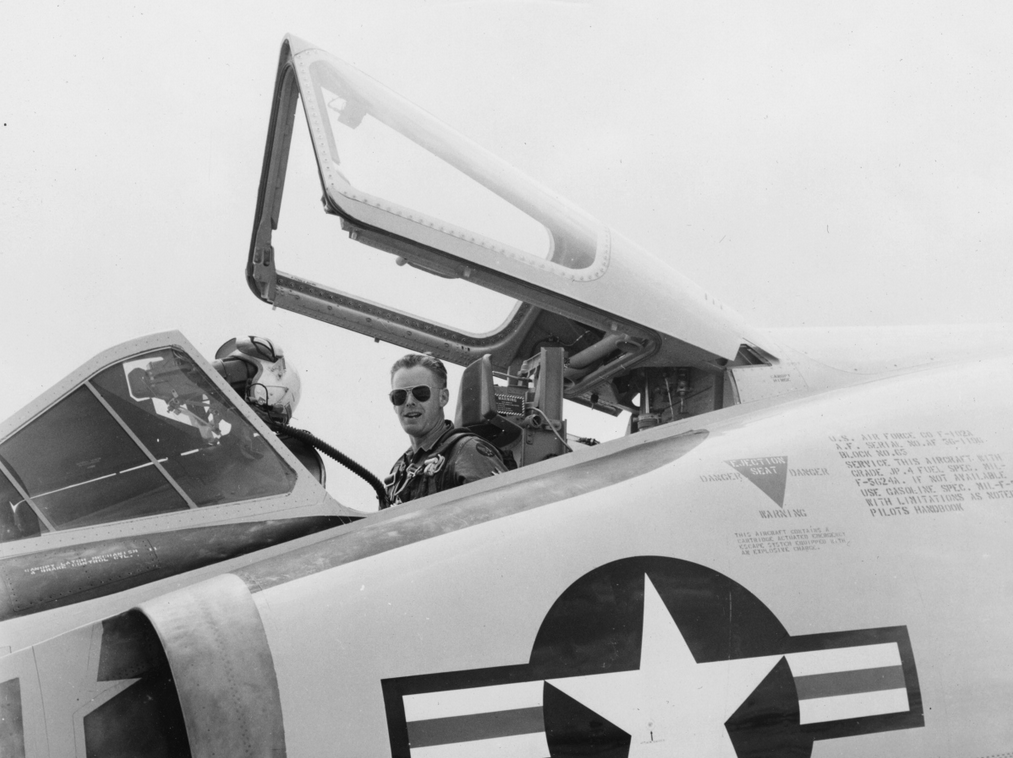 29 July 1957: Captain Kenneth D. Chandler, 11th Fighter Interceptor Squadron, 343d Fighter Group (Air Defense), United States Air Force, won the 1957 Bendix Trophy Race, flying a Convair F-102A Delta Dagger from O'Hare International Airport, Chicago, Illinois, to Andrews Air Force Base, near Washington, D.C., a distance of 619.73 miles (997.36 kilometers).
His elapsed time was 54 minutes, 45.5 seconds, for an average speed of 679.053 miles per hour (1,092.830 kilometers per hour).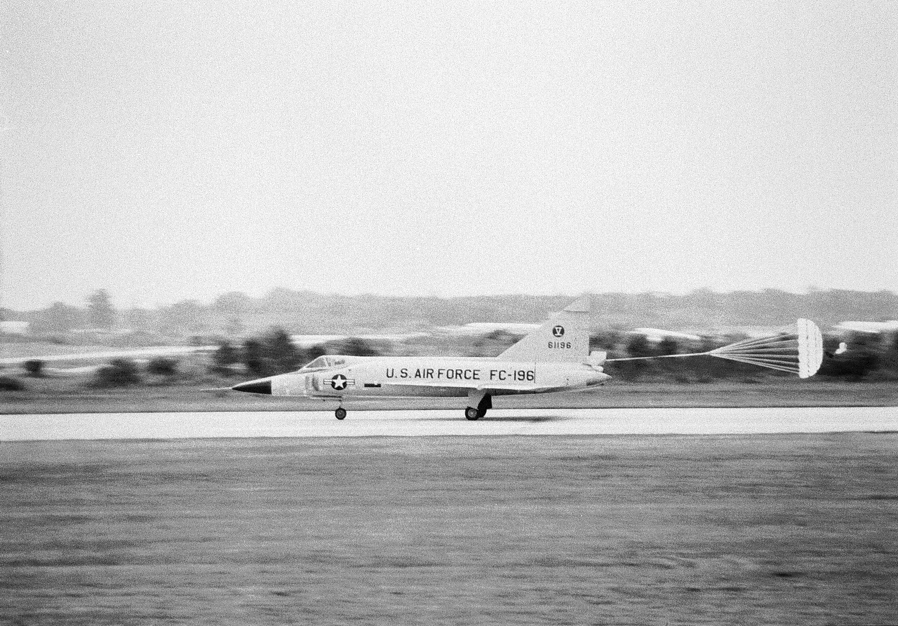 The six F-102A interceptors in the race departed O'Hare at five minute intervals. Captain Chandler, flying the fifth Delta Dagger, departed at 1320.0 hours.
Captain Chandler's commanding officer, Colonel Robert L. Gould, also flying an F-102, placed second in the race.
Chandler's F-102 ran out of fuel while taxiing to the ramp.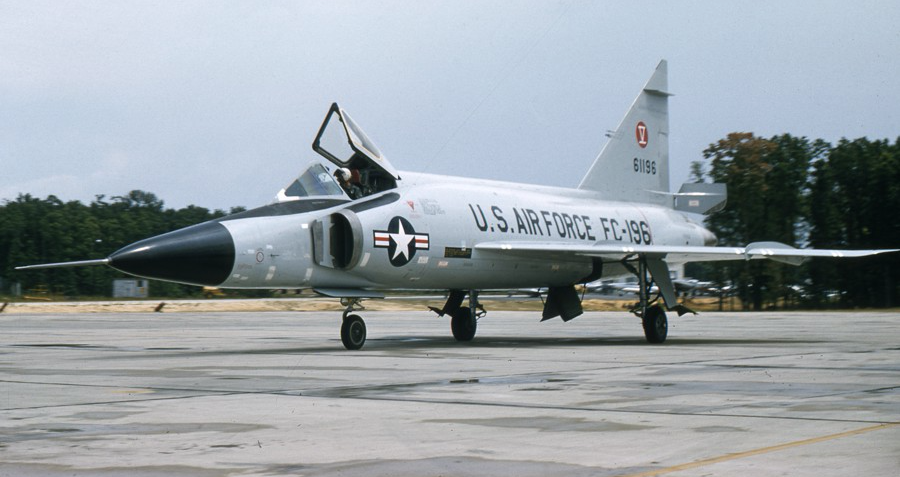 The Chicago Daily Tribune reported the event:
KOREA JET ACE WINS BENDIX TROPHY RACE
Sets New Record of 679 M.P.H.
Washington, July 28 (AP)—Capt. Kenneth D. Chandler, a Korean War jet ace, set a new Bendix Air Race record of 679 miles an hour today.
     Chandler, 33, flew a Convair F-102 delta wing interceptor 620 miles from Chicago's O'Hare field to nearby Andrews Air Force Base, Md., in 54 minutes, 45½ seconds. Five other Air Force pilots made the race, flying F-102s.
     Second place went to Col. Robert L. Gould of Baltimore, with an elapsed time of 55:16:8.
Chicagoan Is Third
     Captain Leroy W. Svendesen of Chicago placed third with an elapsed time of 55:17:2. There was a difference of only about two minutes in the times of the first and last place planes.
     Chandler smashed the 666 mile an hour set last year by Maj. Manuel (Pete) Fernandez. Fernandez flew an F-100 from Victorville, Cal., to Oklahoma City.
     The Ricks Memorial trophy flight today also ended at Andrews. The winner of the 2,680 mile flight from Fresno, Cal., was Maj. Peter R. Phillipy, 35, of Pittsburgh. Phillipy made the trip in 4 hours, 13 minutes and 40 seconds, averaging 638 miles an hour.

Springfield Pilot 2d
     Second place was won by Capt. Shirley V. Drum, 29, of Springfield, Ill.
     Chicago area pilots in the race were Maj. Aloysius X. Hiltgen, 33, of Park Ridge, whose time was 4:31:7, and Capt. John C. Nowacki, 34, of Cicero, 4:31:36.
     The Bendix and Ricks air races were highlights of an air show sponsored by the Air Force Association, in a salute the 50th anniversary of the United States Air Force.
     A crowd estimated at more than 75,000 persons witnessed the first public flights of the Ryan X-13 Vertijet and the Republic F-105 supersonic fighter-bomber.
—Chicago Daily Tribune, Volume CXVI—NO. 180, Monday, July 29, 1957, Part 1, Page 15, Columns 1–3.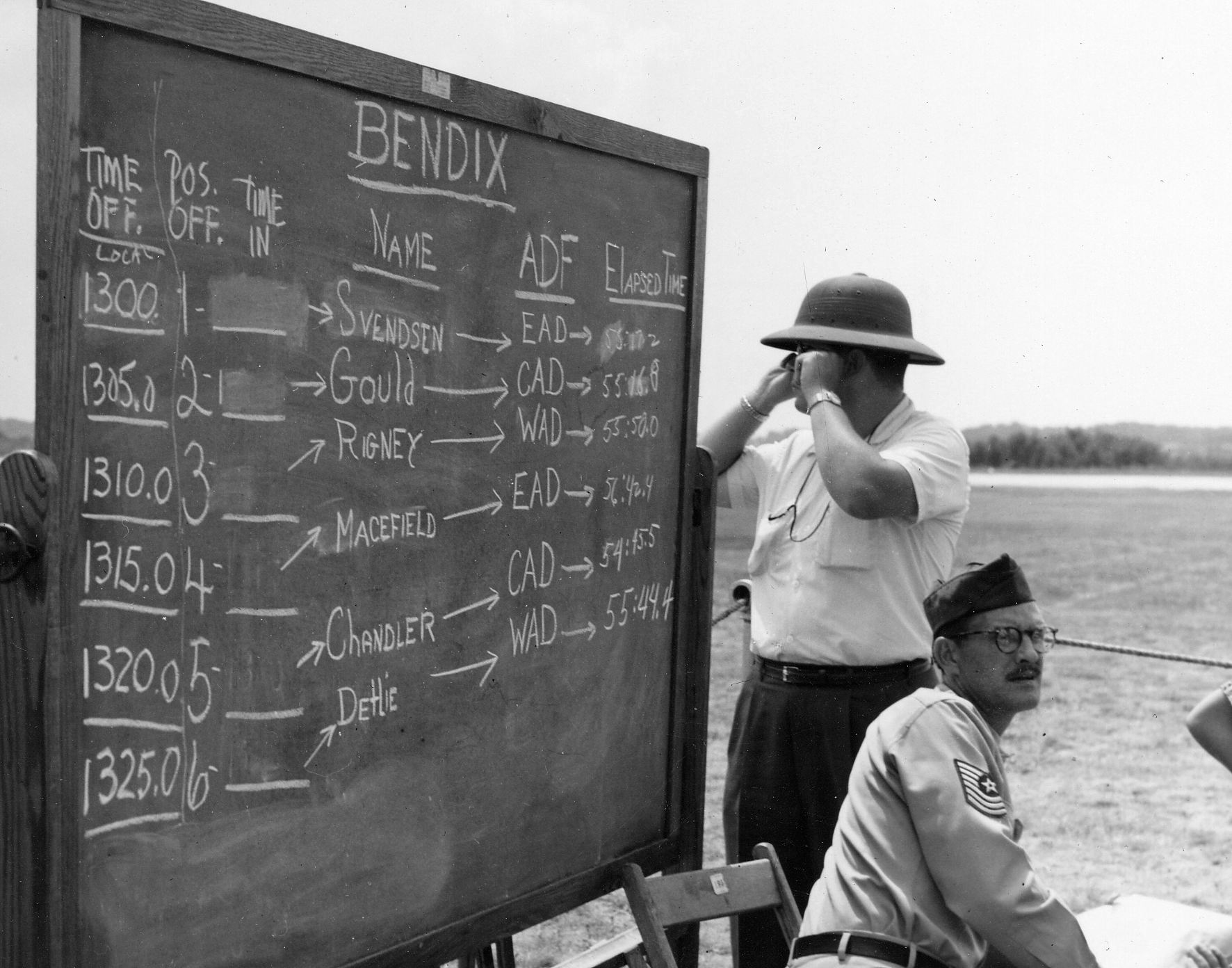 Kenneth Donald Chandler was born 14 October 1923 at Vancouver, British Columbia, Canada, the second of six children of Thomas Brown Chandler, a cabinet maker, and Gladys A. Smith Chandler. While growing up, his family lived in Phoenix, Arizona, and Compton, California.
During World War II, Chandler flew Republic P-47 Thunderbolt fighter bombers in the European Theater of Operations. In 1950, he flew a North American Aviation F-86A Sabre as Captain Chuck Yeager's wingman during the filming of aerial sequences for Howard Hughes' movie, "Jet Pilot," which starred John Wayne and Janet Leigh. (RKO Pictures, 1957.)
While flying an F-86 Sabre with the 336th Fighter Interceptor Squadron, 4th Fighter Interceptor Group, 18 November 1951, Chandler, flying just ten feet over the ground, destroyed four enemy Mikoyan-Gurevich MiG 15s parked at the south end of Uiju Airfield, on the North Korean side of the Yalu River. He and his wingman, Lieutenant Dayton W. Ragland, damaged several others. On 13 December, he shot down a MiG 15, but his Sabre, F-86A-5-NA 49-1159, ingested debris from the damaged enemy airplane. Chandler flew the crippled fighter to the vicinity of Chŏ-do Island, where he bailed out and was rescued by two South Korean airmen in a small boat, and taken to a waiting helicopter.
Captain Chandler and 1st Lieutenant Frank Latora, both of the 343d Fighter Group, were killed when their Lockheed T-33A Shooting Star jet trainer crashed 12 miles (19 kilometers) north east of Parker, Colorado, while on a ground-controlled approach to Lowry Air Force Base on the night of Friday, 28 March 1958. Captain Chandler's remains are buried at Rose Hills Memorial Park, Whittier, California.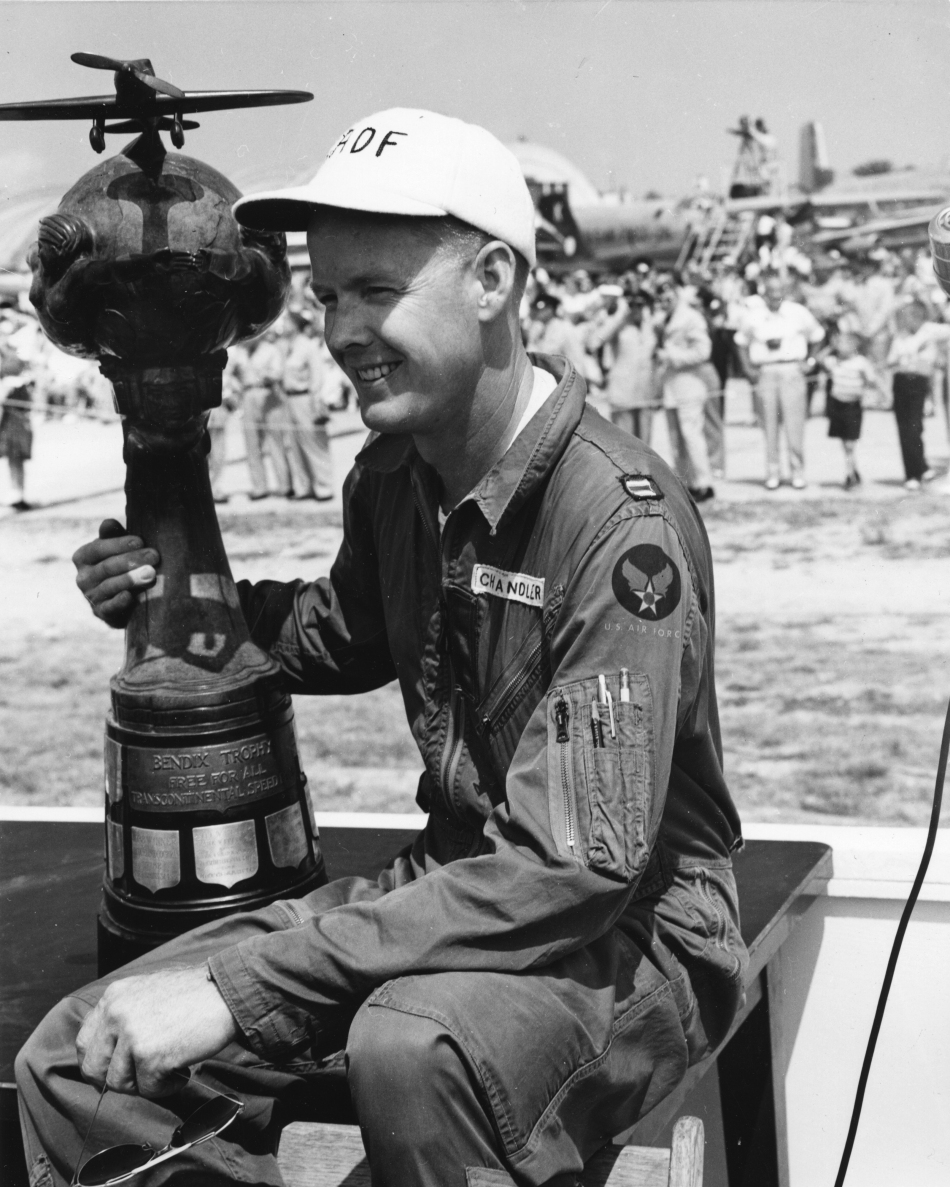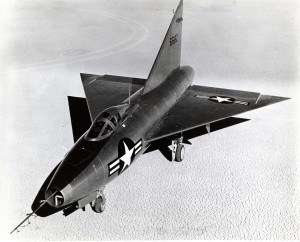 The Convair F-102A Delta Dagger was a single-place, single engine, supersonic all-weather interceptor. It featured a delta wing and was based on the experimental Convair XF-92A of 1948.
The F-102A was the first production model and was vastly improved over the YF-102 pre-production prototypes, which had first flown 24 October 1953. The redesigned YF-102A made its first flight 20 December 1954, and the first production F-102A flew six months later, 24 June 1955.
The Convair F-102A was 68.3 feet, (20.82 meters) long, including the pitot boom, with a wingspan of 38.1 feet (11.61 meters) and overall height of 21.2 feet (6.46 meters). It had an empty weight of 19,283 pounds (8,747 kilograms) and maximum takeoff weight of 27,950 pounds (12,678 kilograms), and 31,559 pounds (14,315 kilograms), maximum inflight weight or overload takeoff.
The F-102A's delta wing leading edges were swept aft to 60° 6′. The angle of incidence was 0° and there was no dihedral. The total wing area was 695.1 square feet (64.58 square meters).
The F-102A was powered by a Pratt & Whitney J57-P-23 axial-flow turbojet engine. The J57 had a 9-stage, low-pressure and 7-stage high-pressure compressor section, and a single-stage high-pressure turbine and 2-stage low-pressure turbine. The J57-P-23 had a maximum continuous power rating of 8,700 pounds of thrust (38.70 kilonewtons). The Military Power rating was 10,200 pounds (45.37 kilonewtons) (30 minute limit), or 16,000 pounds (71.17 kilonewtons) with afterburner (5 minute limit). The engine was 20 feet, 5.1 inches (6.226 meters) long and 3 feet, 3.8 inches (1.011 meters) in diameter. It weighed 5,045 pounds (2,288 kilograms).
The Convair Delta Dagger was the first American production interceptor that could reach supersonic speed in level flight. Its maximum speed was 710 knots (817 miles per hour, 1,315 kilometers per hour)—Mach 1.24—at 35,000 feet (10,668 meters). The service ceiling was 55,500 feet (16,916 meters). The F-102A could reach 50,000 feet (15,240 meters) in 6.4 minutes from a standing start at Sea Level. It had a combat radius of 430 nautical miles (495 statute miles/796 kilometers), and its maximum ferry range with internal fuel was 1,140 nautical miles (1,312 statute miles/2,111 kilometers).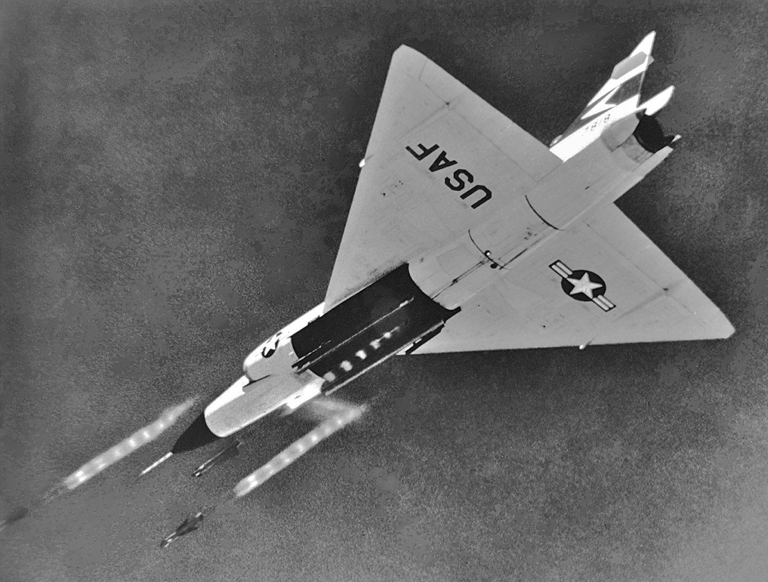 Armament consisted of six Hughes GAR-1D Falcon radar-homing, or GAR-2 Falcon infrared-seeking, air-to-air guided missiles, or a combination of both, carried in two internal bays. (The Falcon missiles were re-designated AIM-4A and AIM-4B in 1962.) The missile bay doors contained launch tubes for twenty-four 2.75-inch (70 millimeter) unguided Folding Fin Aerial Rockets (FFAR). The Delta Dagger was not armed with a gun.
Between 1955 and 1958, Convair built 889 F-102A Delta Dagger interceptors. The F-102A remained in service with the U.S. Air Force Air Defense Command until 1973, and with the Air National Guard to 1976.
The Bendix Trophy-winning F-102A, 56-1196, was delivered from Convair to the 326th Fighter Interceptor Squadron, 328th Fighter Group (Air Defense), at Richards-Gebaur Air Force Base, south of Kansas City, Missouri, on 2 July 1957. It later served with a number of Air Force and Air National Guard squadrons. Its last operational unit was the 157th Fighter Interceptor Squadron, South Carolina Air National Guard. Placed in storage at Davis-Monthan Air Force Base, Tucson, Arizona, in March 1975. 56-1196 was converted to a QF-102A target drone, and in August 1978, a PQM-102B.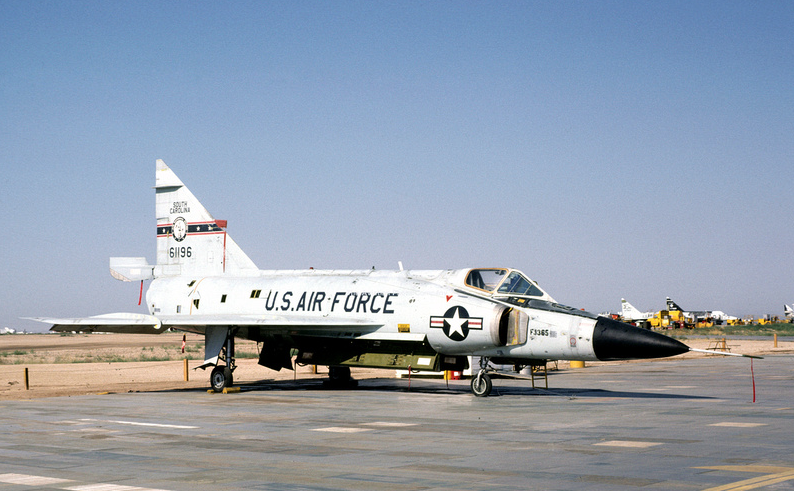 Note: TDiA would like to express its appreciation to Johan Ragay for the use of the photographs of 56-1196, and for some additional details of its service history.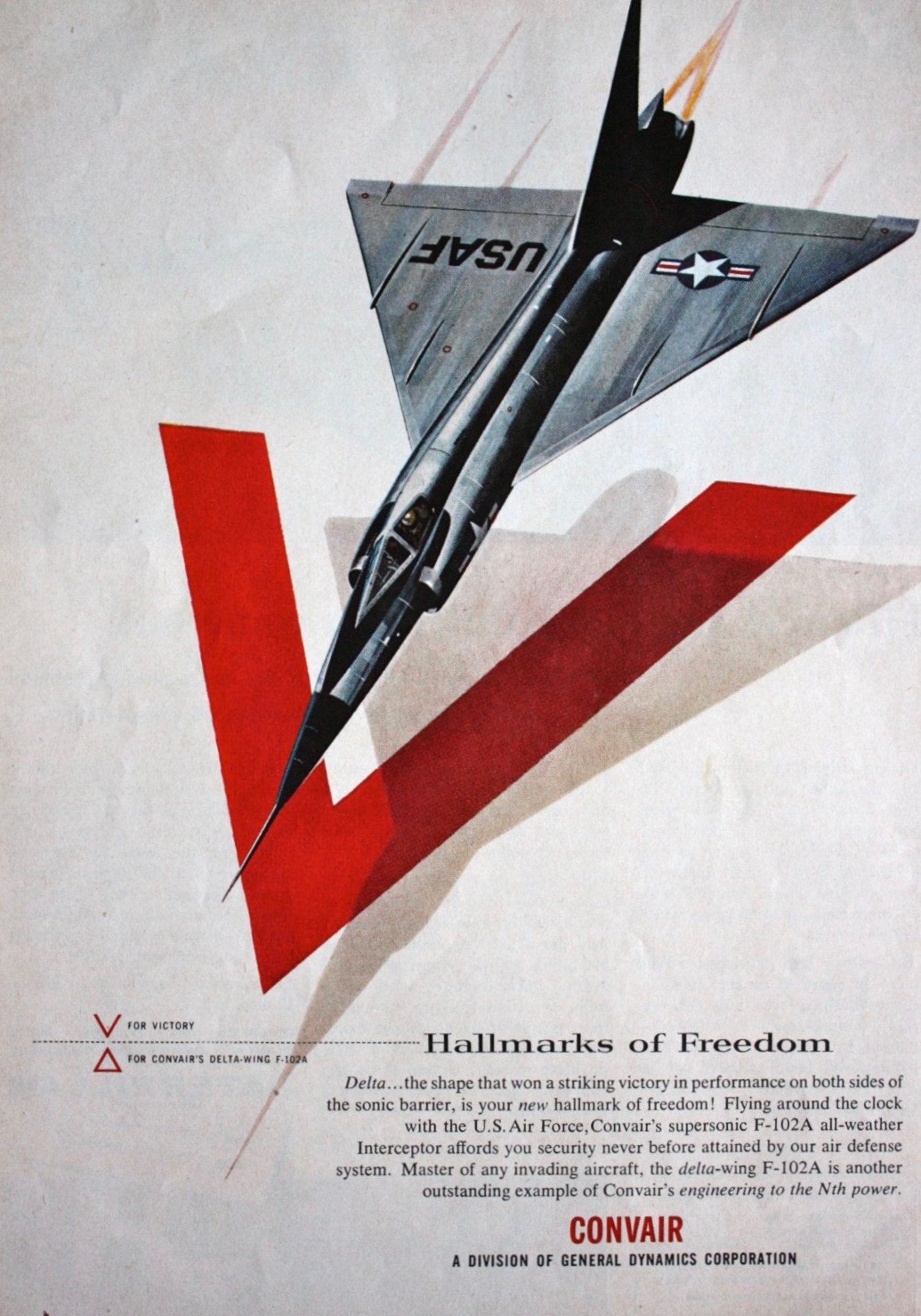 © 2018, Bryan R. Swopes