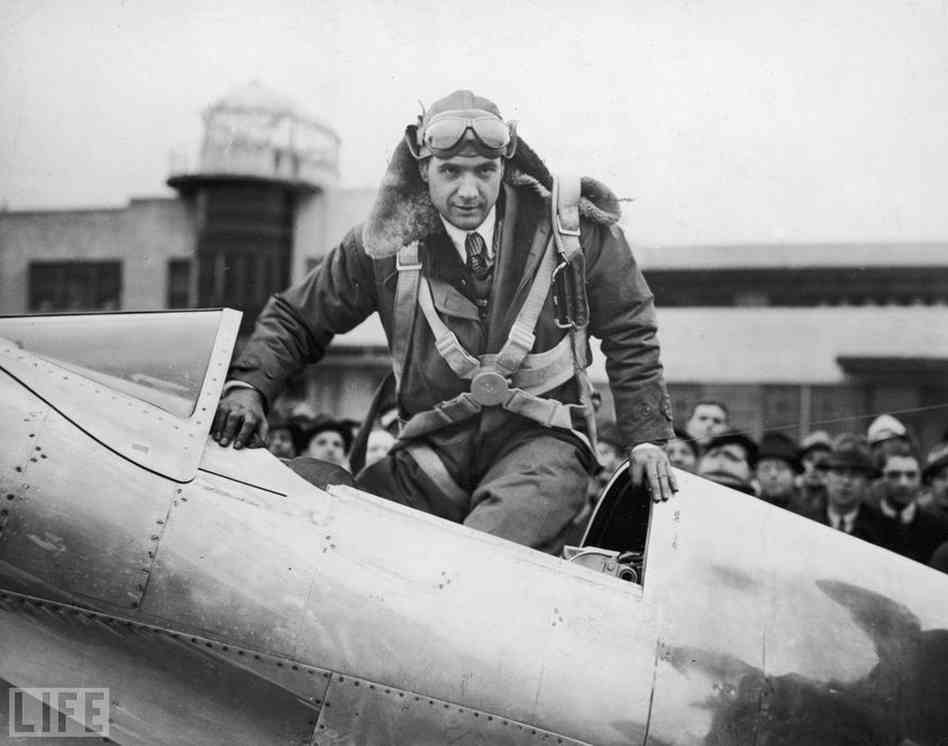 19 January 1937: Howard Robard Hughes, Jr., departed Union Air Terminal, Burbank, California, at 2:14 a.m., Pacific Standard Time (10:14 UTC) aboard his Hughes Aircraft Company H-1 Racer, NR258Y. He flew non-stop across the North American continent to Newark Metropolitan Airport, Newark, New Jersey, and arrived overhead at 12:42:25 p.m., Eastern Standard Time (17:42:25 UTC).
Hughes completed the 2,490-mile (4,007.3 kilometer) flight in 7 hours, 28 minutes, 25 seconds, at an average speed of 332 miles per hour (534 kilometers per hour). He broke the existing record, which he himself had set just over one year previously in a Northrop Gamma, by more than two hours.¹ (The 1937 flight is not recognized as an FAI record.)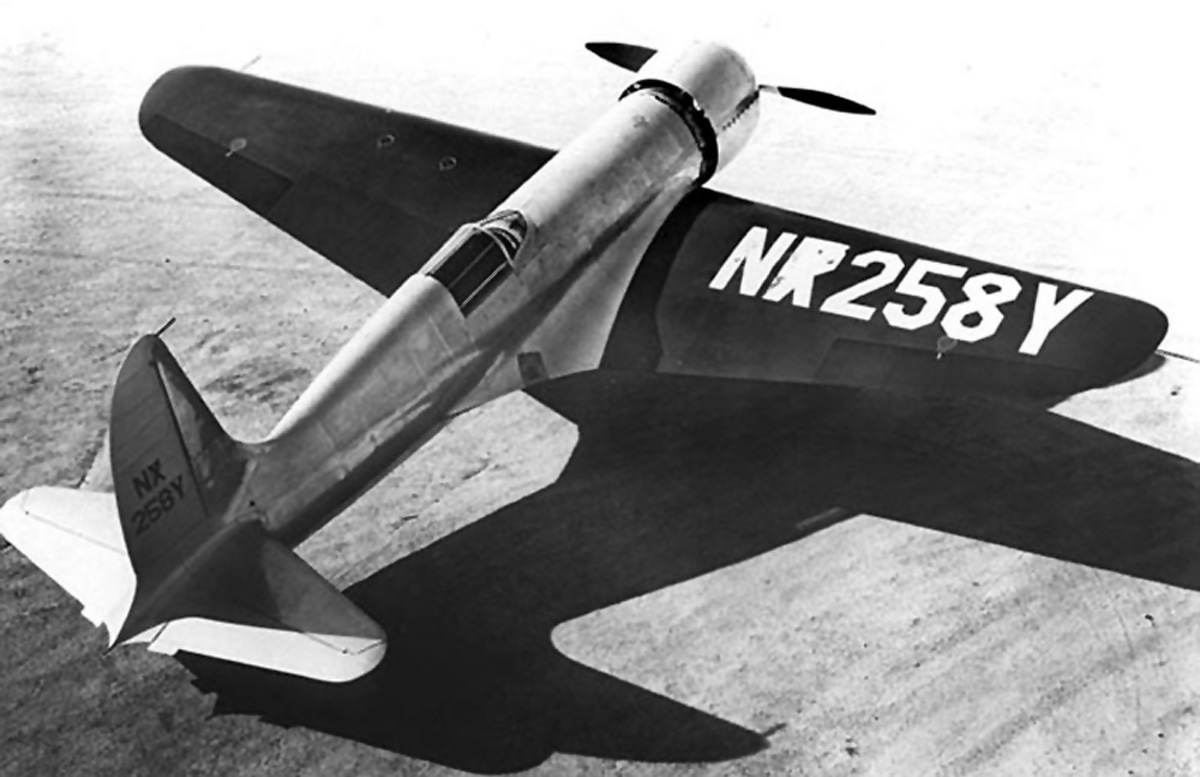 The New York Times reported:
  All landplane distance speed records were broken yesterday by Howard Hughes, millionaire sportsman pilot, who reached Newark Airport 7 hours 28 minutes and 25 seconds after he took off from Los Angeles, Calif. He was forced to stay aloft until the runway at the field was clear and landed at 1:03 P.M. His average speed was 332 miles an  hour for the 2,490 miles he traveled.
     Grimy from the smoke of his exhaust stacks the lanky pilot climbed out of his cramped cockpit and grinned. In recounting his experiences on the flight he said that the skies were overcast all the way and he had to fly on top of the clouds . . .
     It was 2:14 o'clock in the morning and pitch dark when he opened the throttle at the Union Air Terminal at Burbank and released the 1,100 horsepower sealed in the fourteen cylinders of his supercharged Twin Row Wasp engine. The sleek gray and ble low-winged monoplane, designed and built under his own direction, staggered, accelerated and then literally vaulted into the air. Within a few seconds Hughes climbed into the low-hanging clouds and swung eastward . . .
     At 14,000 feet, at which altitude he flew most of the way, he passed over the clouds, set his course and leveled off. He throttled his engine back until it was delivering only 375 horsepower and hunched himself over his instrument panel . . .
     His arrival at Newark was unheralded and a surprise. It was thought that he was going to land at Chicago. The new United Air Lines extra-fare plane was loaded for its initial run and already had its door locked when the propeller whir of the hurling racer apparently made the buildings tremble from sound vibration as Hughes swept low across the field. William Zint of the Longines Watch Company, official timer for the National Aeronautic Association, noted the time. It was exactly 42 minutes and 25 seconds after noon.

     Hughes pulled up in a sweeping chandelle maneuver and circled. The United Air Liner was already on the runway when Hughes swung back toward the flaps on his wing to slacken speed for landing . . . and the plane settled fast toward the earth. Still the pilot had no signal from the control tower where the dispatchers act as traffic patrols at the busiest airport in the world. Hughes had to open his throttle again and cruise around the field for some time before the green light at last came on. The United plane was then well on its course toward Chicago. Hughes's plane slid in over the airport boundary, dropped it's retractable undercarriage and tail wheel and touched both wheels and tail wheel in a perfect three-point landing at 1:02:30 P.M. . . .
— Excerpted from an article in The New York Times, Wednesday, 20 January 1937, Page 1 at Columns 6 and 7.
After landing at Newark, Hughes told newspaper reporters, "I flew at 14,000 feet most of the way," Hughes said, "with my highest speed 370 miles an hour. I used about 200 of the 280-gallon load. I am very tired—a bit shaky."
[Richard W.] Palmer met Hughes at Newark Airport. The two men shook their heads at each other. "I knew she was fast," Hughes told his chief engineer, "but I didn't know she was that fast."
— Newark, N.J., Tuesday, Jan. 19.—(AP)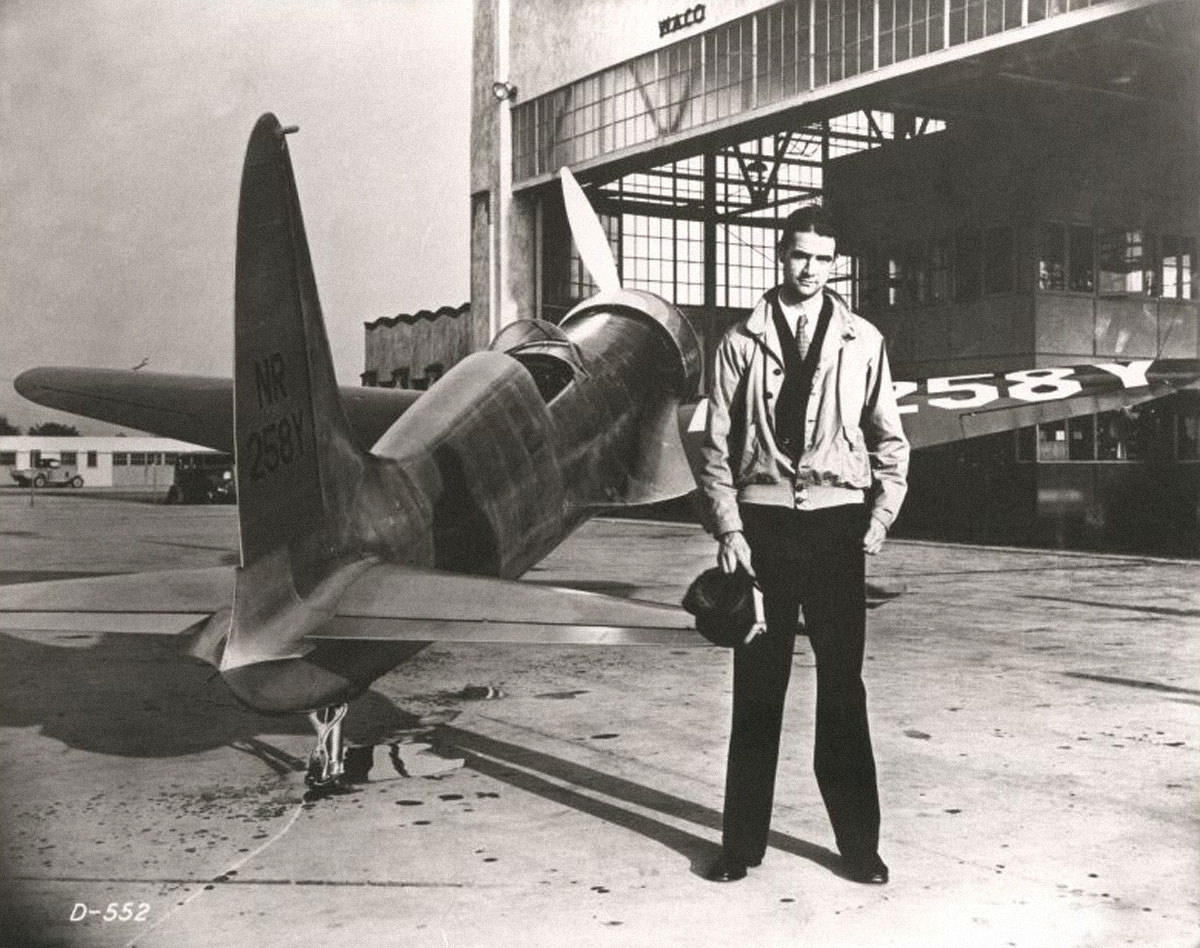 The Hughes H-1 (FAA records describe the airplane as a Hughes Model 1B, serial number 1) was a single-seat, single-engine low wing monoplane with retractable landing gear, designed by Richard W. Palmer. Emphasis had been placed on an aerodynamically clean design and featured flush riveting on the aluminum skin of the fuselage. The airplane is 27 feet, 0 inches long (8.230 meters) with a wingspan of 31 feet, 9 inches (9.677 meters) and height of 8 feet (2.438 meters). (A second set of wings with a span of 25 feet (7.6 meters) was used on Hughes' World Speed Record ² flight, 13 September 1935.) The H-1 has an empty weight of 3,565 pounds (1,617 kilograms) and gross weight of 5,492 pounds (2,491 kilograms).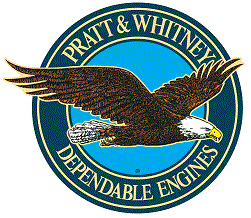 The H-1 was powered by an air-cooled, supercharged, 1,534.943-cubic-inch-displacement (25.153 liter) Pratt & Whitney Twin Wasp Jr., a two-row, fourteen-cylinder radial engine. Pratt & Whitney produced 18 civil and 22 military versions of the Twin Wasp Jr., in both direct drive and geared configurations, rated from 650 to 950 horsepower. It is not known which version powered the H-1, but various sources report that it was rated from 700 to 1,000 horsepower. The engine drove a two-bladed Hamilton Standard controllable-pitch propeller.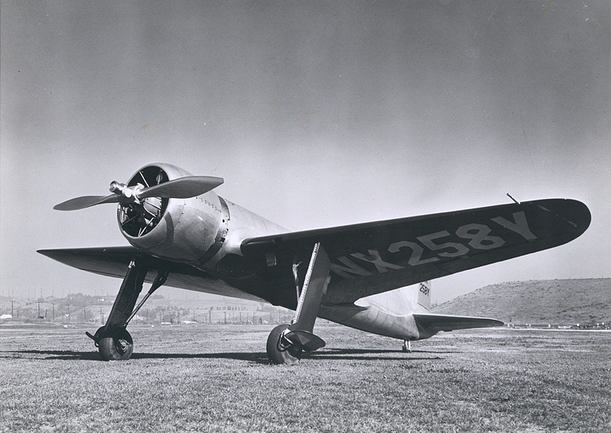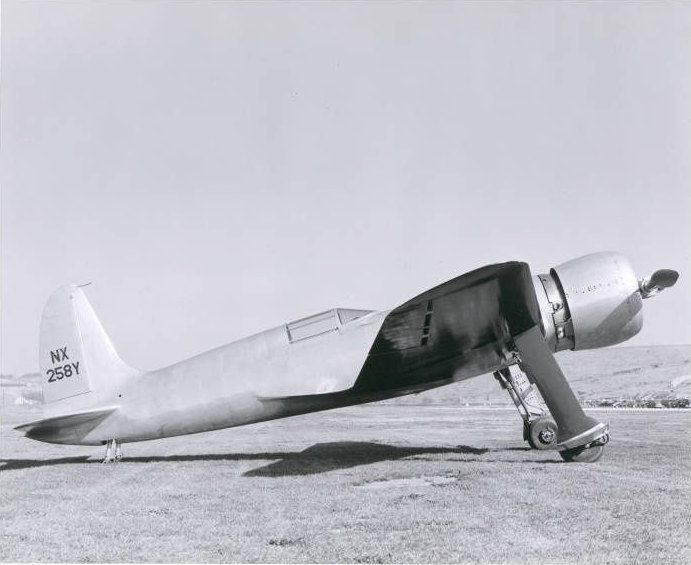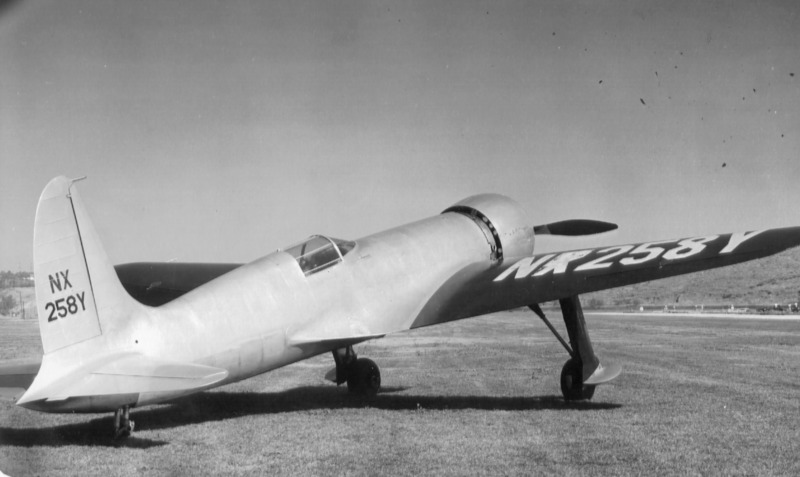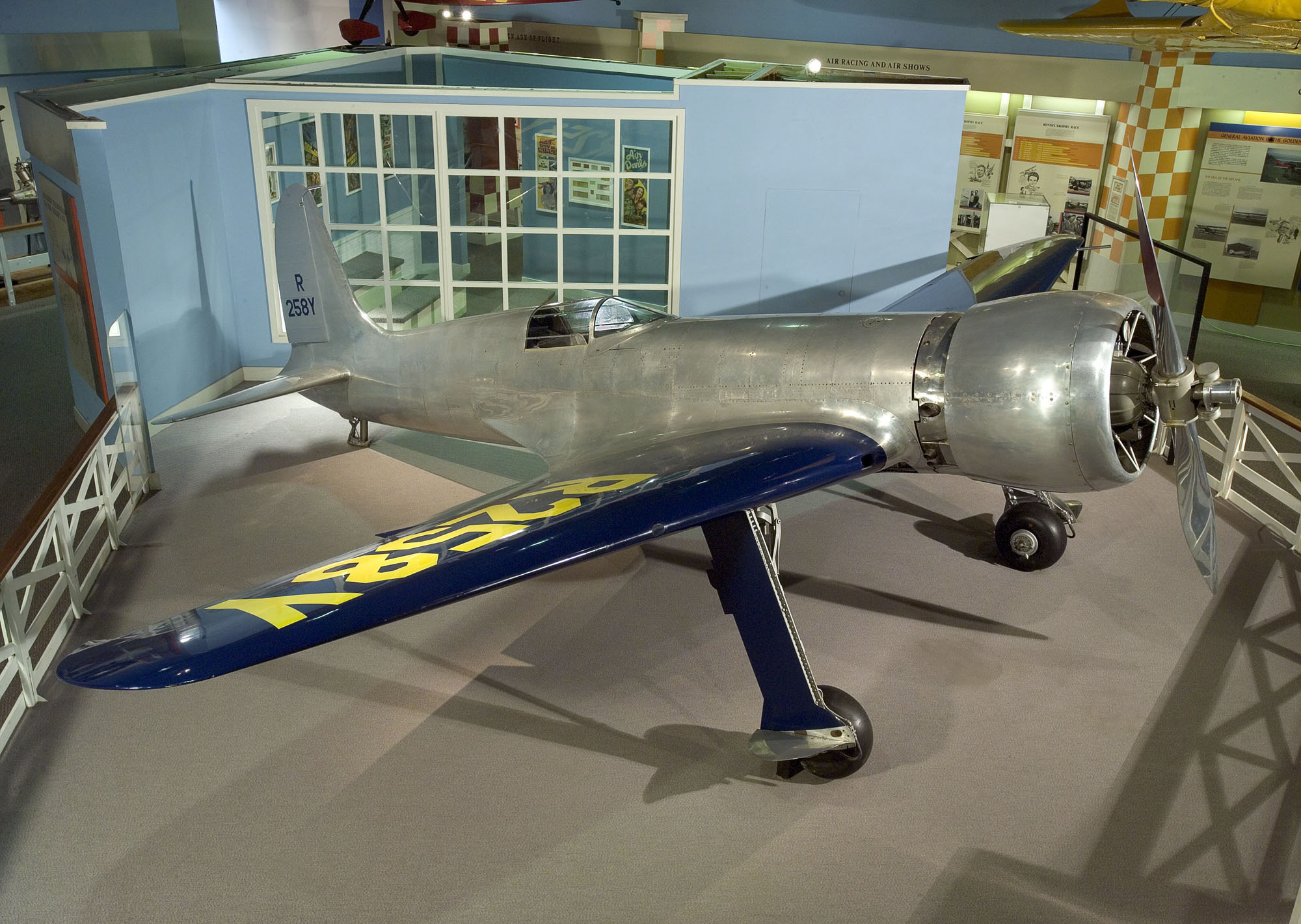 ¹ FAI Record File Number 13237: World Record for Speed Over a Recognized Course, 417.0 kilometers per hour (259.1 miles per hour)
² FAI Record File Number 8748: World Record for Speed Over a 3 Kilometer Course, 567.12 kilometers per hour (352.39 miles per hour)
© 2019, Bryan R. Swopes