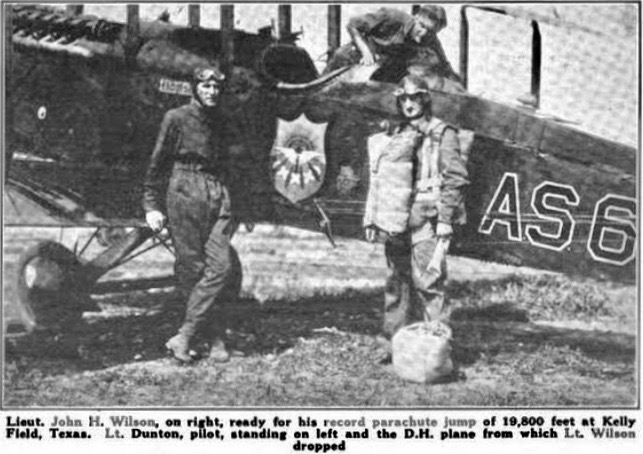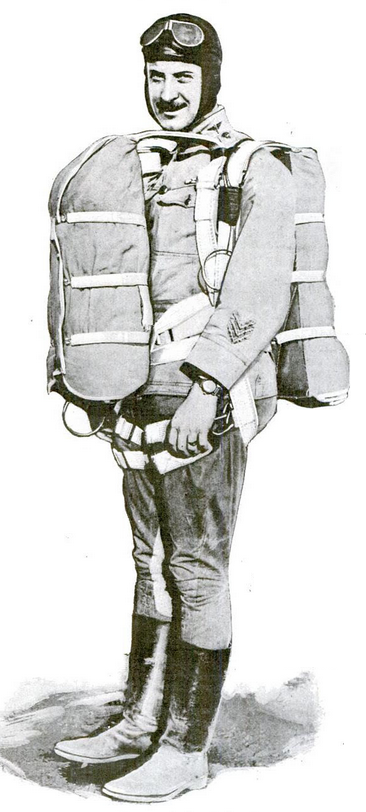 17 June 1920: At approximately 4:00 p.m., a De Havilland DH-4B piloted by 2nd Lieutenant Delmar H. Denton, engineering officer of the 1st Day Bombardment Group, took off from Kelly Field, San Antonio, Texas. Also on board was 2nd Lieutenant John H. ("Dynamite") Wilson of the group's 96th Aero Squadron. Lieutenant Wilson was wearing two parachutes.
For the next hour, the two men circled while climbing higher into the sky. When the airplane's altimeter indicated 20,000 feet (6,096 meters), Lieutenant Wilson stood on his seat, then jumped out of what seemed to be a perfectly good airplane.
Wilson pulled the "rip cord" of his primary parachute, and after what he thought was a very long time, the 'chute opened, subjecting our intrepid airman to a significant shock.
From that point, Wilson reported that it felt as if he was motionless in the sky. He had no sense of motion. He then fell through an area of severe turbulence. He was thrown in every direction, and, at one point, he and the parachute rolled up and over through a full "loop." Lt. Wilson was quite nauseous as a result.
The wind tossed him and his frail chute hither and yon, thither and thence, not to mention between and therabouts. He was over, under and parallel with his canvas life saver at various periods.
—AIR SERVICE NEWS LETTER, Vol. IV. No. 26., 10 July 1920, Page 1
Wilson began steering his parachute toward an open area. At approximately 300 feet (91 meters) above the ground, he opened his second parachute in an effort to reduce his rate of descent further before landing. He is reported to have "landed gracefully in a turnip patch."
The duration of Wilson's descent was about 17 minutes, and he was blown approximately 18 miles (29 kilometers) away from Kelly Field.
Lieutenant Denton followed Wilson's parachute in the DH-4B, then landed to pick him up. The pair took off and returned to Kelly Field.
The sealed barographs carried on board the airplane indicated that the actual altitude at which Dynamite Wilson had jumped was 19,861 feet (6,053.6 meters), more than a mile higher than the previous highest parachute jump.
© 2018, Bryan R. Swopes