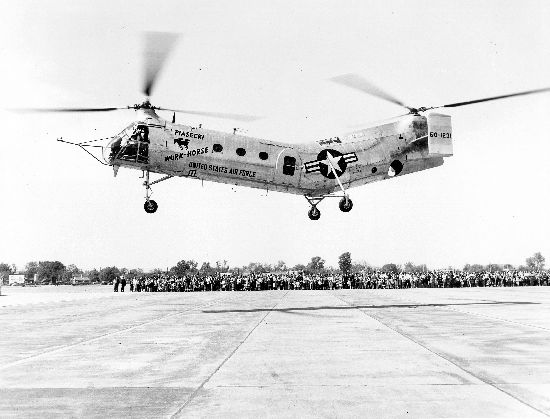 11 April 1952: At the Piasecki Helicopter Corporation factory at Morton Grove, Pennsylvania, the first YH-21 tandem-rotor helicopter, serial number 50-1231, made it's first flight. The test pilots were Leonard Joseph ("Len") LaVassar and Martin P. ("Marty") Johnson, both former U.S. Navy aviators.
The Piasecki Helicopter Corporation built 18 pre-production YH-21-PH helicopters, followed by three production variants, the H-21A, H-21B and H-21C.
The U.S. Air Force immediately ordered 32 H-21A helicopters for Search and Rescue operations. The Workhorse was well suited to cold weather operations and it was widely used in Alaska, Canada, and the Antarctic. Another 163 H-21B models were ordered as a troop transports. The U.S. Army ordered a similar H-21C variant.
The YH-21 was a single-engine, tandem-rotor transport helicopter. It was normally operated by two pilots, with a flight mechanic (crew chief), and could carry up to 20 soldiers under ideal conditions.
With rotors turning, the YH-21's overall length was 86 feet, 5 inches (26.340 meters). The fuselage was 52 feet, 6 inches (16.002 meters) long, and the helicopter had an overall height of 16 feet, 0 inches (4.877 meters). The rotors were 44 feet, 0 inches (13.411 meters) in diameter. The YH-21's empty weight was approximately 8,117 pounds (3,682 kilograms) and maximum gross weight was 14,500 pounds (6,577 kilograms).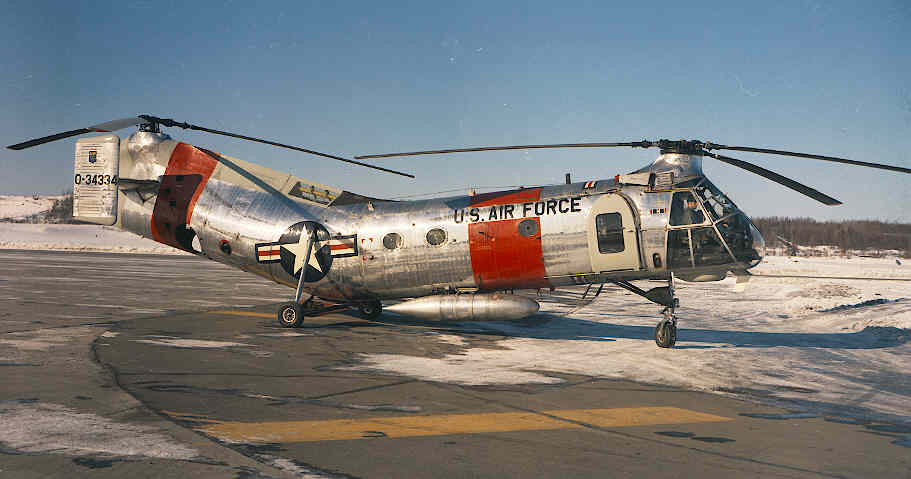 The forward rotor turned counter-clockwise, as seen from above. (The advancing blade is on the helicopter's right side.) The rear rotor turns the opposite direction. Normal operating speed for the main rotors was 233 to 258 r.p.m. (233–270 r.p.m. in autorotation.) The counter-rotating rotors cancelled out engine torque, eliminating any need for a tail rotor. The angle in the fuselage was intended to provide adequate vertical clearance between the intermeshing fore and aft rotor assemblies. (Later tandem rotor helicopters use raised pylons.)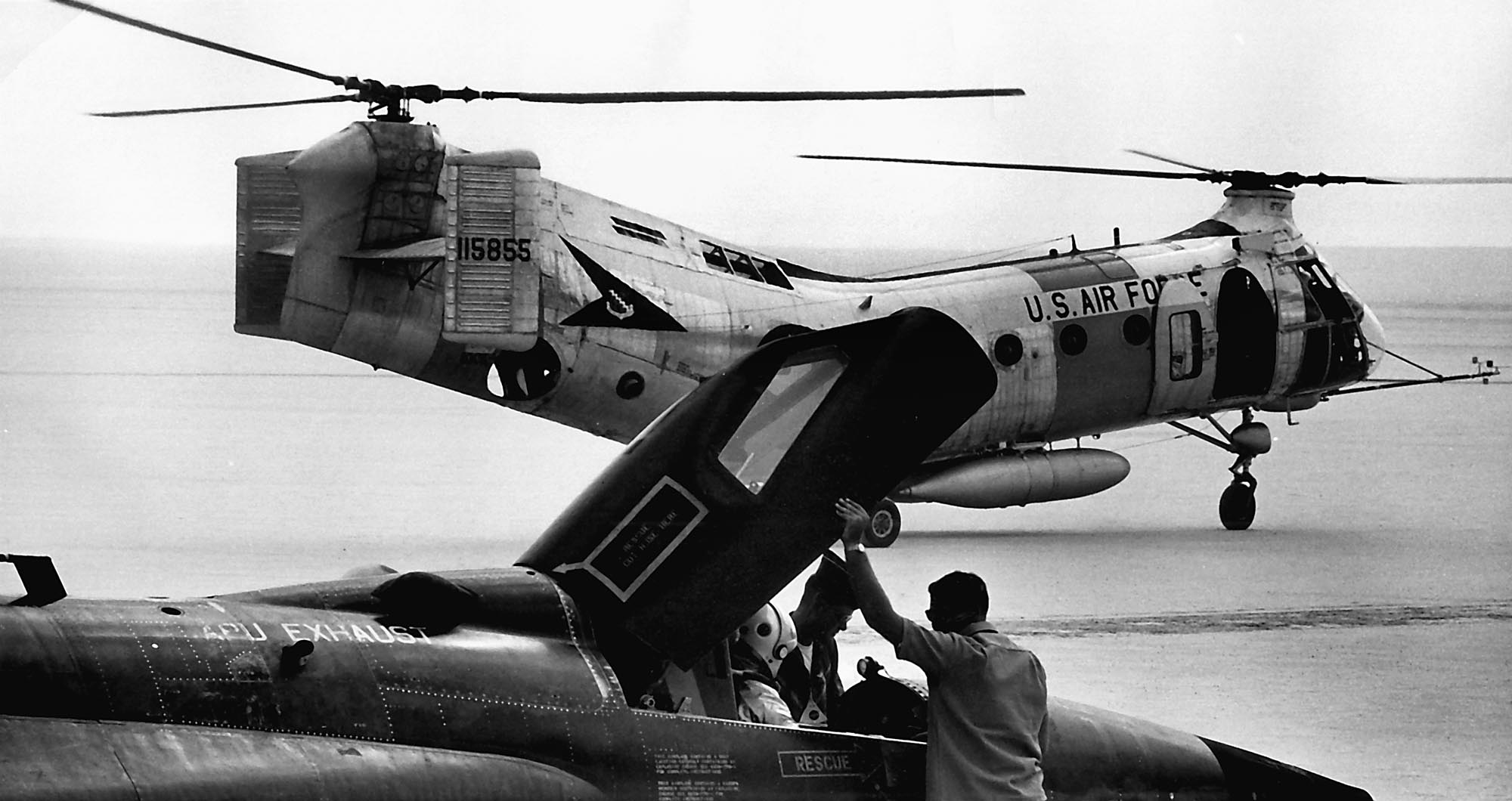 The H-21 was powered by a single air-cooled, supercharged, 1,823.129-cubic-inch-displacement (29.875 liter) Wright Aeronautical Division Cyclone 9 863C9WD1 (R-1820-103) nine-cylinder radial, mounted inside the fuselage at midship, and drove the front and rear rotors in opposite directions through drive shafts and gear boxes. The Wright R-1820-103 engine was rated at 1,275 horsepower at 2,500 r.p.m., and 1,425 horsepower at 2,700 r.p.m., for takeoff. This direct-drive engine had a compression ratio of 6.80:1 and required 100/130 aviation gasoline. The engine was 4 feet, 0.50 inches (1.232 meters) long, 4 feet, 6.95 inches (1.396 meters) in diameter, and weighed 1,350 pounds (612 kilograms). Wright built 971 R-1820-103s from November 1950 through 1957.
The YH-21 could reach a maximum speed in level flight of 131 knots (151 miles per hour/243 kilometers per hour). Its Never Exceed limit (VNE) was 151 knots (174 miles per hour /280 kilometers per hour) (diving). The maximum Sea Level range was 397 nautical miles (457 statute miles/735 kilometers) at 125 knots (144 miles per hour/232 kilometers per hour). Its service ceiling was 19,200 feet (5,852 meters).
In 1955, Piasecki became Vertol and eventually Boeing Vertol. The company would continue to produce tandem rotor helicopters such as the H-46 Sea Knight and the CH-47 Chinook, which is still in production.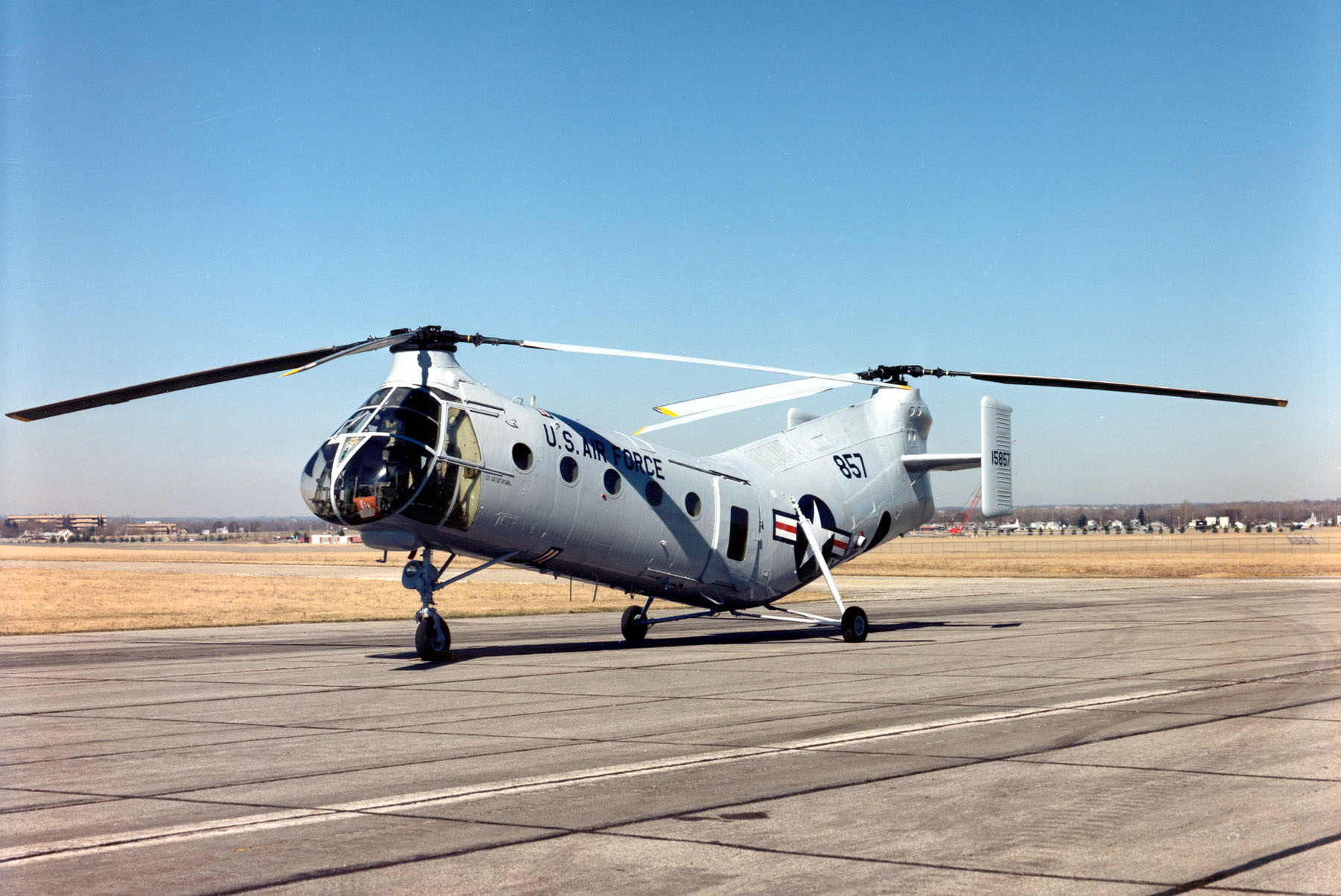 © 2019, Bryan R. Swopes