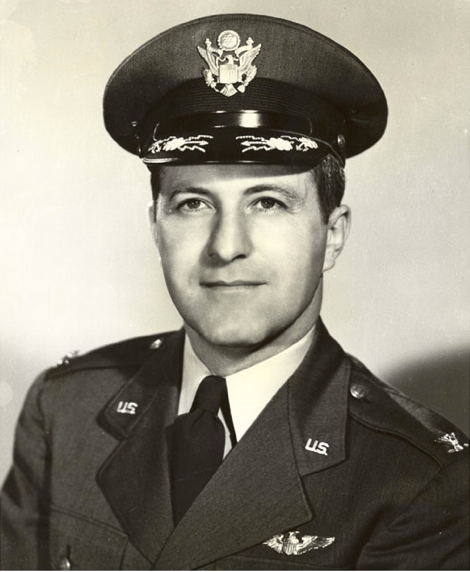 17 August 1951: In order to demonstrate the capabilities of the United States Air Force's new day fighter, Colonel Fred J. Ascani, Vice Commander, Air Force Flight Test Center, Edwards Air Force Base, California, had been assigned to take two new North American Aviation F-86E Sabres from the production line at El Segundo, California, to the National Air Races at Detroit, Michigan. He was to attempt a new world speed record.
Colonel Ascani selected F-86E-10-NA 51-2721 and 51-2724. They received bright orange paint to the forward fuselage and the top of the vertical fin. Bold numbers 2 and 4 were painted on their sides.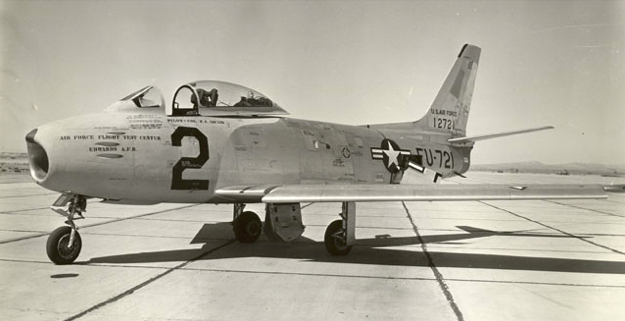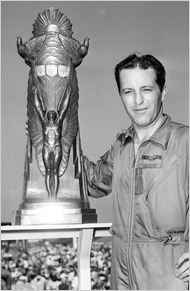 Flying Number 2, F-86E 51-2721, Fred Ascani flew a 100-kilometer closed circuit at an average speed of 1,023.04 kilometers per hour (635.69 miles per hour), and set a new Fédération Aéronautique Internationale (FAI) World Record for Speed Over a Closed Circuit of 100 Kilometers.¹
For his accomplishment, Colonel Ascani was awarded both the Thompson Trophy and the MacKay Trophy.
The North American Aviation F-86 was a single-seat, single-engine day fighter designed by Edgar Schmued and the same team at North American that designed the World War II P-51 Mustang fighter. The Sabre was the first fighter to incorporate swept wings, which improved flight at high subsonic speed by reducing aerodynamic drag and delaying the onset of compressibility effects. The leading edges of the wings and tail surfaces were swept 35° based on captured German technical data and extensive wind tunnel testing.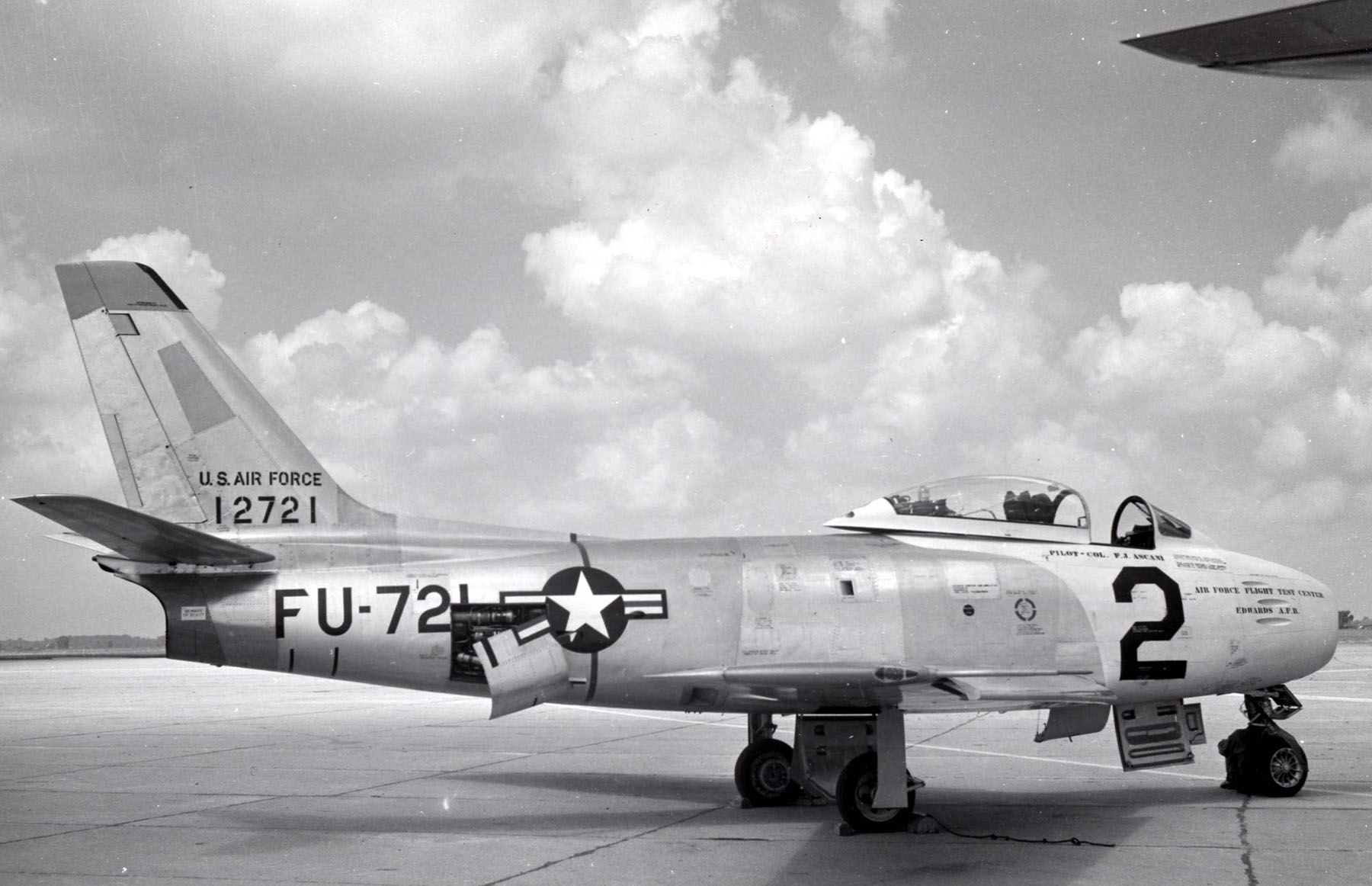 The F-86E Sabre was an improved F-86A. The most significant change was the incorporation of an "all flying tailplane" in which the entire horizontal tail moved to control the airplane's pitch. The tailplane pivoted around its rear spar, allowing the leading edge to move up or down 8°. The elevators were mechanically linked to the tailplane and their movement was proportional to the tailplane's movement. Control was hydraulic, and this provided improved handling at high speeds where compressibility could "freeze" control surfaces. There were systems improvements as well, with "artificial feel" to the hydraulic controls to improve feedback to the pilot and prevent over-controlling. Beginning with Block 10 aircraft, the "V"-shaped windscreen of the earlier models was replaced with an optically flat laminated glass windshield.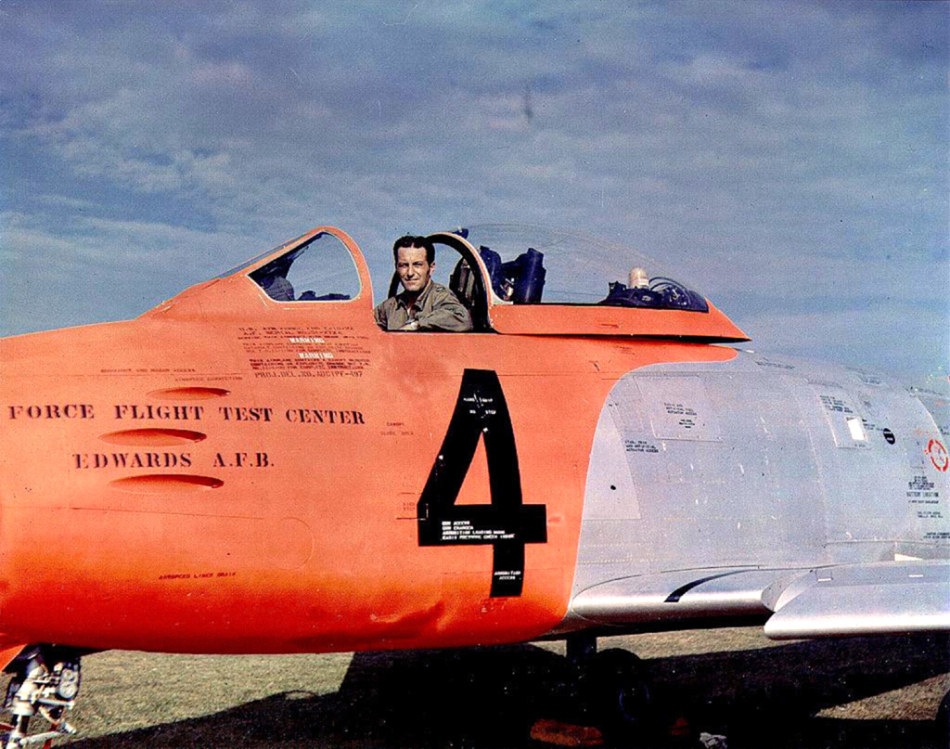 The F-86E was 37 feet, 6.5 inches (11.443 meters) long with a wingspan of 37 feet, 1.4 inches (11.313 meters) and overall height of 14 feet, 1 inch (4.293 meters). Its empty weight was 10,555 pounds (4,787.7 kilograms) and the maximum takeoff weight was 16,436 pounds (7,455.2 kilograms).
The F-86E was powered by a General Electric J47-GE-13 turbojet engine. The J47 was an axial-flow turbojet with a 12-stage compressor and single stage turbine. The J47-GE-13 was rated at 5,200 pounds of thrust and 6,000 pounds ("wet"). The engine was 12 feet, 0.0 inches (3.658 meters) long, 3 feet, 3.0 inches (0.991 meters) in diameter and weighed 2,525 pounds ( kilograms).
The F-86E Sabre had a maximum speed of 679 miles per hour (1,092.7 kilometers per hour) at Sea Level and 601 miles per hour (967.2 kilometers per hour) at 35,000 feet (10,668 meters). Its service ceiling was 47,200 feet (14,386.7 meters).
The F-86E carried 437 gallons (1,654.2 liters) of fuel internally and could carry two 200-gallon (757.1 liter) drop tanks under the wings. Maximum range was 1,022 miles (1,645 kilometers).
The F-86A, E and F Sabres were armed with six Browning AN-M3 .50-caliber aircraft machine guns with 1,602 rounds of ammunition.
6,233 F-86 Sabres were built by North American at Inglewood, California and Columbus Ohio. Another 521 were assembled by Fiat and Mitsubishi. 1,815 CL-13 Sabres were built by Canadair, and 115 CA-26 and CA-27 Sabres by Commonwealth Aircraft Corporation in Australia. Total production for all types and manufacturers was 8,684. North American Aviation built 336 F-86Es and 60 more were built by Canadair (F-86E-6-CAN).
In order to emphasize that Colonel Ascani's record-setting Sabre was a standard production airplane, it was immediately sent into combat with the 25th Fighter Interceptor Squadron, 51st Fighter Interceptor Wing, at Suwon Air Base, Korea. There, it was christened THIS'LL KILL YA. On 3 May 1953, 51-2721 was damaged during a landing accident at Kimpo Air Base, but it was repaired and returned to service.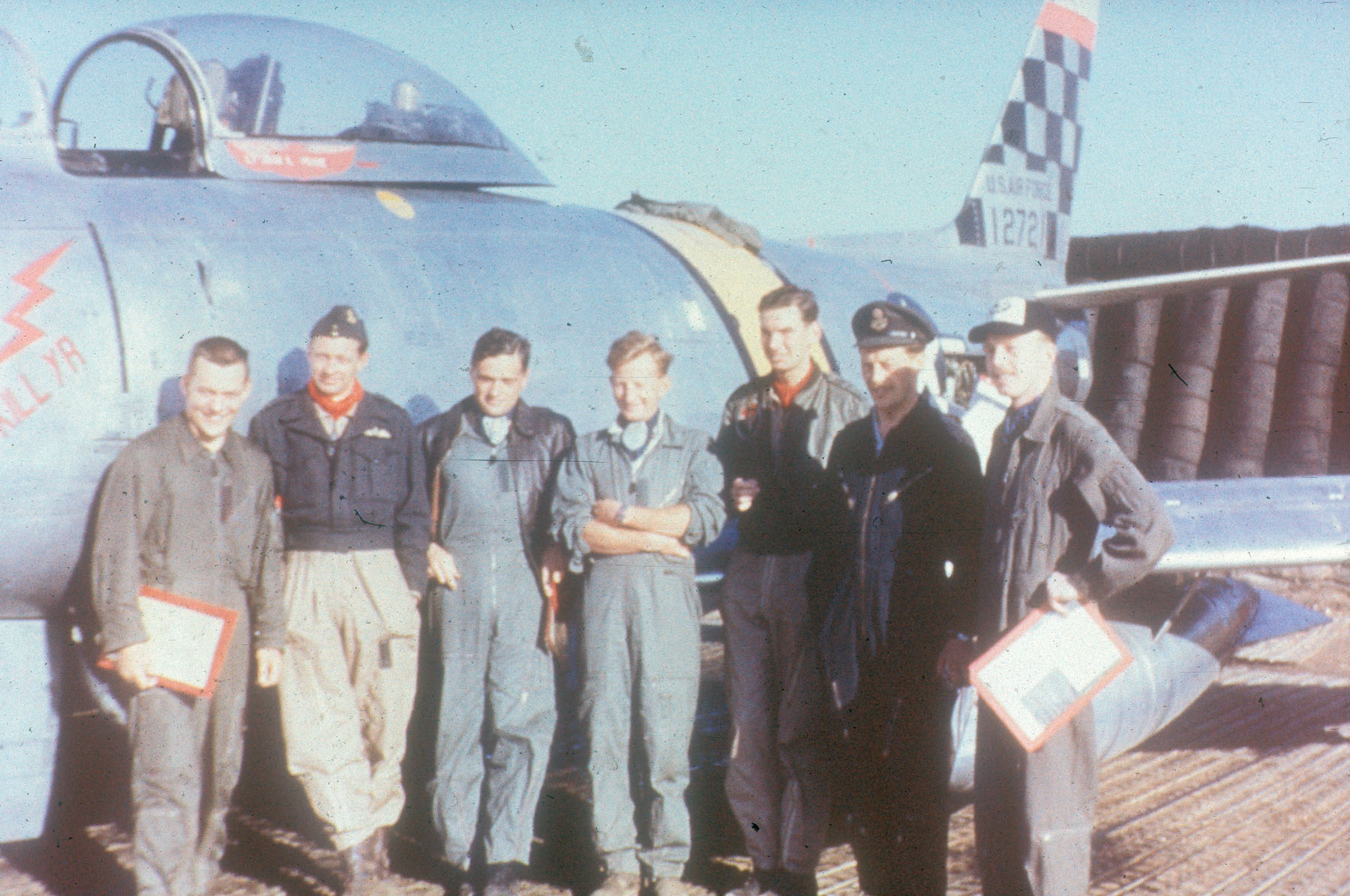 ¹ FAI Record File Number 10429
© 2017, Bryan R. Swopes