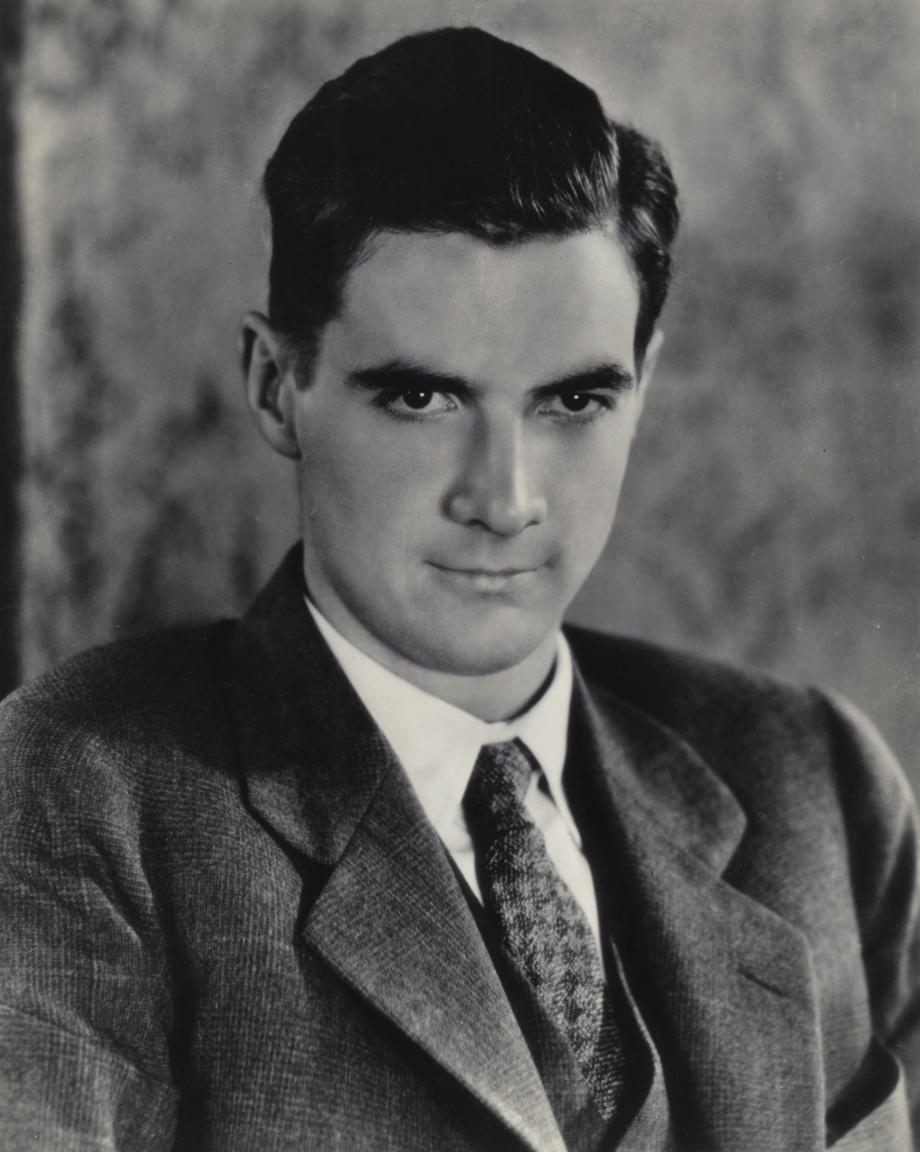 10–14 July 1938: Howard Robard Hughes, Jr., along with a crew of four, departed Floyd Bennett Field, Brooklyn, New York, on a flight to circle the Northern Hemisphere. His airplane was a Lockheed Super Electra Special, Model 14-N2, registered NX18973. Aboard were Harry P. McLean Connor, co-pilot and navigator; 1st Lieutenant Thomas Lawson Thurlow, United States Army Air Corps, navigator; Richard R. Stoddart, a field engineer for the National Broadcasting Company (NBC), radio operator; Edward Lund, flight engineer. Lieutenant Thurlow was the Air Corps' expert on aerial navigation. Stoddart was an expert in radio engineering. Thurlow, Stoddart and Lund were also rated pilots.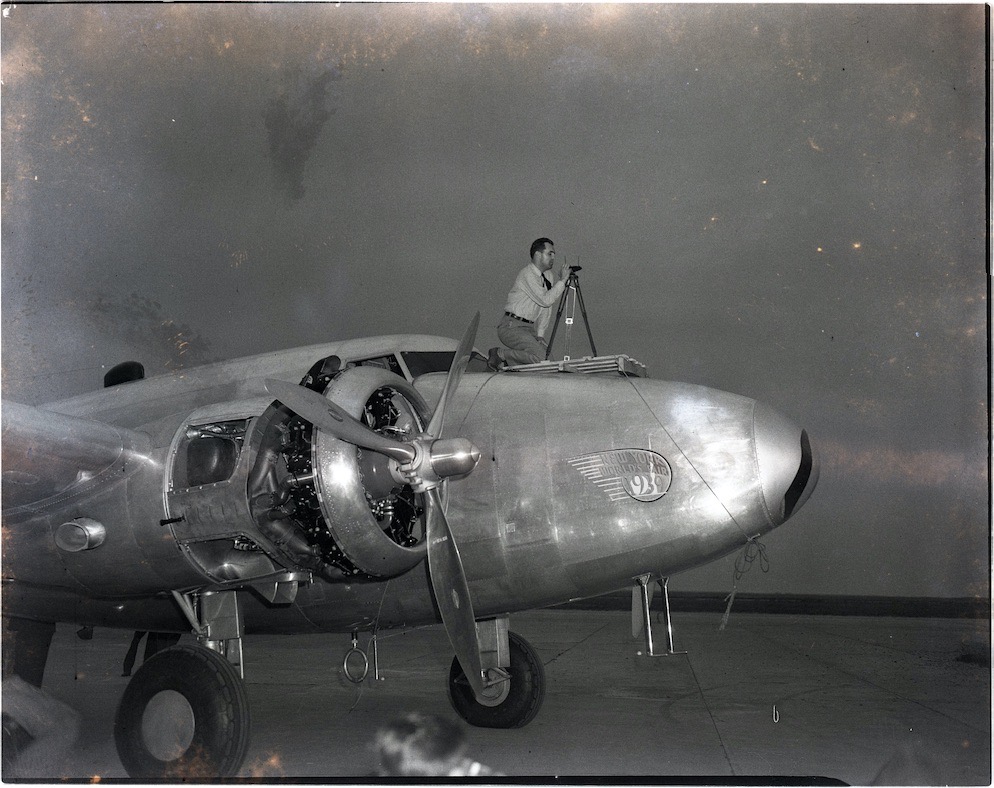 Before they took off from Floyd Bennett Field, the Lockheed was christened New York World's Fair 1939, in keeping with an agreement that Hughes had made with Grover Whalen and the fair's organizers.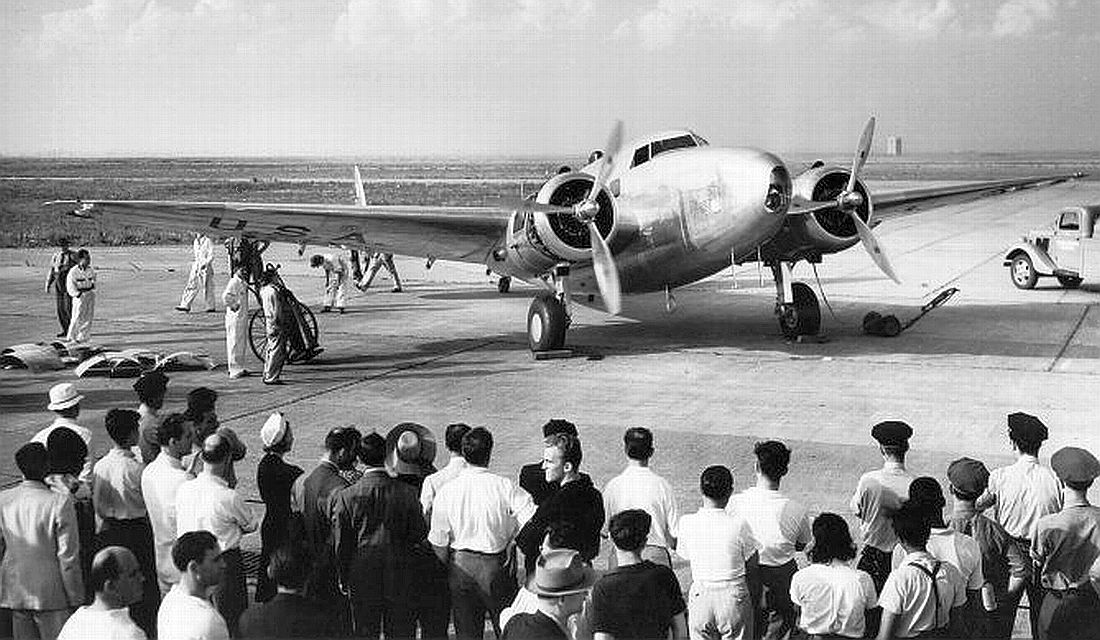 Howard Hughes and his crew departed Floyd Bennett Field at 7:19:10 p.m. on 10 July. The route of the flight was from Floyd Bennett Field to Le Bourget Aerodrome, Paris, France, a distance of 3,641 miles (5,860 kilometers), flown in an elapsed time of 16 hours, 38 minutes; Moscow, Russia, USSR, 1,640 miles (2,639 kilometers), 7:51; Omsk, Siberia, 1,400 miles (2,253 kilometers), 7:27; Yakutsk, Yakut ASSR, 2,158 miles (3,473 kilometers), 10:31; Fairbanks, Alaska, 2,457 miles (3,954 kilometers), 12:17; Minneapolis, Minnesota, 2,441 miles (3,928 kilometers), 12:02; and back to Floyd Bennett Field, 1,054 miles (1,696 kilometers) 4:26.
They arrived at Floyd Bennett Field at 2:34 p.m., 14 July. The distance flown was approximately 14,800 miles (23,818 kilometers) (sources differ). The total duration was 91 hours, 14 minutes, 10 seconds. The actual flight time was 71 hours, 11 minutes, 10 seconds. Average speed for the flight was 206.1 miles per hour (331.7 kilometers per hour).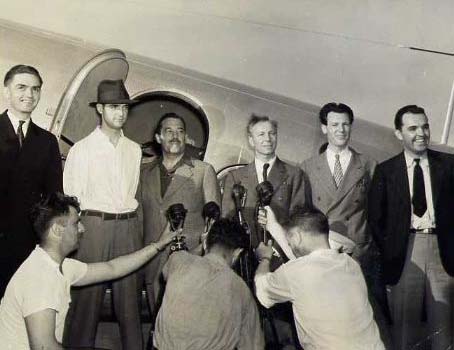 The international organization for flight records, the Fédération Aéronautique Internationale, requires that a circumnavigation cross all meridians in one direction and be at least the length of the Tropic of Cancer, 22,858.729 miles (36,787.559 kilometers). Howard Hughes' "around the world flight" circled the Northern Hemisphere and was at least 8,058 miles (12,968 kilometers) short of the required distance, so no official record was set. (The same is true of Wiley H. Post's two earlier "around the world" flights which used a similar route.)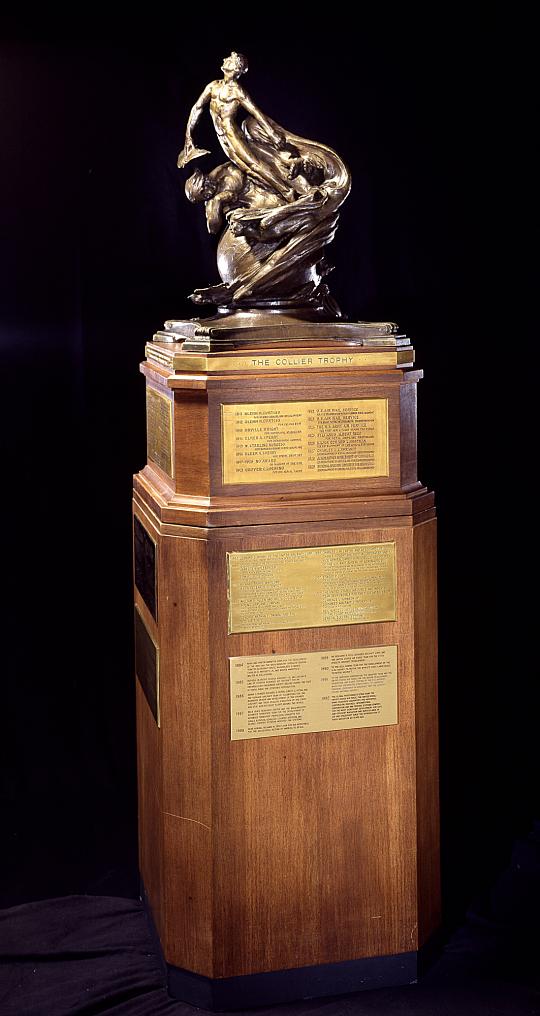 The National Aeronautic Association awarded the Aero Club Trophy (after 1944, known as the Robert J. Collier Trophy, or simply, The Collier Trophy) to Howard Hughes and his associates, "For their epoch making round the world flight in 91 hours and 14 minutes." The Collier is an annual award, ". . . for the greatest achievement in aeronautics or astronautics in America, with respect to improving the performance, efficiency, and safety of air or space vehicles, the value of which has been thoroughly demonstrated by actual use during the preceding year."
The Lockheed Super Electra 14-N2, serial number 1419, was offered to Hughes by the Lockheed Aircraft Company, Burbank, California, at no cost.
Company officials believed that publicity generated by an around-the-world flight would justify the expense. The airplane underwent modification for two months at the Burbank factory. The Curtiss-Wright Corporation provided new engines. Fuel capacity was increased to 1,844 gallons (6,980.3 liters). Three radio systems were installed.

The Lockheed Model 14 Super Electra was an all-metal, twin-engine, low-wing monoplane with retractable landing gear, designed as a medium-sized airliner. It was flown by two pilots and could carry up to 12 passengers. Based on aerodynamic studies carried out by Clarence L. "Kelly" Johnson on the earlier Model 10 Electra, the airplane was configured with an "H-tail", with vertical fins and rudders placed at the ends of the horizontal stabilizer. This was a characteristic design feature for Lockheed aircraft through the 1950s.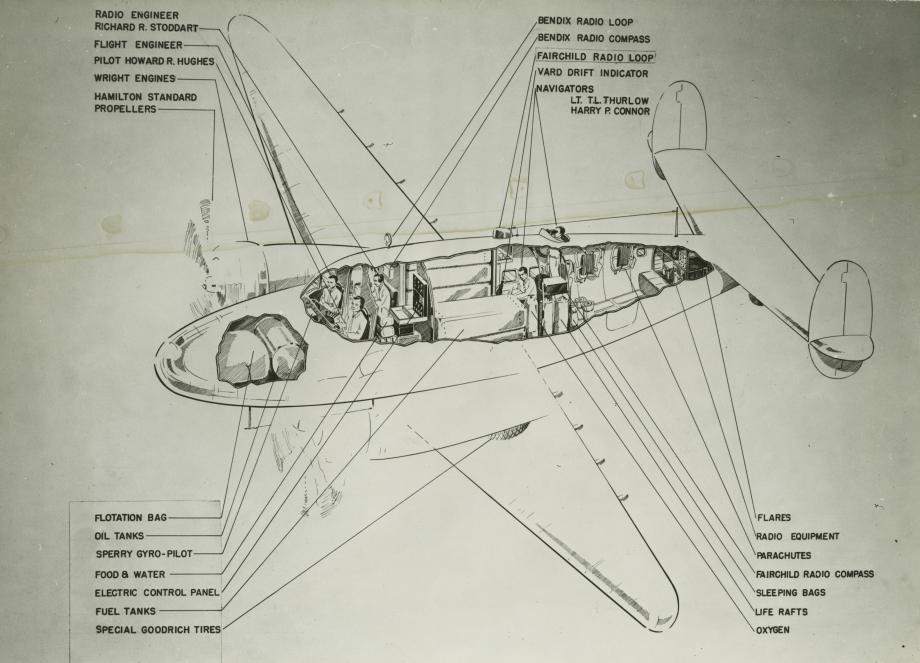 The Model 14 was 44 feet, 4 inches (13.513 meters) long with a wingspan of 65 feet, 6 inches (19.964 meters) and overall height of 11 feet, 5 inches (3.480 meters). Hughes' Model 14-N2 Special differed, but a Model 14-WF-62 airliner version had an empty weight of 10,750 pounds (4,876 kilograms), gross weight of 15,650 pounds (7,098 kilograms) and maximum takeoff weight of 17,500 pounds (7,938 kilograms). The airliner had maximum speed of 250 miles per hour (402 kilometers per hour) and a service ceiling of 24,500 feet (7,468 meters).

NX18973 was powered by two air-cooled, supercharged, 1,823.129-cubic-inch-displacement (29.875 liter) Wright Aeronautical Division Cyclone GR-1820-G102 nine-cylinder radial engines with a normal power rating of 900 horsepower at 2,200 r.p.m., and 1,100 horsepower at 2,200 r.p.m for take-off.  The engines had a compression ratio of 6.7:1 and required 91-octane gasoline. They turned three-bladed Hamilton Standard constant-speed propellers through a 0.6875:1 gear reduction. The GR-1820-102 was 4 feet, 0.12 inches (1.222 meters) long, 4 feet, 7.10 inches (1.400 meters) in diameter, and weighed 1,275 pounds (578 kilograms).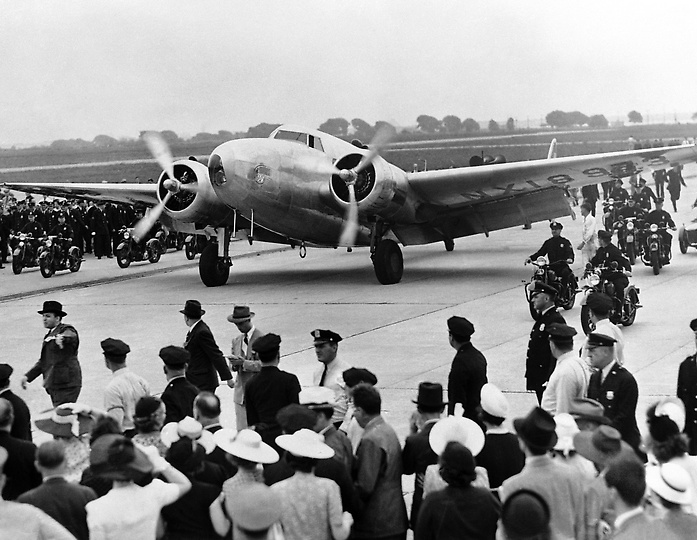 Representative performance figures are maximum speed of 250 miles per hour (402 kilometers per hour) and a service ceiling of 24,500 feet (7,468 meters). NX19783 had an estimated maximum range of 4,500 miles (7,242 kilometers).
Following Hughes' flight, NX18973 was returned to Lockheed. The manufacturer then sold the Super Electra to the Royal Canadian Air Force. It was assigned fuselage identification AX688. (A militarized version of the Super Electra was produced as the Hudson light bomber.)
On 10 November 1940, the Super Electra took off from Nairobi, Kenya, on a transcontinental ferry flight to from South Africa to Egypt. There were high winds and it was raining. After climbing to 500 feet (152 meters) AGL, the Lockheed banked to the left. It stalled, entered a spin and crashed. The wreck caught fire. All persons on board were killed.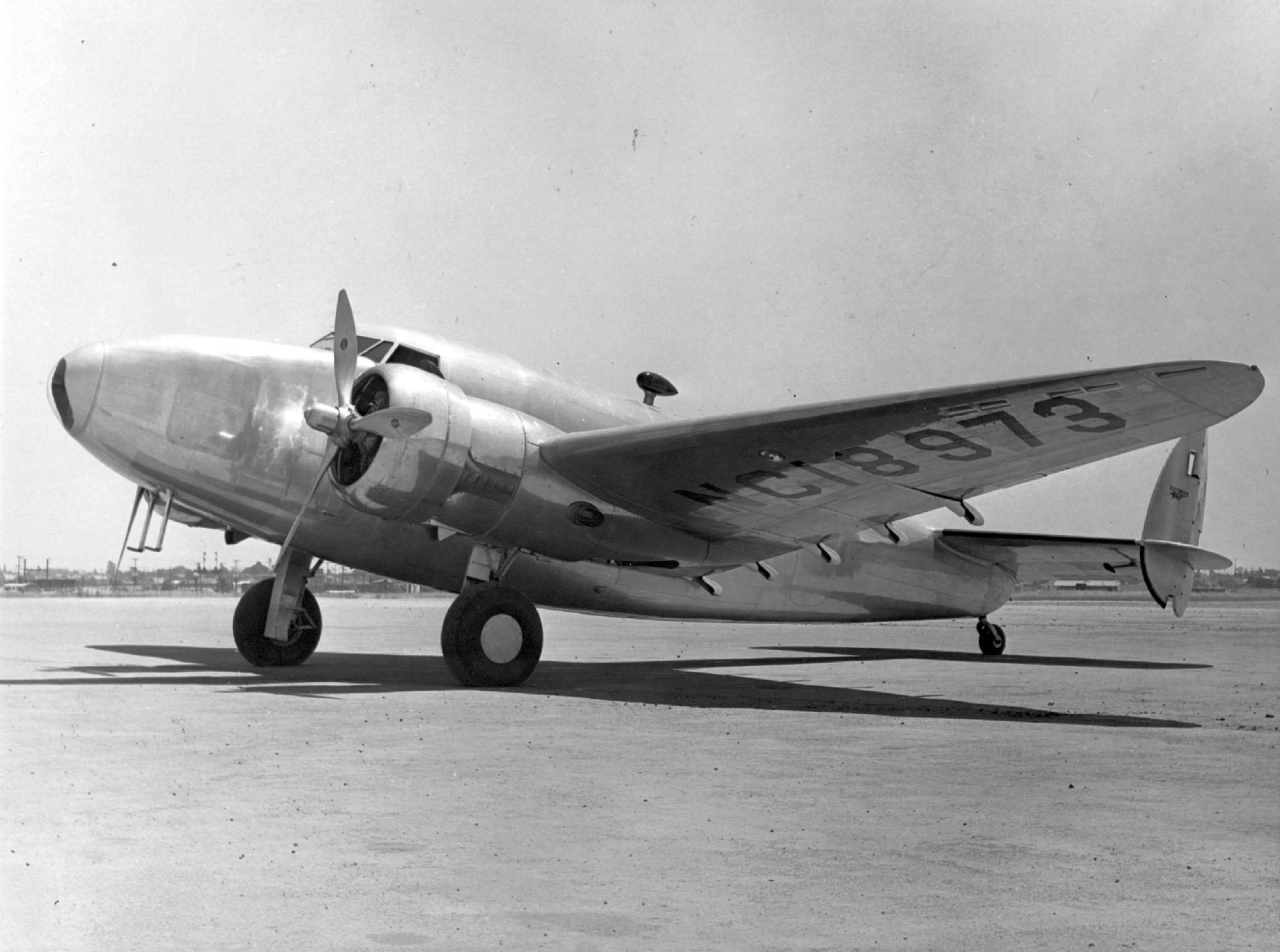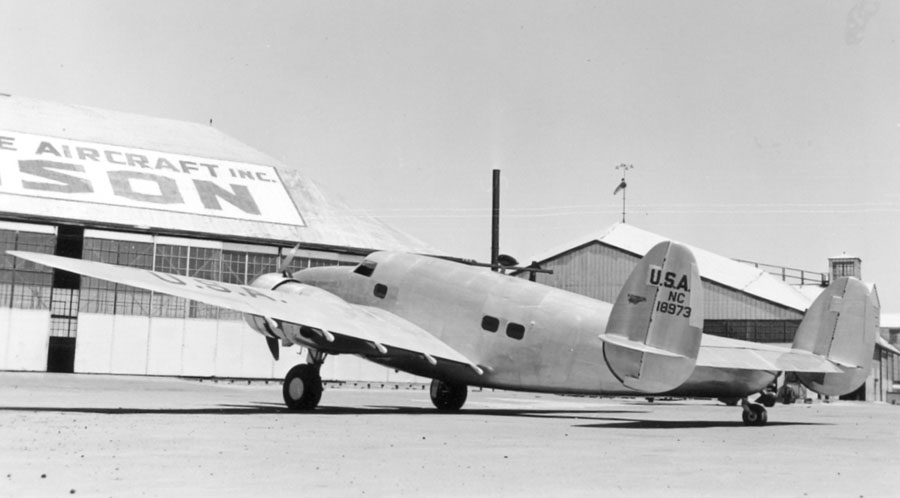 © 2018, Bryan R. Swopes