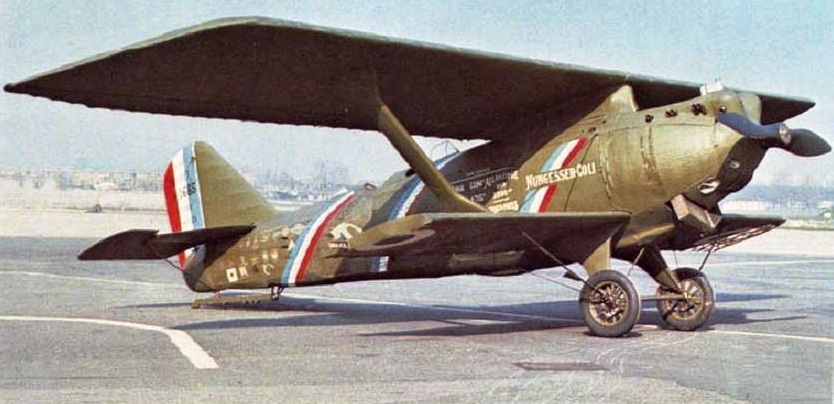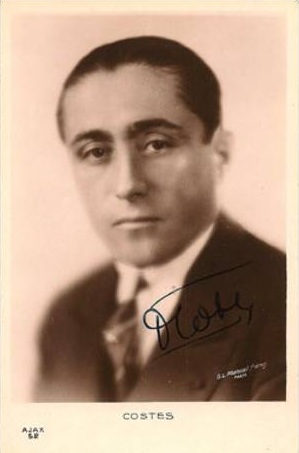 14–15 October 1927: Dieudonné Costes and Joseph Le Brix flew a Breguet XIX GR, serial number 1685, across the South Atlantic Ocean from Saint-Louis, Senegal, to Port Natal, Brazil.
This was the first non-stop South Atlantic crossing by an airplane. The 2,100-mile (3,380 kilometer) flight took just over 18 hours.
The two aviators were on an around-the-world flight that began 10 October 1927 at Paris, France, and would be completed 14 April 1928, after traveling 34,418 miles (57,000 kilometers).
Costes had been a test pilot for Breguet since 1925. He served as a fighter pilot during World War I and was credited with six aerial victories. He had been appointed Commandeur Ordre national de la Légion d'honneur and awarded the Croix de Guerre with seven palms, and the Médaille militaire.
Following the around-the-world flight, the Congress of the United States, by special act, awarded him the Distinguished Flying Cross.
In 1929, the Fédération Aéronautique Internationale awarded him its Gold Air Medal, and the International League of Aviators awarded him the Harmon Trophy "for the most outstanding international achievement in the arts and/or science of aeronautics for the preceding year, with the art of flying receiving first consideration."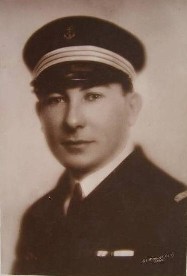 Capitain de Corvette Joseph Le Brix was a French naval officer. He had trained as a navigator, aerial observer and pilot. For his service in the Second Moroccan War, he was appointed to the Ordre national de la Légion d'honneur and awarded the Croix de Guerre. Like Costes, Le Brix was also awarded the Distinguished Flying Cross by the U.S. Congress.
The Breguet XIX GR ("GR" stands for Grand Raid) had been named Nungesser-Coli in honor of the two pilots who disappeared while attempting a crossing the Atlantic Ocean in the White Bird, 8 May 1927. It was developed from the Type XIX light bomber and reconnaissance airplane, which entered production in 1924. A single-engine, two-place biplane with tandem controls, it was primarily constructed of aluminum tubing, covered with sheet aluminum and fabric. The biplane was a "sesquiplane," meaning that the lower of the two wings was significantly smaller than the upper. Approximately 2,400 Breguet XIXs were built.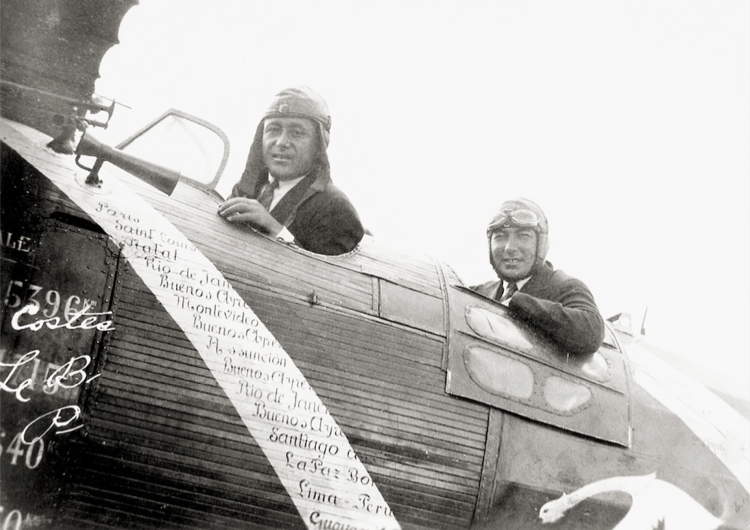 No. 1685 was a special long-distance variant, with a 2,900–3,000 liter fuel capacity (766–792 gallons). It was further modified to add 1 meter to the standard 14.83 meter (48 feet, 7.9 inches) wingspan, and the maximum fuel load was increased to 3,500 liters (925 gallons).
The original 590 horsepower Hispano-Suiza 12Hb engine was replaced with a more powerful Hispano-Suiza 12Lb. This was a water-cooled, normally-aspirated, 31.403-liter (1,916.33-cubic-inch-displacement) overhead valve 60° V-12 engine, with 2 valves per cylinder and a compression ratio of 6.2:1. The 12Lb produced 630 horsepower at 2,000 r.p.m., burning 85 octane gasoline. The engine was 1.850 meters (6 feet, 0.8 inches) long, 0.750 meters (2 feet, 5.5 inches) wide and 1.020 meters (3 feet, 4.2 inches) high. It weighed 440 kilograms (970 pounds).
The Breguet XIX had a speed of 214 kilometers per hour (133 miles per hour). Its service ceiling was 7,200 meters (23,620 feet).
© 2017, Bryan R. Swopes