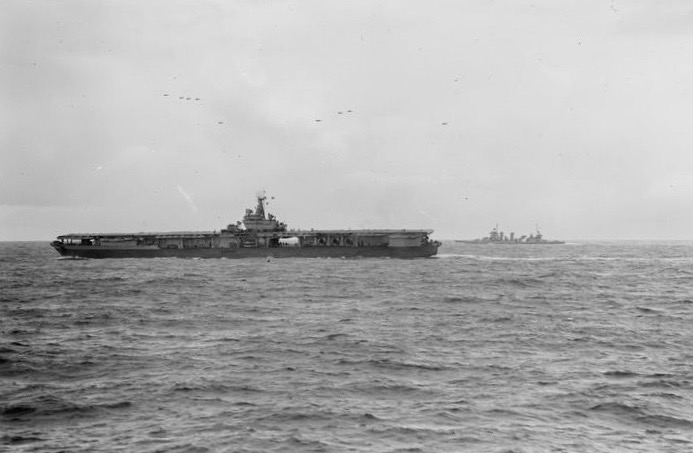 4 October 1943: In an effort to interrupt the supply of iron ore from Norway to the Third Reich, the Royal Navy and United States Navy staged Operation Leader. Task Force 121, a combined task force of two British battleships, two cruisers and nine destroyers, along with the American aircraft carrier USS Ranger (CV-4) and its escorts of a heavy cruiser and five destroyers, sortied from Scapa Flow on 2 October. The mission was to attack German convoys at the Norwegian sea port of Bodø.
By early morning, 4 October, the task force had arrived at a position in the Vestfjord Sea, about 100 miles west of the Norwegian coastline. At 0618, Ranger launched a strike force of 20 Douglas SBD-3 Dauntless dive bombers with an escort of 8 Grumman F4F Wildcat fighters. The airplanes flew at 50–100 feet (15–30 meters) above the water to avoid detection. The squadrons maintained total radio silence.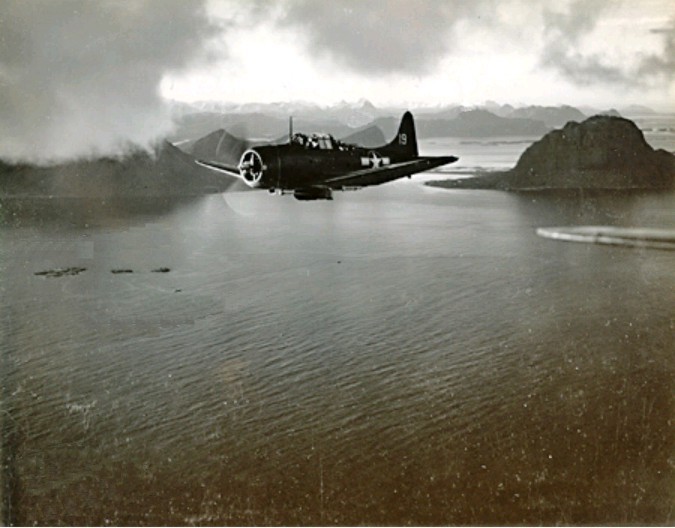 The air strike was undetected and sunk or severely damaged several ships.
A second air strike of 10 Grumman TBF Avenger torpedo bombers with 6 Wildcats followed. They damaged several more ships in the harbor.
This attack was the United States Navy's only aircraft carrier operation north of Arctic Circle during World War II.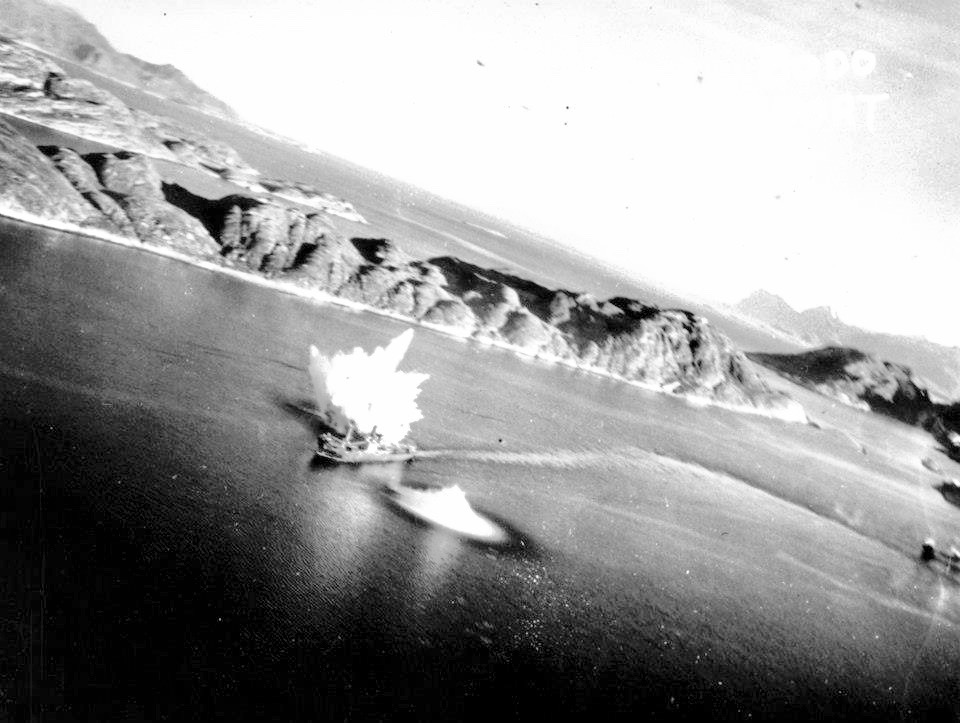 It was later determined that the steamship Rabat (2,719 tons) and the freighter Vaagen (687 tons) were sunk. The tanker Schleswig (10,762 tons), Topeka (4,991 tons) and the freighter La Plata (8,056 tons) were heavily damaged. La Plata was run aground to prevent its sinking, as was another ship, Kaguir (1,536 tons). A German troop transport, Skramstad, carrying more than 800 enemy soldiers, was damaged beyond repair. More than 200 soldiers were killed.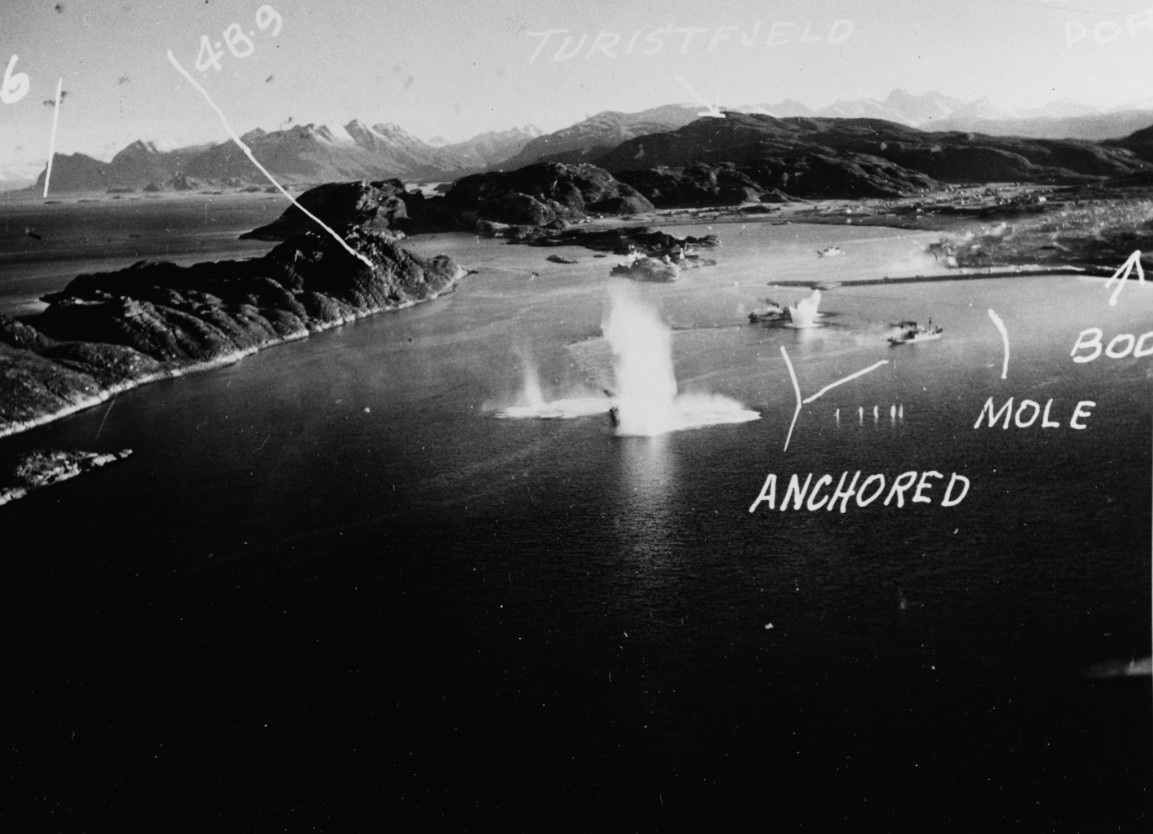 Strike force losses consisted of two SBD dive bombers and a TBF. Five airmen were killed, and the two survivors captured and held as Prisoners of War. One F4F, one TBF, and 4 SBDs were damaged. One airman was wounded.

Luftwaffe bombers counterattacked. A Junkers Ju 88D-1 and a Heinkel He 115B float plane were shot down by Ranger's Combat Air Patrol fighters.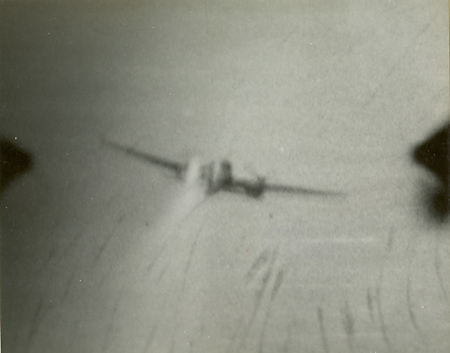 The Operation Leader task force retired and arrived back at Scapa Flow on 6 October.
© 2018, Bryan R. Swopes