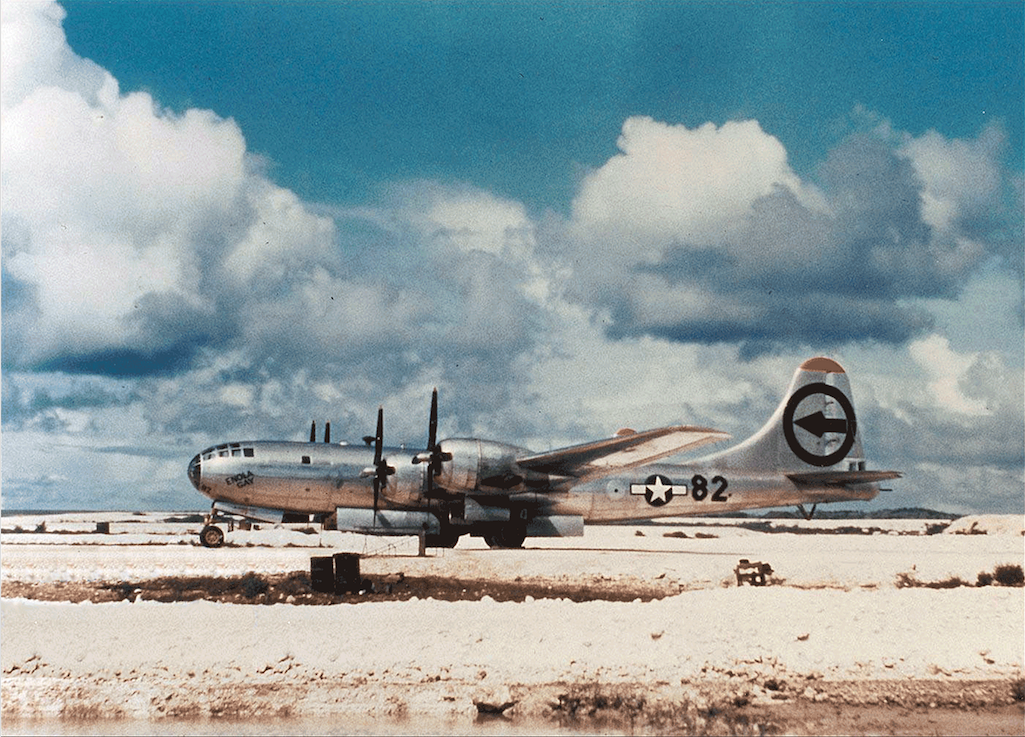 6 August 1945: At 0245 hours local time (1445 hours, 5 August, UTC), a four-engine, long range heavy bomber of the 509th Composite Group, United States Army Air Forces, took off from North Field on the island of Tinian in the Northern Mariana Islands, on the most secret combat mission of World War II.¹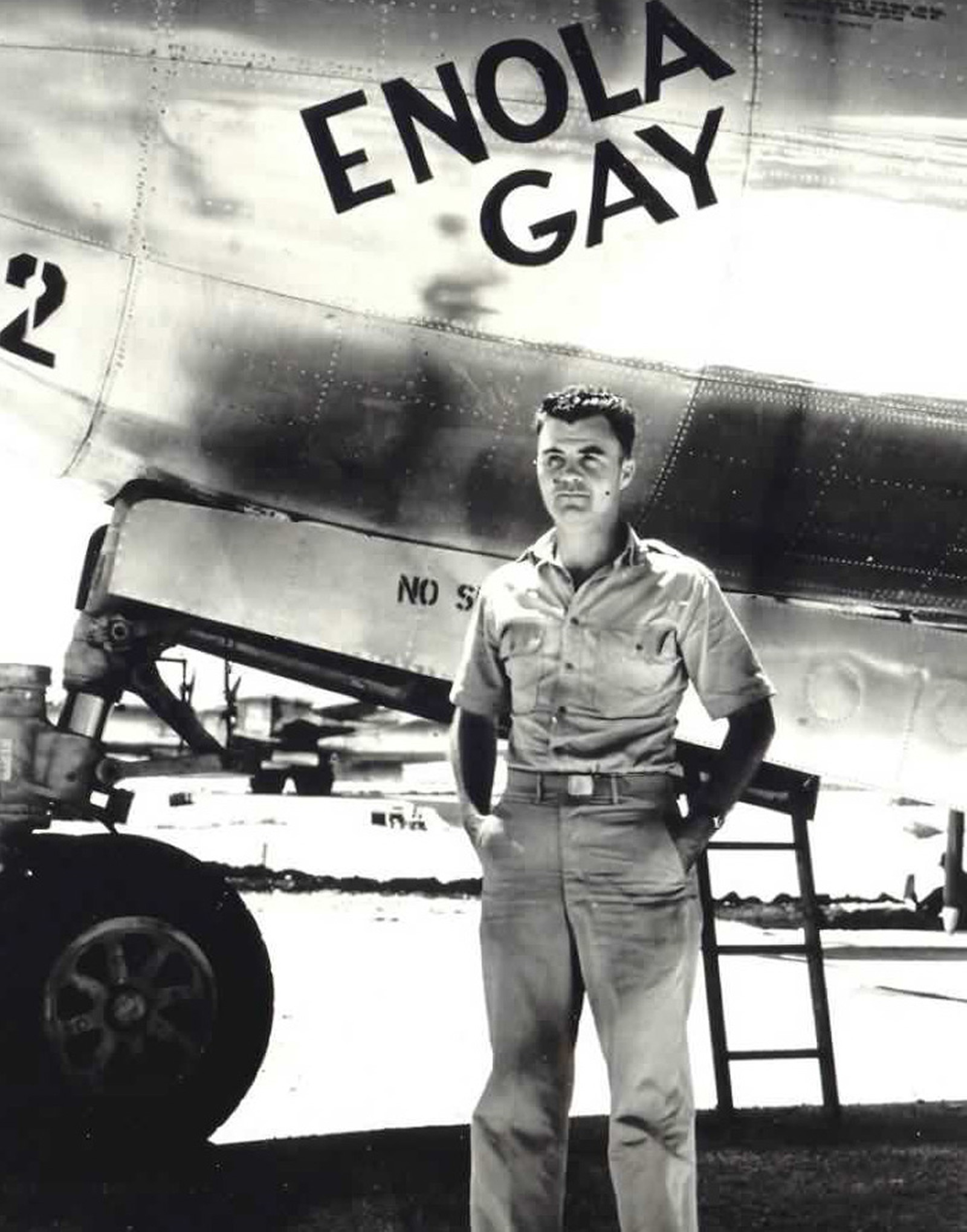 The Martin-Omaha B-29-45-MO Superfortress, 44-86292, under the command of Colonel Paul Warfield Tibbets, Jr.,² was carrying Bomb Unit L-11, the first nuclear weapon to be used during war. This was an 8,900-pound (4,037 kilogram) "gun type" fission bomb, the Mark I, code-named Little Boy. It contained 64.15 kilograms (141.42 pounds) of highly-enriched uranium. The bomb was 10 feet, 6 inches (3.2004 meters) long with a diameter of 2 feet, 4 inches (0.711 meters). The gun tube had a bore diameter of 165 millimeters (6.496 inches) and a length of 6 feet (1.8 meters). It weighed approximately 1,000 pounds (454 kilograms).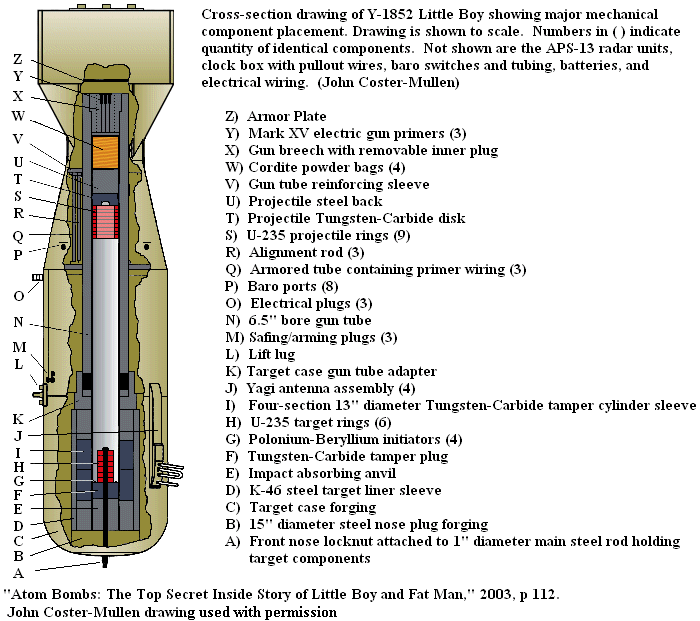 The gun fired a hollow uranium projectile, consisting of a stack of nine rings of varying thickness contained within a sheet metal can, and with a 4 inch (10.16 centimeters) inside diameter, against a cylindrical uranium target insert. The projectile was 7 inches (17.78 centimeters) long. The target insert consisted of a stack of six uranium rings with a 1 inch (2.54 centimeter) inside diameter, held in place by a steel rod through the center. It was also 7 inches long, and had an outside diameter of 4 inches. The projectile weighed 38.53 kilograms (84.94 pounds) and the target, 25.6 kilograms (56.44 pounds). When the projectile came in contact with the target, the two completed a "critical mass." A fission chain reaction resulted, releasing an incredible amount of energy.
Although it was considered to be a very inefficient weapon, it had such a reliable design that it had never been tested. Six Mark I bombs were built, but L-11 was the only one ever to be detonated.
On the morning before the mission, Colonel Tibbets had his mother's name painted on the nose of the airplane: Enola Gay. He had personally selected this bomber, serial number 44-86292, while he was visiting the Glenn L. Martin Company plant at Bellevue, Nebraska, 9 May 1945. An employee of the plant told him that the airplane had passed its acceptance tests with no faults of any kind. The B-29 was accepted by the Army Air Corps on 15 May and flown to the 509th's base at Wendover, Utah, by Captain Robert Alvin Lewis, a B-29 aircraft commander who would act as Tibbets' co-pilot on the atomic bombing mission.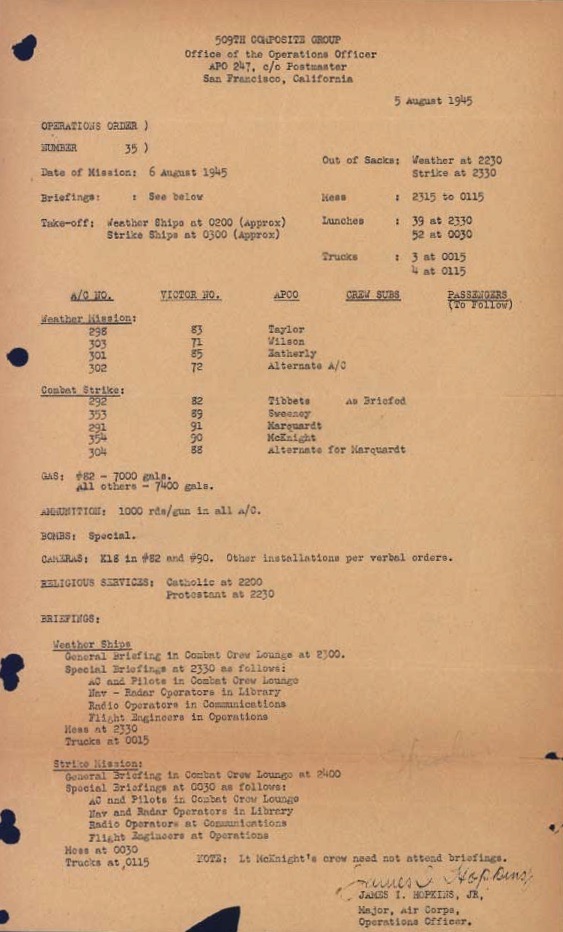 The B-29 Superfortress was designed by the Boeing Airplane Company as its Model 345. Produced in three versions, the B-29, B-29A and B-29B, it was built by Boeing at Renton, Washington, and Wichita, Kansas; by the Bell Aircraft Corporation at Marietta, Georgia; and the Glenn L. Martin Company at Fort Crook (now Offutt Air Force Base), Omaha, Nebraska. A total of 3,943 Superfortresses were built.
The B-29 was the most technologically advanced airplane built up to that time, and required an immense effort by American industry to produce.
The B-29 Superfortress was 99 feet, 0 inches (30.175 meters) long with a wingspan of 141 feet, 3 inches (43.053 meters) and an overall height of 27 feet, 9 inches (8.458 meters). The standard B-29 had an empty weight of 74,500 pounds (33,793 kilograms) and gross weight of 120,000 pounds (54.431 kilograms).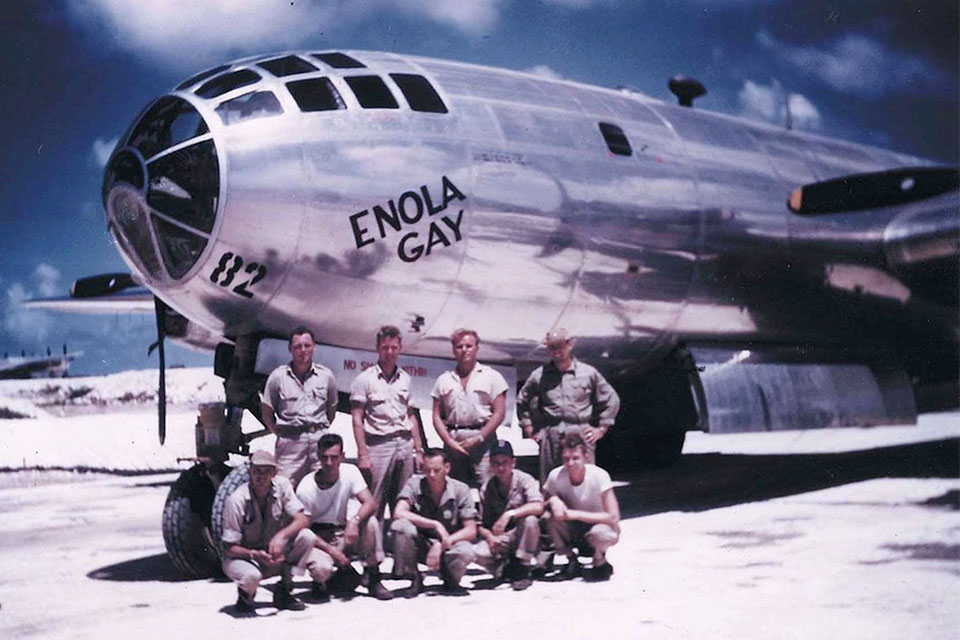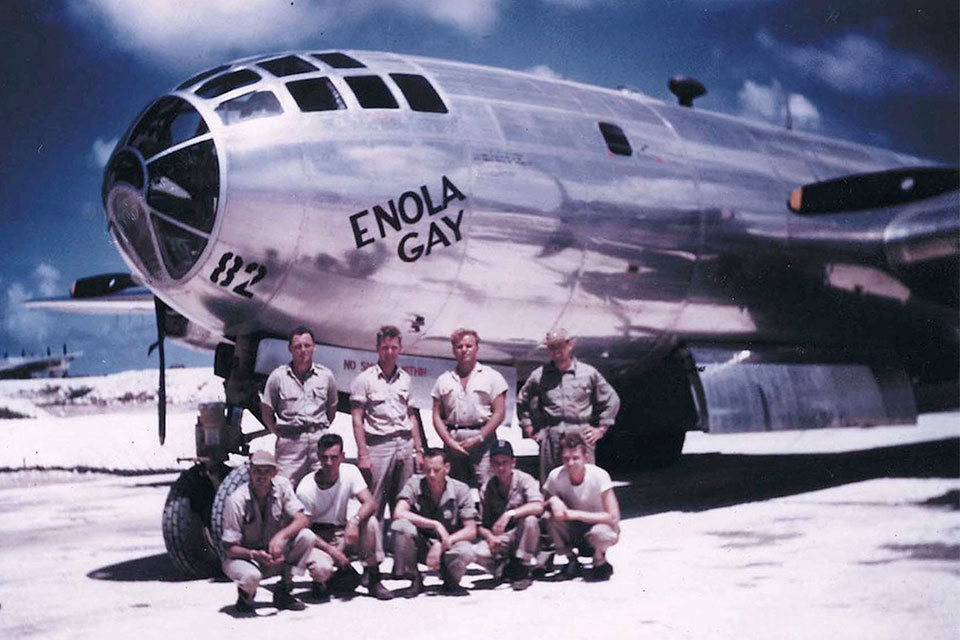 The 509th Composite Group was equipped with specially modified "Silverplate" B-29s, which differed from the standard production bombers in many ways. They were approximately 7,200 pounds (3,266 kilograms) lighter. The bombers carried no armor. Additional fuel tanks were installed in the rear bomb bay. The bomb bay doors were operated by quick-acting pneumatic systems. The bomb release mechanism in the forward bomb bay was replaced by a single-point release as was used in special Royal Air Force Avro Lancaster bombers. A weaponeer's control station was added to the cockpit to monitor the special bomb systems.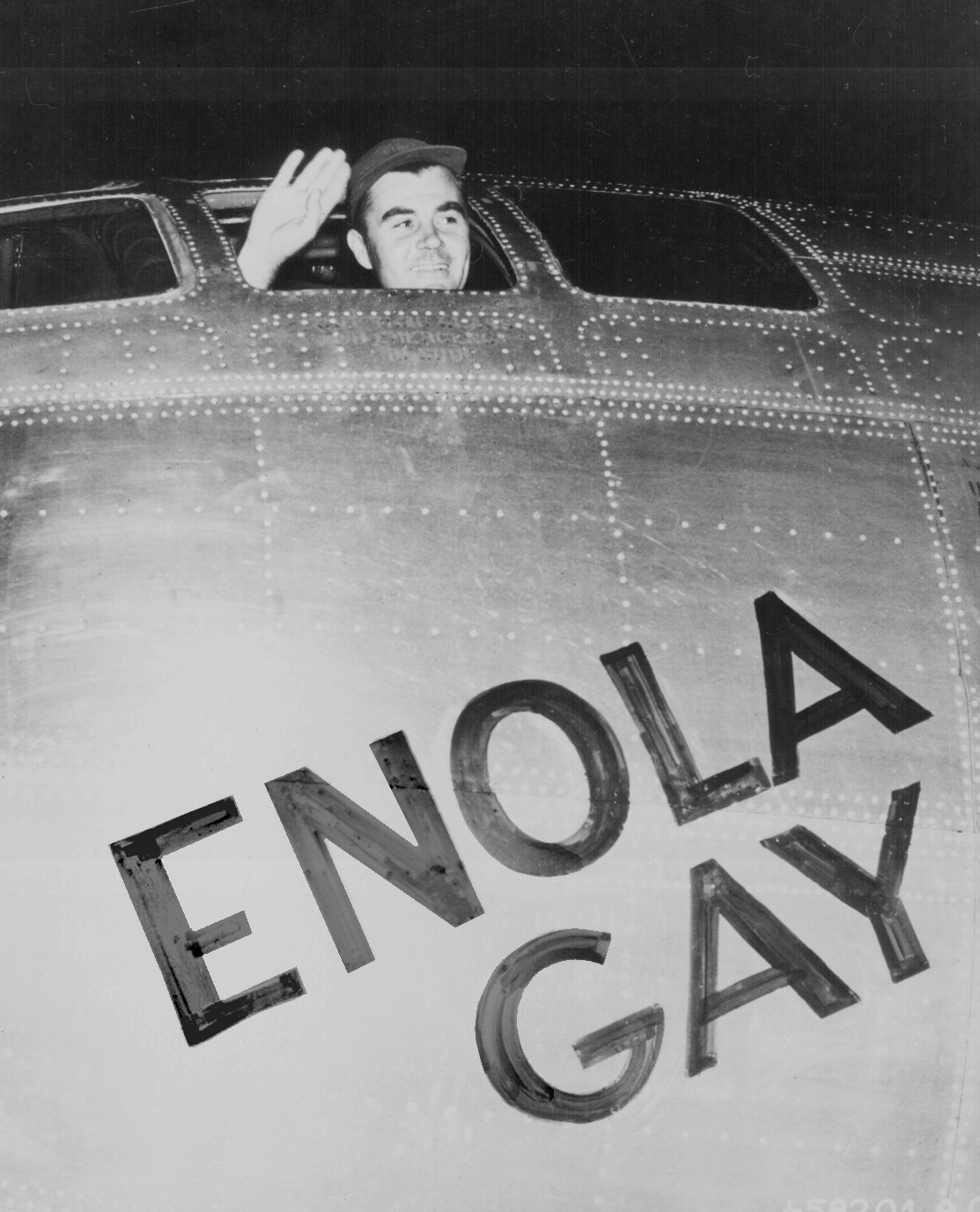 Enola Gay had four air-cooled, supercharged, 3,347.662-cubic-inch-displacement (54.858 liter) Wright Aeronautical Division R-3350-41 (Cyclone 18 787C18BA3) two-row 18-cylinder radial engines with direct fuel injection. The R-3350-41 had a compression ratio of 6.85:1 and required 100/130 aviation gasoline. It was rated at 2,000 horsepower at 2,400 r.p.m. at Sea Level, and 2,200 horsepower at 2,800 r.p.m, for take-off. The engines drove four-bladed Curtiss Electric reversible-pitch propellers with a diameter of 16 feet, 8 inches (5.080 meters), through a 0.35:1 gear reduction. The R-3350-41 was 6 feet, 2.26 inches (1.937 meters) long, 4 feet, 7.78 inches (1.417 meters) in diameter and weighed 2,725 pounds (1,236 kilograms).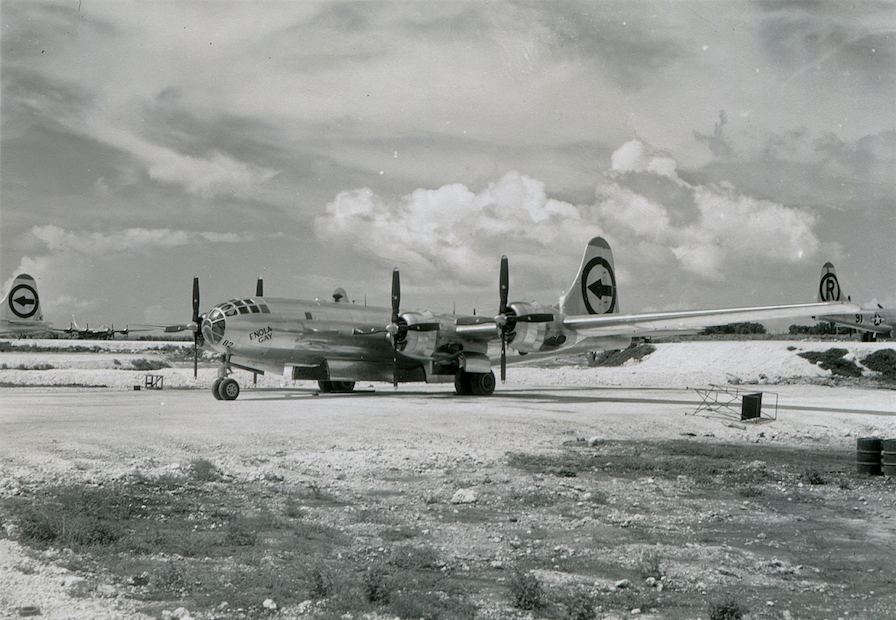 With the exception of the tail gunner's position, all defensive armament—four remotely-operated gun turrets with ten .50-caliber machine guns—were deleted. Their remote sighting positions were also removed. Enola Gay carried 1,000 rounds of ammunition for each of the two remaining Browning AN-M2 .50-caliber machine guns in the tail.
With these changes, the Silverplate B-29s could fly higher and faster than a standard B-29, and the new engines were more reliable. Enola Gay had a cruising speed of 220 miles per hour (354 kilometers per hour) and a maximum speed of 365 miles per hour (587 kilometers per hour). Its service ceiling was 31,850 feet (9,708 meters) and its combat radius was 2,900 miles (4,667 kilometers).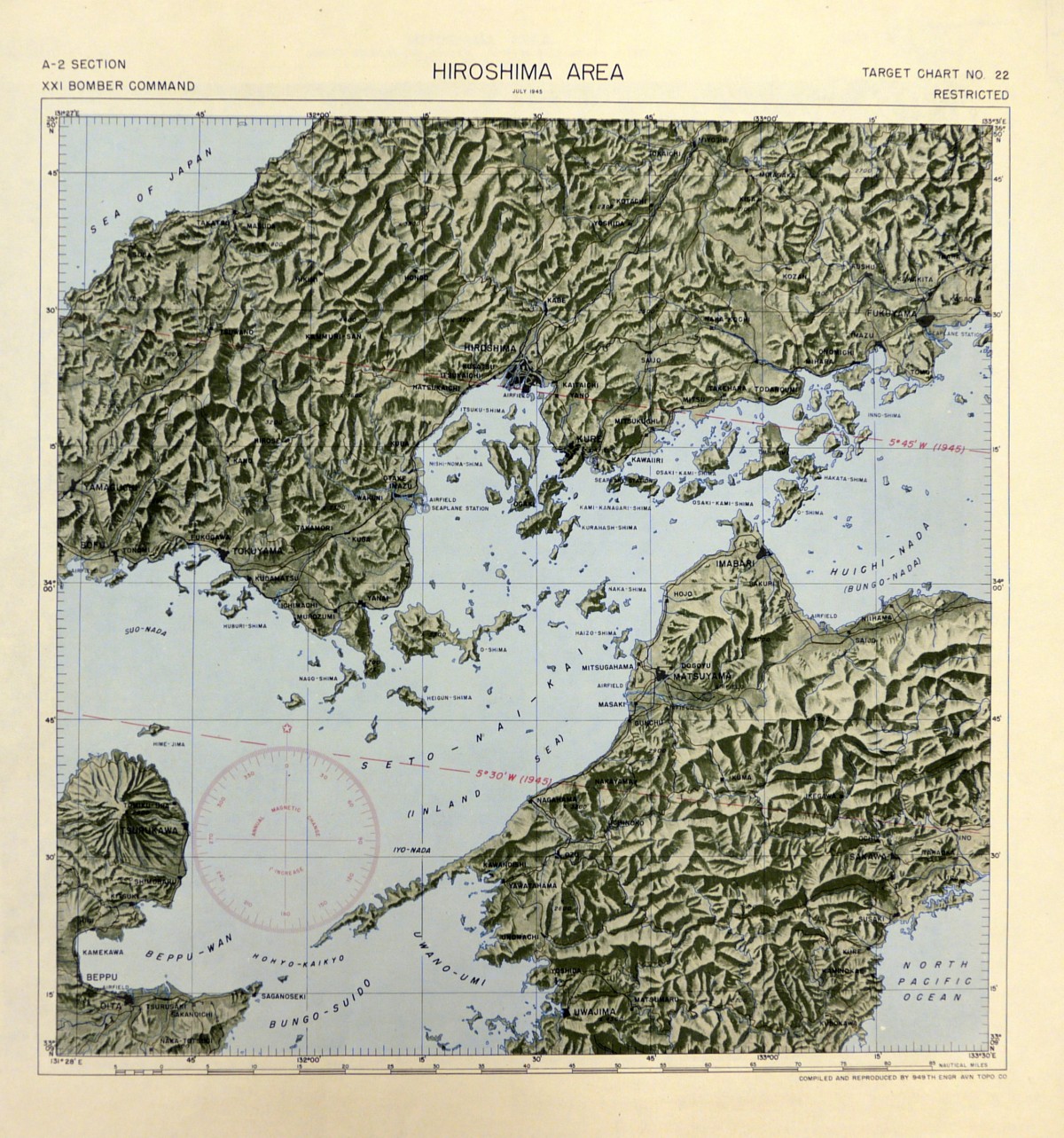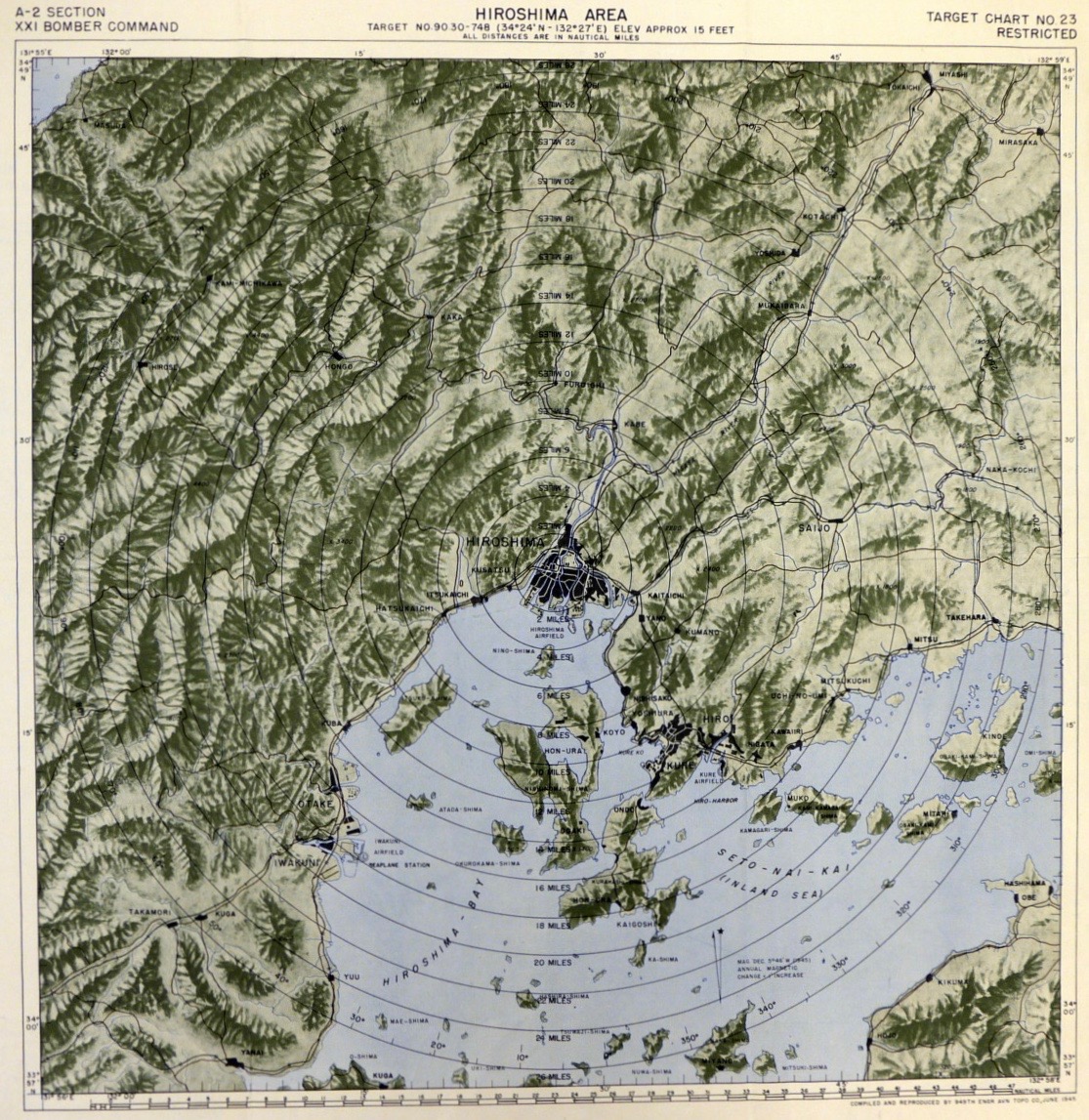 At 09:15:17 a.m., (mission time; 8:15 a.m., local; 2315, 5 August, UTC), Enola Gay, with a True Air Speed of 275 miles per hour (443 kilometers per hour), was at 30,060 feet (9,162 meters) ³ over the Japanese city of Hiroshima, an industrial center on the island of Honshu, with a population of about 340,000 people. The bombardier initiated the automatic release sequence and the the atomic bomb was dropped. It fell for 44.4 seconds and detonated at an altitude of 1,968 feet (600 meters), about 550 feet (168 meters) from the aiming point, the Aioi Bridge over the Ota River.
Immediately after the bomb was released, Colonel Tibbets put his B-29 into a 60° right bank and entered a 155° turn at full power. During the maneuver, which had been calculated to get the airplane as far away from the blast as possible, Enola Gay lost approximately 1,700 feet (518 meters) of altitude. When the bomb detonated, the bomber was about 11 miles (17.7 kilometers) away. Even at this distance, the shock wave struck the bomber with ". . . violent force. Our B-29 trembled under the impact and I gripped the controls tightly to keep us in level flight." ⁴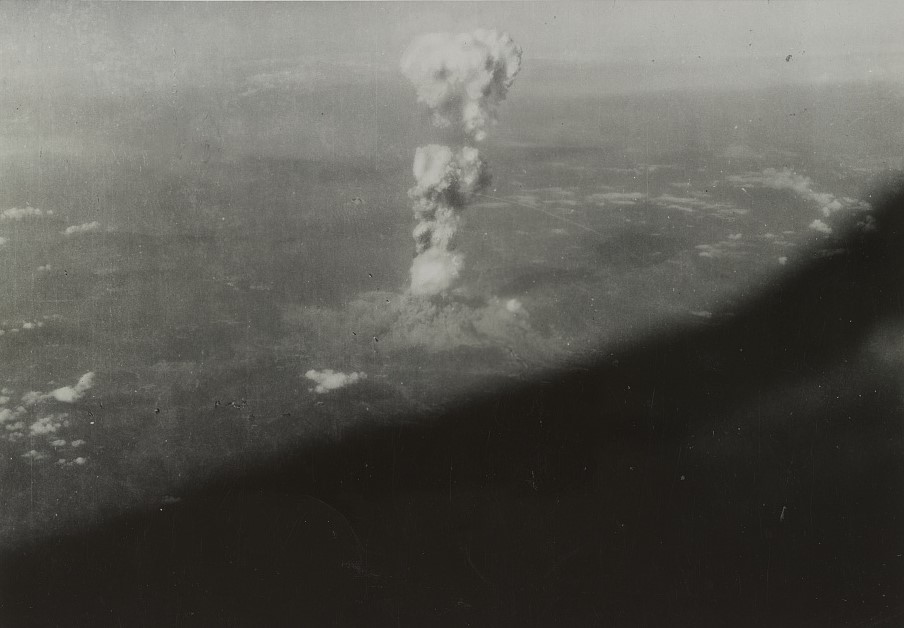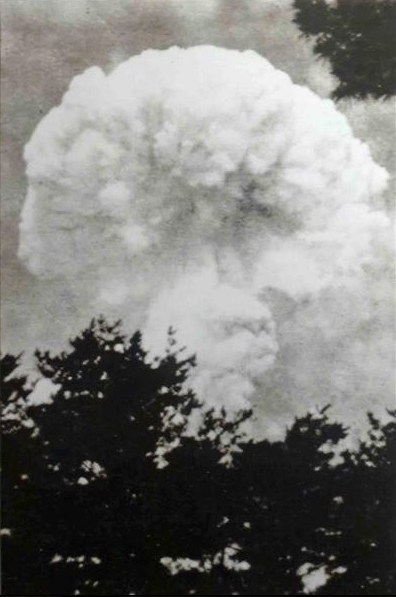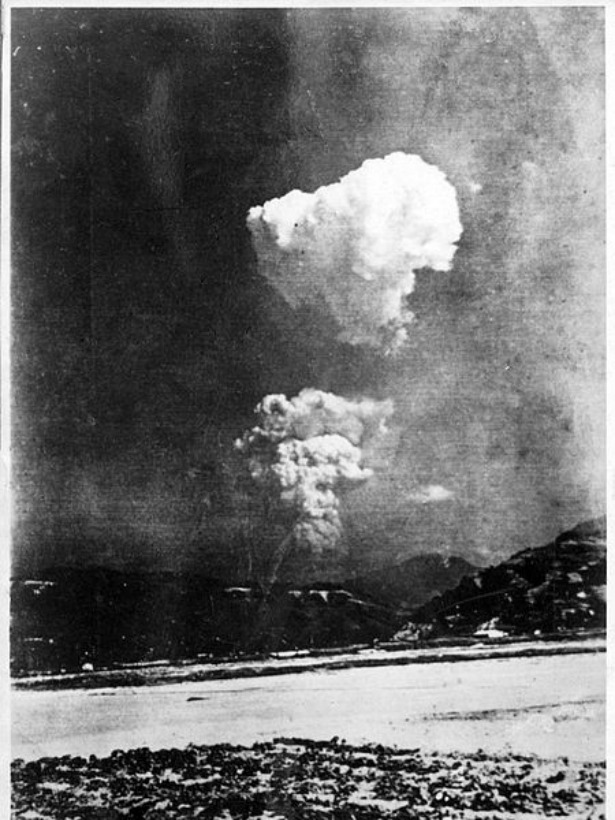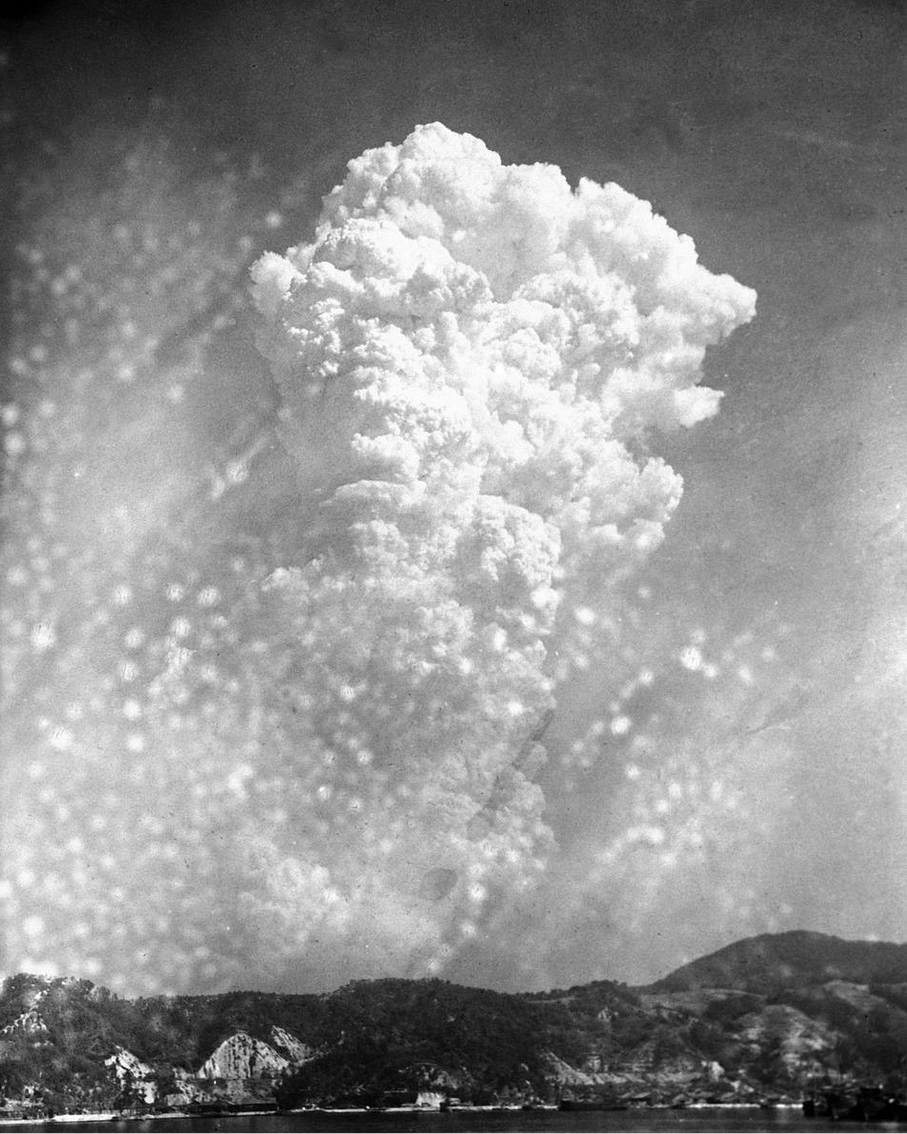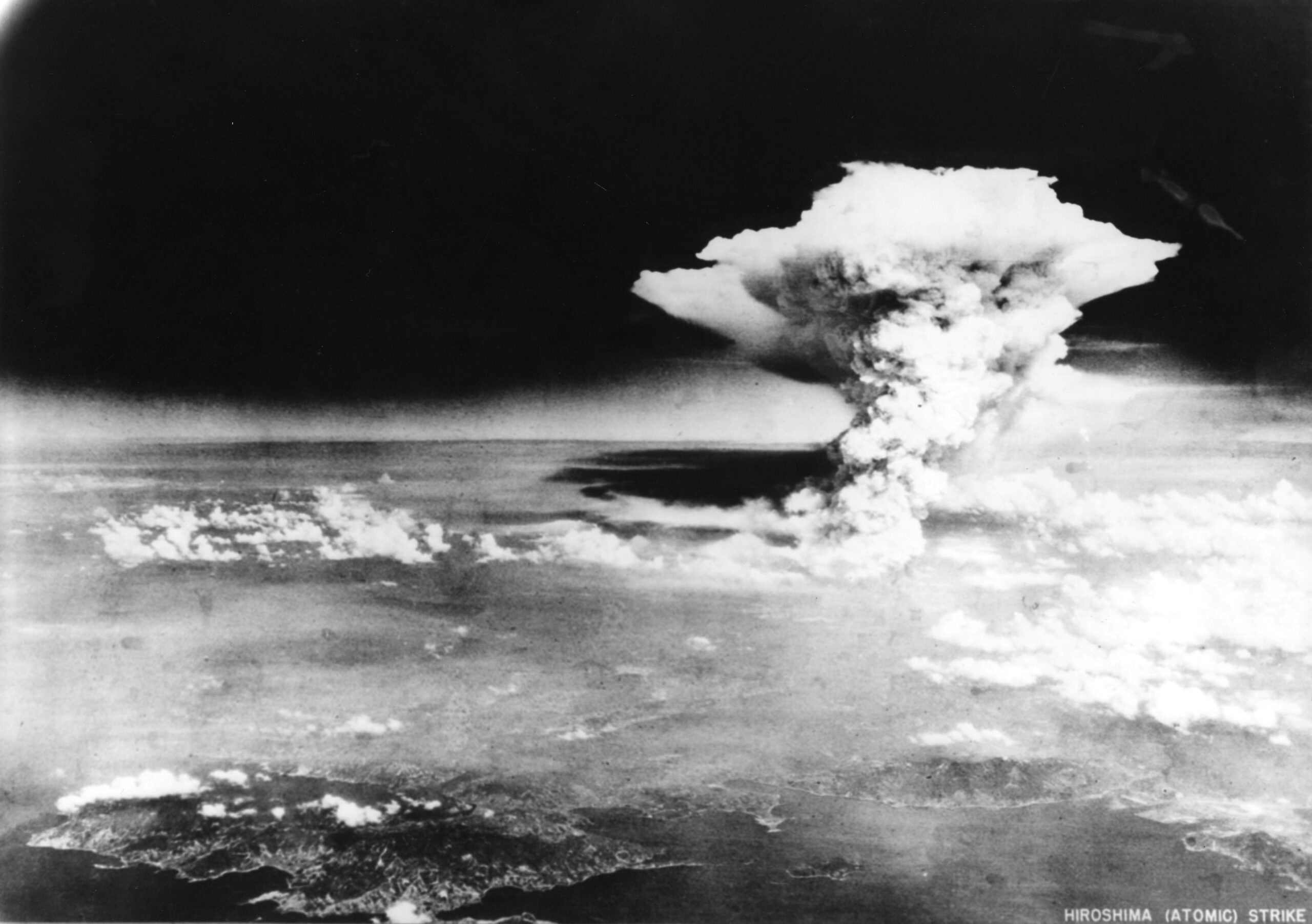 Ground Zero, the point on the surface directly below the explosion, was the Shima Hospital. The overpressure is estimated to have been 4.5–6.7 tons per square meter. The two-story brick building was completely obliterated. Of the patients, technicians, nurses and doctors inside, nothing remained.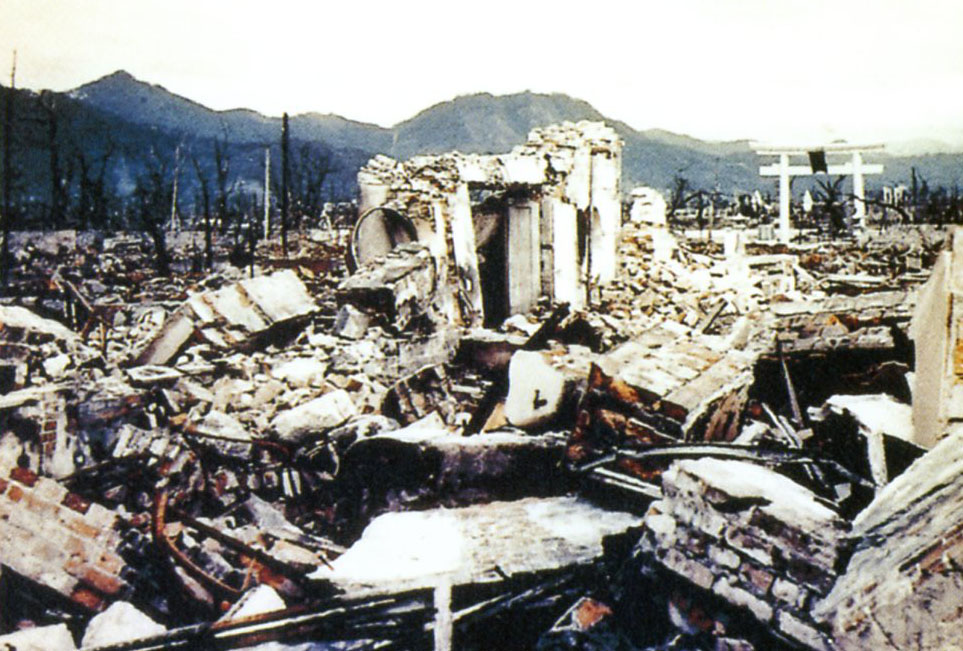 The resulting explosion was approximately equivalent in explosive force to the detonation of 16,000 tons (14,515 metric tons) of TNT (16 "kilotons"). An estimated 70,000 people were killed immediately, and another 70,000 were wounded. As many as 160,000 people may have died as a result of the atomic bombing by the end of 1945. More would follow over the next few years.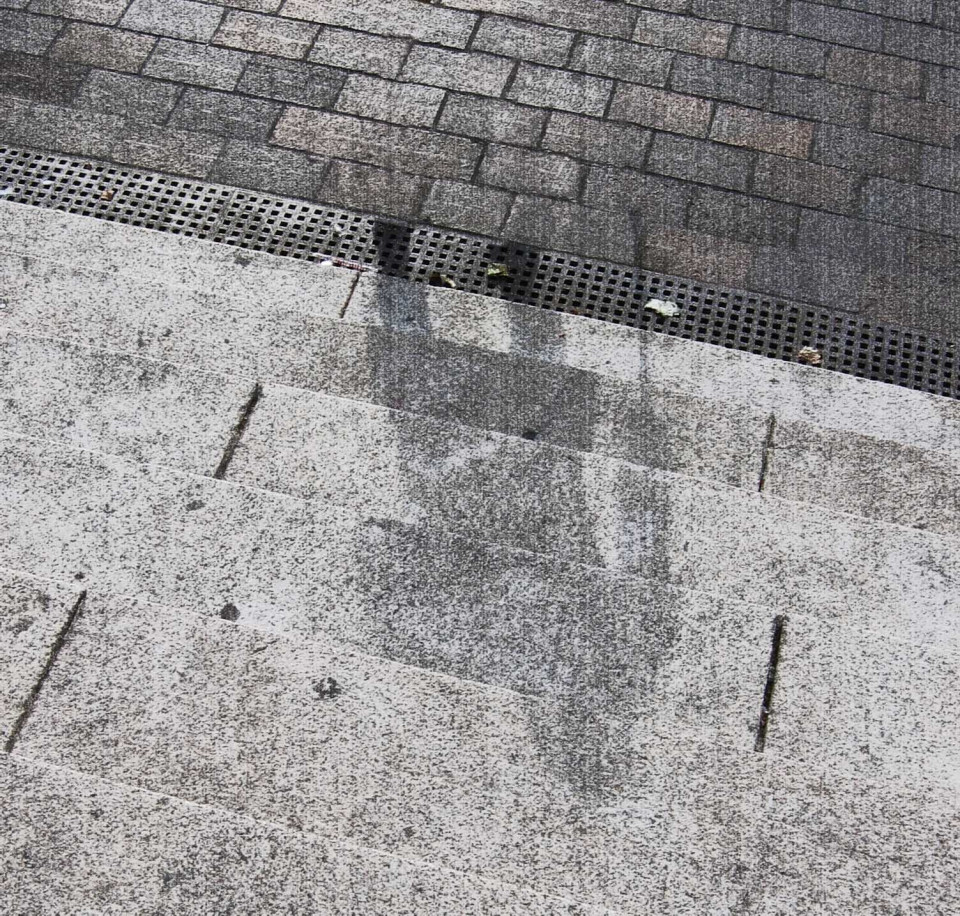 An area of the city with a radius of 1 mile (1.6 kilometers) from the point of detonation ("hypocenter") was totally destroyed, and combined with the fires that followed, 4.7 square miles (12.17 square kilometers) of the city were destroyed. 69% of all buildings in Hiroshima were completely destroyed and another 6% damaged.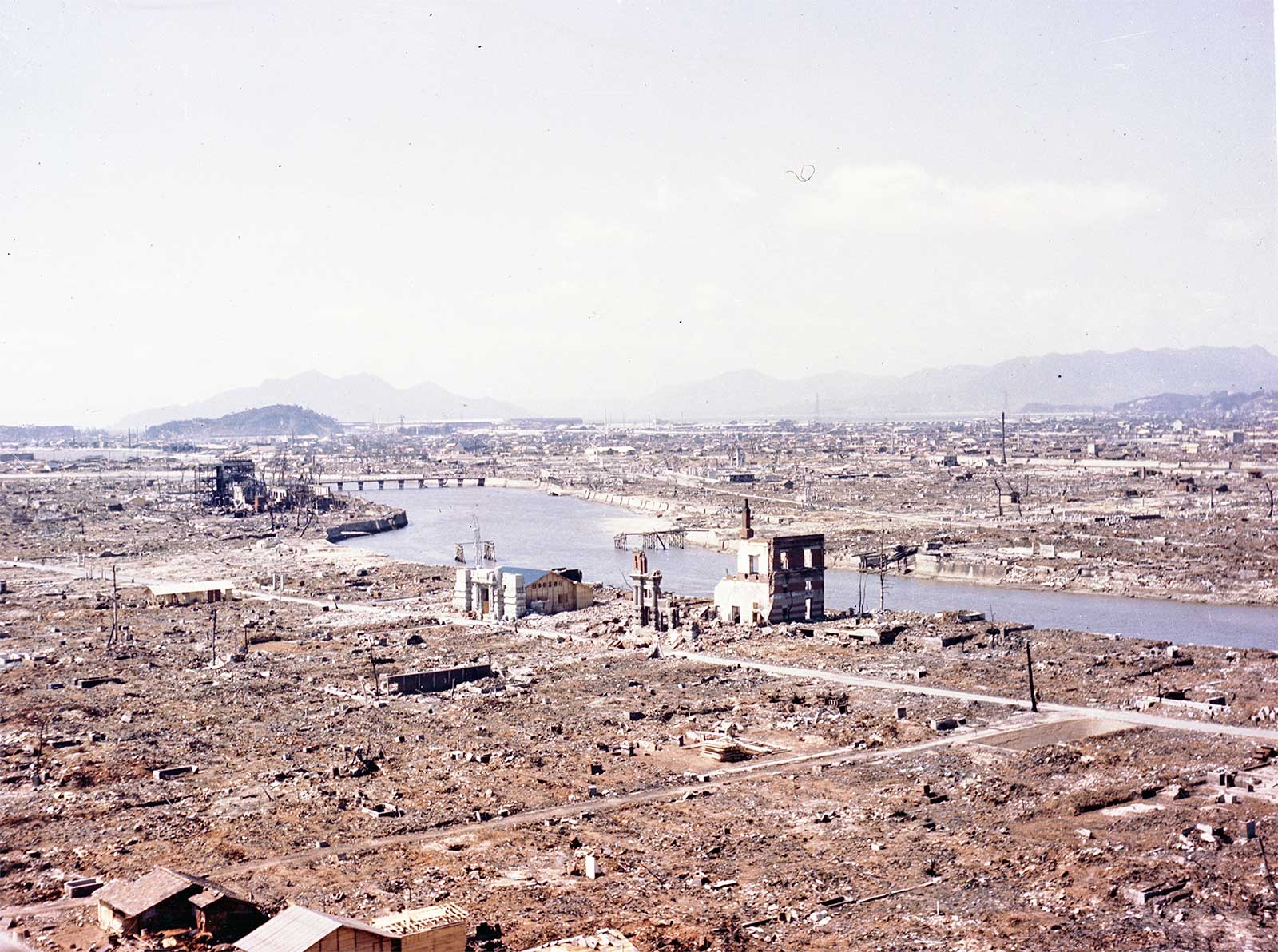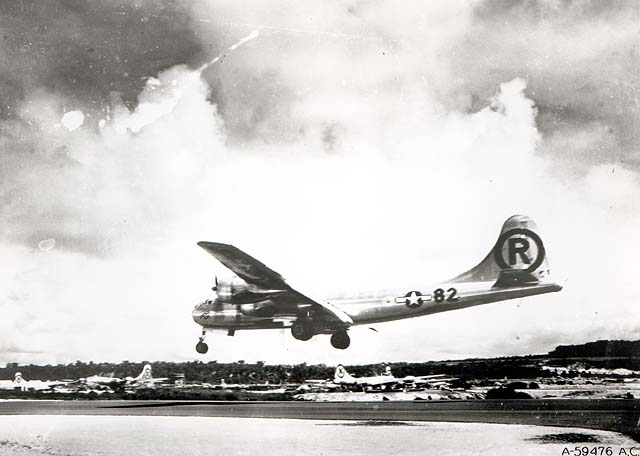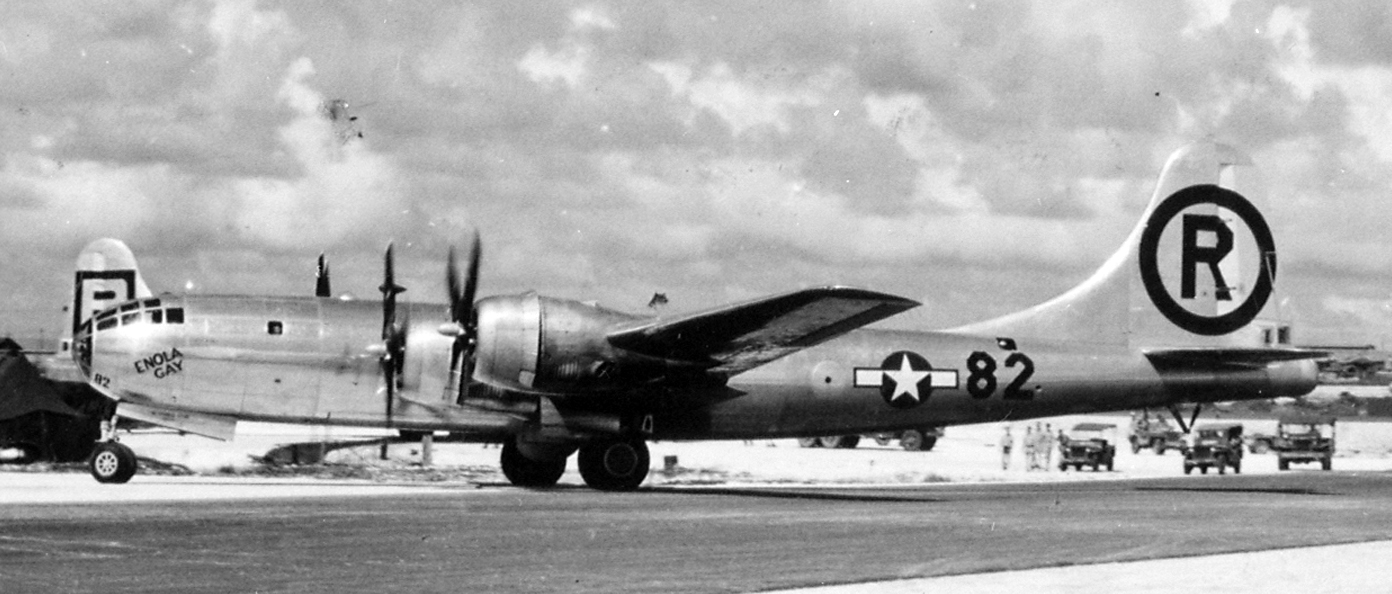 The bomber was then flown back to Tinian, landing at 1458, after an elapsed time of 12 hours, 13 minutes.
Enola Gay participated in Operation Crossroads, the nuclear weapons test at Bikini Atoll in July 1946. It was transferred to the Smithsonian Institution 30 August 1946 and placed in storage at Davis-Monthan Army Air Field, Tucson, Arizona, 1 September 1946. For decades it sat in storage at different locations around the country, but finally a total restoration was performed. Today, the B-29 is on display at the Steven F. Udvar-Hazy Center, National Air and Space Museum.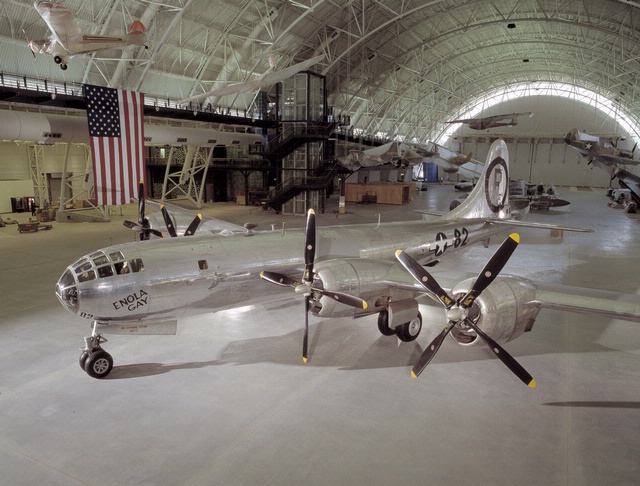 ¹ The Hiroshima mission was originally planned for 1 August 1945, but an approaching typhoon caused it to be delayed.
² The other crew members of Enola Gay on 6 August 1945 were Captain Robert Alvin Lewis, co-pilot; Captain Theodore Jerome ("Dutch") Van Kirk, navigator; Major Thomas Wilson Ferebee, bombardier; Staff Sergeant Wyatt Edwin Duzenbury, flight engineer; Sergeant Robert H. Shumard, assistant flight engineer; Sergeant Joseph Anton Stiborik, radar operator; Private 1st Class Richard H. Nelson, radio operator; Staff Sergeant George Robert Caron, tail gunner. The weaponeer and mission commander was Captain William Sterling ("Deke") Parsons, United States Navy. 2nd Lieutenant Morris Richard Jeppson was Parsons' assistant weaponeer. The radar countermeasures officer was 1st Lieutenant Jacob Beser. (Lieutenant Beser also flew aboard Bock's Car on the Nagasaki mission, 9 August 1945.)
³ Airspeed and altitude from the escape diagram prepared by navigator Captain Theodore J. Van Kirk.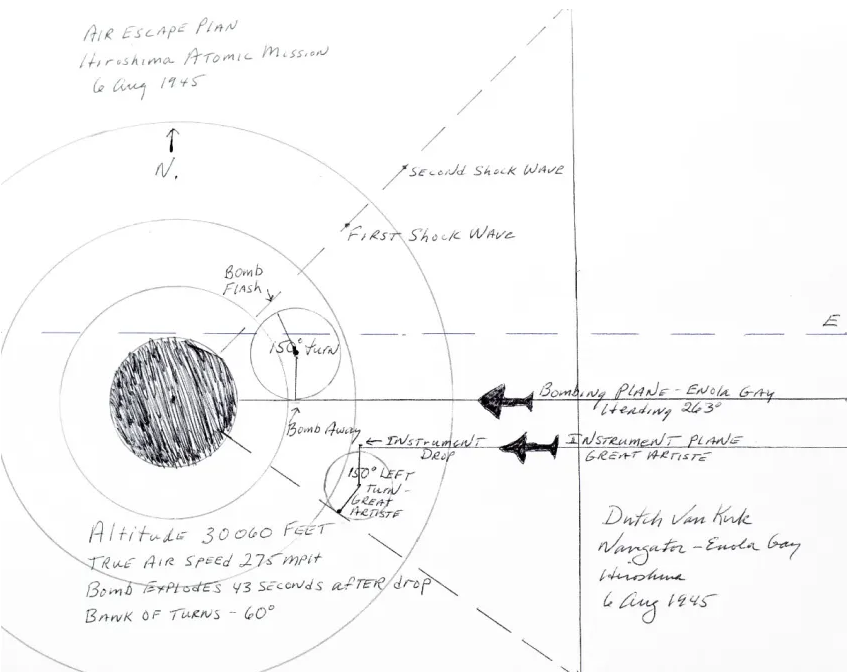 ⁴ Colonel Tibbets, quoted in Return of the Enola Gay,  by Paul Tibbets, Mid Coast Marketing, 1998.
© 2023, Bryan R. Swopes