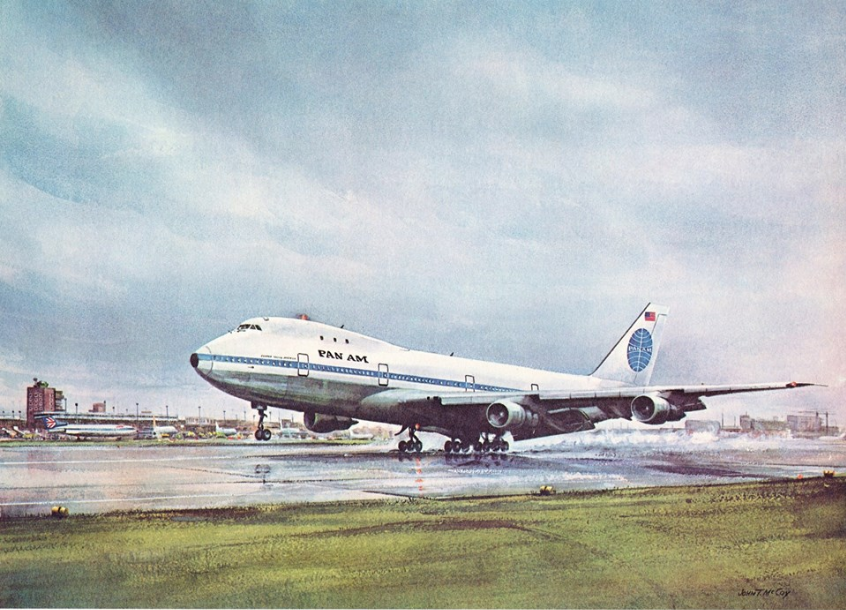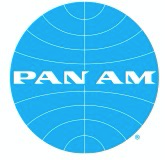 22 January 1970: Captain Robert M. Weeks, Captain John Noland and Flight Engineer August ("Mac") McKinney flew the Pan American World Airways Boeing 747-121, N736PA, Clipper Young America, from New York to London on a 6 hour, 14 minute inaugural passenger-carrying flight of the new wide-body jet. Aboard were a cabin crew of 17 and 332 passengers.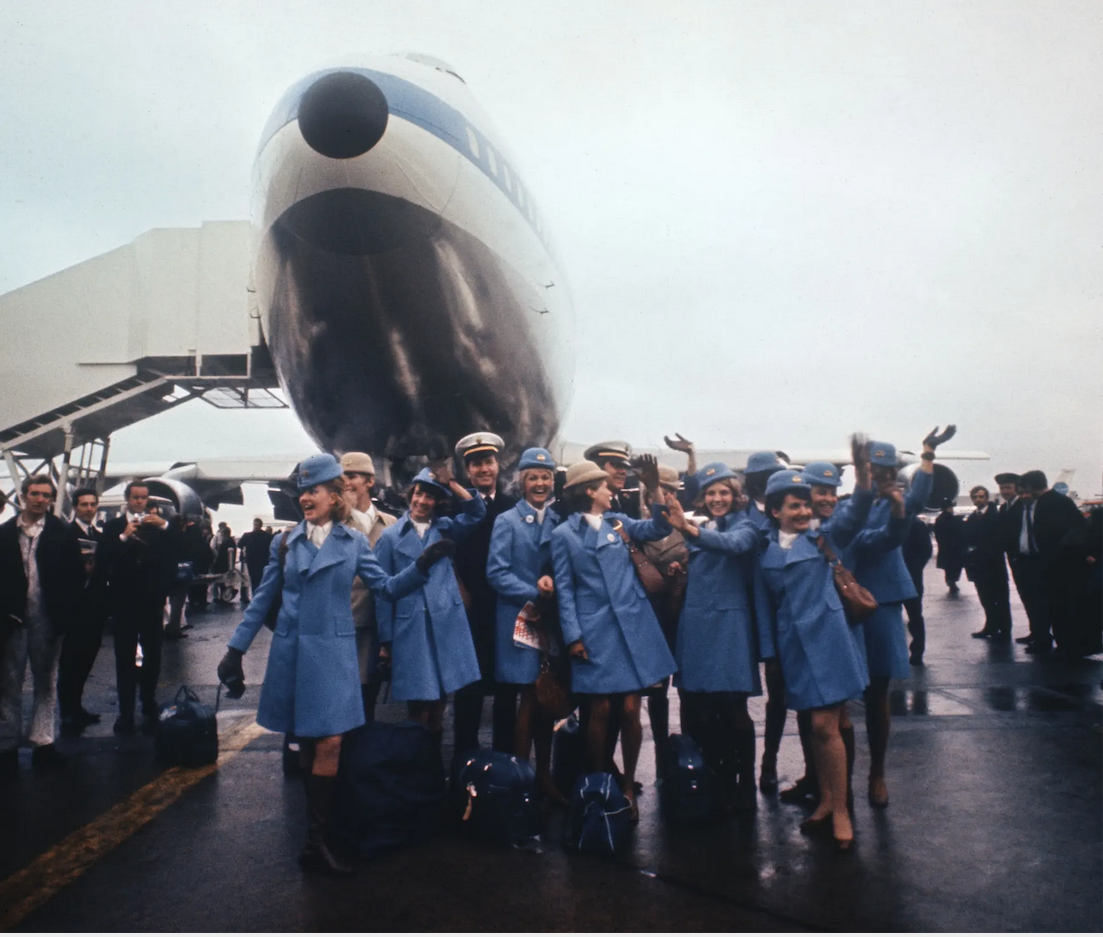 The Associated Press reported:
The 747 Age Is Here

     LONDON (AP)—A Boeing 747 jetliner arrived in London from New York today on the maiden transatlantic commercial jumbo jet flight.
     An overheated engine grounded the original aircraft and a substitute called Young America left New York at 1:52 a.m. EST, nearly seven hours after the scheduled departure time. The jet, carrying 332 passengers and 20 crew, touched down at London's Heathrow Airport at 8:06 a.m. EST.
     London Airport services were geared to deal as quickly as possible with the passengers and 30,000 pounds of baggage and cargo aboard the Pan American World Airways jumbo.
     SOME PASSENGERS booked on the return flight to New York switched to other aircraft because of today's delays, but a Pan Am spokesman said most of the passengers were waiting for the Jumbo.
     The [sic] included actress Raquel Welch, who has been making a television spectacular in London.
     The Boeing took 6 hours 15 minutes on the Atlantic flight. The pilot was Capt. Robert M. Weeks, 49, a veteran of 28 years with Pan Am who has logged more than 15,000 hours on Pan Am routes.
     THE AIRCRAFT drew up at stand 1-29 on Heathrow's Pier Five at 8:10 a.m., and passengers began disembarking four minutes later.
     One of the passengers, Mrs. Joe Tepera of Fort Worth Tex., told newsmen: "The flight was simply great. Flying in a beautiful plane like that was worth the delay.
     "All the passengers were good humored and when the plane finally took off they applauded. They did the same when it landed. I personally would not hesitate flying in a jumbo again."

     Michael J. Flynn of Chicago said: "The delay didn't bother me much. We were given a first class meal. It's a good plane."
     BUT ONE PASSENGER, who declined to be named, said he was annoyed at the service aboard the jumbo and the delay caused by switching planes in New York.
     "The plane is simply too big for anyone to be given proper service," he said.
     Michael Brody, 21-year-old American who claims he wants to give away his multimillion-dollar fortune, was among the passengers.
     "I am here for a rest. I am not going to give away any more money in Britain," he told newsmen.
     A Pan Am spokesman said the jumbo had been rechristened Young America in New York for the historic flight, but the aircraft carried the name Clipper Victor on its fuselage on arrival here.
     THE HUGE PLANE made most of the smooth flight at 33,000 feet.
     Richard Hobson, air correspondent of the British Press Association, who traveled on the jumbo, said: "From my position in one of the economy sections of the 747 where the seating is nine-abreast, divided by two aisles, was like being in a news theater. A film show—and the plane is equipped for them—would have completed the illusion."
     Pan Am has received five of the 33 jumbos ordered. Trans World Airlines plans to start jumbo service in March and British Overseas Airways Corp. will receive the first of 12 jumbos early in April and hopes to get them in service in June.
     A British Airport Authority spokesman reported the first passenger cleared all baggage and airport formalities 34 minutes after the jet touched down.
     "IT DOESN'T LOOK bad at all," he said.
     The spokesman gave this breakdown on times for clearing the jumbo's passengers:
Time arrive 8:06 a.m. EST.
Doors open: 8:19.
First passenger off plane: 8:20
Last passenger off plane: 8:32.
First passenger into baggage hall: 8:34.
Last passenger into baggage hall: 8:57.
First passenger into immigration: 8: …
Last passenger out of immigration: 8:39.
First passenger into customs: 8:25.
Last passenger out of customs: 9:04.
First passenger to clear airport: 8:46.
Last passenger to clear airport: 9:05.
     Six Pan Am buses took the passengers into London.
—Honolulu Star-Bulletin, Vol. 59, No. 22, 22 Jan 1970, Page D-16, Columns 1–8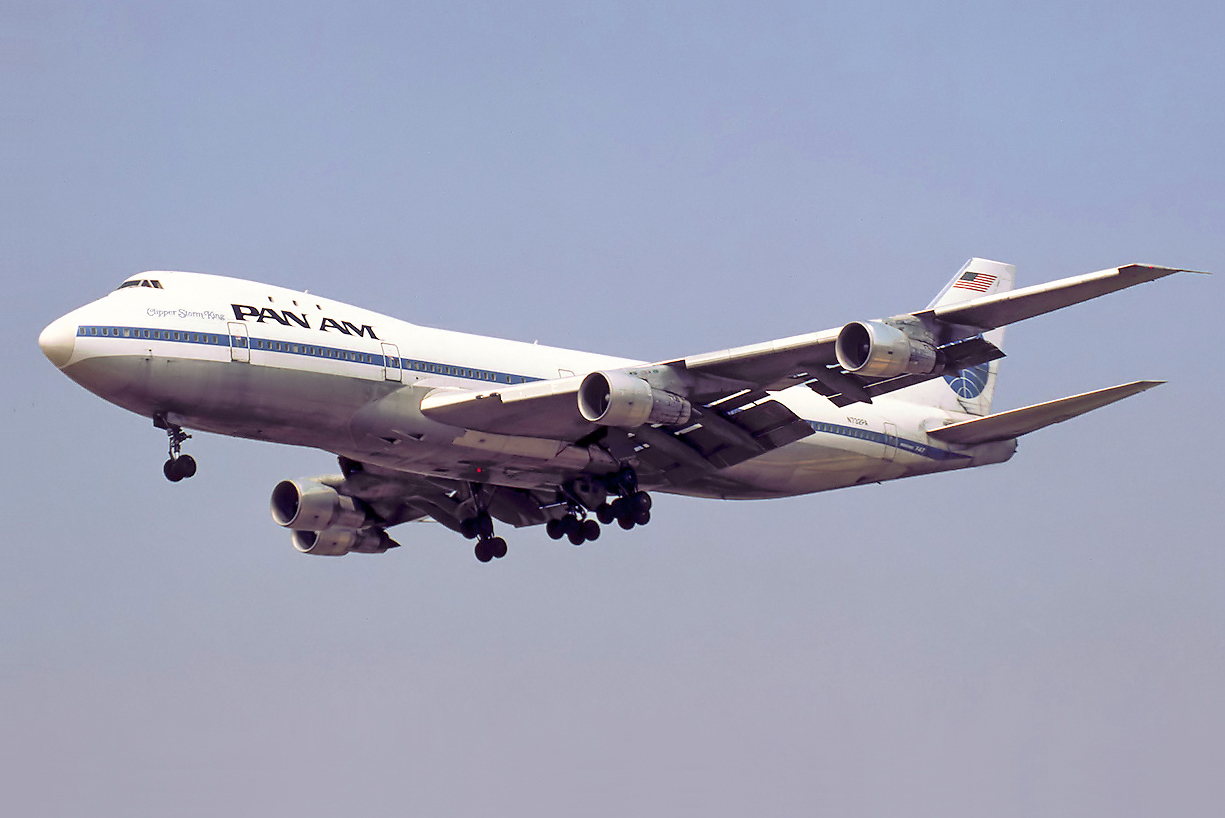 The 747-100 series was the first version of the Boeing 747 to be built. It was operated by a flight crew of three and was designed to carry 366 to 452 passengers. It is 231 feet, 10.2 inches (70.668 meters) long with a wingspan of 195 feet, 8 inches (59.639 meters) and overall height of 63 feet, 5 inches (19.329 meters). The interior cabin width is 20 feet (6.096 meters), giving it the name "wide body." Its empty weight is 370,816 pounds (168,199 kilograms) and the Maximum Takeoff Weight (MTOW) is 735,000 pounds (333,390 kilograms).
The 747-100 is powered by four Pratt & Whitney JT9D-7A high-bypass ratio turbofan engines. The JT9D is a two-spool, axial-flow turbofan engine with a single-stage fan section, 14-stage compressor (11 high- and 3 low-pressure stages) and 6-stage turbine (2 high- and 4 low-pressure stages). The engine is rated at 46,950 pounds of thrust (208.844 kilonewtons), or 48,570 pounds (216.050 kilonewtons) with water injection (2½-minute limit). This engine has a maximum diameter of 7 feet, 11.6 inches (2.428 meters), is 12 feet, 10.2 inches (3.917 meters) long and weighs 8,850 pounds (4,014 kilograms).
The 747's cruise speed is 0.84 Mach (555 miles per hour, 893 kilometers per hour) at 35,000 feet (10,668 meters) and it's maximum speed is 0.89 Mach (588 miles per hour/946 kilometers per hour). The maximum range at MTOW is 6,100 miles (9,817 kilometers).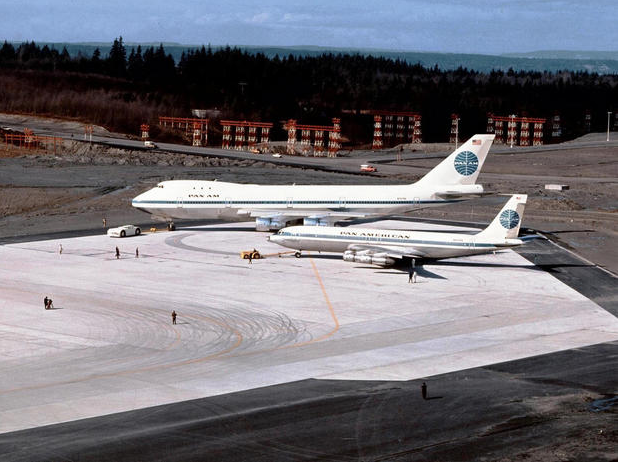 N736PA had initially been named Clipper Victor, but the name was changed to Clipper Young America for the inaugural New York to London flight when the 747 scheduled to make that flight—Clipper Young America—suffered mechanical problems. The 747 was hijacked on 2 August 1970 and flown to Cuba. After that incident, N736PA was renamed Clipper Victor — its original name. It was destroyed in a collision with another Boeing 747 at Tenerife, Canary Islands, 27 March, 1977.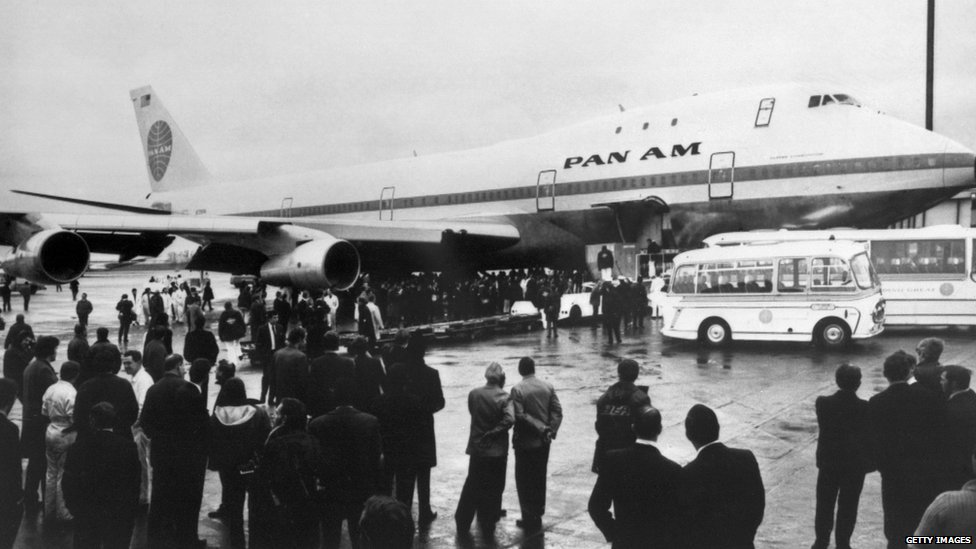 The 747 has been in production for 53 years. As of January 2022, 1,569 747s of all models had been built. 205 of these were 747-100 series aircraft. On 12 January 2021, Boeing announced that the final 747s, four Boeing 747-8F freighters, had been ordered by Atlas Air Worldwide Holdings, Inc. The final Boeing 747, N862GT, was rolled out of the factory on 3 October 2022. The production of the "jumbo jet" has come to a close.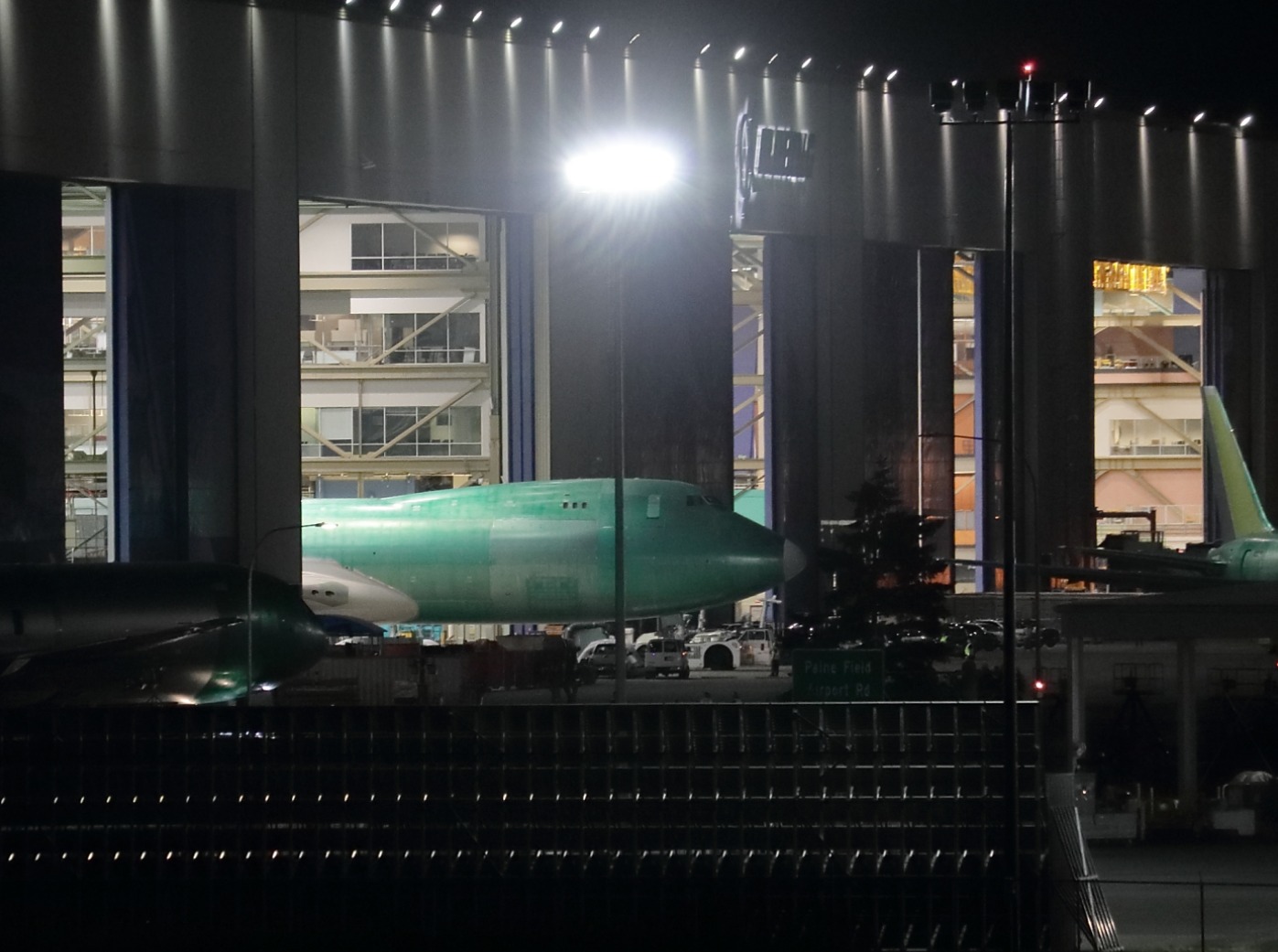 © 2023, Bryan R. Swopes