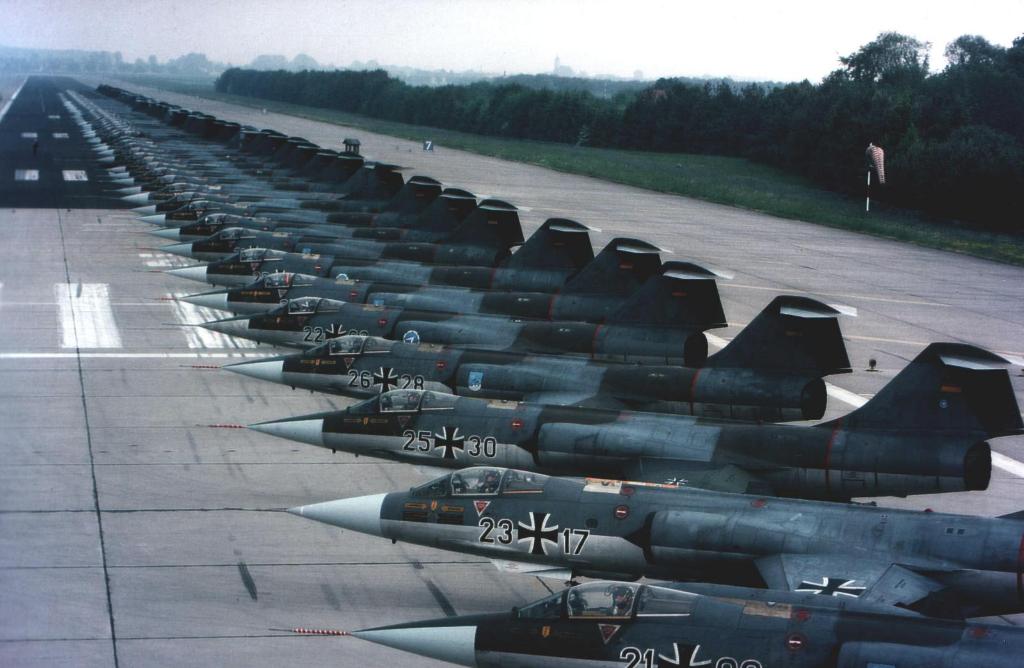 22 May 1991: After nearly 30 years in service with West Germany, the F-104 Starfighter made its last flight before retirement. The Luftwaffe was the largest single operator of the Lockheed F-104 with nearly 35% of the total worldwide production in West German service. 915 F-104F two-place trainers and F-104G fighter-bombers were built, with most going to the Luftwaffe, but 151 were assigned to the West German Navy.

Designed by the legendary Kelly Johnson as a Mach 2 interceptor, the Starfighter was used as a fighter bomber by Germany. The F-104G was most-produced version of the Lockheed Starfighter. It had a strengthened fuselage and wings, with hardpoints for carrying bombs, missiles and additional fuel tanks. Built by Lockheed, they were also licensed for production by Canadair, Dornier, Fiat, Fokker, Messerschmitt and SABCA.
The F-104G is a single-seat, single engine fighter bomber, 58.26 feet (17.758 meters) long with a wingspan of just 21.94 feet (6.687 meters) and overall height of 13.49 feet (4.112 meters). The empty weight is 14,000 pounds (6,350.3 kilograms) and loaded weight is 20,640 pounds (9,362.2 kilograms).
The F-104G was powered by a General Electric J79-GE-11A engine, a single-spool, axial-flow, afterburning turbojet, which used a 17-stage compressor section and 3-stage turbine. The J79-GE-11A is rated at 10,000 pounds of thrust (44.48 kilonewtons), and 15,800 pounds (70.28 kilonewtons) with afterburner. The engine is 17 feet, 4.0 inches (5.283 meters) long, 3 feet, 2.3 inches (0.973 meters) in diameter, and weighed 3,560 pounds (1,615 kilograms).
The maximum speed is 1,328 miles per hour (2,137.2 kilometers per hour). It has a combat radius of 420 miles (675.9 kilometers) or a ferry range of 1,630 miles (2,623.2 kilometers). The service ceiling is 50,000 feet (15,240 meters).
The Starfighter's standard armament consists of a 20 mm General Electric M61A1 Vulcan 6-barreled Gatling gun, with 750 rounds of ammunition, and up to four AIM-9 Sidewinder air-to-air heat seeking missiles could be carried on the wingtips or under wing pylons. In place of missiles two wingtip fuel tanks and another two underwing tanks could be carried.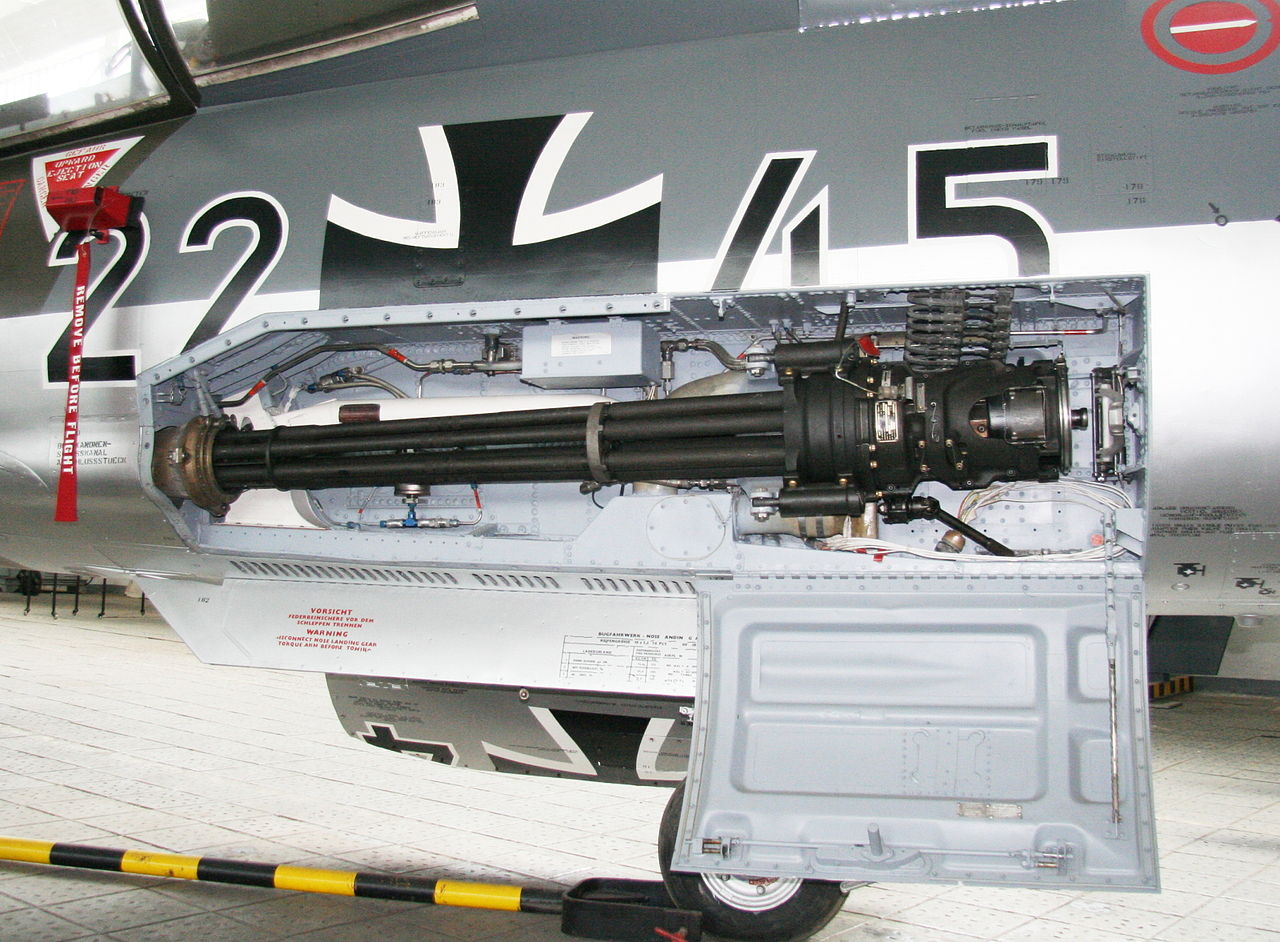 On NATO alert, the F-104G was armed with a B43 variable-yield nuclear bomb on the fuselage centerline hardpoint. The B43 could be set for explosive force between 170 kilotons and 1 megaton and was designed for high-speed, low-altitude, laydown delivery.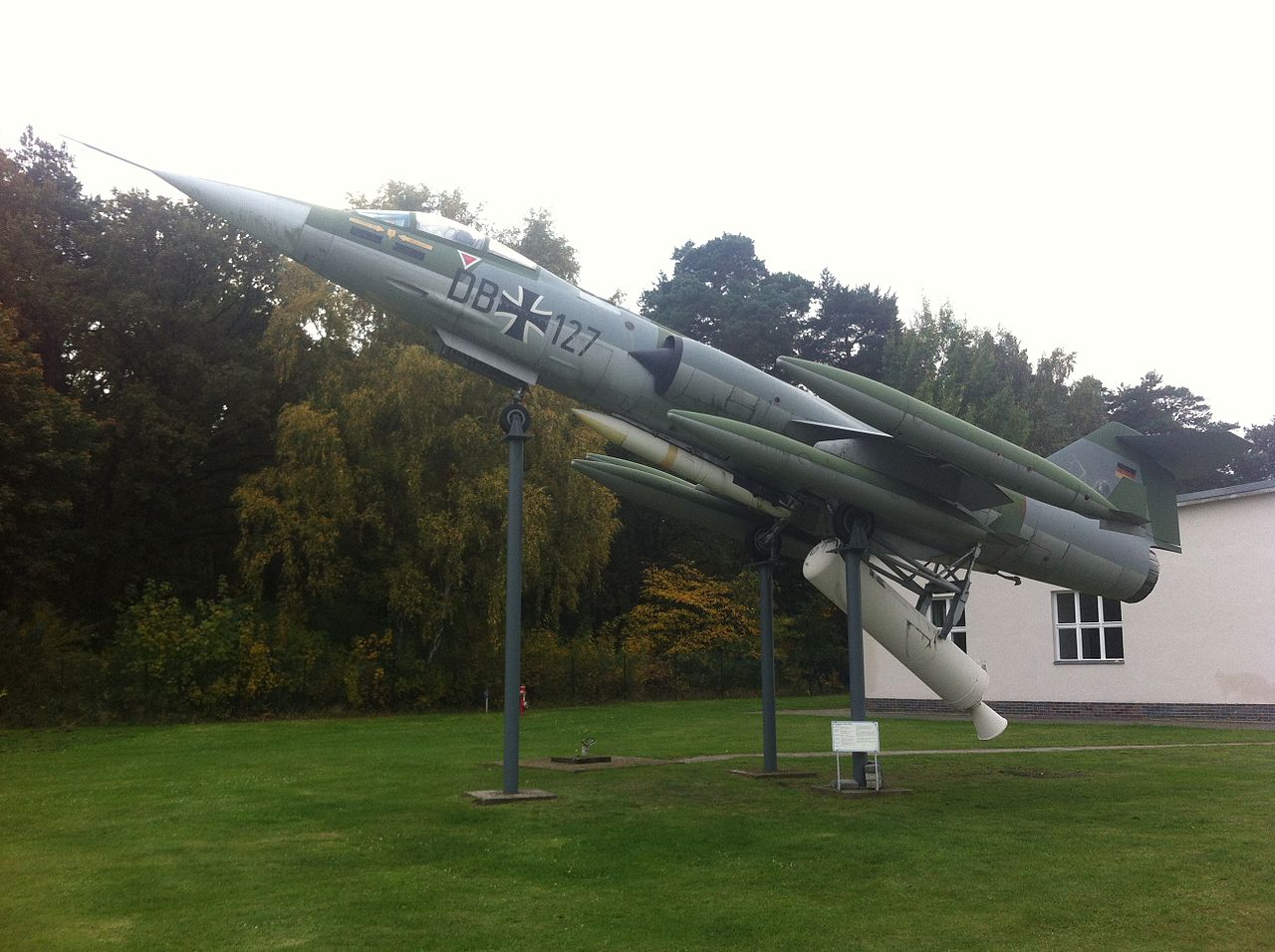 The Starfighter had an undesirable reputation for high accident rates. 270 German F-104s were lost in accidents, resulting in the deaths of at least 110 pilots. In reality, this was not unusual, and can be attributed the the nature of the mission: high-speed, low-altitude flight, in the poor weather conditions of Europe. The German press, however, gave it the name Witwenmacher ("Widowmaker").
The last Luftwaffe F-104 to fly was 26+40 from Ingolstadt Manching Airport, 22 May 1991.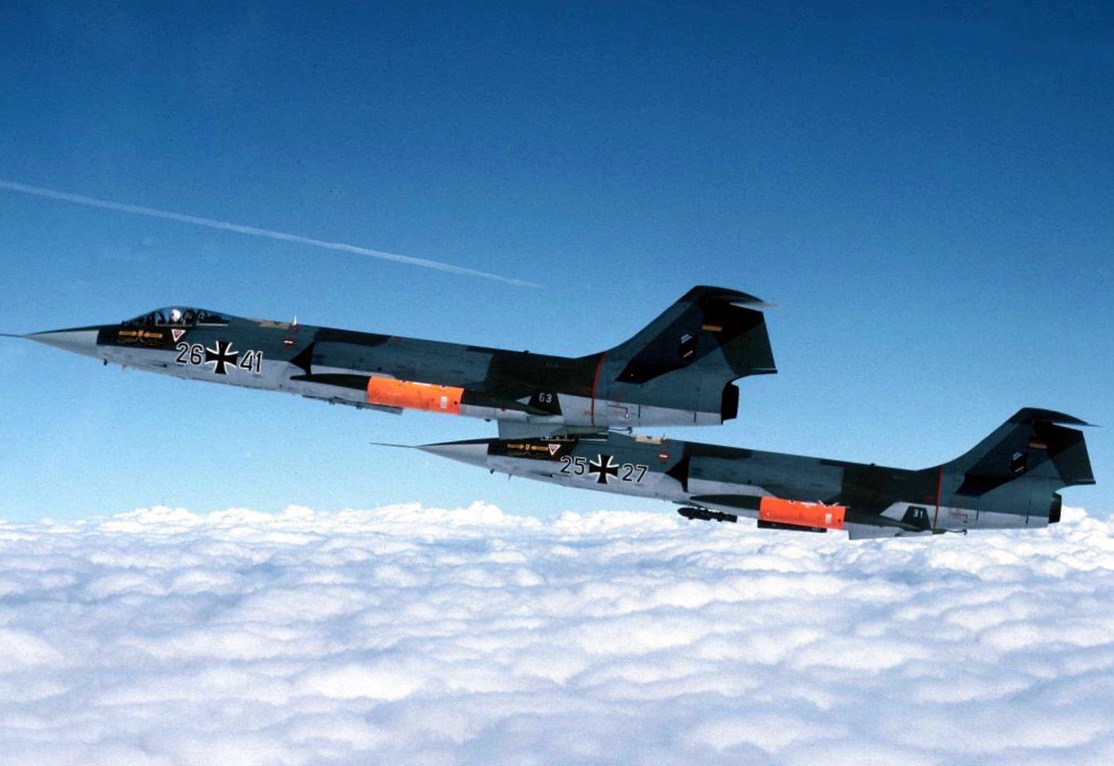 © 2020, Bryan R. Swopes