23 May 1937: Amelia Earhart and her navigator, Fred Noonan, her husband, George Palmer Putnam, and aircraft mechanic Ruckins D. "Bo" McKinney, arrive at Miami, Florida, aboard her Lockheed Electra 10E Special, NR16020. This completed the fourth leg of her second attempt to fly around the world.
. . . on Sunday morning, May 23, headed on southeastward for Miami. From New Orleans we laid a straight course across the north-easterly "corner" of the Gulf of Mexico to Tampa, a matter of about 400 miles. It was Bo's first considerable over-water flying and I am not sure he was very enthusiastic about it. That Sunday afternoon we reached Miami, and dug in for a week of final preparation, with the generous aid of Pan American personnel.
— Amelia Earhart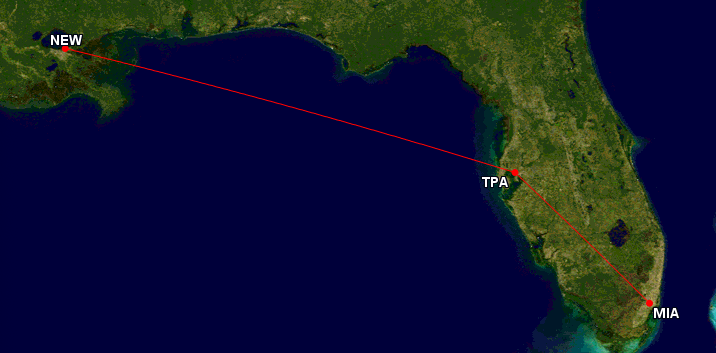 The Miami Tribune reported: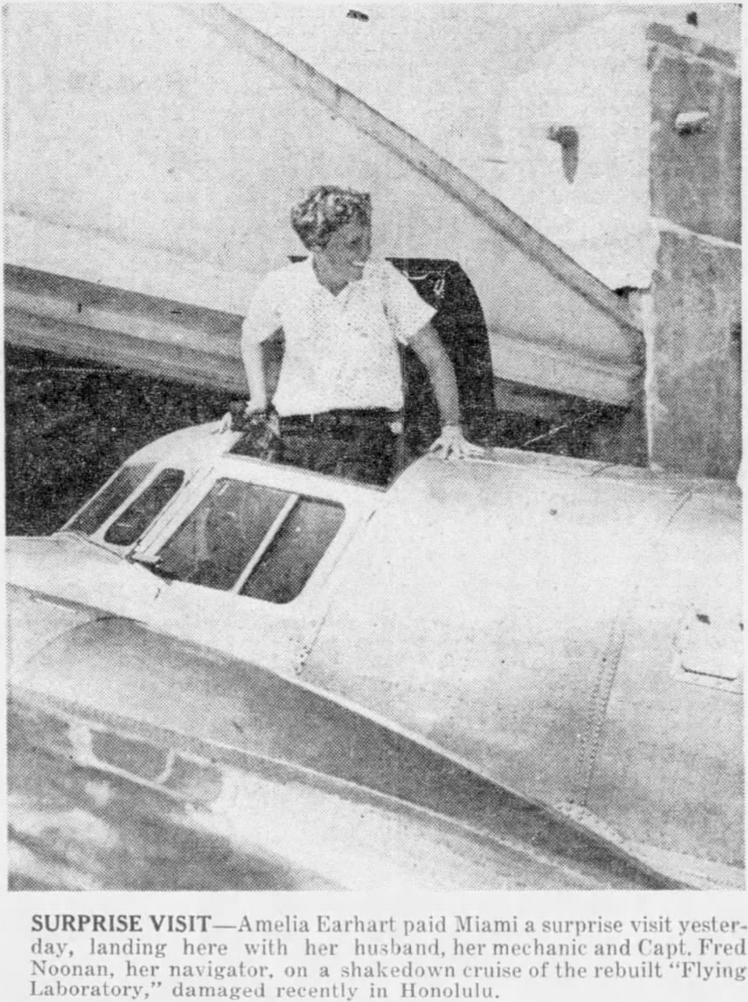 —Miami Tribune, Vol. IV, No. 191, Monday, 24 May, 1937, Page 1
AMELIA EARHART PAYS MIAMI        SURPRISE VISIT IN 'LABORATORY'
     Amelia Earhart, world famous flyer, paid Miami a surprise visit yesterday, landing at the 36th st. airport at 2:43 p.m. in her "Flying Laboratory," 4 hours and 31 minutes out of New Orleans on a shakedown cruise for the plane, which had just been rebuilt after its crash in Honolulu on a projected world flight.
     Miss Earhart was accompanied by her publisher-husband, George Palmer Putnam. Capt. Fred Noonan, her navigator on the trip that ended in Honolulu on March 20 when a tire was blown in an attempt to takeoff at Luke field after a record breaking flight from the American mainland and by her mechanic, "Bo" Mc-Kneeley.
     Other members of the welcoming committee were David Putnam, manager of the Fort Pierce airport, and his wife. David is Putnam's son by a former marriage. The younger Putnam's had been informed earlier of the pending arrival, but had not made their information public.
     Miami's first news of her arrival came a little more than an hour before her landing when a radio message was received at Pan American Airways. George Hussey, chairman of the mayor's reception committee, and R. V. Waters, president of the Greater Miami Airport association, hurried to the field to greet the celebrated arrivals, and to invite Miss Earhart to appear in Bayfront park tonight at the city's welcome for Capt. Dick Merrill and Jack Lambia. The invitation was accepted.
     "We're just out on a shakedown trip," Miss Earhart said. "Miami wasn't on our route as originally planned, but on reaching New Orleans we decided to continue the trip and visit David.
     "We crossed the Gulf, and with the navigation of Captain Noonan, hit Tampa squarely on the nose and within one minute of the time he said he would be over the city, and when one considers wind drift, that's pretty good navigation. We expect to stay here two or three days."
     All of the facilities of the 36th st. airport being taxed with Eastern Airlines planes, Miss Earhart stopped there but a few minutes, then hopped over to Municipal airport, where hanger space was arranged for her plane.
—Miami Tribune, Vol. IV, No. 191, Monday, 24 May, 1937, Page 3, Columns 2–4
© 2022, Bryan R. Swopes