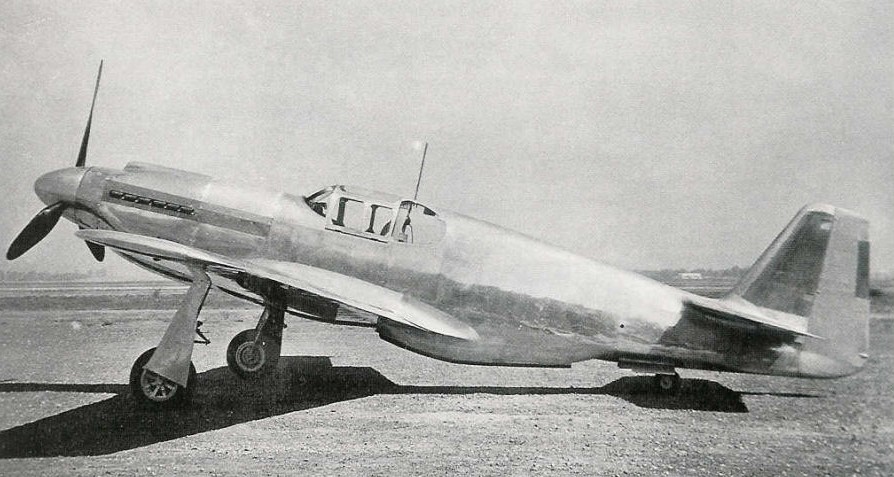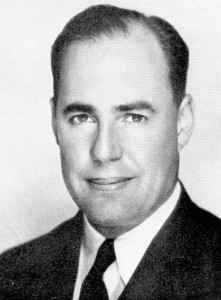 26 October 1940: At Mines Field, Los Angeles, California (now, Los Angeles International Airport), free lance test pilot Vance Breese took the prototype North American Aviation NA-73X, civil registration NX19998, on a five-minute first flight. Later in the day, Breese flew the NA-73X another ten minutes. He would make six more test flights between 26 October and 13 November, totaling approximately 3 hours, 30 minutes of flight time.
With Great Britain at war with Nazi Germany, the Royal Air Force was the primary defender of the island nation. Airplane manufacturers were turning out Hawker Hurricanes and Supermarine Spitfires as rapidly as possible, but they were barely keeping up with combat losses. England needed more fighters. They had taken over an order for Curtiss-Wright Hawk 81-A1 fighters which had been built for France, but which had not been shipped by the time France surrendered. The RAF called these fighters the Tomahawk Mark I (P-40 Warhawk in U.S. service).
The British Purchasing Commission asked North American Aviation in Los Angeles, California, to build additional Tomahawks under license from Curtiss-Wright. North American countered with a proposal to design a completely new and superior fighter around the P-40's Allison V-12 engine, and begin production in no more time than it would take to get a P-40 production line up and running. The Purchasing Commission agreed, and with a letter of understanding, North American began work on the NA-73X on 1 May 1940. They were to produce 320 fighters before 30 September 1941, approximately 50 per month, at a total price of $14,746,964.35.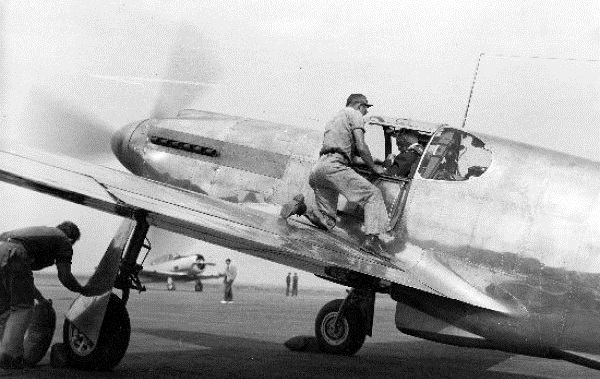 In a contract amendment dated 9 December 1940, the British Purchasing Commission directed that the NA-73 would be identified by the name, "Mustang."
The prototype NA-73X was powered by a 1,710-cubic-inch-displacement (28 liter) Allison V-1710-F3R liquid-cooled, supercharged, 60° V-12 engine producing 1,100 horsepower at 2,600 r.p.m., and turning a 10 foot, 6 inch diameter (3.20 meter) three-bladed Curtiss propeller. The prototype was 32 feet, 2–5/8 inches (9.82 meters) long, with a wing span of 37 feet, 5/16 inch (11.37 meters). Empty weight of the prototype was 6,278 pounds (2,847.7 kilograms) and normal takeoff weight was 7,965 pounds (3,612.9 kilograms). Its maximum speed was 382 miles per hour (614.77 kilometers per hour) at 13,700 feet (4,176 meters). The service ceiling was 32,000 feet (9,754 meters). The fuel capacity was 180 gallons (681.37 liters), giving the airplane a range of 750 miles (1,207 kilometers).

NX19998 was substantially damaged on 20 November 1940 when North American's Chief Test Pilot, Paul B. Balfour, unable to make it back to Mines Field after the Allison engine failed, made a forced landing in a plowed field just west of Lincoln Boulevard. The prototype flipped over and landed upside down. Sources differ as to the cause of the engine failure, with some citing carburetor icing and others suggesting that Balfour failed to switch fuel tanks and the engine stopped running due to fuel starvation. Balfour was replaced by Robert C. Chilton and NA-73X was rebuilt.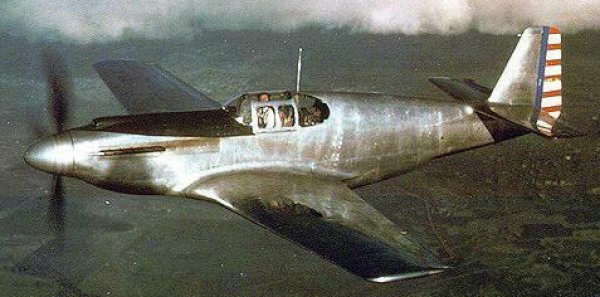 Bob Chilton said that ". . . NA-73X was a clean-flying aircraft with no bad vices. It was quite pleasant in the air and handled very similar to later production articles."
There was only one NA-73X prototype. Its status is not known. Chilton recalled, ". . . NA-73X was just pushed aside after it had been retired from its last flight. It probably ended up on the company's junk pile, but I do not recall seeing it there." The prototype may have been given to a local industrial trade school.
The first production Mustang Mark I, AG346, made its first flight at Mines Field on 23 April 1941. It was shot down over France, 20 August 1944. 320 Mustang Mk.I fighters were built. Two of these were designated XP-51, given U.S. Army Air Corps serial numbers 41-038 and 41-039, and sent to Wright Field for evaluation.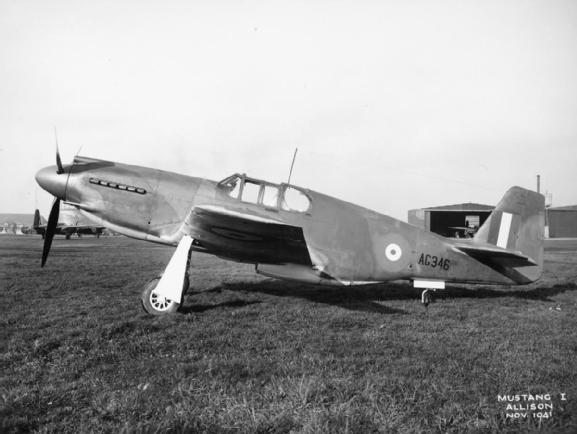 © 2015, Bryan R. Swopes
by