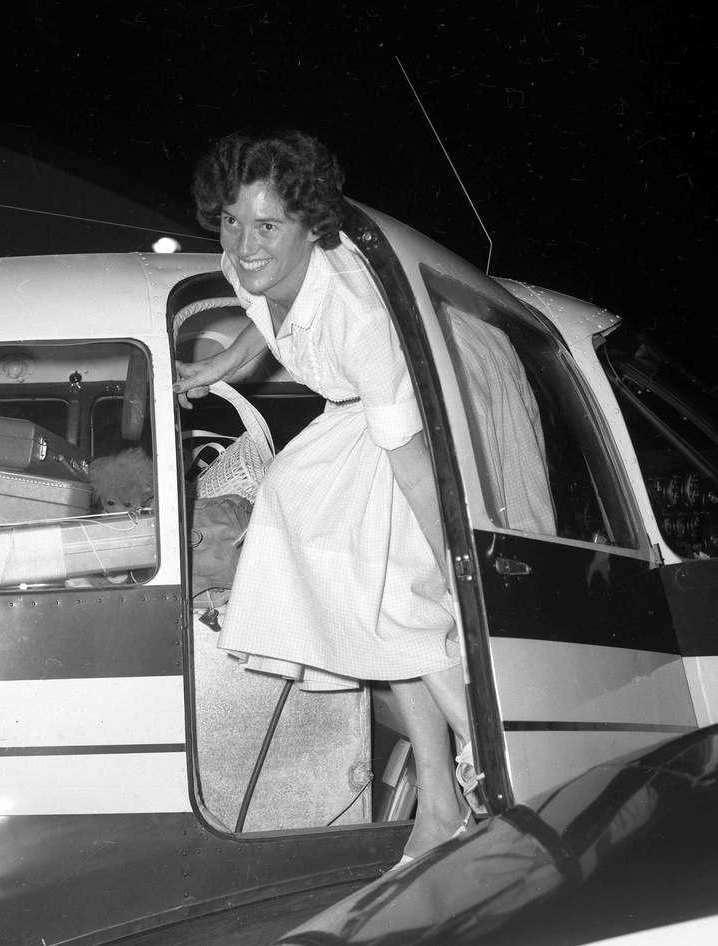 30 April–13 May 1963: Betty Miller, a 37-year-old flight instructor from Santa Monica, California, became the first woman to complete a solo Trans-Pacific flight. She was also the first pilot to make a Trans-Pacific flight without a navigator.
Betty Miller was delivering a twin-engine Piper PA-23-160 Apache H, N4315Y, from the United States to its owner in Australia, Fred Margison. An auxiliary fuel tank was placed in the passenger compartment.
Mrs. Miller began her flight from Oakland, California, at 6:35 a.m., Pacific Standard Time. The first leg was approximately 2,400 miles (3,682 kilometers) to Honolulu on the island of Oahu, Hawaii, flown in 17 hours, 3 minutes. She was delayed there for 4 days while a radio was repaired.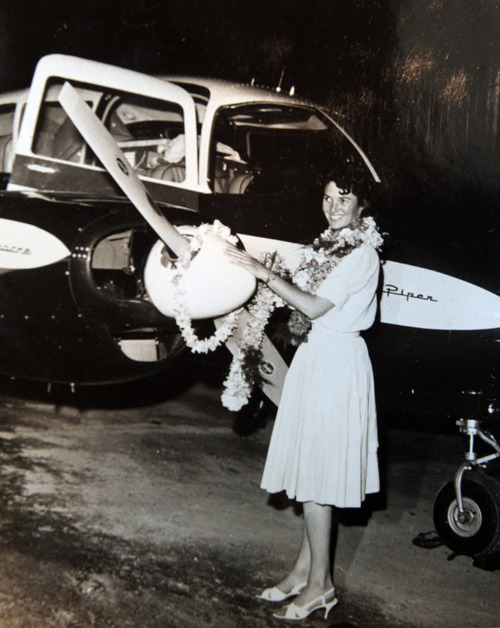 The next stop was Canton Island, a small island in the Phoenix Islands, just south of the Equator and approximately half-way between Hawaii and Fiji. The elapsed time for this 1,700-mile (2,736 kilkometers) flight was 13 hours, 6 minutes. From Canton to Fiji was 1,250 miles (2,012 kilometers). The elapsed time was 8 hours, 27 minutes. On the fourth leg, intended to be the final stage, she was forced to divert to Noumea, New Caledonia, because of severe weather.
With delays for rest and waiting for good weather, Miller's flight took nearly two weeks. She took off from Nadi Airport, Viti Levu, Fiji, at 4:47 a.m., local, and finally arrived at Eagle Farm Airport, Brisbane, Queensland, at 10:20 p.m., Australian Eastern Standard Time, after crossing 7,400 miles (11,909 kilometers) of ocean, in a total of 51 hours, 38 minutes in the air.
Contemporary newspapers called Miller "the flying housewife," which demeaned her actual qualifications. At the time of her Trans-Pacific flight, she was a commercial pilot and flight instructor, rated in single- and multi-engine airplanes and helicopters. She owned and operated a flight school and charter company based at Santa Monica Airport on the Southern California coast. In fourteen years as a pilot, Betty Miller had logged more than 6,500 hours of flight time.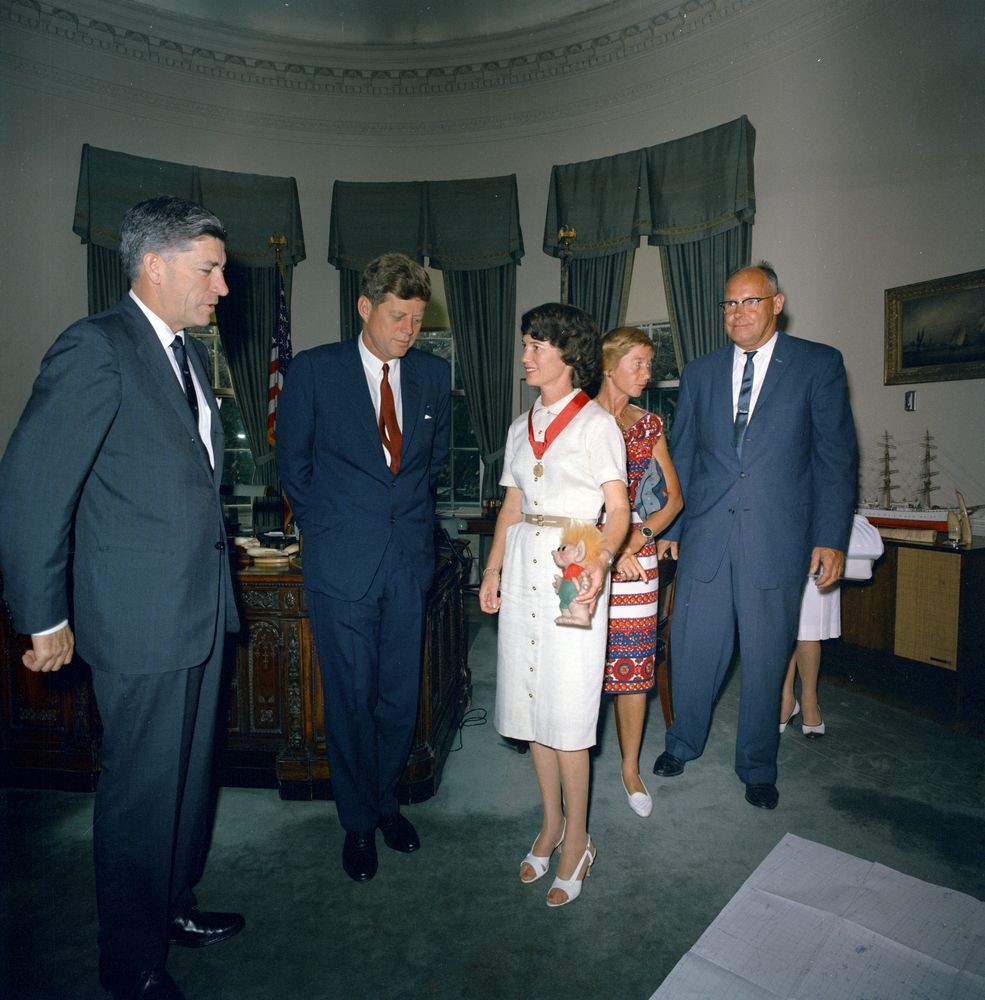 President John F. Kennedy awarded Mrs. Miller the Federal Aviation Administration Gold Medal for Exceptional Service. On 14 September 1964, President Lyndon Johnson presented her with the Harmon International Trophy. (Also receiving the Harmon at the ceremony were Astronaut Gordon Cooper and test pilot Fitzhugh Fulton.)
Two years later, Mrs. Miller flew across the Atlantic Ocean.
Finally, in another first, the photograph of Betty Miller arriving at Brisbane was the very first to be transmitted by a new wire-photo process.

Betty Jean Verret was born 6 April 1926 at Venice, California. She was the second of three daughters of Earday Verret, a street car conductor, and Bertha DeLay Verret. She graduated from Venice High School in 1942.
Miss Verret was employed by the Civil Aeronautics Administration as an Aircraft Communicator. While working at Wendover, Utah, she met Chuck Miller. They married and lived in Santa Monica, California, where they operated a flight school.
Mrs. Miller was a member of the Ninety-Nines, the Whirly-Girls, and was chair of the FAA Women's Advisory Committee.
Betty Jean Verret Miller died 21 February 2018 at Bountiful, Utah, at the age of 91 years.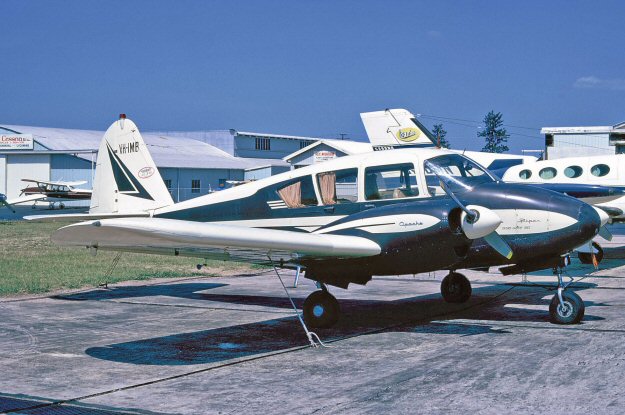 The airplane flown by Betty Miller was a Piper PA-23-160 Apache H, serial number 23-2039, manufactured in December 1961 by the Piper Aircraft Corporation at Vero Beach, Florida. It was assigned U.S. registration N4315Y and was painted white and "El Paso Brown" (a dark metallic brown color). In January 1962 the new Apache was delivered to Brown Flying Services, San Antonio, Texas.¹
The Piper PA-23-160 Apache H was a 4-place, twin-engine light airplane with retractable tricycle landing gear. It was 27 feet, 2 inches (8.280 meters) long with a wingspan of 37 feet, 0 inches (11.278 meters) and overall height of 10 feet, 1 inch (3.073 meters). The airplane had an empty weight of 2,230 pounds (1,011.5 kilograms) and maximum gross weight of 3,800 pounds (1,723.7 kilograms).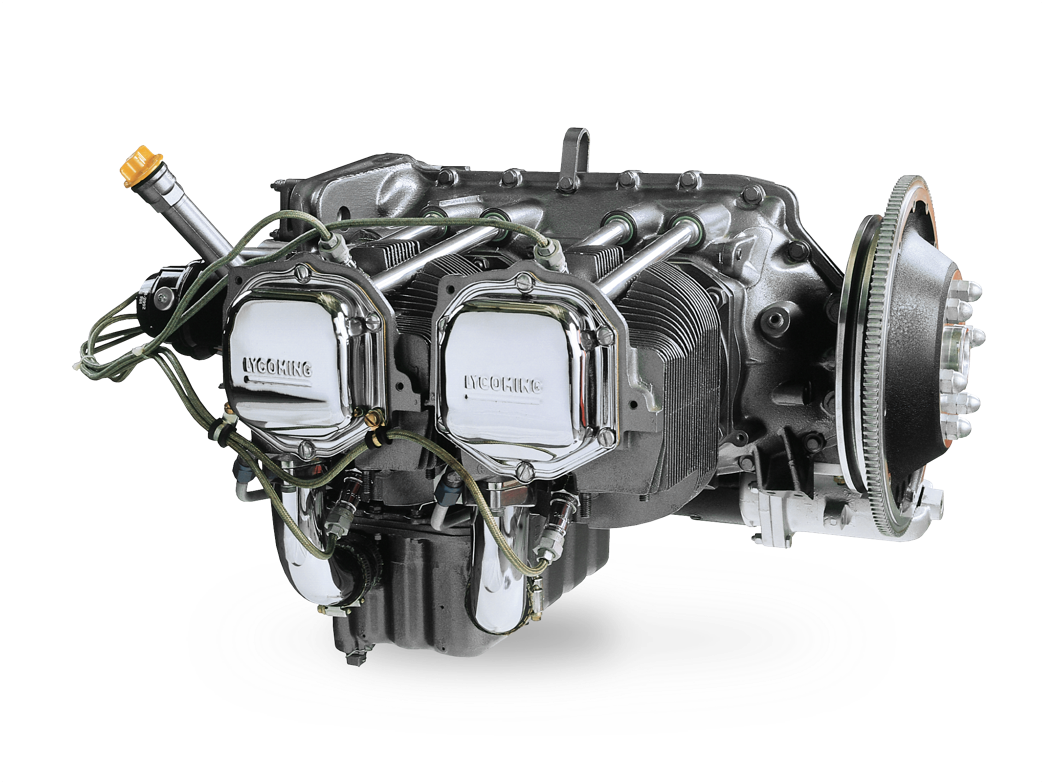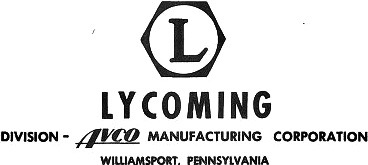 The Apache H was powered by two air-cooled, normally-aspirated, 319.749-cubic-inch-displacement (5.240 liter) Lycoming O-320-B2B horizontally-opposed 4-cylinder overhead valve (OHV) engines with a compression ratio of 8.5:1. The O-320-B2B is a direct-drive, right-hand tractor engine, rated at 160 horsepower at 2,700 r.p.m. The O-320-B2B is 2 feet, 5.56 inches (0.751 meters) long, 2 feet, 8.24 inches (0.819 meters) wide and 1 foot, 10.99 inches (0.584 meters) high. It weighs 278 pounds (126.1 kilograms). The engines turned two-bladed Hartzell constant-speed propellers.
The PA-23-160 had a cruise speed of 150 knots (173 miles per hour/278 kilometers per hour) and maximum speed was 159 knots (183 miles per hour/295 kilometers per hour). The service ceiling was 17,000 feet (5,182 meters).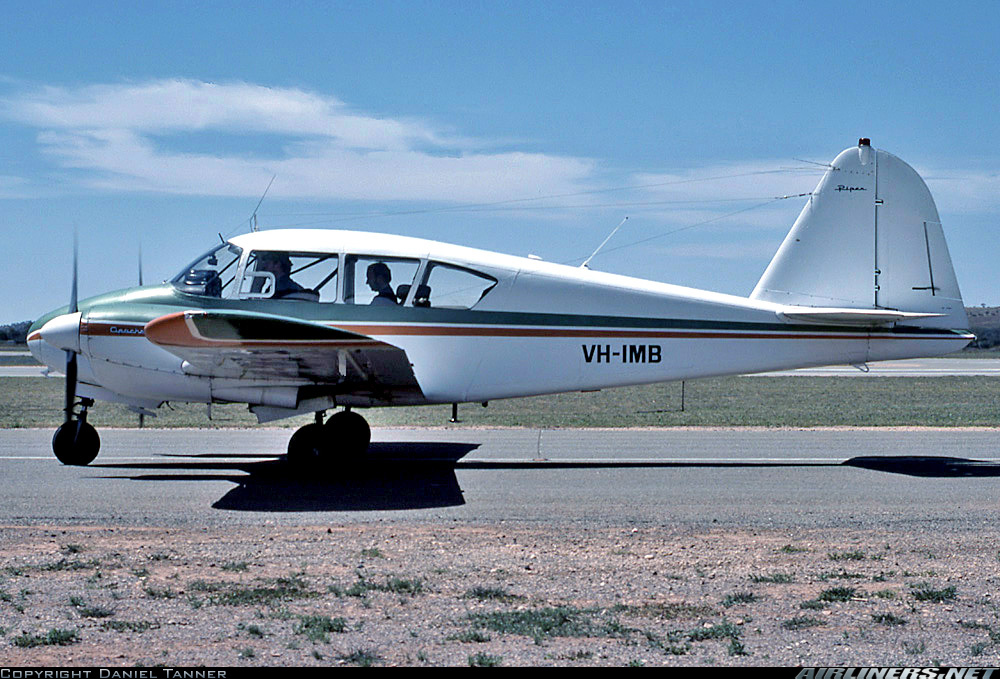 N4315Y was re-registered VH-IMB, 22 May 1963, after its arrival in Australia. The airplane remains operational.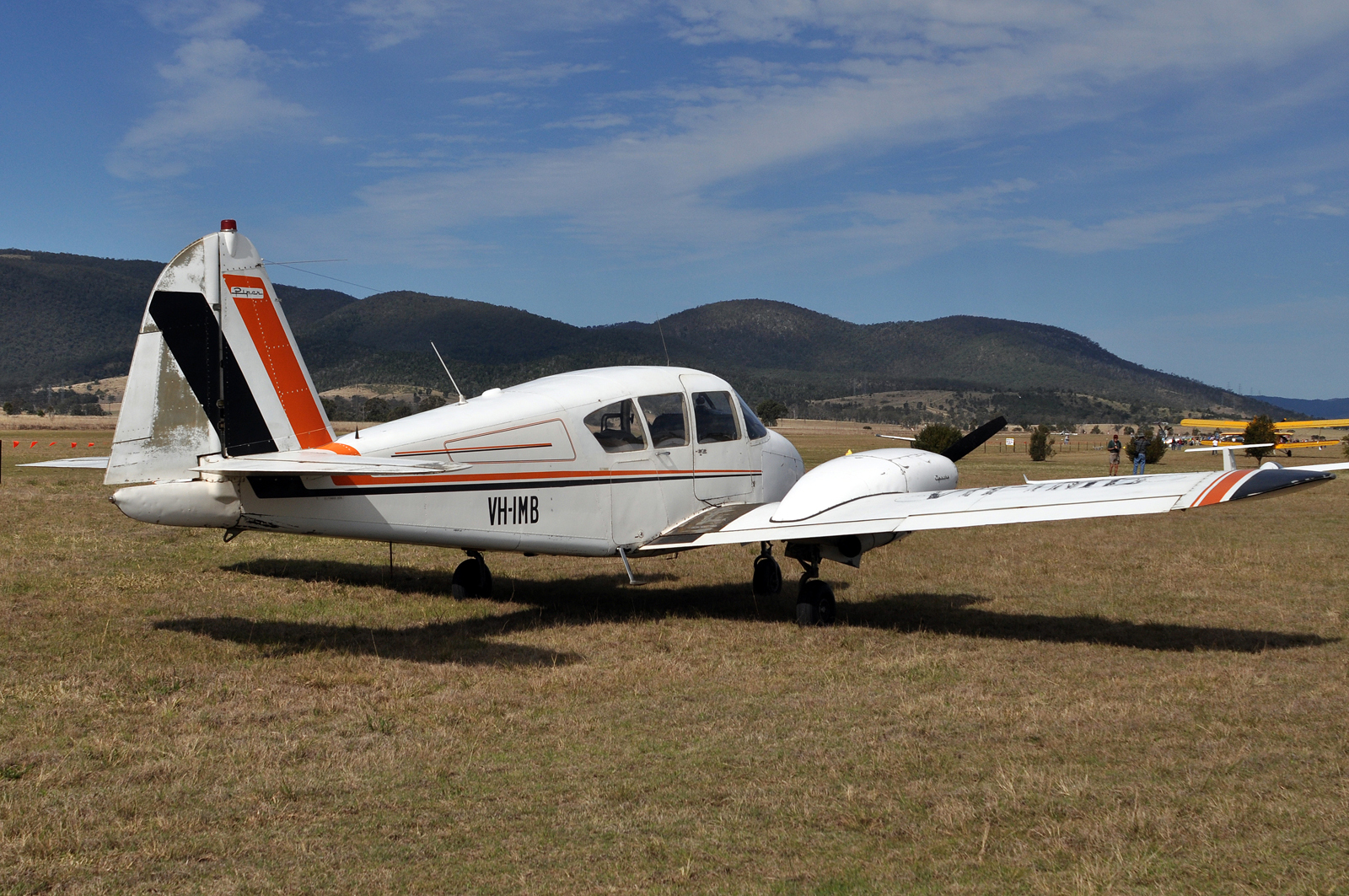 ¹ Thanks to Roger Peperell, Company Historian, Piper Aircraft, Inc., for researching the history of Betty Miller's Apache.
© 2018, Bryan R. Swopes