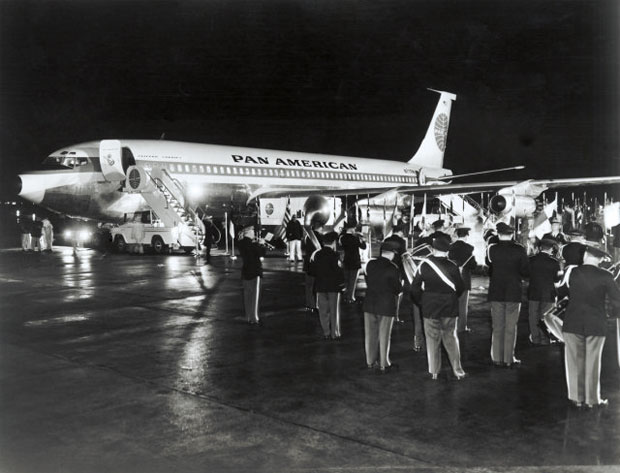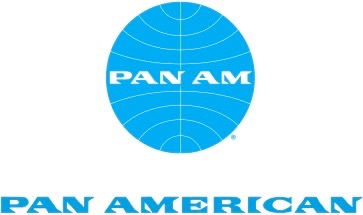 26 October 1958: Pan American World Airways opened the "Jet Age" with the first commercial flight of an American jet airliner. Pan Am's Boeing 707-121 Clipper America, N711PA, departed New York Idlewild (IDL) on an 8 hour, 41 minute flight to Paris Le Bourget (LBG), with a fuel stop at Gander, Newfoundland (YQX). (The actual flight time was 7 hours.) The distance was 3,634 miles (5,848 kilometers). Aboard were 111 passengers and 11 crewmembers.
A Pan Am company publication explained the need for the stop at Gander:
The Jet could not be fully loaded with fuel before takeoff because of weight restrictions imposed at Idlewild. Fuel capacity of the jet is 17,398 gallons, allowing a cruising range of 4,400 miles. But with a full pay load of passengers, only 9,731 gallons could be taken aboard in New York.
—Pan American Clipper, Vol. XV, No. 11, November 1958, Page 6, Column 5
The Boeing 707 was developed from the earlier Model 367–80, the "Dash Eighty". It is a four-engine jet transport with swept wings and tail surfaces. The leading edge of the wings are swept at a 35° angle. The airliner had a flight crew of four: pilot, co-pilot, navigator and flight engineer. The 707-121 is 145 feet, 1 inch (44.221 meters) long with a wing span of 130 feet, 10 inches (39.878 meters). The top of the vertical fin stands 42 feet, 5 inches (12.929 meters) high. The 707 pre-dated the "wide-body" airliners, having a fuselage width of 12 feet, 4 inches (3.759 meters).
The first versions were powered by four Pratt & Whitney Turbo Wasp JT3C-6 turbojet engines, producing 11,200 pounds of thrust (49,820 kilonewtons), and 13,500 pounds (60.051 kilonewtons) with water injection. This engine was a civil variant of the military J57 series. It was a two-spool axial-flow turbojet engine with a 16-stage compressor and 2 stage turbine. The JT3C-6 was 11 feet, 6.6 inches (3.520 meters) long, 3 feet, 2.9 inches (0.988 meters) in diameter, and weighed 4,235 pounds (1,921 kilograms).
The airliner's empty weight is 122,533 pounds (55,580 kilograms). Maximum take off weight (MTOW) is 257,000 pounds (116,573 kilograms). At MTOW, the 707 required 11,000 feet (3,352.8 meters) of runway to take off. Its maximum speed is 540 knots (1,000 kilometers per hour). It had a range of 2,800 nautical miles (5,185.6 kilometers).
The Boeing 707 was in production from 1958 to 1979. 1,010 were built. As of 2011, 43 707s were still in service.
Boeing delivered N711PA to Pan American on 17 October 1958. The airliner was named Clipper America,  but was later renamed Clipper Mayflower. It was leased to Avianca (Aerovías Nacionales de Colombia S.A.) from 1960 to 1962. In April 1965 the 707 was upgraded to the –121B standard. This included a change from the turbojet engines to quieter, more powerful and efficient Pratt and Whitney JT3D-1 turbofans, producing 17,000 pounds of thrust. The wings were modified to incorporate changes introduced with the Boeing 720, and a longer tailplane installed. Pan Ayer of Panama purchased Clipper Mayflower 21 February 1975. It was later leased to Türk Hava Yolları, the Turkish national airline, and went on to serve with Air Asia Company Limited (an Air America aircraft service unit) and E-Systems. After 26 years of service, in August 1984 Clipper America was scrapped at Taipei.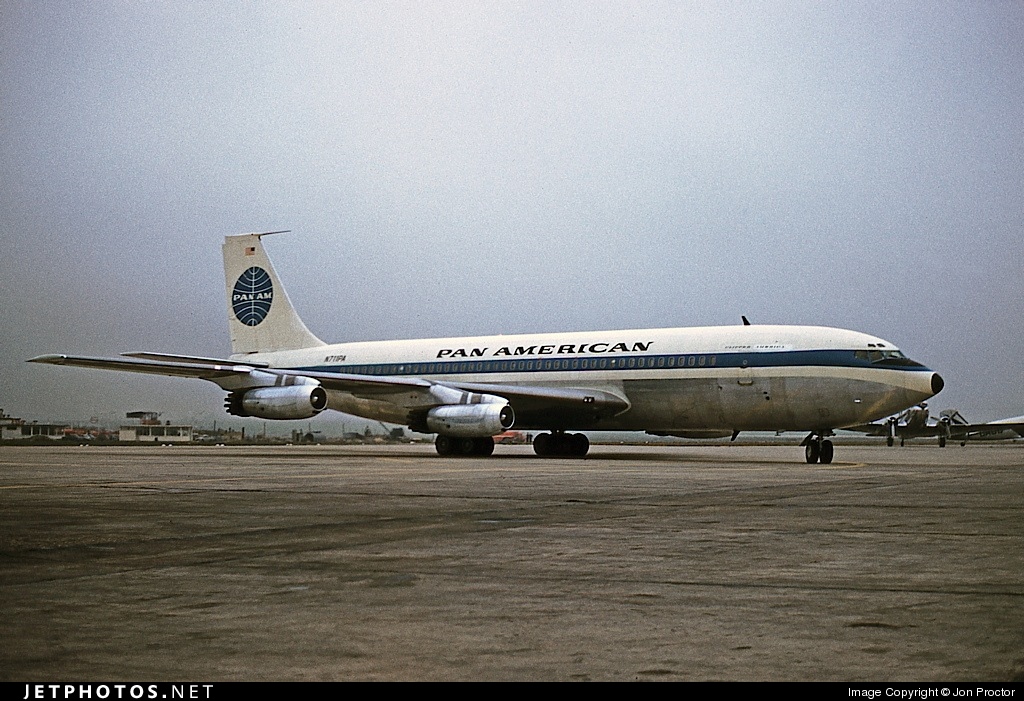 © 2018, Bryan R. Swopes