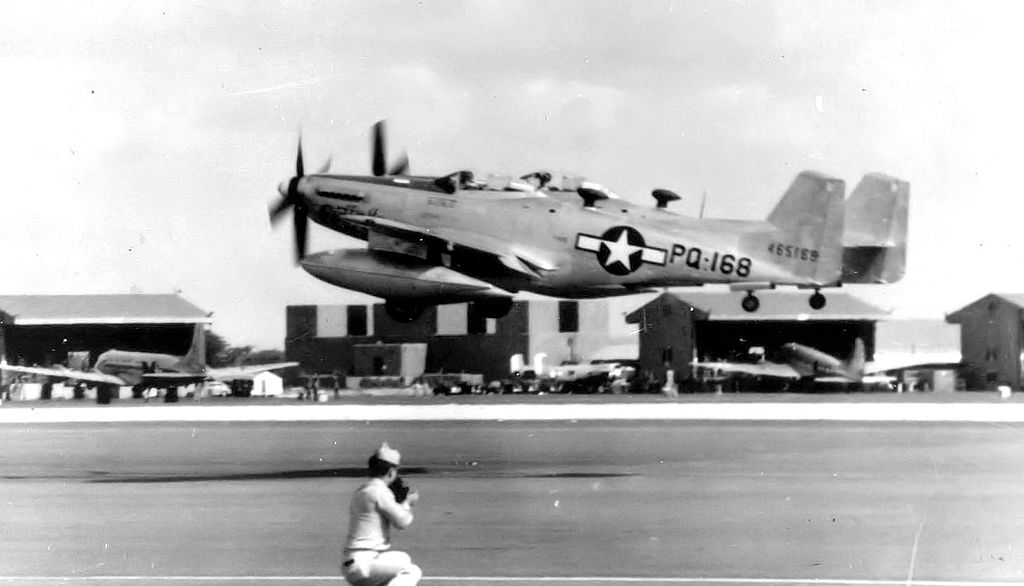 27–28 February 1947: At 3:05 p.m., Hawaii Standard Time, (01:05 G.M.T.), Lieutenant Colonel Robert E. Thacker, Lieutenant John M. Ard, took off from Hickam Field on the island of Oahu, Territory of Hawaii, enroute non-stop to LaGuardia Airport, New York City, New York.
Thacker and Ard were assigned to the Air Materiel Command at Wright Field, Daytion, Ohio. Their airplane was a North American Aviation P-82B-1-NA Twin Mustang, 44-65168 (North American serial number 123-43754). The fighter had been named Betty Jo, in honor of Thacker's wife. (The painter mistakenly applied the name as Betty Joe.)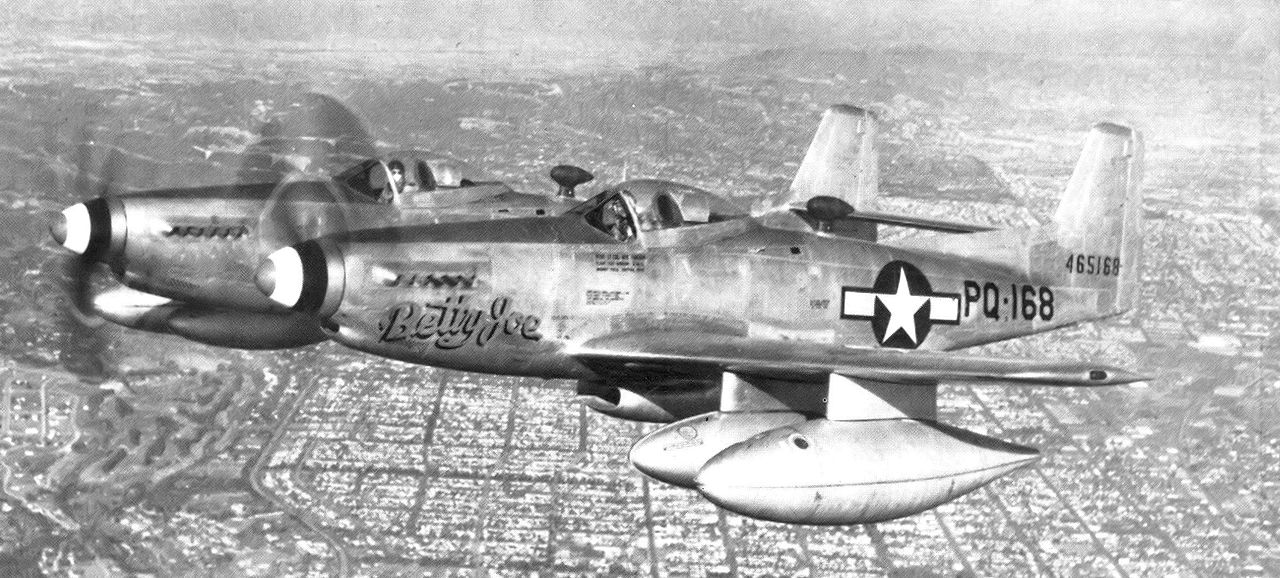 Betty Jo had been modified by North American Aviation at El Segundo, California, in preparation for its long-distance flight. The fighter's armor was removed, as were the six Colt MG 53-2 .50-caliber aircraft machine guns. Additional internal fuel capacity was added, and the P-82 was equipped with four large external fuel tanks. The Twin Mustang's fuel capacity was 2,215 gallons (8,385 liters).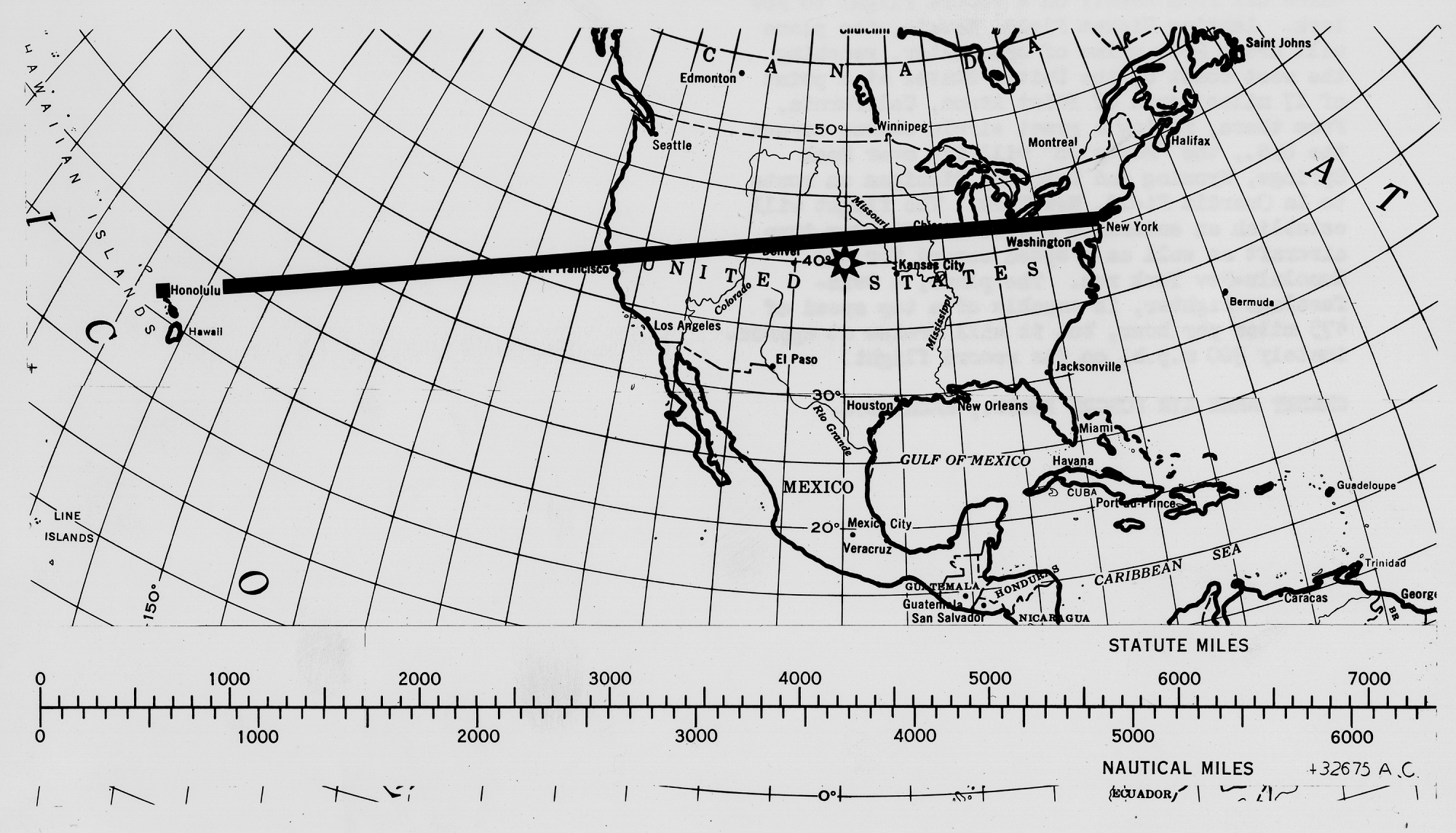 Thacker and Ard climbed to 13,000 feet (3,962 meters) after takeoff. As the fuel was burned off, the P-82 was able to climb higher. Most of the flight was made between 19,000 and 22,000 feet (5,791–6,706 meters).
After burning off the fuel in the four external tanks, Thacker tried to jettison them, but a mechanical problem prevented three tanks from being released. This resulted in adverse yaw and excessive drag for the overland portion of the flight. Colonel Thacker used the weight of his leg on the control stick to counteract the yaw.
Betty Jo, flying at 20,000 feet (6,096 meters), crossed the California coast near Point Arena at 12:34 a.m., Pacific Standard Time (08:34 G.M.T.), 6 hours, 59 minutes after takeoff. The P-82 passed north of Reno, Nevada, at 1:00 a.m. EST (09:00 G.M.T.), and Humboldt, Nevada, 23 minutes later.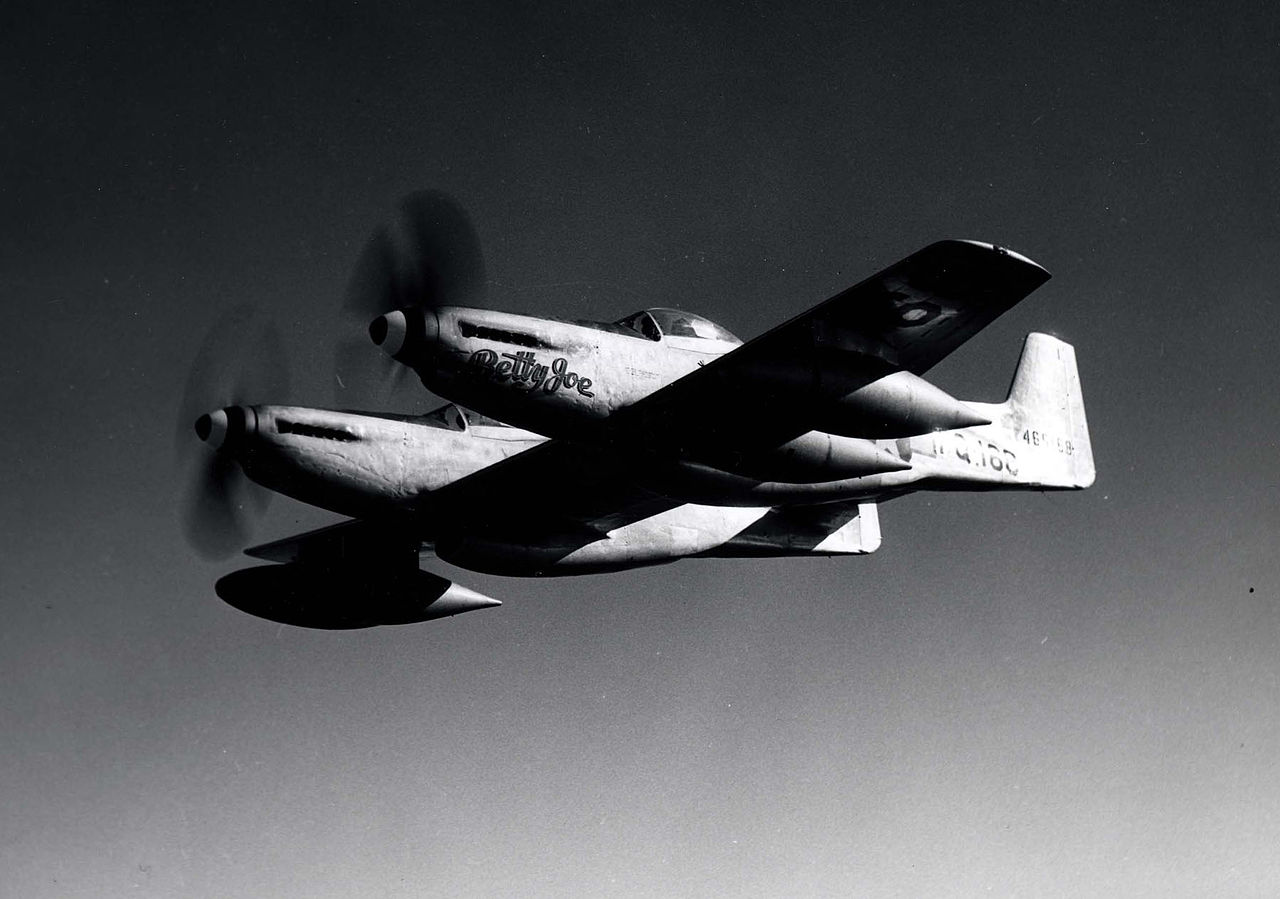 Thacker and Ard next flew over Ogden, Utah, at 3:12 a.m., Mountain Standard Time (10:12 G.M.T.), and Laramie, Wyoming, at 4:05 MST (10:05 G.M.T.). They reported over Chicago at 6:49 a.m., Central Standard Time (12:49 G.M.T.), and Detroit at 8:38 a.m., CST (14:38 G.M.T.).
Betty Jo crossed overhead at LaGuardia Airport at 11:06 a.m., Eastern time (16:06 G.M.T.) and landed there at 11:08:34 a.m. (16:08:34 G.M.T.) The elapsed time from take off at Hickam Field to overhead LaGuardia was 14 hours, 31 minutes. The total duration of the flight was 14 hours, 33 minutes, 34 seconds.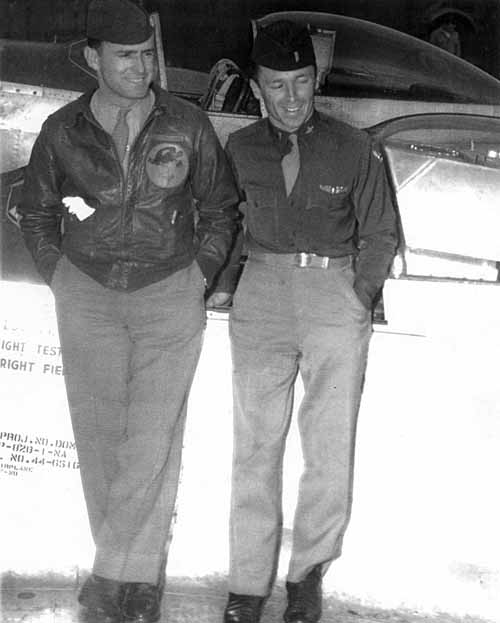 On arrival at LaGuardia, only 60 gallons (227 liters) of fuel remained on board the Twin Mustang.
The Great Circle distance between Hickam and LaGuardia is s 4,324.32 nautical miles (4,976.34 statute miles/8,008.65 kilometers). Betty Jo averaged 297.89 knots (342.81 miles per hour/551.69 kilometers per hour) over the course.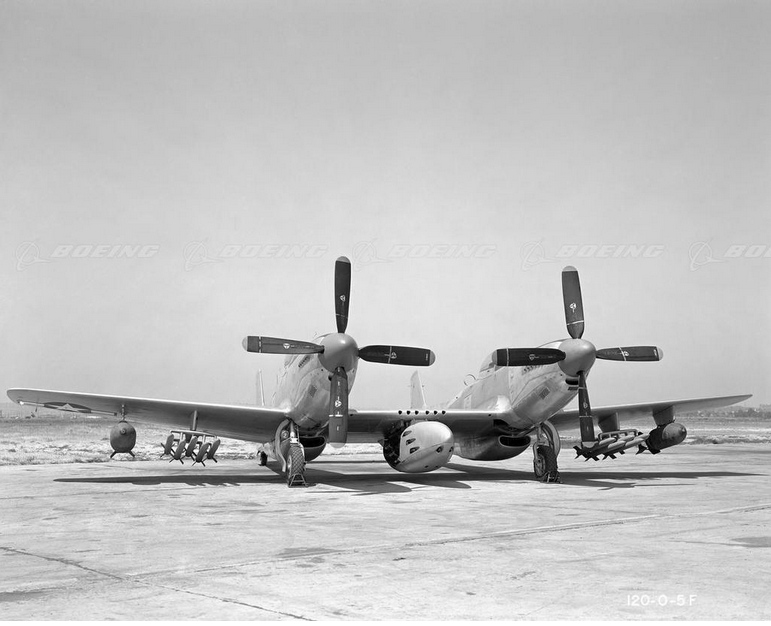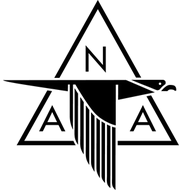 Betty Jo is the ninth production North American Aviation P-82B-1-NA Twin Mustang. The airplane was designed toward the end of World War II as a very long range escort fighter operated by two pilots. It was built using two lengthened P-51H Mustang fuselages and standard left and right wings. A center wing section and horizontal stabilizer joined the two fuselages.
The P-82B was 39 feet, 1 inch (11.913 meters) long, with a wingspan of 51 feet, 3 inches  (15.621 meters) and overall height of 11 feet, 10 inches ( meters) in three-point position. The airplane's empty weight is 13,405 pounds (6,080 kilograms), and maximum gross weight, 22,000 pounds (9,979 kilograms).

The P-82B-1-NA Twin Mustang was powered by liquid-cooled, supercharged, 1,649-cubic-inch-displacement (27.04-liter) Packard V-1650-19 and -21 Merlin single overhead cam (SOHC) 60° V-12 engines. They drove counter rotating Aeroproducts four-bladed propellers. through a 0.479:1 gear reduction. The V-1650-19 was rated at 1,700 horsepower at 3,000 r.p.m. at 19¾ inches of boost for takeoff, with military power rating of 2,200 horsepower at 3,000 r.p.m. at Sea Level, and 1,875 horsepower at 17,000 feet (5,182 meters). At 1,770 pounds (803 kilograms), the V-1650-19 was the heaviest Packard Merlin variant produced.
The P-82B had a maximum speed of 482 miles per hour (776 kilometers per hour) at 25,100 feet (7,650 meters) and its service ceiling was 41,600 feet (12,680 meters). Its range was 1,390 miles (2,237 kilometers).
The P-82B was armed with six air-cooled Colt Automatic Aircraft Machine Guns, Caliber .50,  MG 53-2, located in the center wing section, with 300 rounds of ammunition per gun. A pod containing eight additional .50-caliber machine guns could be installed under the center wing section. The Twin Mustang could also carry up to four 1,000 pound bombs, two 2,000 pound bombs, or twenty-five 5-inch rockets on underwing hard points.
After the United States Air Force was established as a separate military service in 1947, many aircraft designations were changed. The P-82B was redesignated as F-82B.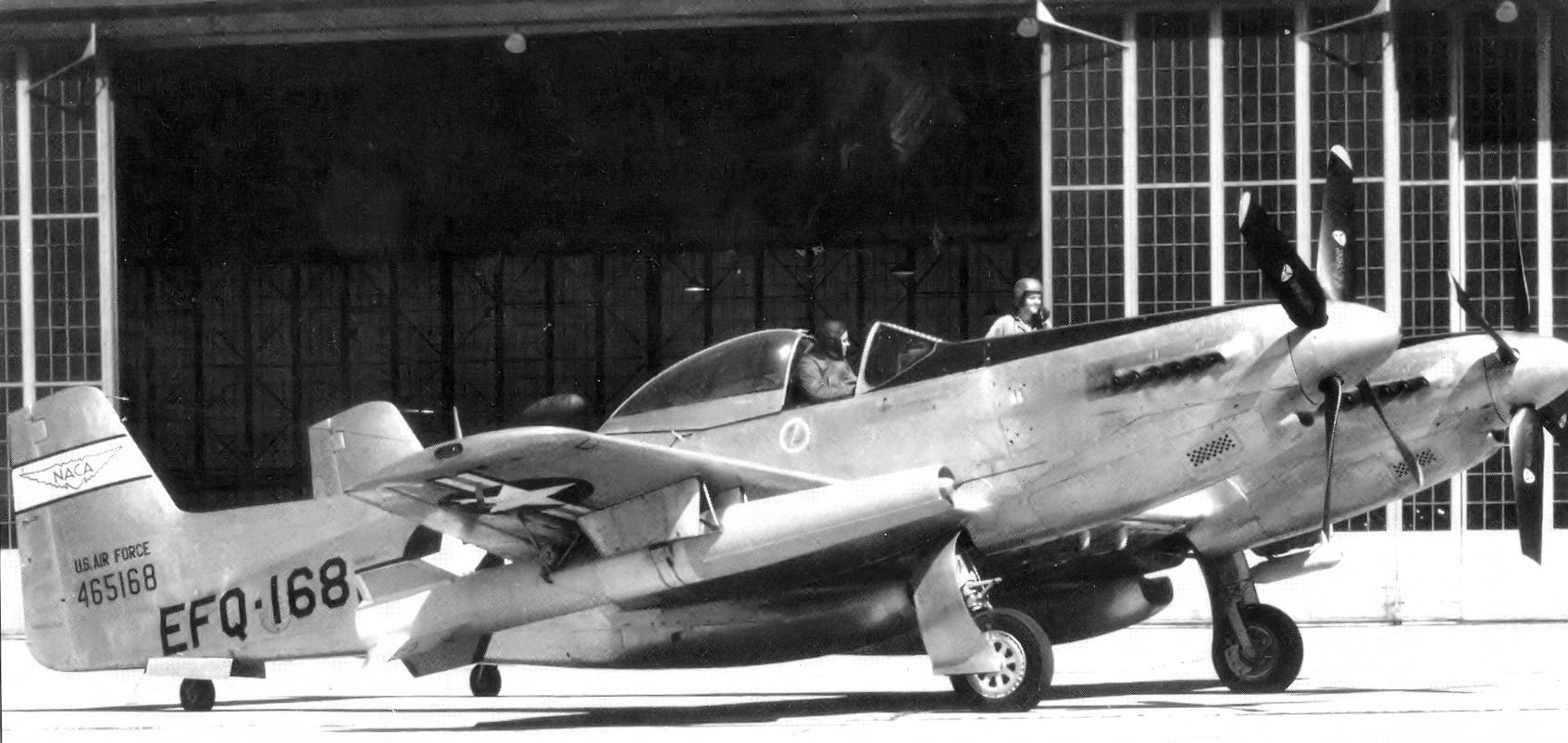 In September 1950, F-82B 44-65168 was transferred to the National Advisory Committee for Aeronautics (NACA) for use in testing ram jet engines at the Cleveland Aircraft Engine Research Laboratory. It was damaged in June 1957. The airplane was retired and turned over to the National Museum of the United States Air Force.
Robert E. Thacker was born 21 February 1918 in California. He was the second of four children of Percie C. Thacker and Margaret Eadie Thacker.
in 1939, Thacker was appointed an aviation cadet in the Air Corps, United States Army, and trained as a pilot at Brooks Field, San Antonio, Texas. He was commissioned a second lieutenant, Air Reserve, 21 June 1940.
On 3 March 1941, 2nd Lieutenant Thacker married Miss Betty Jo Smoot at Yuma, Arizona. They would be married for 71 years until she died in 1992.
On 1 November 1941, Thacker was appointed a first lieutenant, Army of the United States (A.U.S.).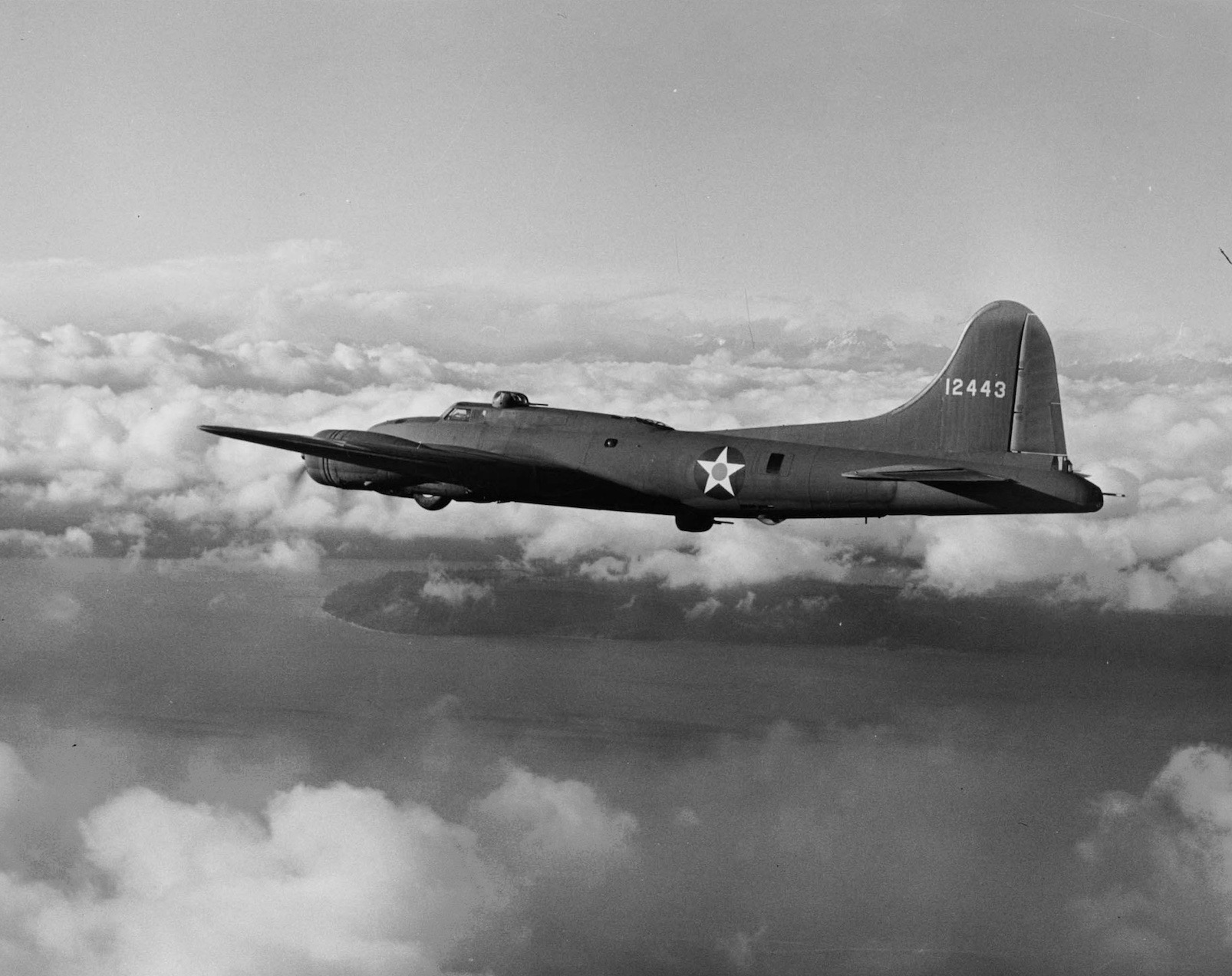 In December 1941, Lieutenant Thacker was one of a group of pilots assigned to ferry new Boeing B-17E Flying Fortress heavy bombers from the United States to the Philippine Islands, with a stop at Hickam Field. The bombers took off from Hamilton Field in Marin County, California. on 6 December. Thacker's airplane was B-17E 41-2432, named The Last Straw. The inbound Flying Fortresses arrived over Hawaii during the attack on Pearl Harbor, 7 December 1941.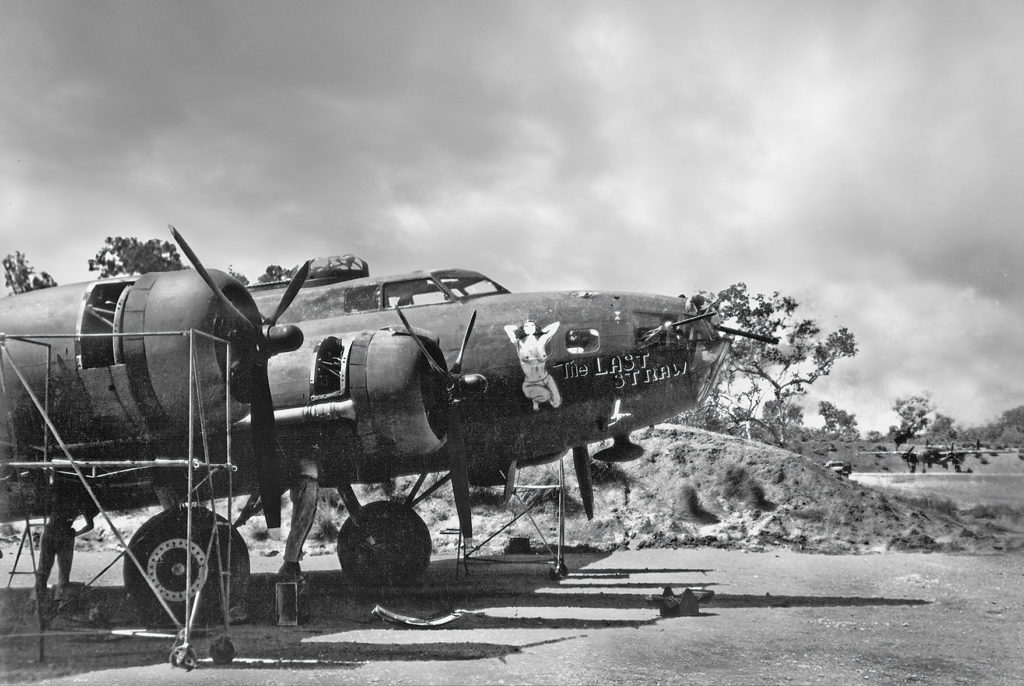 On 31 March 1942, Lieutenant Thacker was promoted to the rank of captain, A.U.S. He flew over New Guinea during the Battle of the Coral Sea, 4–8 May 1942. On 15 February 1943, he was promoted to major, A.U.S. (A.C.).
Assigned as operations officer of the 384th Bombardment Group at Grafton Underwood, Northamptonshire, England, Thacker was promoted to lieutenant colonel, A.U.S., 8 July 1944. He is credited with 28 combat missions flown over Europe, frequently as a group or wing leader.
Following World War II, Lt. Colonel Thacker reverted to his permanent rank, 1st Lieutenant, Air Corps, United States Army, with his date of rank 7 December 1944. He retained the temporary rank of lieutenant colonel.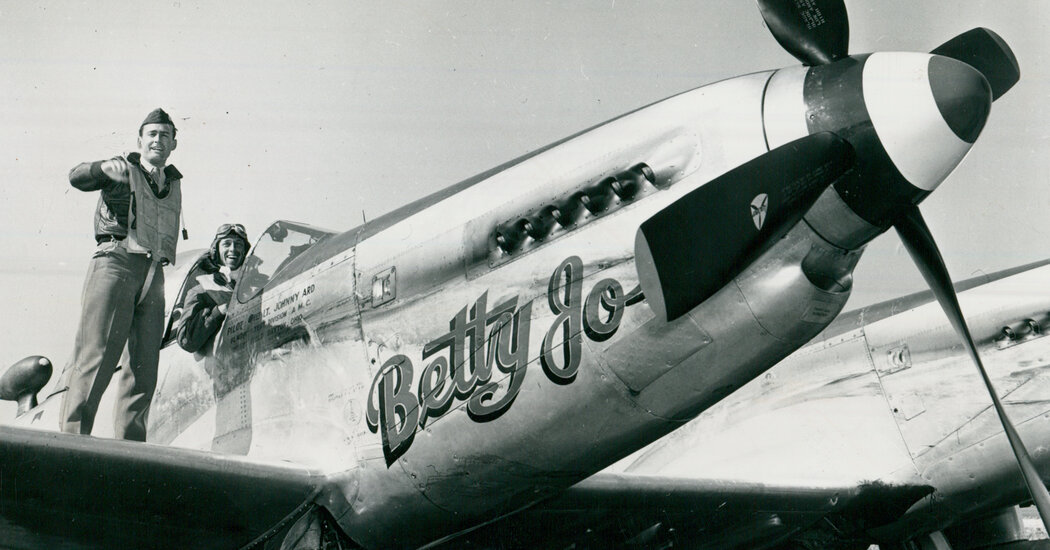 Thacker was transferred to the U.S. Air Force after its establishment, 18 September 1947. He retained his permanent rank.
Colonel Thacker also flew in combat during the Korean and Vietnam Wars.
Thacker was a graduate of the Air Force Test Pilot School, and tested many aircraft at Muroc Army Air Field (Edwards Air Force Base), beginning with the Lockheed P-80 Shooting Star jet fighter.
Colonel Thacker retired from the U.S. Air Force in 1970.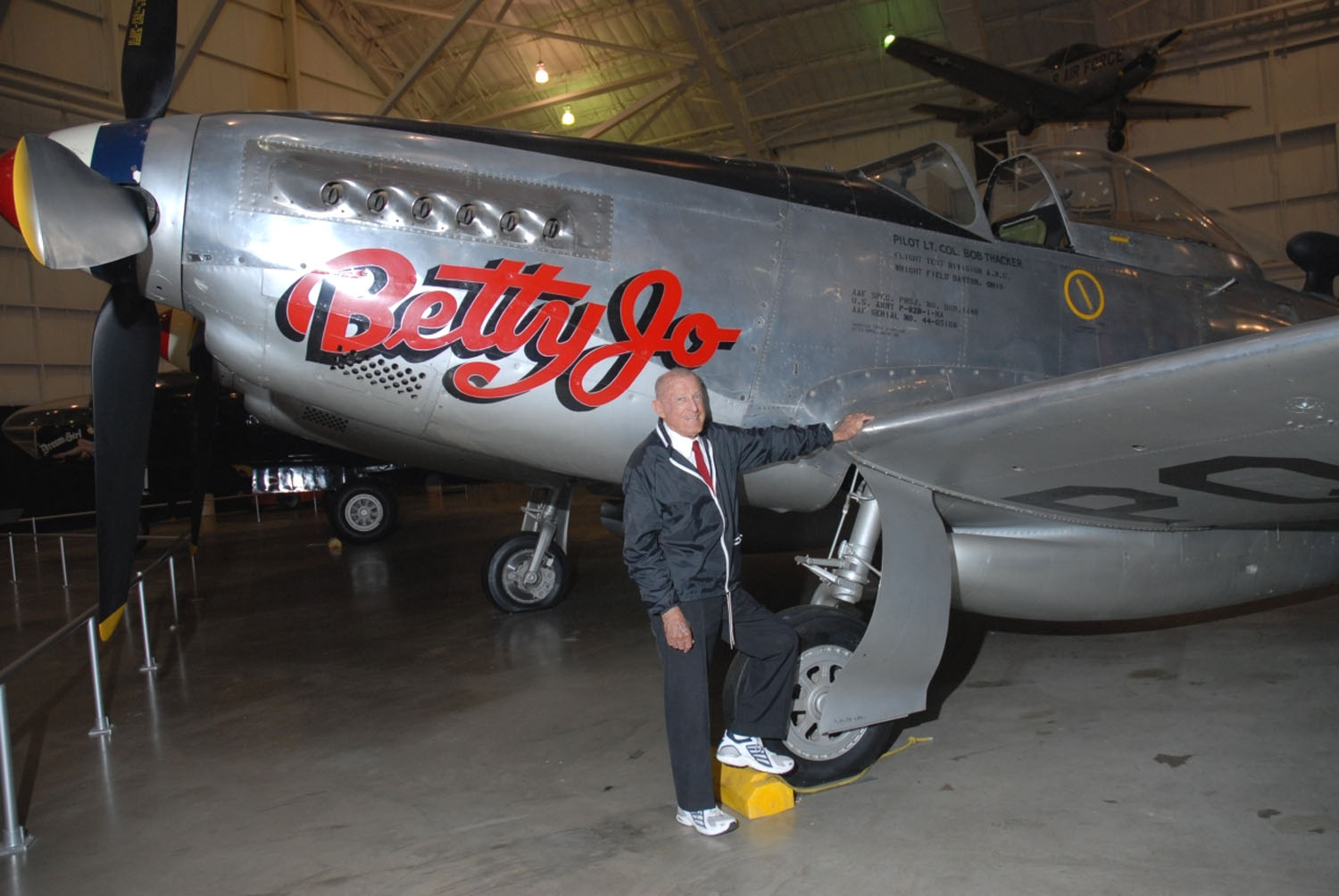 Colonel Thacker celebrated his 100th Birthday at his home in San Clemente, California, 21 February 2018. He passed away 25 November 2020 at the age of 102 years.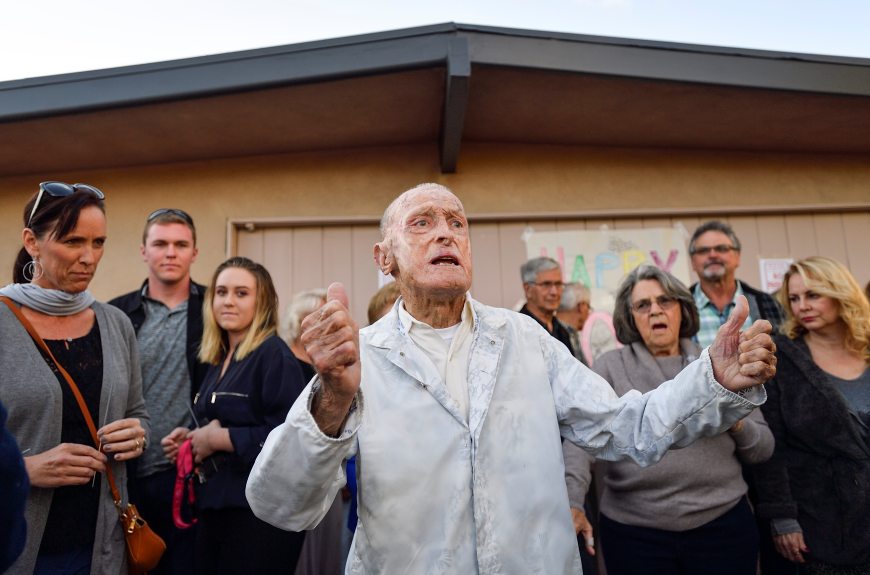 © 2021, Bryan R. Swopes