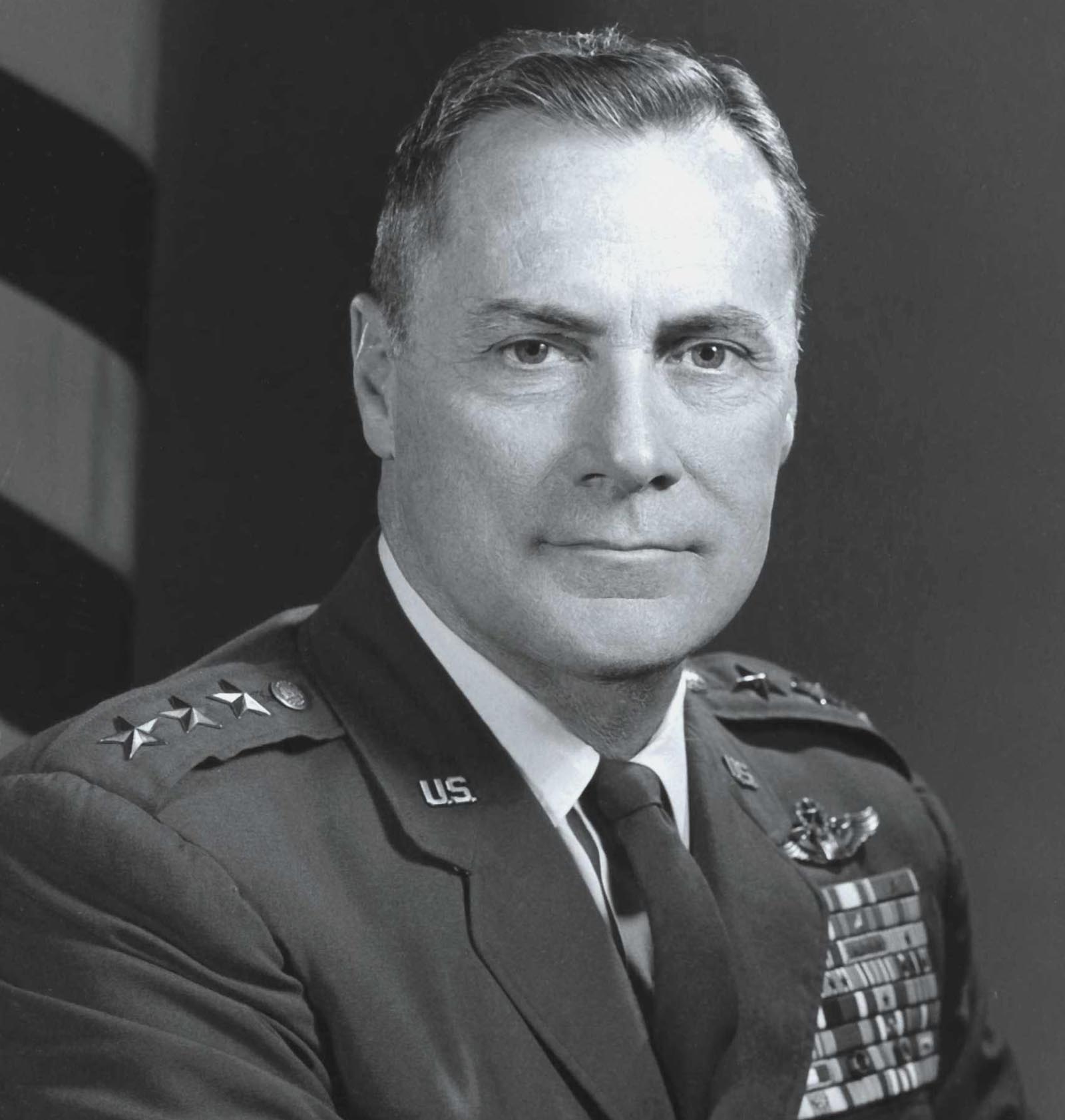 11 December 1959: Brigadier General Joseph H. Moore, U.S. Air Force, Wing Commander, 4th Tactical Fighter Wing at Seymour Johnson Air Force Base, North Carolina, set a Fédération Aéronautique Internationale (FAI) World Speed Record when he flew a Republic F-105B-20-RE Thunderchief, serial number 57-5812, over a closed 100-kilometer (62.137 miles) closed course at Edwards Air Force Base, California. The Thunderchief averaged 1,878.67 kilometers per hour (1,167.35 miles per hour).¹ General Moore's fighter bomber was a standard production aircraft and it was armed with a full load of ammunition for the M61 cannon.
FAI Record File Num #8873 [Direct Link]
Status: ratified – retired by changes of the sporting code
Region: World
Class: C (Powered Aeroplanes)
Sub-Class: C-1 (Landplanes)
Category: Not applicable
Group: 3 : turbo-jet
Type of record: Speed over a closed circuit of 100 km without payload
Performance: 1 878.67 km/h
Date: 1959-12-11
Course/Location: Edwards AFB, CA (USA)
Claimant Joseph H. Moore (USA)
Aeroplane: Republic F-105B
Engine: 1 Pratt & Whitney J-75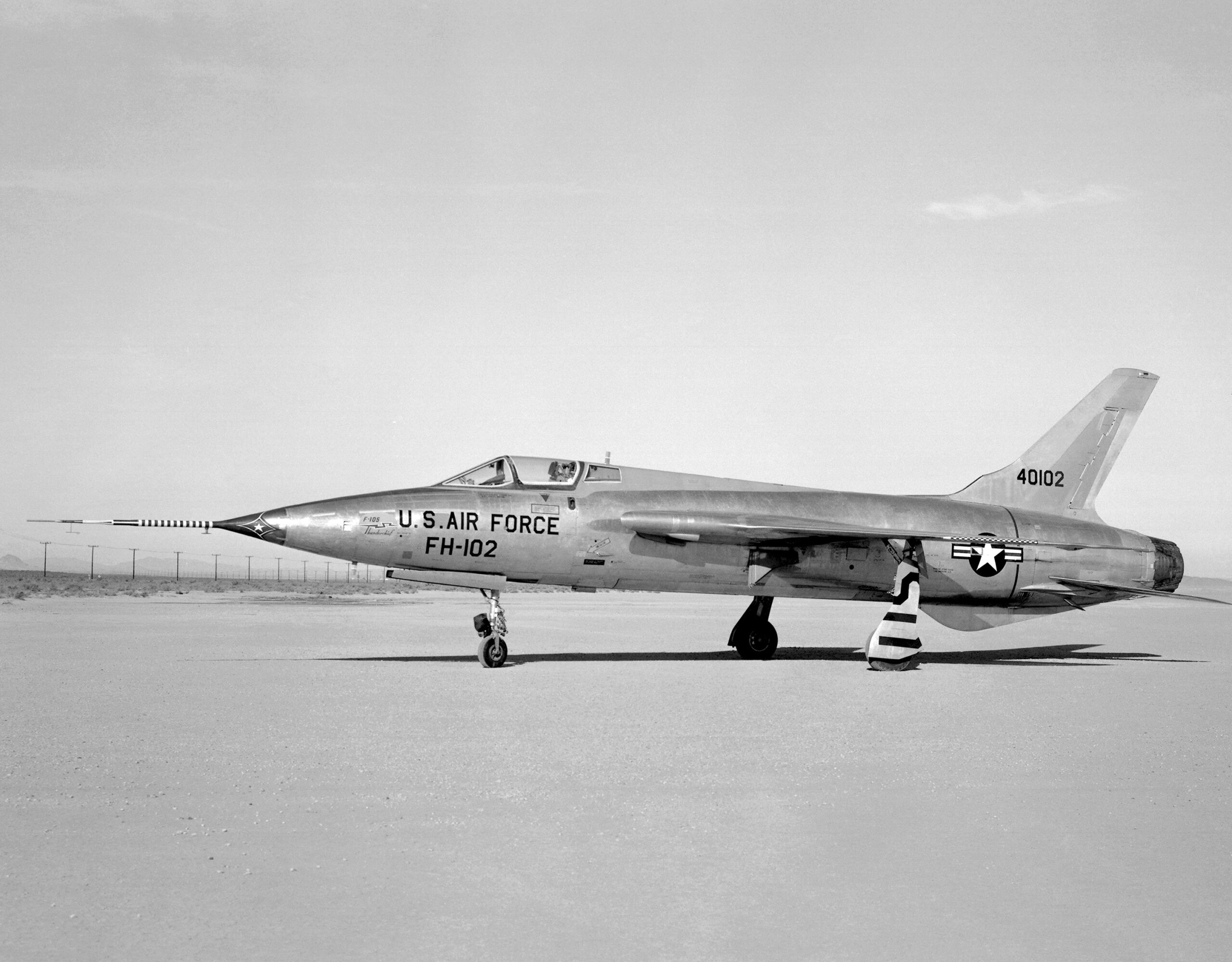 The F-105 was the largest single-seat, single-engine combat aircraft in history. It was designed as a tactical nuclear strike aircraft and fighter-bomber. The leading edges of the wings and tail surfaces were swept to 45° and the fuselage of the F-105B incorporated the "area rule" which gave the Thunderchief its characteristic "wasp waist" shape. The Thunderchief was 63 feet, 1 inch (19.228 meters) long with a wingspan of 34 feet, 11 inches (10.643 meters). It was 19 feet, 8 inches high (5.994 meters). The F-105 had an empty weight of 27,500 pounds (12,474 kilograms) and a maximum weight of 46,998 pounds (21,318 kilograms).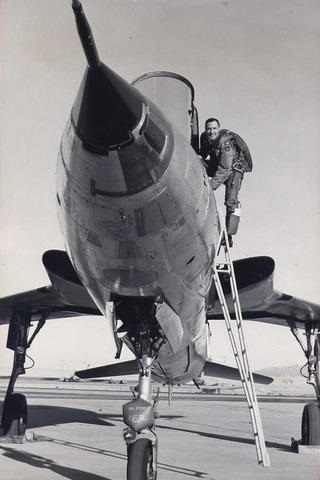 Early production F-105Bs had the Pratt & Whitney J75-P-5 axial-flow turbojet engine. Beginning with the Block 20 aircraft, the more powerful J75-P-19 was installed. The -19 engine was retrofitted to the earlier aircraft. The J75-P-19 was a two-spool axial-flow turbojet engine with afterburner. It used a 15-stage compressor section (8 high- and 7 low-pressure stages) and a 2-stage turbine section. The J75-P-19 was rated at 16,200 pounds of thrust (72.06 kilonewtons), and 25,000 pounds (111.21 kilonewtons) with afterburner.
Armament consisted of one 20 mm General Electric M61 Vulcan six-barreled Gatling gun with 1,028 rounds of ammunition. The F-105 could carry up to 8,000 pounds (3,628.7 kilograms) of bombs in an internal bomb bay, or a total of 14,000 pounds (6,350.3 kilograms) of bombs, rockets or guided missiles on centerline or underwing pylons.
The F-105B had a maximum speed of 1,375 miles per hour (2,213 kilometers per hour). The service ceiling was 48,100 feet (14,661 meters). Maximum range was 2,200 miles (3,541 kilometers).
Republic Aircraft Corporation built 833 Thunderchiefs for the U.S. Air Force. 75 of those were F-105Bs. 372 F-105s were lost to enemy action in South East Asia.
Republic F-105B-20-RE Thunderchief 57-5812 served with the 119th Tactical Fighter Squadron, New Jersey Air National Guard and was later assigned to the 466th Tactical Fighter Squadron, 508th Tactical Fighter Wing at Hill Air Force Base, Utah. One source indicates that the the record-setting F-105B was used as a battle damage repair trainer at McClellan Air Force Base, Sacramento, California, from October 1980.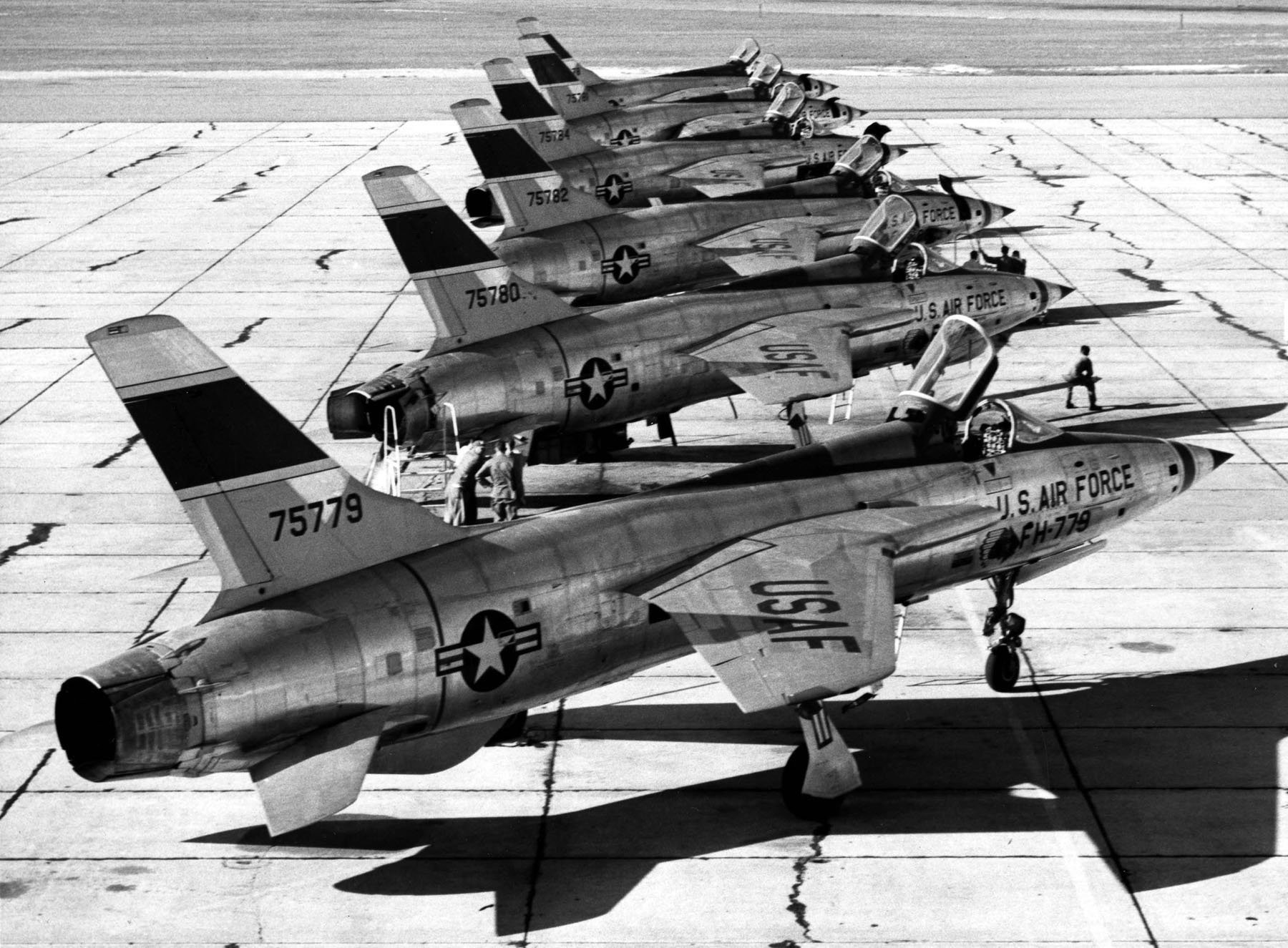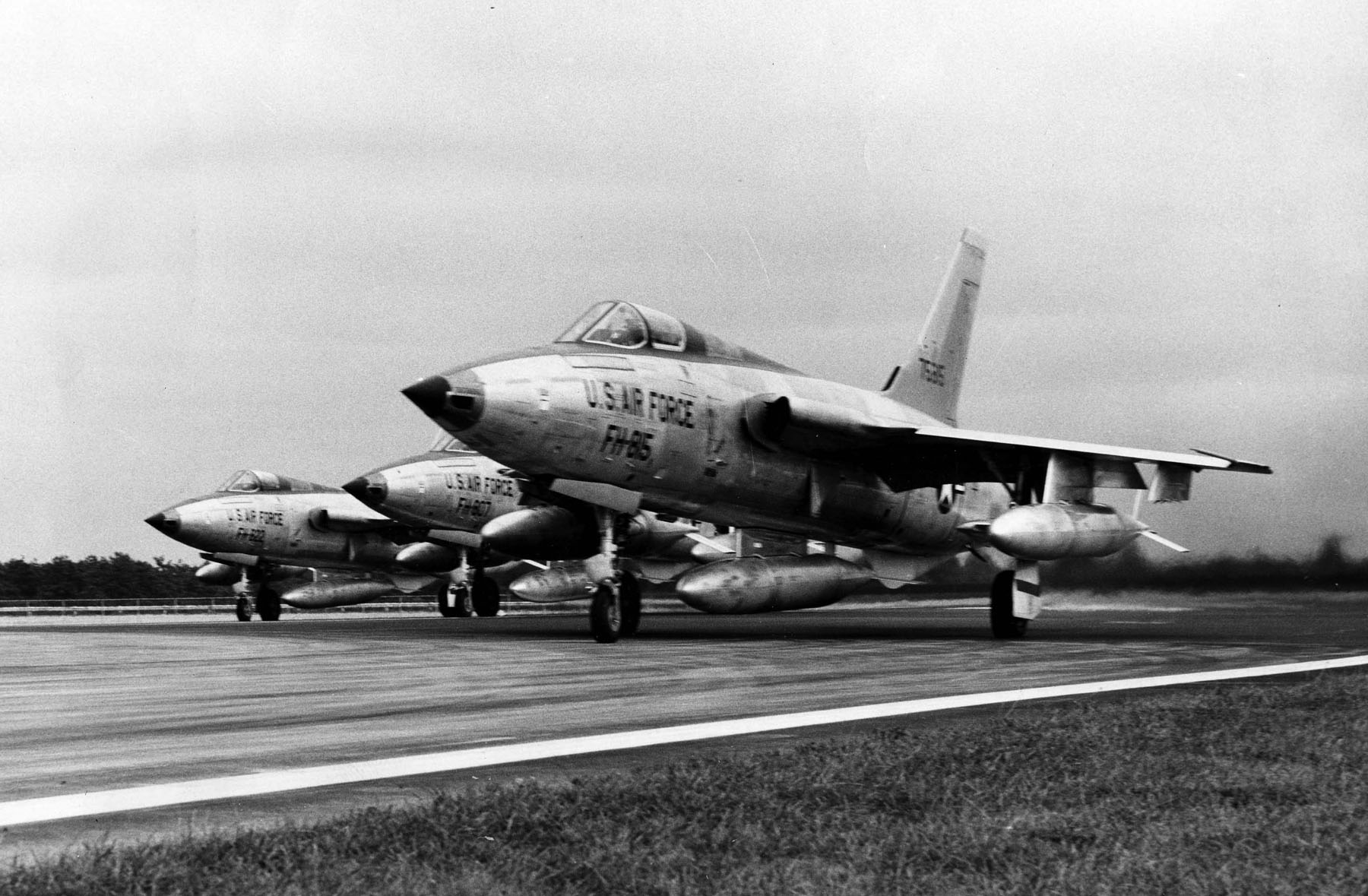 ¹ Many sources cite General Moore's World Record Speed for the 100-kilometer closed course at 1,216.48 miles per hour (1,957.745 kilometers per hour). The FAI's official web site gives General Moore's speed as 1,878.67 kilometers per hour (1,167.35 miles per hour). (See above.) Also, many sources (including General Moore's official Air Force biography) state that General Moore won the Bendix Trophy for this flight. The Bendix Trophy was awarded to the winner of an annual West-to-East transcontinental air race. The Smithsonian Institution indicates that the Bendix Trophy was not awarded for the years 1958, 1959 or 1960.
© 2016, Bryan R. Swopes
by